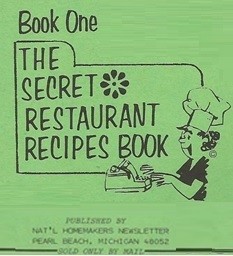 (The picture above is from an ad. I can't find any available pictures of the original cover from the 1st printings in 1976-1977, using the 5.5" x 8.5" format – they may have originally sold for $3 per copy, as "Book 2" did in 1977.)
1976 – The Secret Restaurant Recipes Book was written, illustrated and published by Gloria Pitzer (Happy Newspaper Features, Pearl Beach, MI). NO LONGER IN PRINT – this cookbook, sometimes referred to as "Book 1" or the "Blue Book", was actually a revised edition of her original cookbook, The Better Cooker's Cookbook (1973). Although this version wasn't Gloria's first cookbook, it was her first true "commercial success".
Note: So far, I have yet to find any copies of the original, August 1976, small format of this book. I would love to know if anyone still has one – it would be over 42 years old now! Please write to us at: [email protected]
Over the many years of various printings, the cover design, title and subtitle changed slightly, as did the size and price of the book. The size changed from the original 80-page, 5.5″ x 8.5″ format to a 42-page, 8.5″ x 11″ format in 1977. The masthead, "Secret Recipe Report" was added in 1979 and changed to, simply, "Cookbook" in 1981. These changes can be seen on the various cover photos shown below.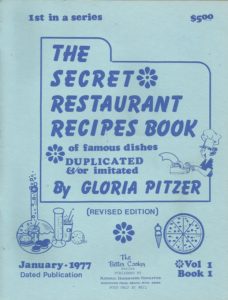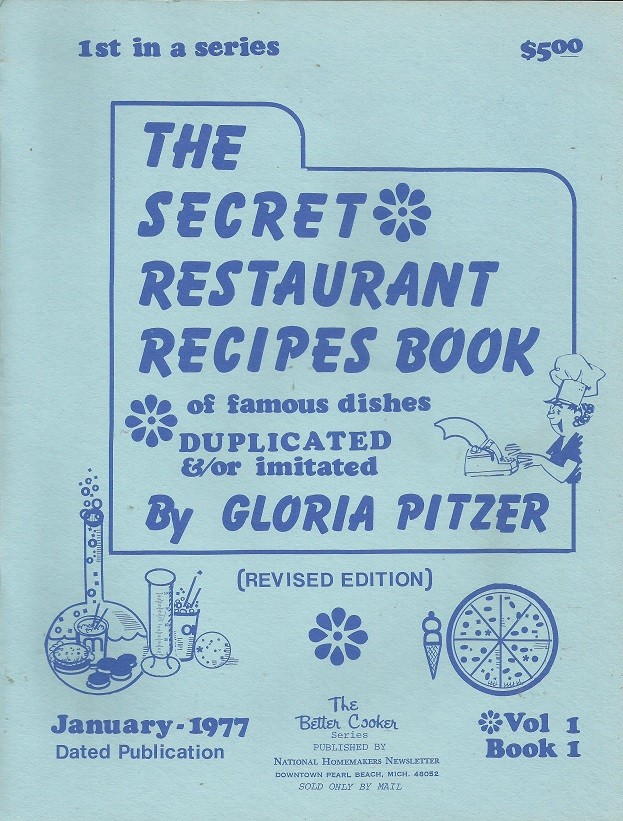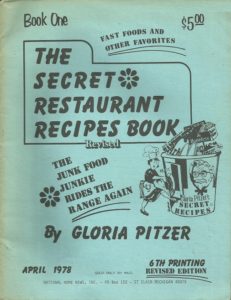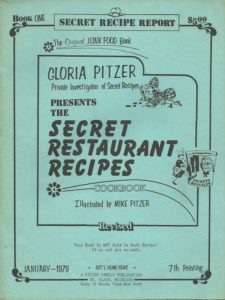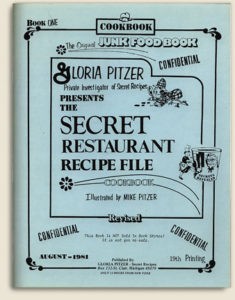 In 1982, Michael Pitzer (Gloria's son, who illustrated many of the printings of this book) was working at Wells Rich Greene in Los Angeles on the Jack-in-the-Box® advertising account. During one of their creative presentations, then President of JIB, Barry Krantz asked if he could get a complete set of Gloria's cookbooks for their "test kitchen". Now, we wouldn't want to jump to any conclusions, but shortly thereafter Jack-in-the-Box was not only back in the burger business, but they also began introducing fresh-baked cookies and wonderful chicken sandwiches. Coincidence? Maybe…
Fun Facts
Sub-Titles: "Book 1", "Fast Foods and Other Favorites", "The Junk Food Junkie Rides the Range Again" and "The Original Junk Food Book"
Printings: 25+
Years: Aug 1976 – Aug 1981+
Recipes: unknown for original, smaller format; 290 listed in the larger size format
Pages: originally 80; larger format had 52
Size: originally 5.5″ x 8.5″; later format was 8.5″ x 11″
Cover: Paperback
Price: original (possibly) $3 per copy; later printings were $5 per copy
Used copies on eBay (of larger formats): $9.99
Used copies on Amazon (of larger formats): $20.95
ISBN: unknown
NO LONGER IN PRINT
Comments (as seen on Amazon):
5 out of 5 stars – This became a primary cookbook for me – By John Korkowon November 19, 2012
The hostess twinkie recipe, and ho-ho recipe, and wonder bread recipes are contained in this cookbook.. This was a primary cookbook for me for years! https://www.amazon.com/gp/customer-reviews/R96UQWR58GDOC/ref=cm_cr_arp_d_rvw_ttl?ie=UTF8&ASIN=B0006WQ2KO