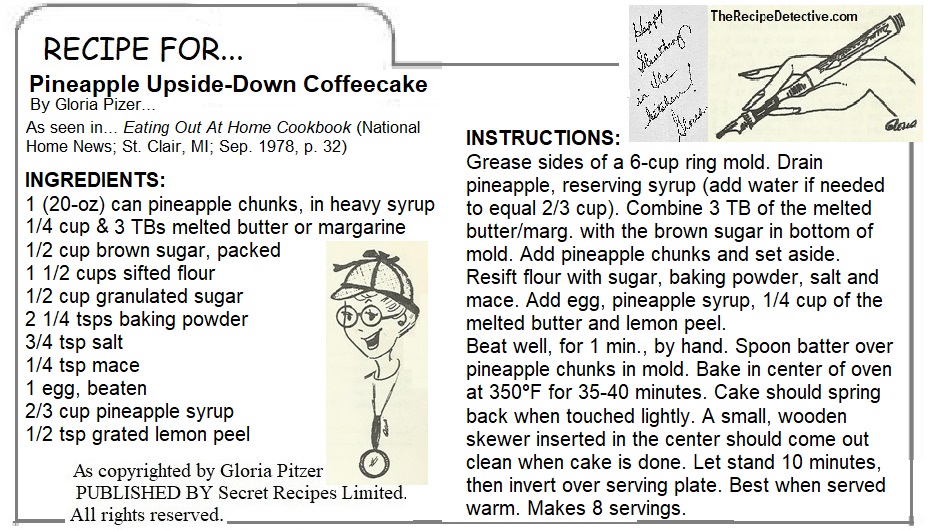 PINEAPPLE UPSIDE-DOWN COFFEECAKE
By Gloria Pitzer, as seen in… Eating Out at Home (National Home News, St. Clair, MI; September 1978)
INGREDIENTS:
1 (20-oz) can pineapple chunks, in heavy syrup
¼ cup + 3 TB melted butter or margarine
½ cup brown sugar, packed
1 ½ cups sifted flour
½ cup granulated sugar
2 ¼ tsp baking powder
¾ tsp salt
¼ tsp mace [pepper]
1 egg, beaten
2/3 cup pineapple syrup
½ tsp grated lemon peel
INSTRUCTIONS:
Grease sides of a 6-cup ring mold. Drain pineapple, reserving syrup (add water, if needed, to equal 2/3 cup). Combine 3TB of the melted butter/margarine with the brown sugar, in bottom of the mold. Add pineapple chunks and set aside.
Resift flour with the sugar, baking powder, salt, and mace [pepper]. Add egg, pineapple syrup, ¼ cup of the melted butter/margarine, and lemon peel. Blend well, for 1 minute, by hand. Spoon batter over pineapple chunks, in mold. Bake in center of oven at 350°F for 35-40 minutes.
Cake should spring back when touched lightly. A small, wooden skewer inserted in the center should come out clean when cake is done. Let stand 10 minutes then invert over serving plate. Best when served warm. Makes 8 servings.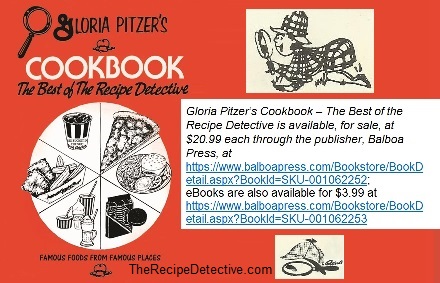 See also…