Happy Monday to one and all! 'Tis the eve of New Year's Eve – a time that most of us spend, recalling and reminiscing about the events that happened in our lives during the past year.
As 2019 comes to an end and 2020 is about to begin, I find myself, reflecting on the goals I made and accomplished this year; like living a low-carb lifestyle and losing 50 pounds – even though I didn't start that resolution until late March. It really doesn't matter when you start a resolution. The important thing is to see it through and commit yourself to its eventual success. Additionally, I am considering how I can more-improve them, during the coming year. No one is perfect, nor can we ever humanly be so; but we can strive in that direction, at least.
Furthermore, this time of year, I try to remember all the goals of which I've fallen short, such as those related to what I want to do with this blog and website but have yet to accomplish. I make a decision to reiterate them, reasoning and resolving what went wrong, previously; then, deciding how I can do it better this time! As I see it, if I don't own my mistakes and shortcomings, as well as my achievements, how am I to learn from and improve on any of them? Even though, as I said, real perfection is not achievable, it doesn't mean we should quit "reaching for the moon."

'You never realize what a good memory you have until you try to forget something.'  – Gloria Pitzer [As seen in Gloria Pitzer's Secret Recipes Newsletter, Issue 146, Sep-Oct 1990; pg. 7]
Establishing New Year's resolutions is a commonly practiced tradition, world-wide; in which people make conscious determinations to change undesired mannerisms or behaviors, to accomplish personal goals or to, otherwise, improve their lives or the lives of others. However, according to The U.S. News' blog (from Dec. 29, 2015), around 80% of resolutions fail by mid-February. I can attest that I, myself, have had more than a few failures in that 80-percent.
So, to improve my success of achievement, as I'm making my New Year's resolution(s) for 2020, I'm taking the extra time to plan how to stay focused on my end-goal until it's attained! Usually, it's easier said than done! Creating small steps to reach a goal is always a helpful method to use. Telling others about your goals or even working on common goals with a family member, friend or group of people has been known to help, as well. Additionally, a reward system for completing each step will also improve your odds of staying focused and inspired to continue to the next step, until the final goal is reached – and, of course, the big reward, which is ACCOMPLISHMENT!
'Success is not in never failing, but in never fearing to begin again.' – Gloria Pitzer, This is not a Cook Book! It's Gloria Pitzer's Food for Thought (Secret Recipes, St. Clair, MI; Oct. 1986, p. 14)
In general, most people who make resolutions, do so with the best of intentions to achieve some kind of physical self-improvement goals. Eating healthier, losing weight and getting more exercise are among the most common resolutions that people make, along with quitting bad habits like smoking and drinking soda. Even if you start a resolution and fail to follow it through to the end, remember the adages, "if, at first, you don't succeed; try and try again" and "never quit quitting!"
There are no rules to the resolutions game – nothing to prevent you from changing deadlines, making new resolutions or reiterating the resolutions you've already made, which have fallen short. Most New Year's resolutions are, more often than not, abandoned at the first sign of failure. It might feel comforting to know that it's extremely rare to keep a New Year's resolution all year, let alone all winter. But, the rewarding feeling of ACCOMPLISHMENT, when you've reached the goal(s) you've set for yourself, can't be beat! So, take a mulligan and continue on. Believe in yourself! The important thing, for success, is to "get back on the horse."
If someone were to copy our so-called 'success', I could give them no blueprint for that condition. Each one of the little steps that we had to take to develop the kitchen table activity into a professional business operation, are like the grains of sand that the oyster requires to form a pearl. – Gloria Pitzer, My Cup Runneth Over and I Can't Find My Mop (Secret RecipesTM, St. Clair, MI; Dec. 1989, p. 25)
I've tried the "fake it 'til you make it" approach many times – it just doesn't seem to work for me in the long run. I've discovered, within myself, that I'm not going to change anything – not for very long anyway – if I don't truly want to change it in the first place. It needs to be wanted from within myself and for my own satisfaction – not to please anyone else. In other words, for me, the mind-over-matter approach works best; and I have to commit to it, as well! It takes the power of positive thinking, among other things, to succeed. But, in addition, according to Mom, it's not a "will" power that leads to any resolution's success, it's a "won't" power – such as, "I won't give up or give in" and "I won't quit!"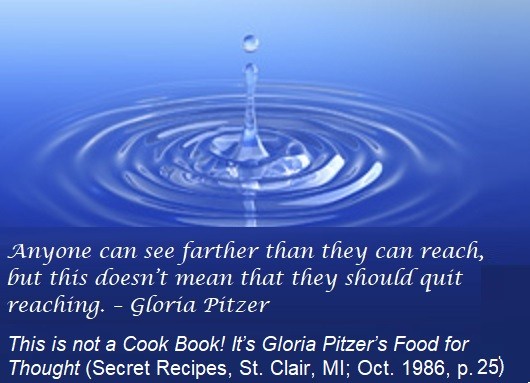 'When you're wishing for a happier, fuller life, a life with real meaning, there's a need to remain steadfastly receptive to intuitions & inspirations that whisper to the listening thought of hope & courage.' – Gloria Pitzer, as seen in Gloria Pitzer's Secret Recipes Newsletter, Issue 183 (Secret RecipesTM, St. Clair, MI; Nov-Dec 1997, p. 10)
FROM MOM'S MEMORIES…
As seen in…
My Cup Runneth Over and I Can't Find My Mop (Secret RecipesTM, St. Clair, MI; Dec. 1989, p. 1)
Paul and I are suddenly rattling around in a house that, just a few years ago, didn't seem big enough for us; when all five of the kids were still home. I sometimes walk from room to room, remembering the bustle of activity when they were buzzing in and out, to and from their various activities [and] helping me to assemble the mimeographed pages of the newsletters or recipe books.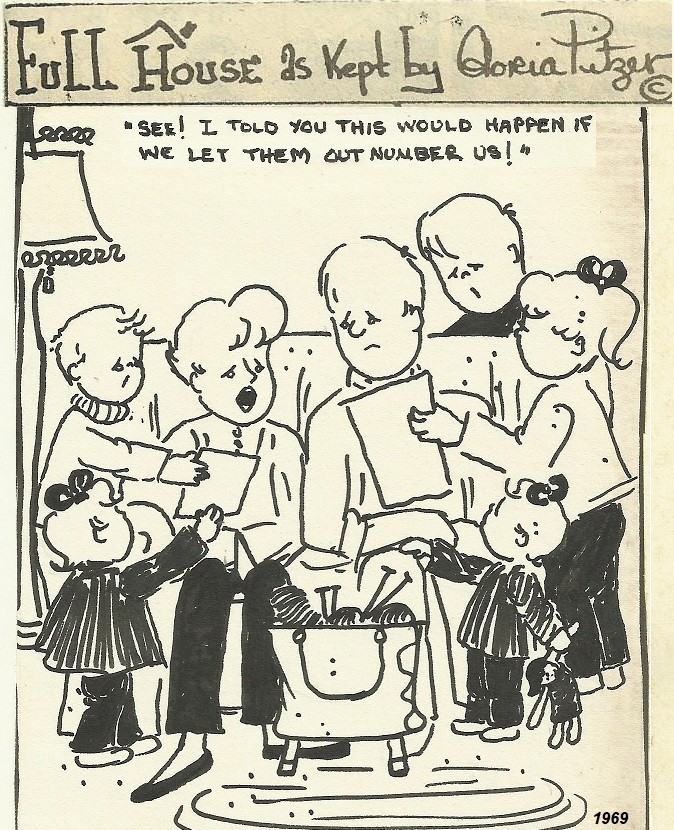 Those were good times but difficult times. We were just starting out and not knowing if what we were doing would succeed. I didn't think about failing. I did, however, consider that succeeding might take a little longer than I originally anticipated. But I never accepted the idea of failing. I am convinced that is why we did succeed…Paul could not understand how I could continue day after day, with such untarnished enthusiasm when we were putting in so many hours and deriving so little money for it.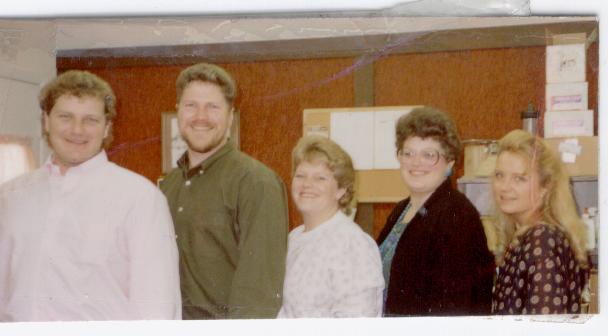 IN CLOSING…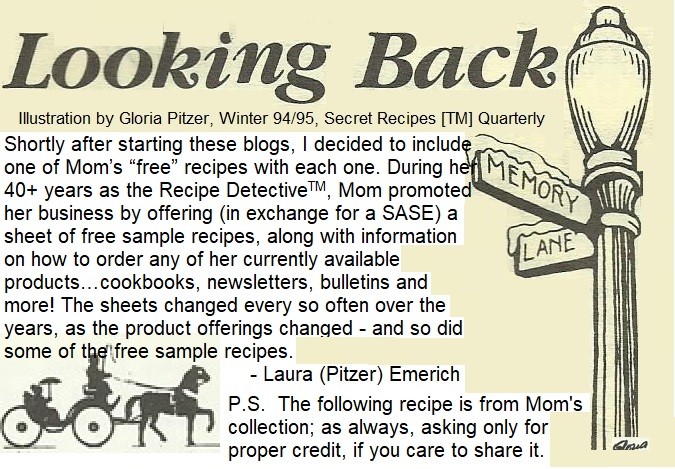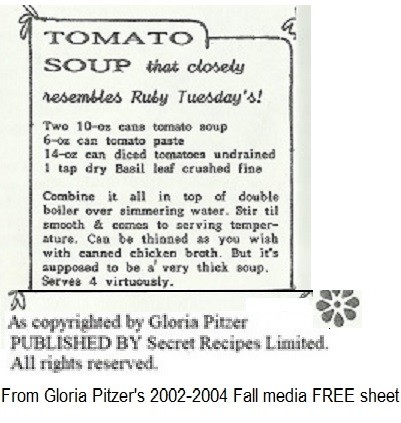 #BaconDay
Did you know that today, December 30th, is National Bacon Day https://nationaldaycalendar.com/bacon-day-december-30/? What an awesome food! Thus, I say, "Let's celebrate bacon!"
Just outside of Michigan's famous German town of Frankenmuth is the village of Birch Run, which is home to a legendary restaurant, called "Tony's". The restaurant is quite famous among Michiganders (and passers through) for its extra-large servings, especially when it comes to bacon! Mom & Dad went there often, when visiting the area, as do my husband and I. At peak dining hours, there is usually a line out the door, waiting to be seated. It's worth the wait! The restaurant has a sign in one of its windows that promotes "The 12 Rules of Bacon" by which to live. I love the first one, which states, "There must always be bacon in the fridge. Always."
I remember when I was quite young and Mom and Dad were struggling to make ends meet (before Mom began her own business), we hadn't had bacon at breakfast for quite a long time. Bacon was one of my top favorite foods. One day, when my Grandma Carter (Mom's mom) came for a visit, I told her that and I asked her, "Grandma, do they still make bacon?" Mom overheard me and ever since, we always had bacon at breakfast. Truth be known, it was one of Mom's top favorite foods, as well.
In honor of #BaconDay, I highly recommend sprinkling some bits of cooked and crumbled bacon into your tomato soup (as in the recipe given above!) In addition, you can serve it up with some grilled cheese and bacon sandwiches! Plus, here's a rerun (from June) of one of my favorite bacon snacks from Mom's sister, my Aunt Hazel. I especially love it because I can substitute the ingredients with low-carb versions and enjoy many of them for only a couple of grams of carbohydrates. This is quite simple to make and a great finger food to serve at a New Year's Eve party, too!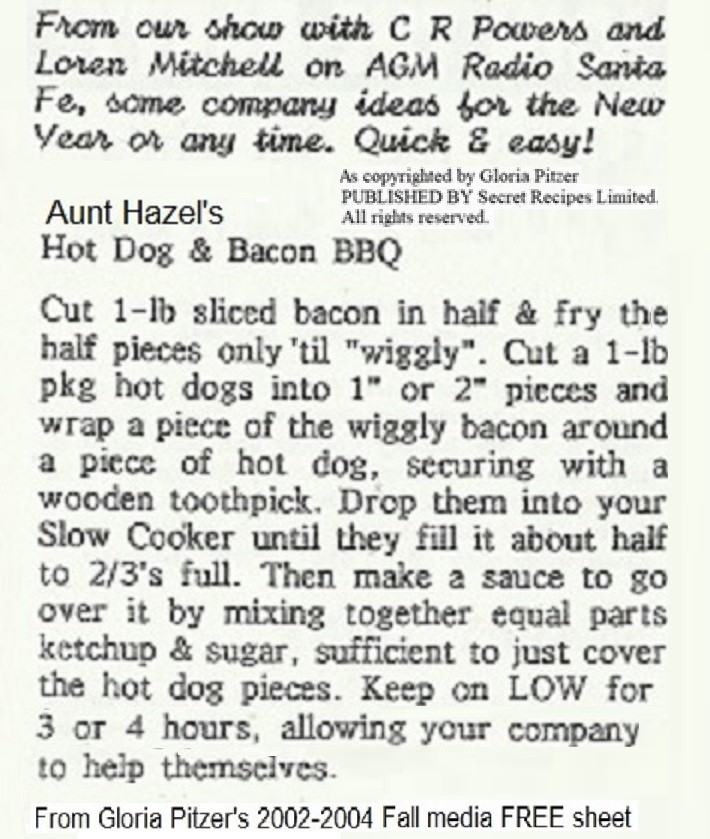 P.S. Food-for-thought until we meet again, next Monday…
Gloria Pitzer's Cookbook – The Best of the Recipe Detective is available for sale, at $20.99 each, through the publisher, Balboa Press, at https://www.balboapress.com/Bookstore/BookDetail.aspx?BookId=SKU-001062252; it's also available in eBook form, for $3.99, at https://www.balboapress.com/Bookstore/BookDetail.aspx?BookId=SKU-001062253