Happy Monday and happy National Inventor's Month! Instead of dreading Mondays, make them memorable! I always look forward to Mondays, because they're my 52 Chances each year, in which I get to share Memories of My Mom with all of you!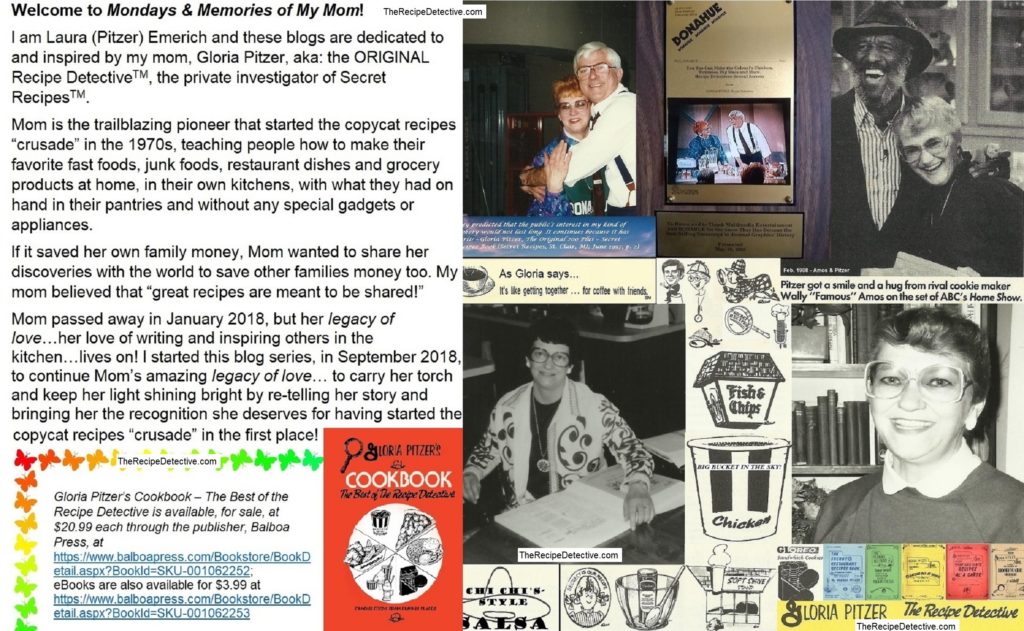 May is, among other things, National Inventor's Month! So, this whole month presents awesome chances for me to tell Mom's story again! My mom is the ORIGINAL Secret Recipes DetectiveTM, INVENTOR of the copycat cookery concept for imitating junk foods, convenience foods, fast foods, and other restaurant dishes at home!
…The First 20 Years
Over 45 years ago Mom became the FIRST person to INVENT homemade, copycat versions of goodies such as Hostess Twinkies©, among many other things! Do you remember when Hostess Brands announced it was going out of business, in 2012, and there was a big run on Twinkies? Mom's brainchild came in handy for making our own cream-filled, golden, mini-loaf cakes! Likewise, it's been especially useful over the past year, during the restaurant shut-downs and quarantines for Covid-19!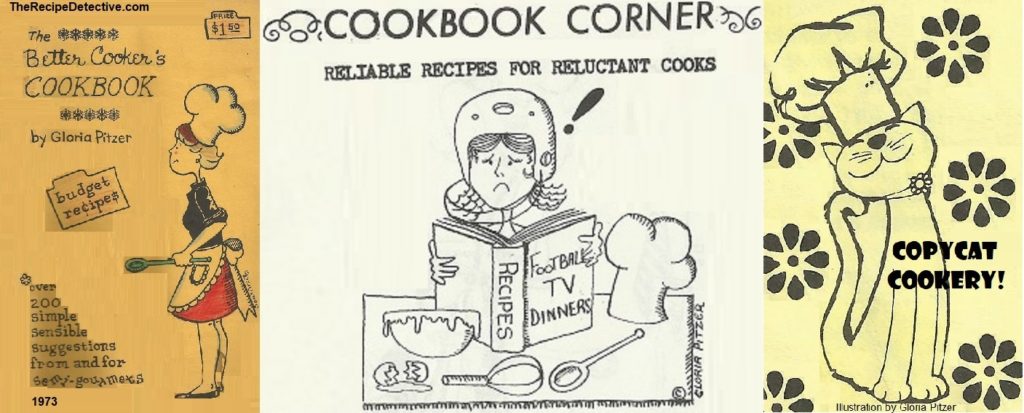 Mom's copycat cookery concept began building its legacy in the early 1970s with her syndicated recipe column, Cookbook Corner. Back then, one of Mom's readers had requested a recipe for imitating the special sauce that McDonalds put on their Big Macs.
That's when Mom discovered that McDonald's Big Mac was actually an imitation of the Big Boy franchise's original invention of the double-decker burger (self-titled "The Big Boy"), which she grew up enjoying when she was young. That's when the seed for copycat cookery was planted!
Mom saw a niche in the food industry that no one else had ever explored before, thus, she enthusiastically began investigating how to imitate all kinds of junk foods and fast foods, even grocery products, at home. Mom felt that if her homemade, duplications could save her own family money then she'd share those secrets to help others too!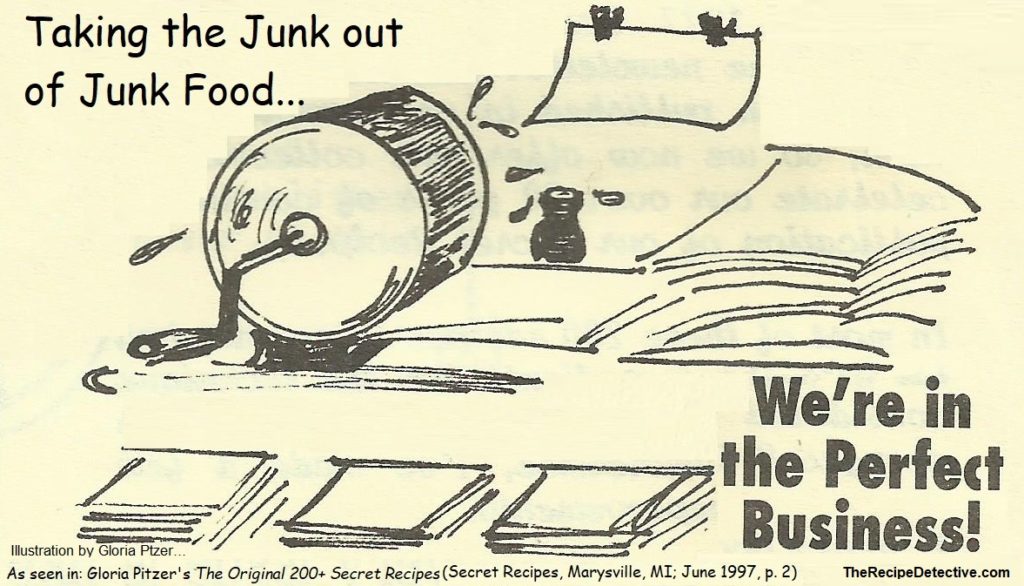 After printing a few "secret recipes" in her column, Mom's readers LOVED it and sent her more requests! However, the editors found that their food industry advertisers hated it. Mom was told to go back to "normal" recipes, or they'd have to let her go. Instead, she quit her job and went home to develop her own paper where she could promote this new and unique collection of copycat recipes, for which she knew the public was starving.
Initially, Mom printed and sold her ever-growing recipe collection on index cards, ready for filing (at 25-cents each or five for a dollar)! Her copycat recipes collection grew exponentially and snowballed into dozens-upon-dozens of cookbooks, hundreds of newsletter issues, and other work she published, along with Dad, over a span of more than four decades (1973-2013).
Early, in 1973, Mom published her very first cookbook, The Better Cooker's Cookbook. It was a parody of Betty Crocker's famous red and white checkered cookbook. Mom comically described her own creation as a collection of "reluctant-cook", "budget-tested" recipes, many of which she first published in her Cookbook Corner column.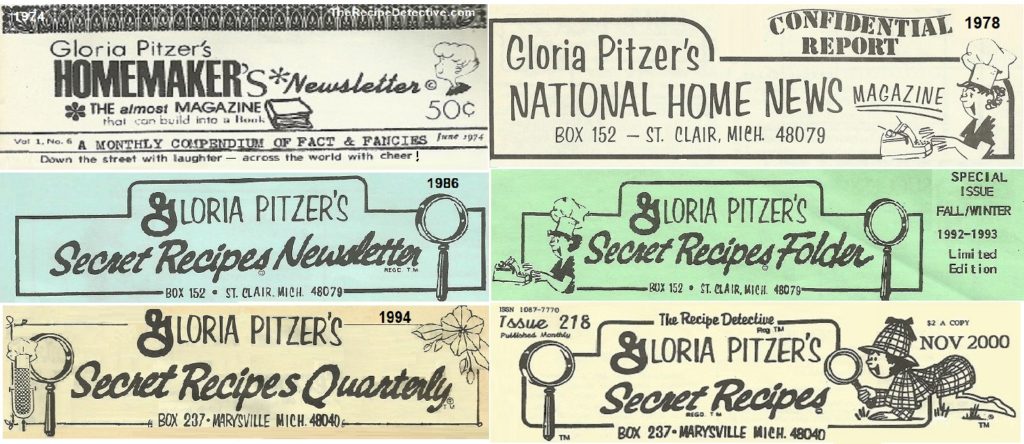 Later, in 1973, inspired by a wonderful "craft-letter" she had been receiving, from Carol Duvall, Mom decided to devise and publish her own monthly newsletter, as a platform for her fast-growing catalog of secret recipes. It also featured Mom's food-for-thought editorials and food-for-the-soul inspirations, plus gardening and household tips and tricks – anything of interest for busy homemakers like herself.
The newsletter started as Gloria Pitzer's Homemaker's Newsletter, in January 1974. Mom designed it so that each issue could be "collected" in a small-sized 3-ring binder, as an on-going book. Over the decades, as the newsletter evolved, its name and size changed from time to time; also, going from monthly to bi-monthly to quarterly and back to monthly.

Mom had a unique style in all of her works. She was following the "live-laugh-love" mantra long before it was a thing! Her books and newsletters were put together like homemade quilts; combining different bits of this and that, wanting her creations to belong as much on the coffee and bedside tables as they did on the kitchen counter.
If you like to laugh while cooking or cook while laughing, any of Mom's books are for you! While all but one of Mom's books are out of print now, used copies of many of them can still be found on Amazon and eBay! You can find a more complete listing of Mom's work within the Cookbooks and Other Publications tabs on this website.

'Food is more than a physical substance. It has an intangible quality that nourishes our spirits. A good dish, lovingly prepared, at some point in the process of tasting and blending, becomes more than the sum of its ingredients.' – Gloria Pitzer, Eating Out at Home Cookbook (Nat'l Home News, St. Clair, MI; Sep. 1978, p. 1)

Mom's copycat recipe collection continually grew. In 1977, she began her first series of "secret recipes" cookbooks. The first in the series was The Secret Restaurant Recipes Book (aka: "Book 1")! Later that year, having so much material with which to work, Mom was quick to follow up with "Book 2" in her series, thereby calling it The Second Helping of Secret Recipes.
The hunger from her fans for more "secret recipes" continued to grow. Over the next three years, Mom published three more hits – each one unique and fresh: Eating Out At Home (aka: "Book 3"), in 1978; Top Secret Recipes Al'a Carte (aka: "Book 4"), in 1979; and The Secrets Of Homemade Groceries (aka: "Book 5"), in 1980.

Between the five books, in this series alone, Mom had developed over 1,400 imitations covering 59 diverse restaurants (from Arby's to Yummyland), 83 brands of grocery products (from A&P to Wonder), 22 famous hotel chains and inns, 15 favorite candies and carnival eats, 12 different department stores and cafeterias, and renowned goodies from 7 various tourist hot spots!
The growing success of Mom's copycat cookery concept led to enormous opportunities, doing radio and TV talk shows all over North America, which opened up even more doors of opportunity. Mom didn't release anything new in 1981, as the project she was working on had to be put on hold while the family business was inundated by over a MILLION requests for what she was already offering, following her FIRST appearance on the Phil Donahue Show in July of that year!

After recovering from "Hurricane Donahue 1981", Mom found time in 1982 to finish that postponed project from the previous year. She revised the title of her very first (1973) cookbook and came up with a whole new book that was one of her most famous (and personal favorites) copycat cookbooks ever, Gloria Pitzer's Better Cookery Cookbook.
[NOTE: That's the book (1983, 3rd edition version) that I rewrote for Mom so that it could be republished for a new generation of copycat cooks. Unfortunately, Mom passed away shortly after it went to print (2018).]

From 1982 through 1988, Mom wrote and published nine new books. Mom's 1985 release of Mostly 4-Ingredient Recipes focused on the "short-cut" recipes she had begun developing by revamping many of her past imitations with no more than 5 ingredients. They became her most requested recipes whenever she was a guest on hundreds of radio talk show programs throughout North America! It was another new niche Mom was first to carve out in the recipe world!
In 1986, Mom and Dad published a unique collection of Mom's trademark humor, called "Food for Thought", which features, feel-good stories, inspirational quotes and other things to smile about (except for recipes)! Thus, Mom called it This Is Not A Cook Book – It's Gloria Pitzer's Food-For-Thought!
In 1988, Mom developed The Copycat Cookbook, named for her original concept, which included another unique collection of make-alike recipes for more famous favorites not in her previous cookbooks. Additionally, in 1988, Mom made her FIRST memorable appearance on ABC's Home show, where she met Wally Amos (a second appearance followed in 1991)…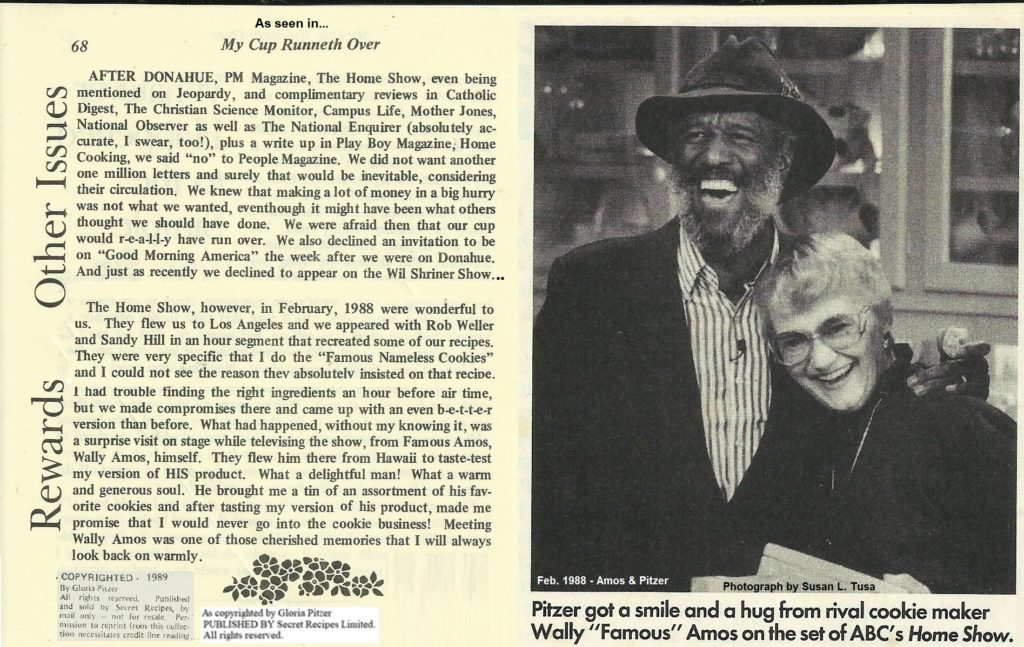 In 1989, feeling very blessed by the previous 15 years of growing success in her copycat cookery business, Mom wrote a culmination of our family's story and how we were all involved in the merry – and sometimes mad – world of Secret RecipesTM, with close to a few dozen special recipes thrown in.
My Cup Runneth Over – And I Can't Find My Mop is mostly full of food-for-thought and witty stories about the trials and tribulations of a family of seven, running a kitchen table, cottage enterprise. I quote from it often in my "Mom's Memories" sections of my blog posts.

Afterwards, Mom rewrote her favorite 1982 cookbook into a "Best of…" condensed version. She also took the greatest parts of her first series of five books and put them together into another "Best of…" cookbook, which she called Gloria Pitzer's Secret Recipes Of Famous Favorites.
In the spring of 1991, Mom wrote and published her next cookbook, Make Alike Recipes, having only the product or a description as a guide in developing a new line of food industry imitations. She never knew, nor did she want to know, what the famous food companies actually put in their recipes.
However, Mom did know that by combining certain compatible ingredients in her recipes, she could come up with "make alike" imitations that are reminiscent of the original product or dish. Mom always liked to look for ingredients that were available most everywhere, economical and, if possible, wholesome.
But, whenever conceivable, Mom also liked to reduce the number of ingredients in her recipes, by using prepared products – one product replacing two or more ingredients for the same result – like mayonnaise for oil and eggs or cake mix for flour, sugar and baking powder.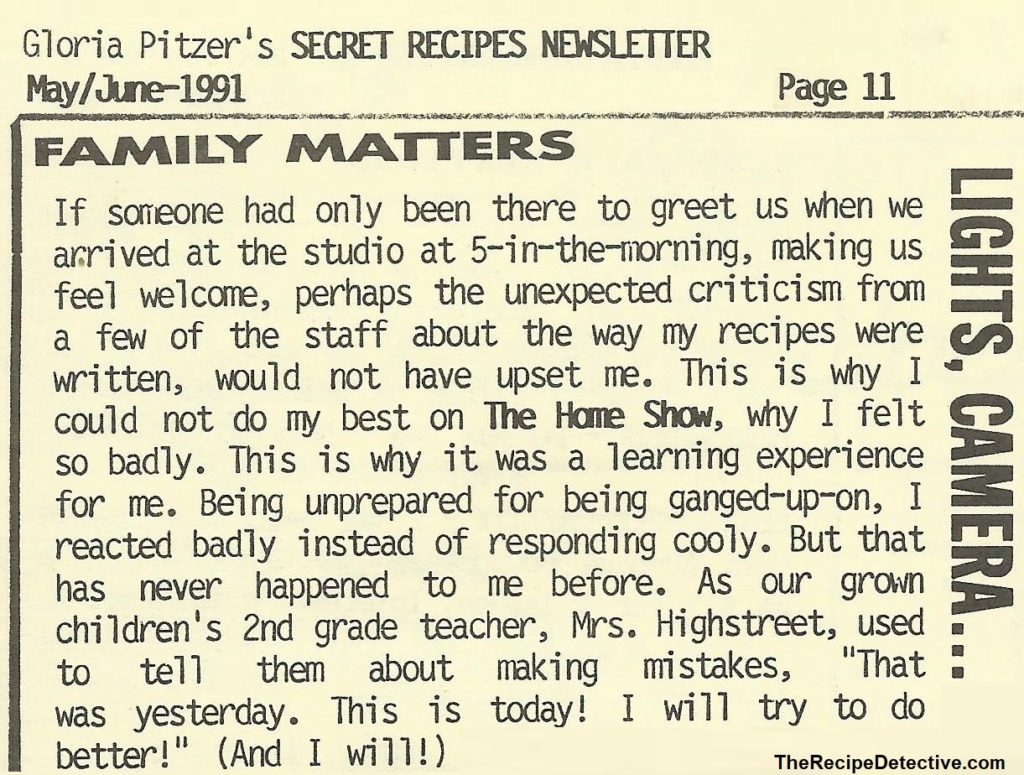 As I mentioned earlier, also in 1991, Mom appeared for a SECOND time on ABC's Home show – however, feeling a bit dismayed, she didn't think it went as well as the first time. On the other hand, her SECOND appearance on the Phil Donahue Show in April of 1993 shattered the record for the most requested transcripts ever!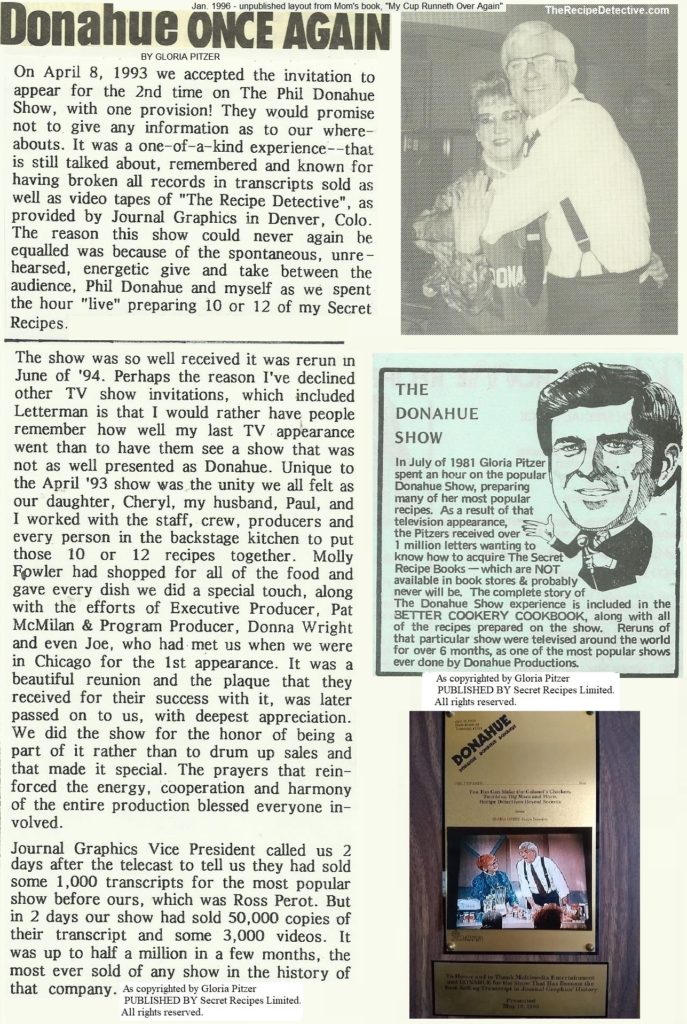 LAST THOUGHTS…
If you missed my visit last week on WHBY's "Good Neighbor" show, with Kathy Keene, you can listen to the podcast recording here: https://www.spreaker.com/user/woodwardradio/laura-pitzer-emerich_6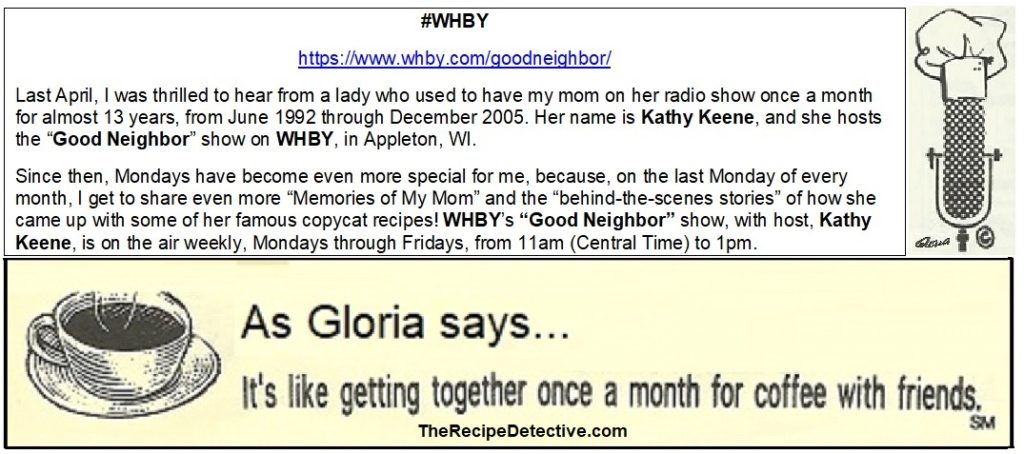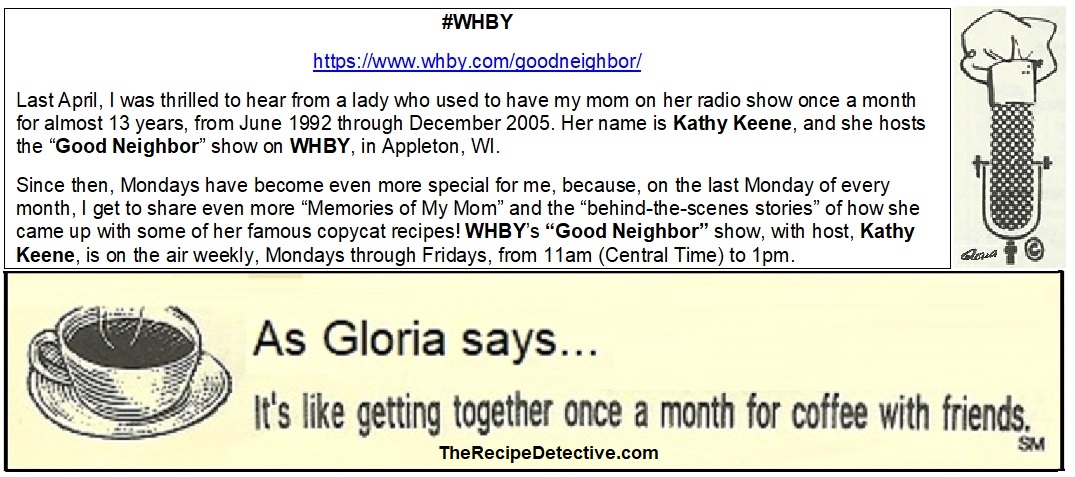 IN CLOSING…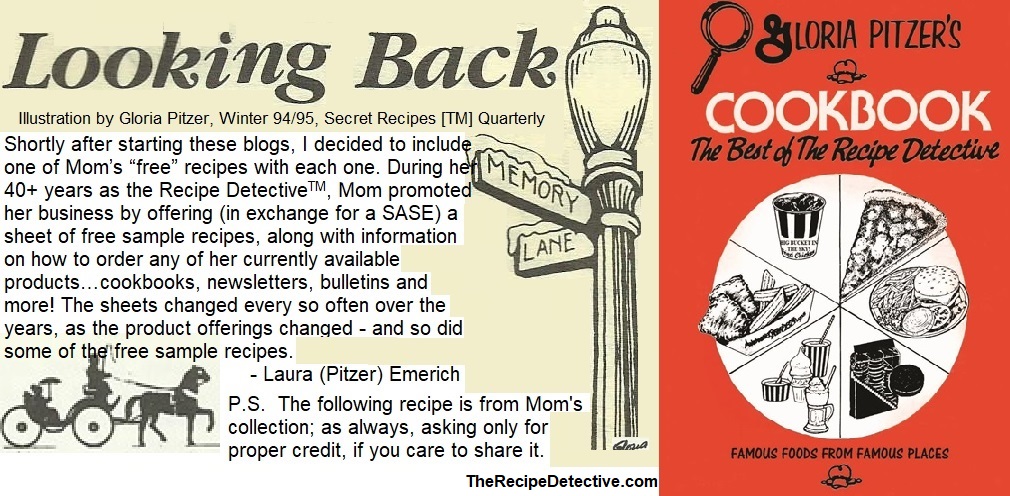 In honor of this also being National Barbecue Month, here are TWO of Mom's "secret recipes" for imitating Open Pit's and Hunt's barbeque sauces… As seen in… Gloria Pitzer's Cookbook – The Best of the Recipe Detective (Balboa Press; Jan. 2018). [A revised reprint of Gloria Pitzer's Better Cookery Cookbook (Secret RecipesTM, St. Clair, MI; May 1983, 3rd Edition).]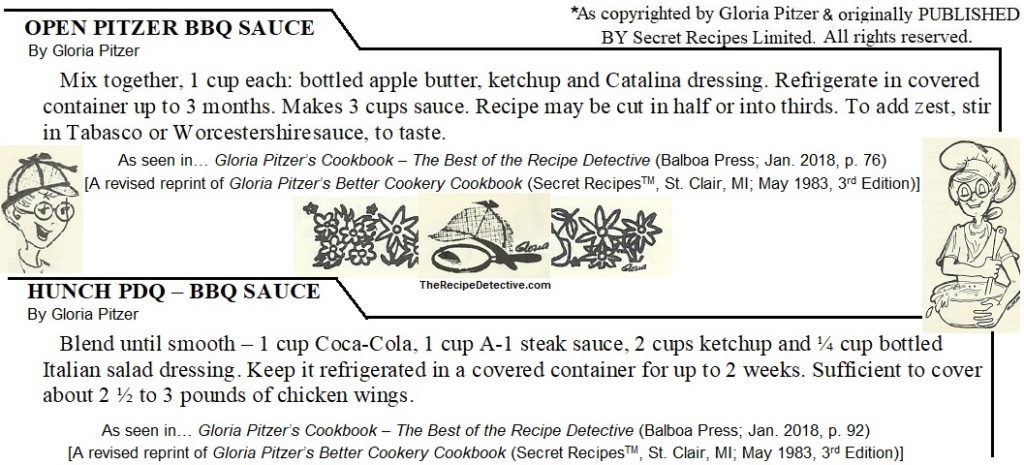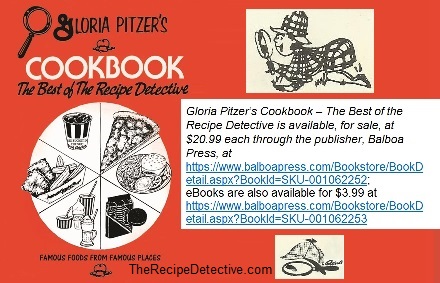 P.S. Food-for-thought until we meet again, next Monday…
May is celebrating, among other things… American Cheese Month, Better Speech and Language Month, National Asparagus Month,  National Egg Month, Older Americans Month, National Get Caught Reading Month, National Hamburger Month, National Photography Month, National Preservation Month, National Recommitment Month, National Salad Month, National Salsa Month, National Strawberry Month, and National Asian American and Pacific Islander Heritage Month!
Some other celebrations for this week include the following:
Yesterday was the start of the first full week of May, which is celebrating, among other things … Small Business Week, National Wildflower Week, and National Pet Week (which is the 1st Sunday through the 2nd Monday of May)!
Today is… National Garden Meditation Day, National Chocolate Custard Day, National Raspberry Pop Over Day, and National Montana Day! This is also Teacher Appreciation Week – which runs the first Monday through Friday in May!
Tomorrow is… National Star Wars Day, National Weather Observers Day, National Orange Juice Day, National Candied Orange Peel Day, National Bird Day, and National Teacher Appreciation Day (which is always on Tuesday of Teacher Appreciation Week)!

Wednesday is… National Cartoonists Day, National Totally Chipotle Day, National Hoagie Day, and Cinco de Mayo!
Thursday is… National Beverage Day, and National Crepe Suzette Day!
Friday is… National Packaging Design Day, National Paste-Up Day, and National Roast Leg of Lamb Day!
Saturday is… National Coconut Cream Pie Day and National Have A Coke Day. As the 2nd Saturday of May, this is also National Miniature Golf Day & Stamp Out Hunger Food Drive Day!
Sunday is… National Moscato Day, National Butterscotch Brownie Day, and best of all Mother's Day! Being the start of the 2nd full week of May, it's also, among other things… American Craft Beer Week!

…18 down and 34 to go!