Happy spring season and happy National West Virginia Day, but especially HAPPY MONDAY! I always look forward to Mondays because they are my #52Chances each year, in which I get to share Memories of My Mom with all of you!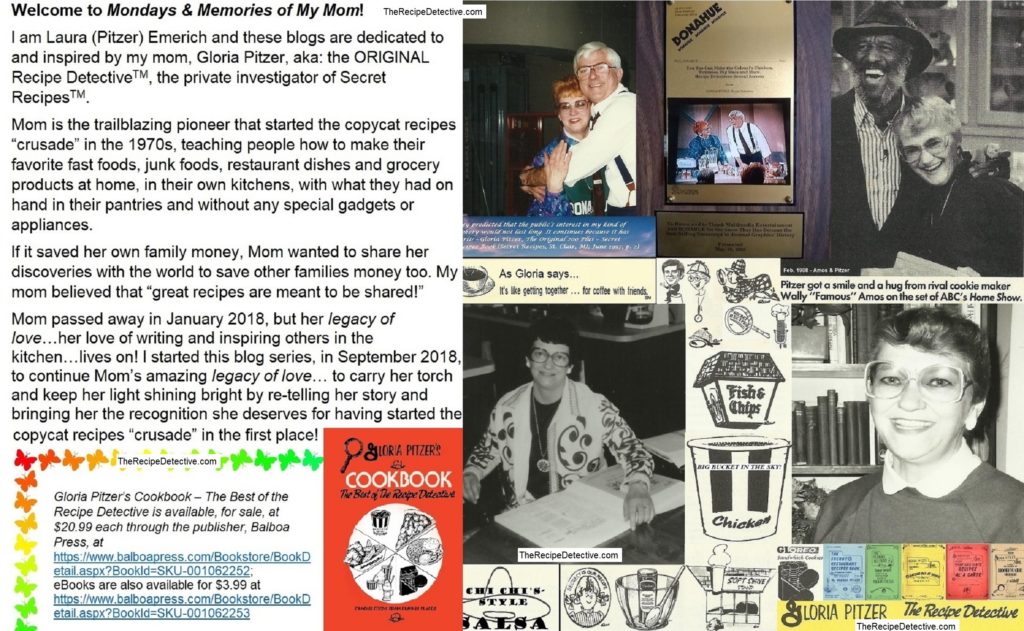 Spring has finally sprung – and so have my crocus, daffodils, hyacinth, and tulips! Although, in Michigan, the weather doesn't usually get consistently nice until around May – March and April are all-seasons-rollercoaster months. So this is when I start planting my vegetable garden seeds indoors, to be transplanted outside around Mother's Day weekend. By the way, yesterday began the week-long observance of National Agriculture Week and National Ag Day (Ag = Agriculture) is tomorrow!
Unofficially, this is also maple sugaring month in Michigan! It's not a national holiday but making maple syrup is a big event around here! There's a really great article about sugaring [which is the process of gathering maple sap and making it into sugar and/or syrup – NOT the hair-removal process by the same name] at the Michigan State University's Extension's website, called March is Maple Syrup Season in Michigan.
I recently saw a report on one of our local morning newscasts about the process of sugaring. It's a lot of work and quite a big activity. A couple of years ago, I learned a smaller scale way to do it, collecting only a few gallons of maple tree sap and then cooking it down for a day or so in a slow cooker. However, it only yields about a half cup of homemade syrup when done! Two gallons of sap doesn't make much, but it's a fun project to at least try. Check out the story and video at http://www.fox2detroit.com/good-day/backyard-maple-syrup-with-jill-of-all-trades.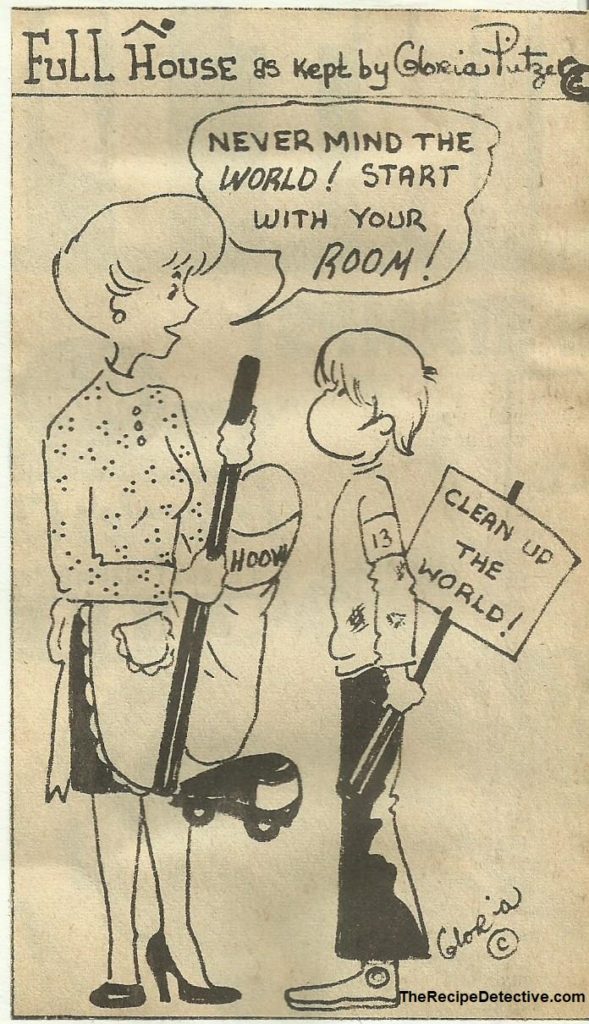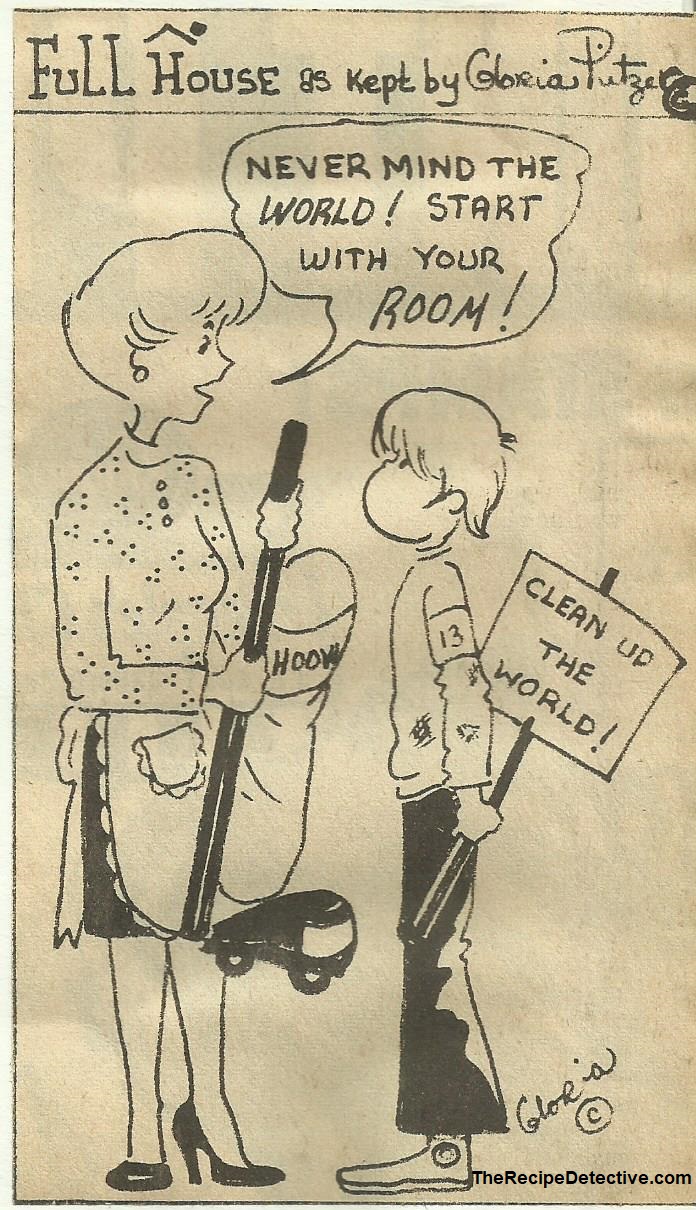 Before starting my spring deep-cleaning regimen, which really starts next week for National Cleaning Week, I have already begun sorting through my stuff (and I have a lot of stuff) in order to purge some things. I have to keep reminding my husband that I'm not a hoarder YET, since I occasionally purge about as much as I collect. I've also learned how to better pack and organize things, so it doesn't look like that much!
April is usually when the garage and yard sales start popping up in my area. Right now I'm going room-by-room, creating "piles", from which I am deciding whether to "keep", "sell", "donate", "toss" , or "recycle" the items. If it's for the sell pile, I will sometimes, depending on the item, put a price sticker on it right away. My sorting process was inspired years ago, by a short-lived, unique renovation series that I really enjoyed, on the cable channel TLC.
The show was called "Clean Sweep" (2003-2005) and it involved a room organization and makeover – but first the homeowners had to purge their "disastrous catch-all room". The process included some related "therapy" regarding why some people hang on to certain things and how to best let them go. Additionally, after sorting through all of their stuff, the homeowners had a one-day-only, "prize-winning-competition" yard sale with their "sell" pile. It was a lot of fun to watch.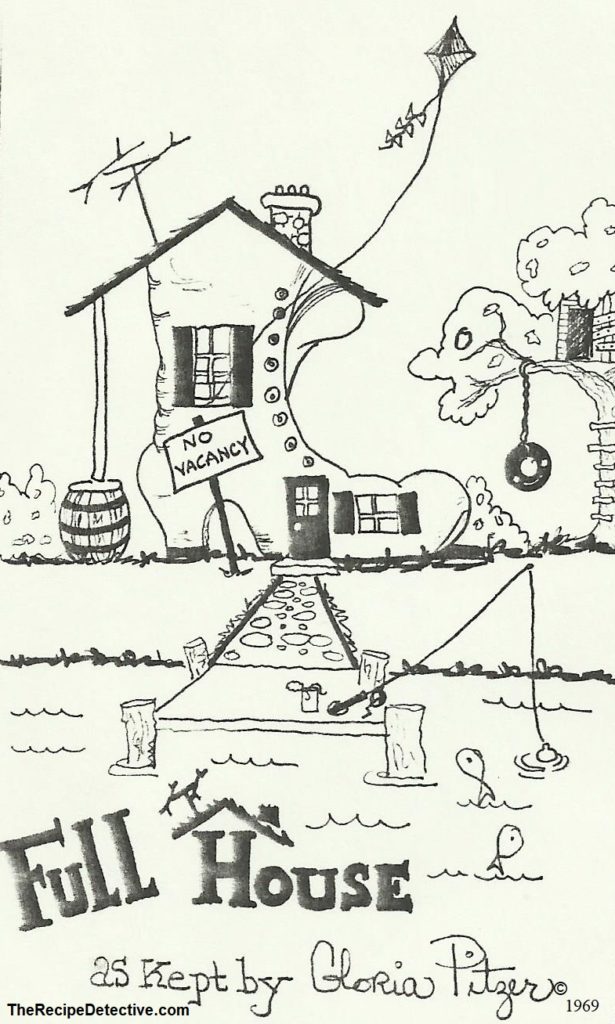 There's an inspiring article at PsychologyToday.com, which I saved to "My Favorites" a few years ago, about cleaning and de-cluttering by Dr. Sally Augustin, Ph.D.; titled, "Fall Cleaning As Important As Spring Cleaning" (Oct. 9, 2013). I liked the way the doctor says that… "We continually accumulate stuff and dealing with it is part of Fall cleaning."
As soon as I had read that, I excitedly told my husband, "See – I'm not the only one who accumulates stuff!" Regardless of the season, the article's information is interchangeable with spring, as well. After re-reading it recently, I was inspired to purge my basement (again), as it has been a growing, disorganized, accumulation of stress on my OCD personality. The sooner I get to it, the better, so I can have it ready for a yard sale as soon as some nice weekend weather permits!
Michigan weather changes often during the first half of spring. That's why I called it an "all-seasons-rollercoaster". There's an old adage that says it "comes in like a lion and goes out like a lamb". Being especially dependent on favorable weather, hosting a proper YARD sale in April is a LOT of work! Trust me – I know all about "April showers" and yard sales. It can be a crapshoot, picking the optimum weekend.
I wish I had a garage but, since I don't, I use two 10'x20', carport-style tents. When set up side-by-side, they have the approximate size of a garage, with 400-sq-ft of covered space. These are very important for keeping my tables and displays dry or shaded, whatever the weather may bring.
The day before I want my sale to start, I try to set it all up and cover it, because it's under a temporary structure that's still somewhat open to the elements (and the public).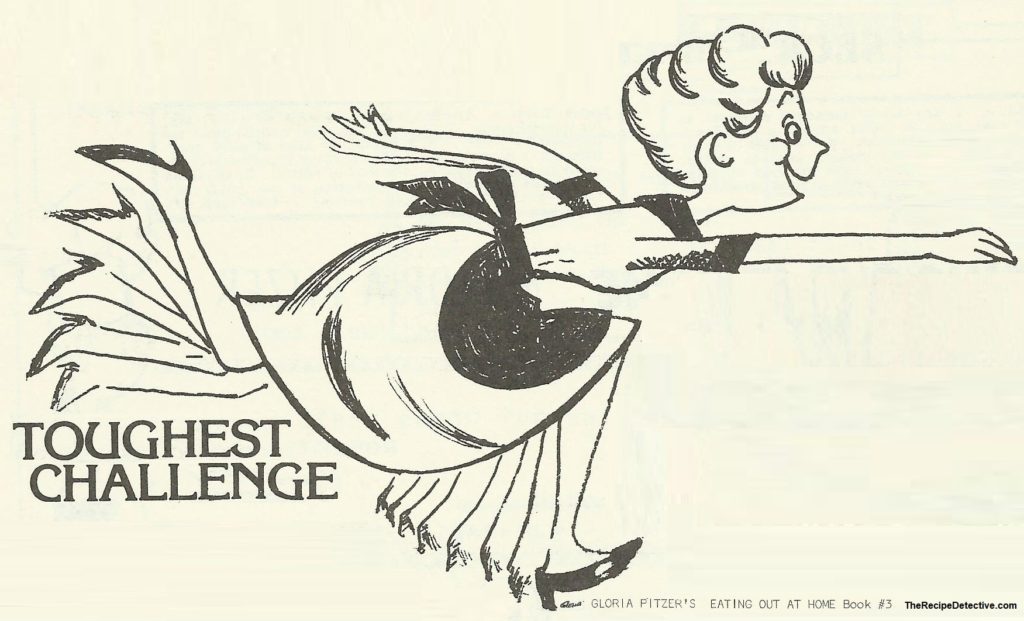 I like to make my yard sales "worth stopping and shopping"! Maybe it's because of all my years of working in retail.  Being OCD, I take a full day just to set up my "store" (as that's how I think of my sale); with all of my tables, table-coverings, display shelves, clothes "racks", and sale signs.
After deciding what I want to sell, I bring out all the boxes of stuff that I've cleaned out of various closets, drawers, cupboards, and of course the basement. I sort it all by "departments" such as clothes and shoes, which are sub-sorted by size and type; plus accessories like jewelry, glasses, belts, scarves, and purses.
Other "departments" (aka: tables) include curtains, bedding, towels and bath accessories; storage containers, kitchen wares and small appliances; crafting and sewing stuff; candles and décor; electronics, movies, music, books and office/school supplies/equipment; lamps, rugs, and furniture; tools, hardware, and auto accessories; games and toys; yard, garden, and sporting goods, plus other outdoor stuff; as well as pet stuff.

I get a lot of compliments about my yard sale set-ups because of the store-like organization. To me, that makes it worth the time and effort that I put into having one. I also sell a lot because I price my stuff to sell! To save time on pricing everything individually, I use a lot of general pricing signs – for example "All Clothes $1 per Piece" or "All Books 50₵ Each".
I'm not putting it all out there just to haul it all back into the house, just because I wanted to squeeze out every penny I could from my old "junk" that MIGHT be somebody else's "treasure". I look at each item as if I were going to purchase it at someone else's yard sale and ask myself, "How much would I be willing to pay for that?"
The following is a satirically humorous editorial that Mom wrote about a "garage" sale we supposedly had, in the mid-1970s, before moving from Algonac to St. Clair. [Funny thing is… we didn't even have a garage back then!]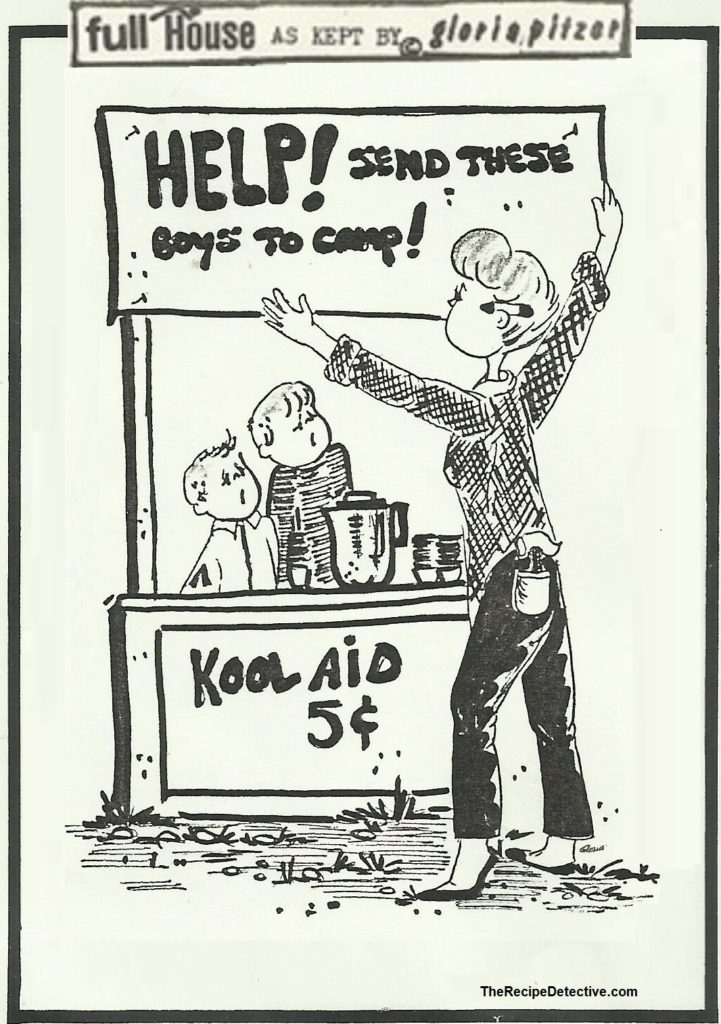 FROM MOM'S MEMORIES…
As seen in…
'No Laughing Matter', a syndicated bi-weekly column by Gloria Pitzer
[Published in the "Times Herald" (Port Huron, MI), during the 1970s.]
HAVE A GARAGE SALE IN ONE EASY BREAKDOWN!
Until you've had a garage sale, you just don't know what you're missing. I've just had one and I know! I'm missing three garbage cans, my husband's workbench, a swing set, four lawn chairs and our station wagon. Actually, those items weren't for sale, but you can't refuse a good price when it's offered to you.
All I really wanted to sell was a few odds-and-ends like 7 dozen Ruby Bee Jelly glasses, a coke bottle mosaic of my mother-in-law, a transistor radio guaranteed to crack plaster when operated by a teenager, an illustrated guide book to Disneyland and my husband's bowling ball.
Of course, if the truth were known, I just had to do something about the closets before we were cited for contempt by the Pollution Control Commission. The kids were cleaning out their rooms and dragging out microscopes that had only examined curdled milk.
There was an electric train with which only their father had played, a guitar that never played a tune (but made a neat tennis racket), socks that scratched and even their old report cards. But I drew the line when it came to selling their toothbrushes and underwear. I mean, a person has to be reasonable about these things!

I had heard that garage sales were successful, but I didn't believe it until I saw 23 cars double-parked in our drainage ditch, a pick-up truck on the back porch and a dune buggy in the furnace room! It takes a garage sale to prove that a woman will buy anything, if she thinks it's on sale.
After all, what can one do with a dead philodendron plant – a plastic one, yet? I also learned that there's no exercise so efficacious for the upper arms as standing in the midst of a group of mad women and trying to keep them from taking the rafters apart while trying to get at our storm windows (which I'll have you know were NOT for sale); but little did they care.
One woman offered me a dollar for the dress I was wearing, and I had to run half a block to catch up with the lady who gave my son 50 cents for the sheets on the clothes lines. Did she care it was my laundry and I had to make the beds before the day was over – and where would I be without those sheets?

I finally had to administer first aid to the two girls who fought so bitterly over which of them was going to drag off to their car a plaid CPO jacket and a pair of blue worsted men's slacks! Mind you. I wouldn't have cared under any other circumstances, but my husband was still in them AND he didn't want to go with either of them. He wanted to stay home and watch the ball game on TV!
By 6pm, they had bought everything that wasn't breathing, barking or encased in concrete. As I sat at the kitchen table, counting up the profits of the day, my husband came staggering in, bruised and breathless. 'You know that guy with the flat-bed truck, who's been hanging around all day?' […he asked.] 'Well, he just gave me $50 and drove off with our garage!'
It all goes to prove, if I had put a price on those kids of ours, I might have sold them – but, who could afford to feed them once they got them home?
LAST THOUGHTS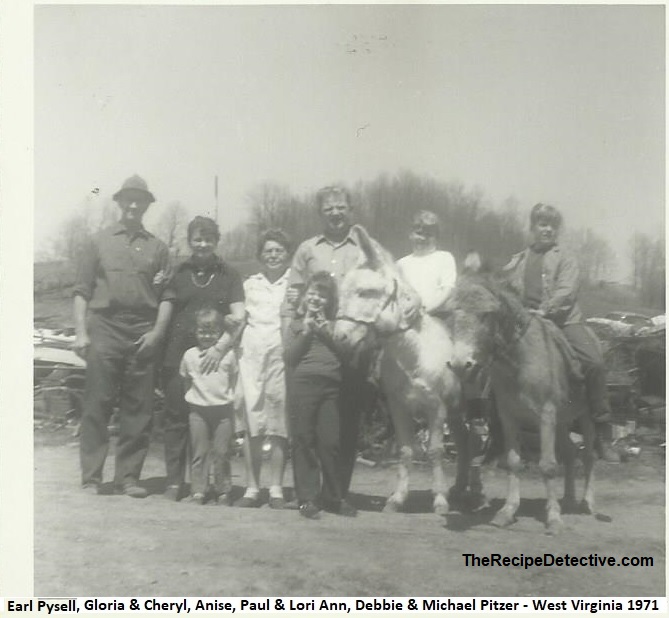 A lot of great people, food and other things have come from the great state of West Virginia; including both of my dad's parents – thus, I'm compelled to give a shout-out in celebration of National West Virginia Day! I haven't been there since I was a young girl, but I have wonderful memories of our family reunions there.
IN CLOSING…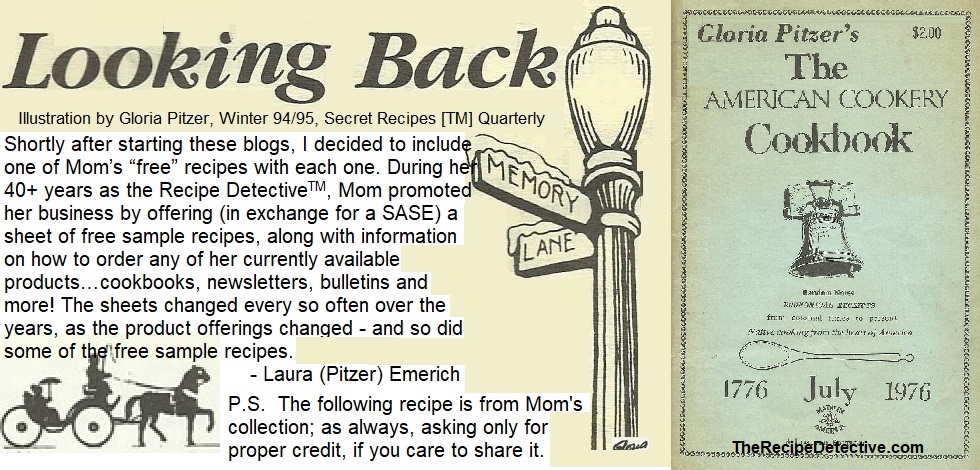 In honor of #NationalWestVirginiaDay, here is Mom's "secret recipe" for #HamStuffedSwetPotatoes; as seen in…
Gloria Pitzer's The American Cookery Cookbook – written and published by Gloria Pitzer (Happy Newspaper Features, Pearl Beach, MI; July 1976, p. 39)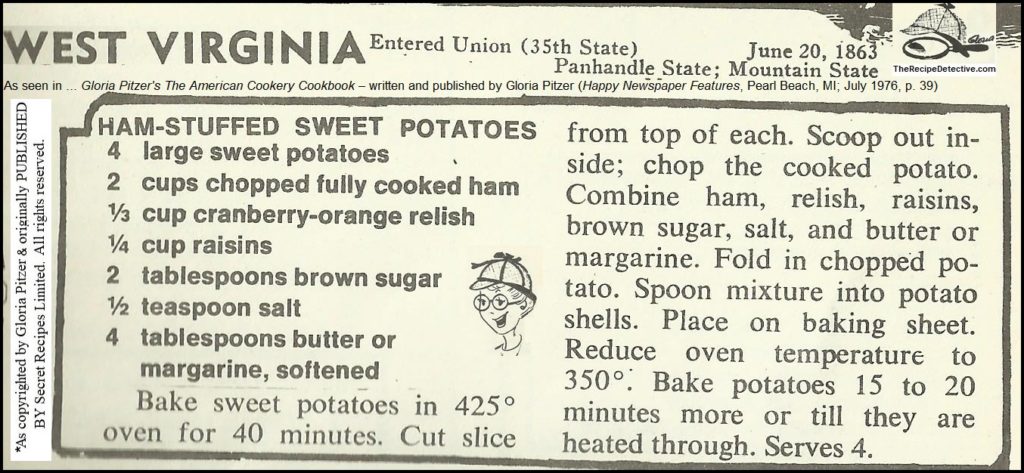 P.S. Food-for-thought until we meet again, next Monday…
March is still observing… Irish-American Heritage Month, National Caffeine Awareness Month, National Celery Month, National Craft Month, National Flour Month, National Sauce Month, and National Women's History Month!
Additionally…
Today is also National Bavarian Crepes Day and National Goof Off Day!
Tuesday is National Chia Day, National Chip and Dip Day, National Near Miss Day, National Melba Toast Day, National Puppy Day, National Tamale Day, National Education and Sharing Day [changes annually – March 23, 2021], and National 3-D Day [which is the 3rd day of the 3rd full week of the 3rd month]!
Wednesday is National Chocolate Covered Raisin Day, National American Diabetes Association Alert Day [the 4th Tuesday in March], and National Cheesesteak Day! In honor of the latter, here is Mom's imitation for the one that "nobody doesn't like" – and you can re-vamp it, using a sugar substitute in place of table sugar, for diabetics! My dad loved it and so do I!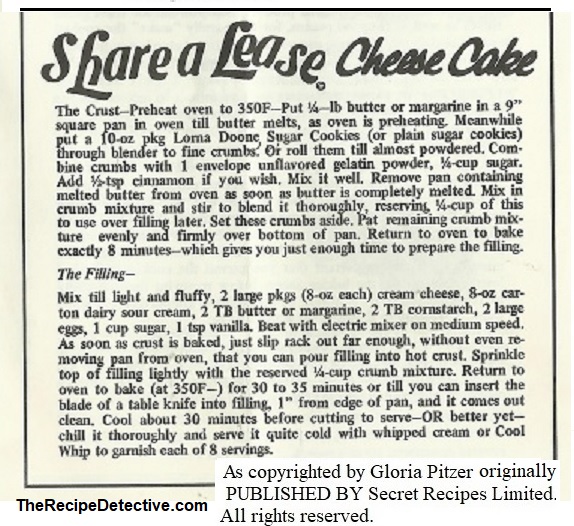 Thursday is National Lobster Newburg Day!
Friday is Epilepsy Awareness Day (aka: Purple Day), National Nougat Day, and National Spinach Day!
Saturday is National Joe Day, National Scribble Day, and National Spanish Paella Day!
Sunday is National Black Forest Cake Day and National Something on a Stick Day!
REMINDER: NEXT MONDAY is my regular monthly visit on the "Good Neighbor" show, with Kathy Keene! The show airs from 11am to 1pm, Central Time; I'm usually on during the first half hour of the show. If you're not in the Appleton, WI area, to find the station on your radio, you can listen to the broadcast, live or later, through WHBY's website!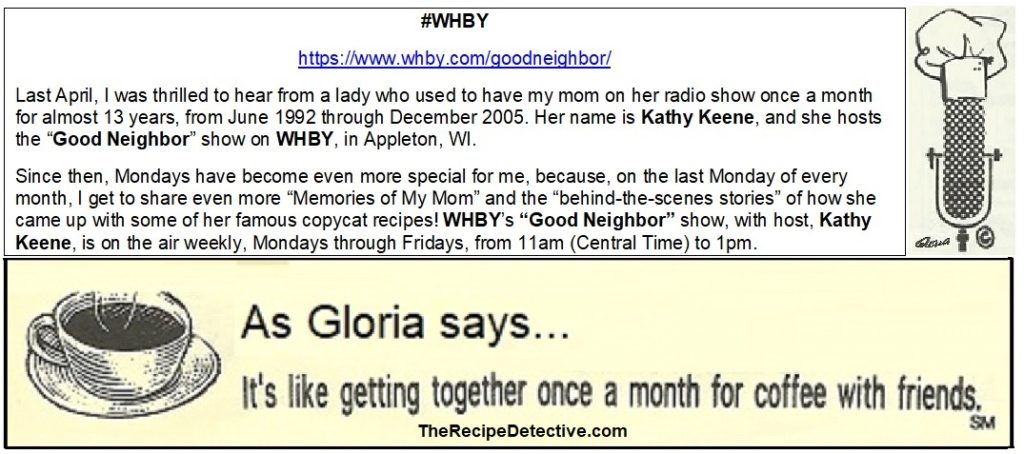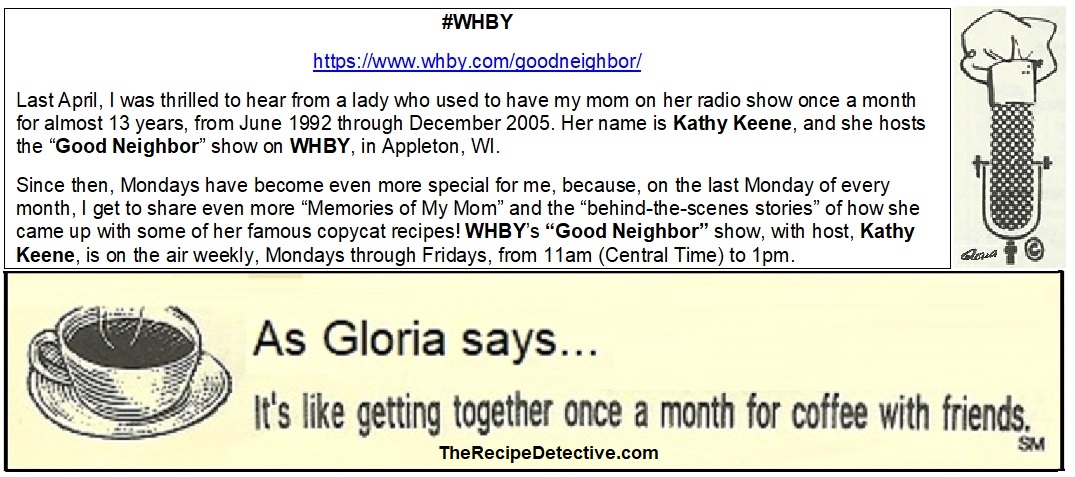 …12 down and another 40 to go!