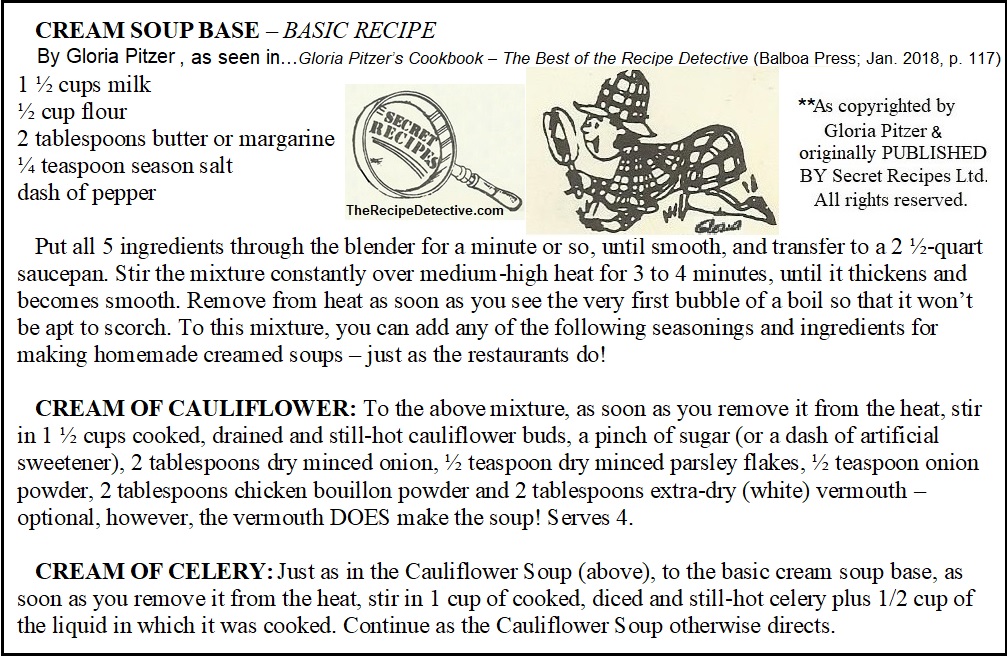 CREAM SOUP BASE – BASIC RECIPE
By Gloria Pitzer, as seen in… Gloria Pitzer's Cookbook – The Best of the Recipe Detective (Balboa Press; Jan. 2018, p. 117). [A revised reprint of Gloria Pitzer's Better Cookery Cookbook (Secret RecipesTM, St. Clair, MI; May 1983, 3rd Edition).]
INGREDIENTS:
1 ½ cups milk
½ cup flour
2 tablespoons butter or margarine
¼ teaspoon season salt
dash of pepper
INSTRUCTIONS:
Put all 5 ingredients through the blender for a minute or so, until smooth, and transfer to a 2 ½-quart saucepan. Stir the mixture constantly over medium-high heat for 3 to 4 minutes, until it thickens and becomes smooth. Remove from heat as soon as you see the very first bubble of a boil so that it won't be apt to scorch. To this mixture, you can add any of the following seasonings and ingredients for making homemade creamed soups – just as the restaurants do!
VARIATIONS/OPTIONS…
CREAM OF CAULIFLOWER: To the above mixture, as soon as you remove it from the heat, stir in 1 ½ cups cooked, drained and still-hot cauliflower buds, a pinch of sugar (or a dash of artificial sweetener), 2 tablespoons dry minced onion, ½ teaspoon dry minced parsley flakes, ½ teaspoon onion powder, 2 tablespoons chicken bouillon powder and 2 tablespoons extra-dry (white) vermouth – optional, however, the vermouth DOES make the soup! Serves 4.
CREAM OF CELERY: Just as in the Cauliflower Soup (above), to the basic cream soup base, as soon as you remove it from the heat, stir in 1 cup of cooked, diced and still-hot celery plus 1/2 cup of the liquid in which it was cooked. Continue as the Cauliflower Soup otherwise directs.
NOTE: Other variations for this soup base can be found in…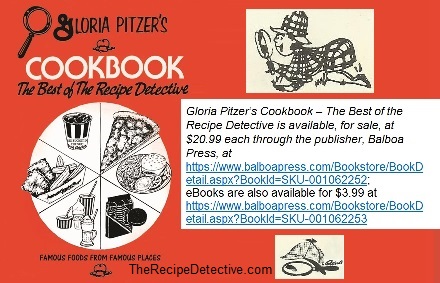 See also…