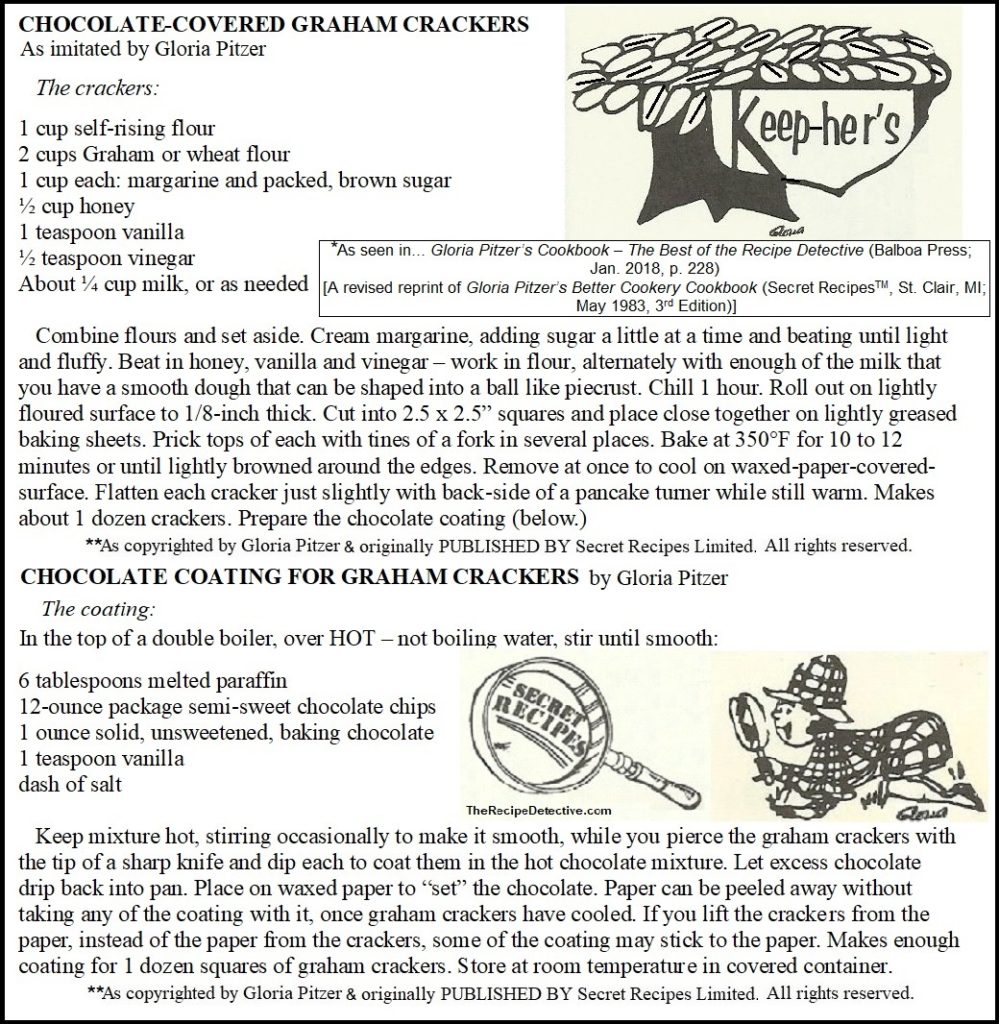 CHOCOLATE-COVERED GRAHAM CRACKERS
By Gloria Pitzer, as seen in… Gloria Pitzer's Cookbook – The Best of the Recipe Detective (Balboa Press; Jan. 2018, p. 228). [A revised reprint of Gloria Pitzer's Better Cookery Cookbook (Secret RecipesTM, St. Clair, MI; May 1983, 3rd Edition).]
INGREDIENTS:
The Crackers:
1 cup self-rising flour
2 cups Graham or wheat flour
1 cup each: margarine and packed, brown sugar
½ cup honey
1 teaspoon vanilla
½ teaspoon vinegar
About ¼ cup milk, or as needed
INSTRUCTIONS:
Combine flours and set aside. Cream margarine, adding sugar a little at a time and beating until light and fluffy. Beat in honey, vanilla and vinegar – work in flour, alternately with enough of the milk that you have a smooth dough that can be shaped into a ball like piecrust.
Chill 1 hour. Roll out on lightly floured surface to 1/8-inch thick. Cut into 2.5 x 2.5" squares and place close together on lightly greased baking sheets. Prick tops of each with tines of a fork in several places.
Bake at 350°F for 10 to 12 minutes or until lightly browned around the edges. Remove at once to cool on waxed-paper-covered-surface. Flatten each cracker just slightly with back-side of a pancake turner while still warm. Makes about 1 dozen crackers. Prepare the chocolate coating (below.)
CHOCOLATE COATING FOR GRAHAM CRACKERS
INGREDIENTS:
The Coating:
6 tablespoons melted paraffin
12-ounce package semi-sweet chocolate chips
1 ounce solid, unsweetened, baking chocolate
1 teaspoon vanilla
dash of salt
INSTRUCTIONS:
Keep mixture hot, stirring occasionally to make it smooth, while you pierce the graham crackers with the tip of a sharp knife and dip each to coat them in the hot chocolate mixture. Let excess chocolate drip back into pan.
Place on waxed paper to "set" the chocolate. Paper can be peeled away without taking any of the coating with it, once graham crackers have cooled. If you lift the crackers from the paper, instead of the paper from the crackers, some of the coating may stick to the paper. Makes enough coating for 1 dozen squares of graham crackers. Store at room temperature in covered container.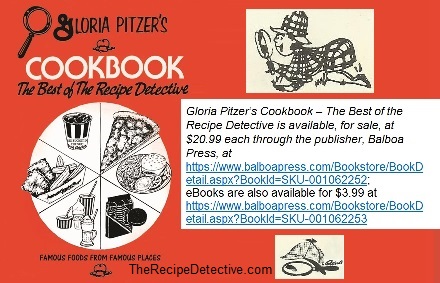 See also…