Happy summertime Monday to one and all! As always, #TGIM – I continually look forward to Mondays because they are my #52Chances each year, in which I have to share my memories of Mom!
We're almost to the middle of summer and those hot and humid "dog days" continue to hound us, with no relief in sight. These are the days that a lot of Michiganders like to head "up north" to vacation in a slightly (usually) cooler and drier atmosphere – especially when close to one of the Great Lakes!
I have so many fond memories, from my childhood, of some of our own Michigan, summertime, family vacations. Mom and Dad took us to so many wonderful places around Michigan like the Tahquamenon Falls and Soo Locks in the U.P., as well as Petoskey, Mackinaw City and Mackinac Island in the "Tip of the Mitt" region.
Other "nearby" trips (to where we lived in the "Thumb Area") included Sandusky's Cedar Point Amusement Park and Aurora's SeaWorld, both in Ohio; as well as Grand Bend, Toronto and Niagara Falls in Ontario, Canada. I tried to expose my own children to, at least, most of these wonderful places as well… Making memories!
Every summer that I can remember, while growing up in the "Thumb Area" of Michigan, there was usually a couple of these family trips; along with some special one-day-events like a festival, going to the beach, picnicking at a park and backyard barbecues that filled our summers with a lot of fun memories.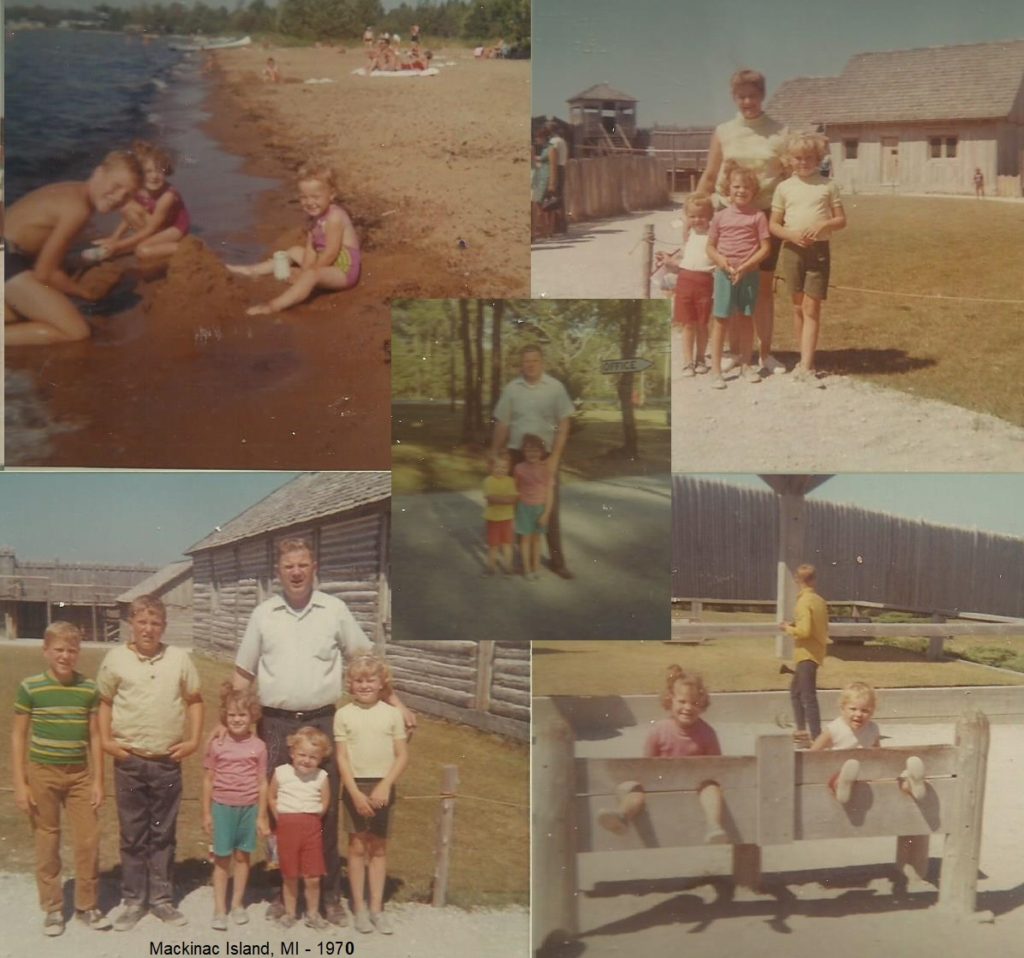 FROM MOM'S MEMORIES
As seen in "No Laughing Matter", by Gloria Pitzer (no printed date available)
HOW I'M SPENDING MY SUMMER VACATION
I am really trying to enjoy this summer vacation, even though I have the feeling I'm just a first grade version of 'See Mother Run'. Most of the vacation weeks (and I use the reference loosely) were spent wandering through aspirin lectures asking perfect strangers: 'How many more days until school opens?'
We didn't try to vacation anywhere with the children this year, considering how we spent two weeks on the Turnpike with them last summer and lived to tell about it.
…There are positive virtues to the 'nine-to-three' schedules, which leave mothers five days a week, from September through June [minus the long Christmas and Easter breaks], during which they are not answering dumb questions.
For one thing, it is none of the kids' business why I look pale and plump in a bathing suit. I knew the minute I walked into 'Chubby Chicks Swimwear Boutique' that summer, for me, would mean running under the lawn sprinkler in very dark glasses and a body shirt, cleverly created out of a porch awning by some 'shut-in' from 'Green Acres'.
Actually, it was all my husband's idea. For, out of consideration for the neighbors, he only lets my sit on the patio in my bathing suit after dark. He claims I even discourage mosquitoes. This is the same man who will also stand on the porch whenever I sing so the neighbors can see he isn't beating me!
The same man who can come home from (and I quote exactly) 'an exhausting day of fishing' and ask, seriously, when am I going to clear off the top of the refrigerator, will I write to his mother, did I have fun at the 'book mobile' with the five kids, and is it alright if we 'eat out' tonight… meaning, of course, hot dogs in the backyard!
He doesn't understand why I spend my [summer] vacation counting the days until school opens again. But he doesn't have to find band-aids for bra-less Barbie dolls and G.I. Joes, who have been sucked up into the vacuum cleaner hose.
He doesn't have to wander through a vast wasteland of 'Pop-Tart' wrappers and 'Mr. Misty' cups, while 37 neighborhood kids motorbike their way through the yard, the flower beds, and into the center of a national noise abatement program, sympathetically excused by three probation officers who don't have to live around here!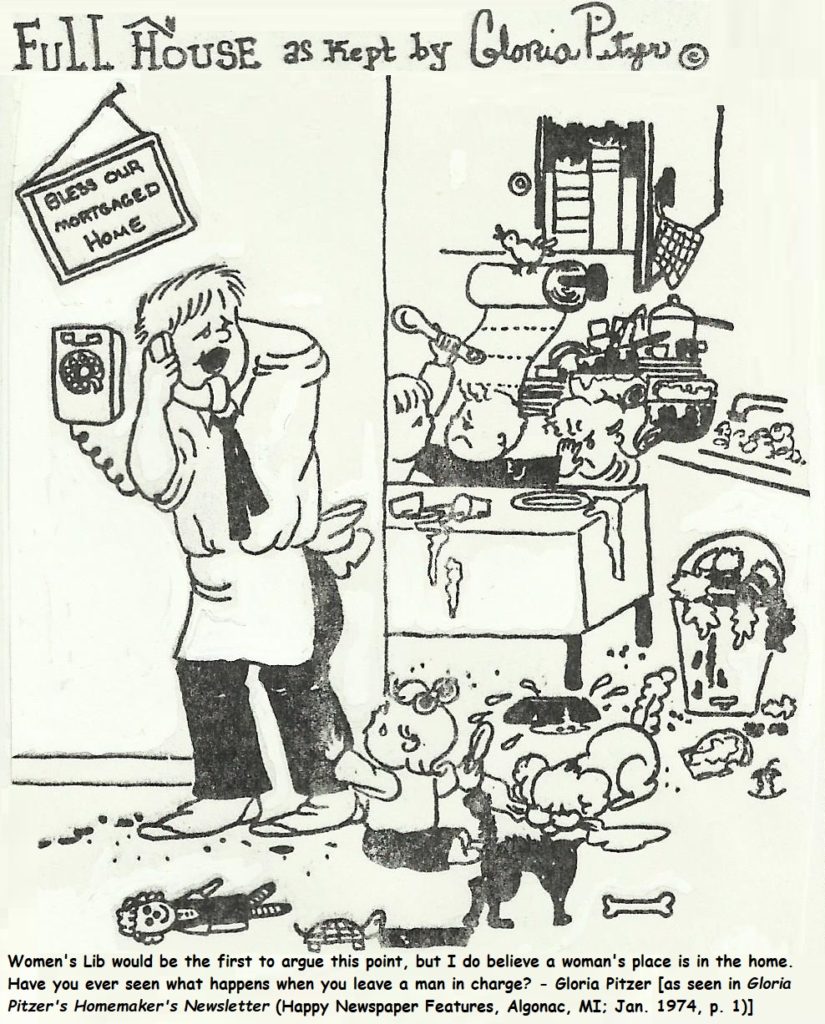 Summer VACATION – as some teachers laughingly refer to the 10 weeks, during which 'families who stay together, get on each other's nerves' – is NOT a vacation! It's enough to make a mother look like a wire service ['Wanted'] photo that, by all rights, should be printed under the caption: 'NEVER MIND SENDING HER KIDS TO CAMP… Help send this mother away!'
It's mothers who need the vacations – not the kids! Ten weeks of kids at home [all day] and Mother can develop a personality of a dental drill with a voice to match! But, as I told the kids the other day, 'as soon as Daddy gets home, everything will be all right.'
Sometimes it's not easy on a mother to come up with the answers to questions all by herself, like: 'How many more days until school starts?' … 'Can I have a Coke?' … 'Did you see my sneakers?' … 'Can I have a popsicle?' … 'How come you're always yelling at me?' … 'Why doesn't anybody like me?' … 'Can I have my allowance?' – but, compared to all of the questions the kids ask me during the day, I can take THOSE [above] from my husband.
He means well, even though he doesn't understand that a mother's vacation doesn't begin until school does in the fall!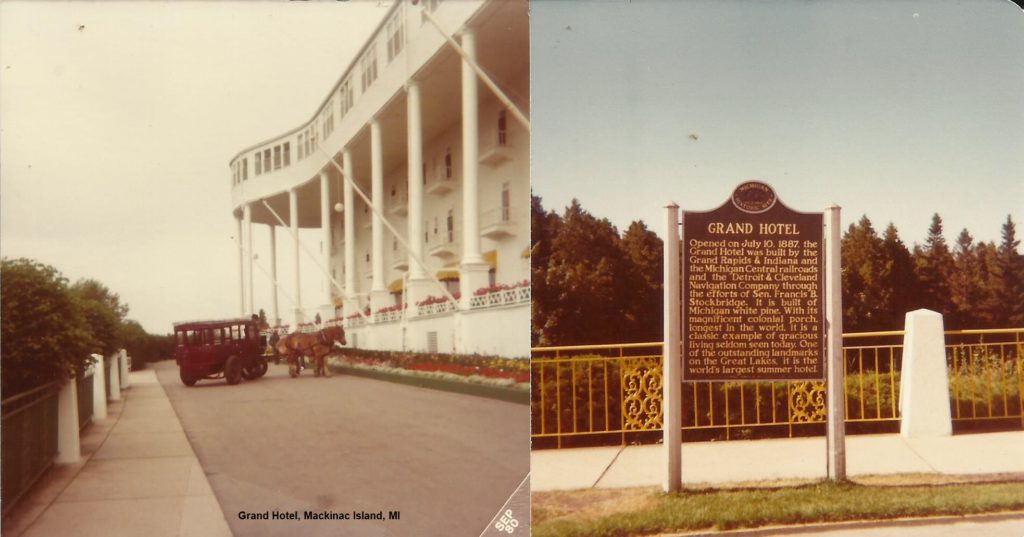 Mackinac Island, Michigan is a very nostalgic place – the summer vacations that I spent there with my family are my most memorable ones. Except for the smell of horse dung (which, besides bicycles, horses are the popular mode of transportation on the island, as motor vehicles aren't allowed), baking in the summer heat, the island is actually full of many DIVINE scents!
From the variety of flowers in the beautifully kept gardens everywhere to the yummy, sugary confections being made in the fudge and candy shops to the mouth-watering aromas wafting from the open windows and vents of the island's restaurants and bakeries that line the downtown streets where the mainland ferries bring millions of tourists every spring through fall (as the island is closed to tourism during the winter months).
Whether we stayed in Mackinaw City and visited the island all day or we stayed at the Grand Hotel, right on the island; to me, as with many others, it was always a magical trip back in time! That was especially the case one summer, in 1979, when we were staying at the Grand Hotel while the movie, Somewhere in Time, was being filmed there! What a special treat for all of us to experience; plus, we all got to meet Jayne Seymour, Christopher Plummer, and Christopher Reeves!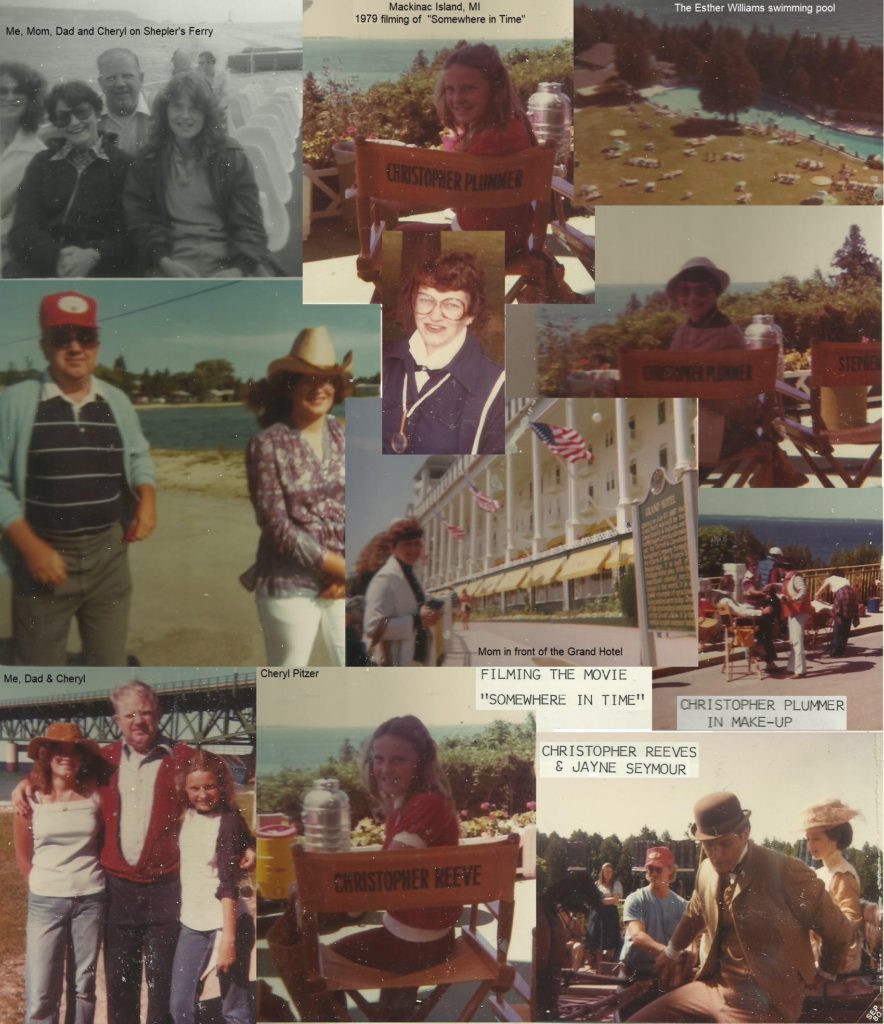 [On a side note – long before Somewhere in Time was filmed there – in 1947, another movie was also filmed at the Grand Hotel called This Time for Keeps. The famous leading actress in that movie, Ethel Merman, swam in the kidney-shaped pool of the Grand Hotel during the filming of it there; thus, as I learned during one of our family trips, the pool was named after her.]
MORE FROM MOM'S MEMORIES
As seen in "No Laughing Matter", by Gloria Pitzer (no printed date available)
VACATION RETURNS (OR THE LAST RESORT)
It is only upon returning from a vacation that we realized just how much we could use one! Ours was nothing to write home about, so all of you out there, who were looking for a postcard from us, now know why you didn't get one.
If – when I [was] at home, among conveniences, and circumstances used to force me to once write those 'please-excuse-my-child' notes in lipstick on the back of a Citizen's Federal Savings [bank] slip, and take telephone messages down in the dust on the end tables – you just know that any postcard I'd be apt to send from our vacation would probably be written in campfire charcoal on the back of a Handi-Wipe!
I still hate to refer to it in the strictest sense as a 'vacation'. I mean, a cross country trip by station wagon with our five kids would be anything BUT a vacation! And somehow, I recall that the cross country trip got even more cross as we crossed the country, when we were traveling with the kids – especially on the way back [home].
We spent more time deciding which child got to sit next to the window than we ever did reading the road maps – and that was just in the driveway before we even left home! Upon reading those maps, however, we would be forced to make the crucial decision – deciding which fork in the road to take. Usually, [we chose] the wrong fork in the road – but then, we had never been lost that way before!
Once in a while, and even to this day, when Paul and I travel alone, without the children to distract us, we'll find we're lost on some turnpike off ramp and, when out of state we'll hope to see another vehicle with a Michigan license plate and start to follow them because we're convinced that they know where they're going and will probably, at least, get us back to the state line. But, in our case, [we] could use a bumper sticker for the car that reads: 'Don't follow me. I'm lost too!'
When the children were vacationing with us, in the old days, it seemed that 'who-sits-next-to-the-windows' is an on-going debate. The argument got so sticky at one point that I simply buried my face in a AAA tour book and pretended not to hear them until, from the midst of the back seat crowd, came a tortured voice, which pleaded in anguish, 'But I HAVE to sit by the window!'
'Nonsense!' I said, without looking up. 'Give me one good reason WHY you HAVE to sit by the window!'
'Because' said the voice with some agitation, 'I'm driving! I'm Daddy!'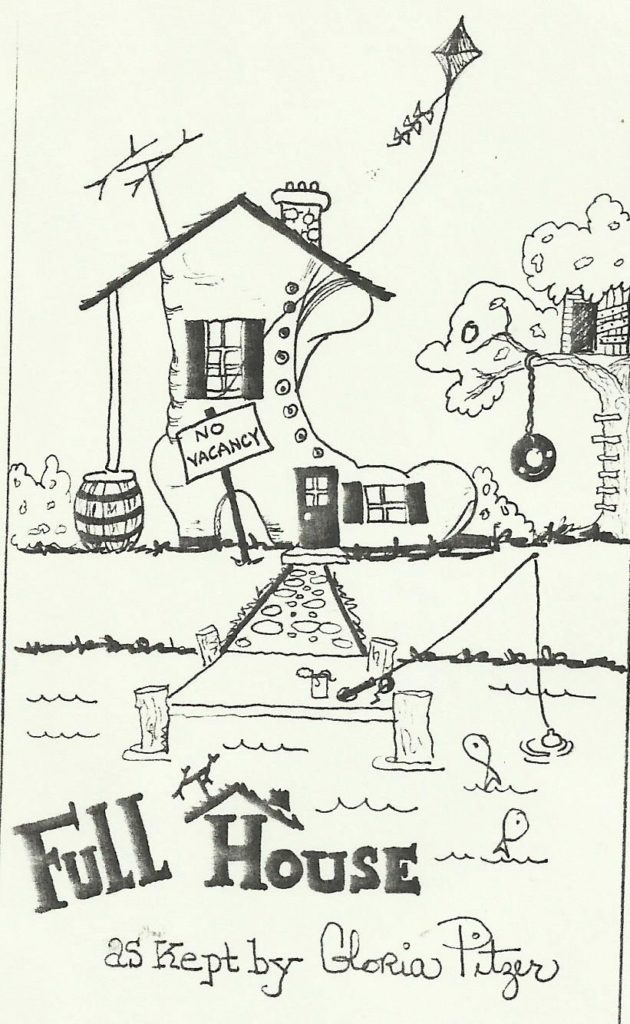 Even the cost of a simple vacation has been affected by the national inflation, I see today. You might say the cost of getting away, has gotten away; because, if you really wish to relive your vacation, the only way you can do it these days is to show your friends colored slides of all of your traveler's checks!
We did learn a few things, though, about our trips [that] I'm perfectly willing to share with you. We now realize that the same vacation conveniences that would cost us $90 a day, while traveling, we could have had for free if we had stayed home.
Besides, nothing can deflate your ego, or undermine your significance as a person, like returning from a 3-week vacation; and, as you begin to carry the suitcases from the car into the house, have your neighbor greet you with: 'Hi there! Going someplace?'
All we have to recall of our last vacation is the vivid memory of how the best restaurant to eat in was always just a block down the road from the one we stopped at and thought it would be the last one we'd come to before dark.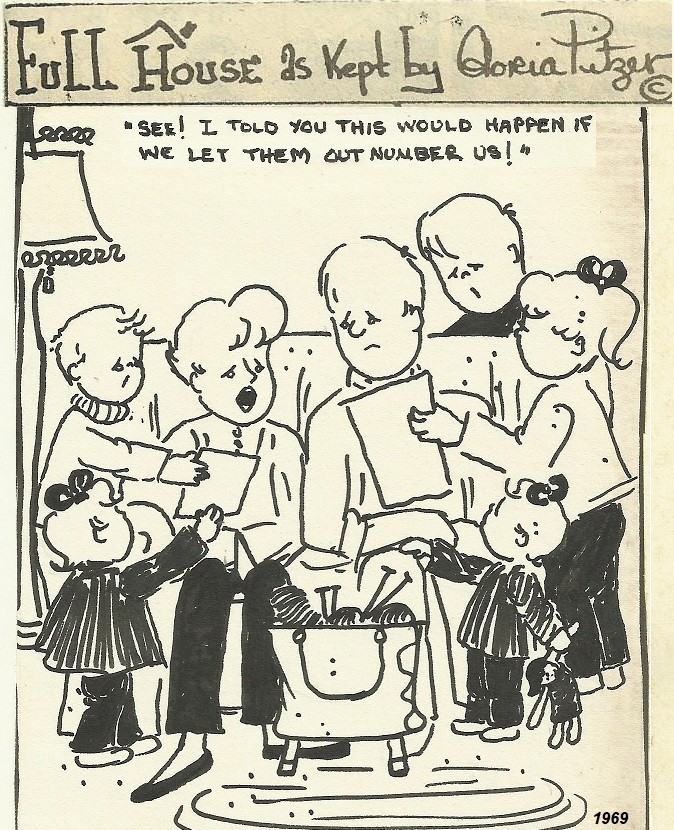 But I will always remember how Daddy would lie on the beach about how he was missed at the office! And…that hitchhiker we picked up, who, within 5 minutes, begged us to let him out of the car because he had been suddenly drenched with a Dairy Queen milkshake and 6 popsicle sticks were poked into his fringe-sleeved, suede jacket.
As I said, if you're traveling with children and you think you need the vacation you're about to take, it's nothing compared to the one you'll be ready for when you get back!
However you choose to spend your summertime vacation time – I hope you make a whole bunch of happy memories and enjoy it to the max!
IN CLOSING…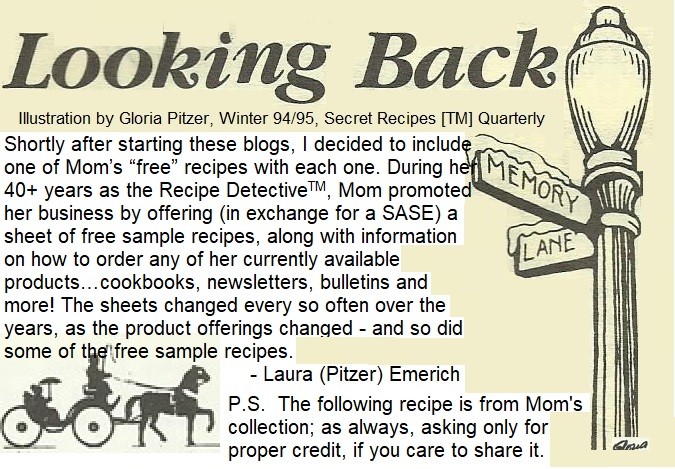 In honor of National Chicken Wing Day, here is Mom's copycat recipe for chicken like Popeye's…
P.S. Food-for-thought until we meet again, next Monday…
My next visit on the "Good Neighbor" show, with Kathy Keene, is TODAY around 11:08am (CDST)/12:08pm (EDST)! Be sure to check it out, as we'll be discussing cookies!


…30 down, 22 to go!