#TGIM! Happy Monday to all and happy National Pumpkin Day! I always look forward to Mondays because they are my #52Chances a year, in which I can share Memories of My Mom with all of you!
I'm so thankful that each of my parents' parents migrated to this beautiful state that we've all called home for five generations, now. Similar to the rest of the North American continent, Michigan is a multicultural "melting pot"; accentuating the sum of its various heritages into one whole society of Michiganders.
However, nowadays, Michigan is considered to be more of a "mosaic" society; where different cultures live together, in harmony, as a community; respecting and celebrating each other's customs, while retaining pride in their own heritages' identities. Our individual heritages hold distinct, traditional senses of family and belonging. They identify with our history, values, customs, and culture; as they're handed down from one generation to the next.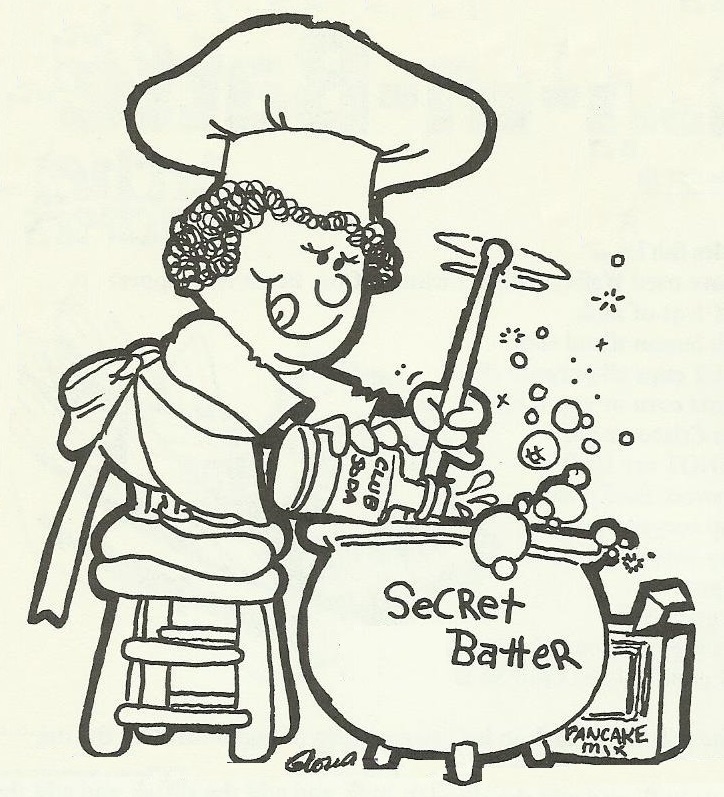 Many families usually describe their cultural heritage by the ethnic and social background from which they came. It indicates a "shared bond" of belonging to a community. Mom always described our family's cultural heritage as we had a 'Heinz 57' ancestry, because we were a multicultural family.
Having a sense of community unites us all, because being part of a community makes us feel like we're part of something bigger and greater than ourselves. Being part of a community gives us opportunities to connect with other people and it makes us feel safer and more secure. It's important for everyone to have a sense of belonging to a community.
There's a great [PDF] read about multiculturalism, comparing the old "melting pot" theory to the new "mosaic" concept at MIRealtors.com.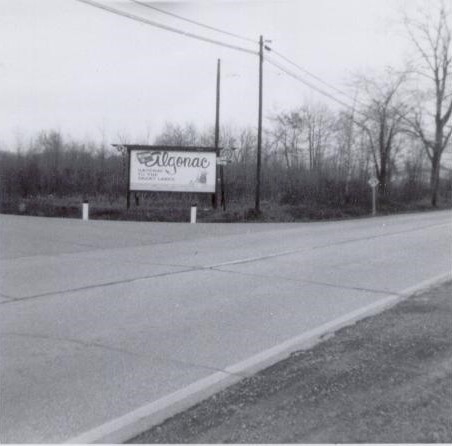 FROM MOM'S MEMORIES…
As seen in…
My Cup Runneth Over and I Can't Find My Mop (Secret RecipesTM, St. Clair, MI; Dec. 1989, p. 56)
SMALL-TOWN AMERICA – PEARL BEACH AREA HISTORY
At the time all of this was taking place, we were living on Pointe Tremble Road in Clay Township, better known as Algonac, although we were not actually within the city limits. The Township was one of those areas that people didn't really have any community pride in it that time. Down the road from us, however, was a six-square-block area called Pearl Beach. This part of the North Channel area, on the outskirts of Algonac, had played a historical part in the colorful development of that part of Clay Township and of Michigan.
In the 1920s, rumrunners and bootleggers ran their booze by small boats from the shores of Pearl Beach to Harsens Island and then across to Canada. Down the road was the Chris-Craft plant where, during World War II, the PT boats were built. Chris Smith, who had founded the company, was quite a prominent member of the community.
The best part about Pearl Beach, however, is that it wasn't a 'legitimate city'. It was just an 'area', but Paul always promoted it as being the best place in the world to live, because it had no city politicians to contend with, no shopping center, no school system of its own and didn't even have a police or fire department because they had never really needed one. Clay Township provided services of that nature to Pearl Beach.
One thing it DID have, though, that proved to be to our liking and benefit professionally… It did have a post office! The postmaster [at that time], Newt Aspenliter, even lived right next door to the post office. So, in keeping with the uniqueness of what I wanted to offer, I thought that coming from Pearl Beach would have more appeal to the public than anywhere else would.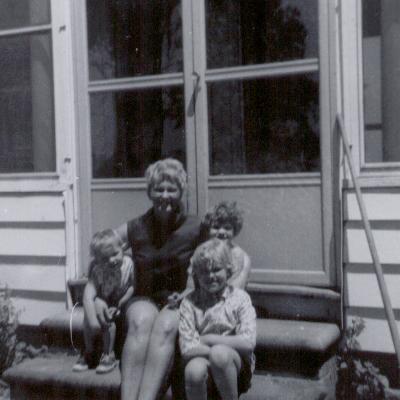 Among other things, the month of October observes celebrations for three of the largest heritages in America's (and Michigan's) "melting pot" – that of the Italian, German, & Polish cultures. According to Michigan's Diverse Ethnic Heritage this state is also home to large communities of all three of these heritages, plus many others! The auto industry in Michigan attracted a variety of immigrants, coming to live the "American dream".
'The American dream is the belief that anyone, regardless of where they were born or what class they were born into, can attain their own version of success in a society where upward mobility is possible for everyone. The American dream is achieved through sacrifice, risk-taking, and hard work, rather than by chance.' – Investopedia.com
According to the 1990 U.S. Census and HardCoreItalians.blog, Detroit was home to the 7th largest population of Italian-Americans in the United States. As I mentioned earlier this month, Italian-American cuisine was always one of Mom's favorite food areas to investigate – places like Olive Garden and Pizza Hut (for example) gave her many dishes from which to taste, test, and imitate.
Earlier this month, I also wrote about Michigan's city of Frankenmuth, having the largest German-Heritage community in the state. It was always a favorite road trip of Mom and Dad's, as well as for me and my husband, still.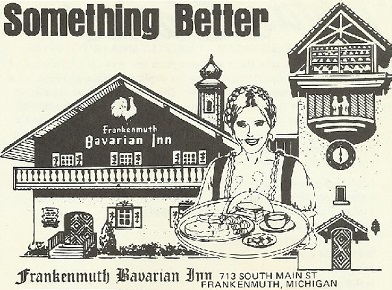 Among other things that the month of October is also celebrating (and I haven't already mentioned, yet, this month) is that it's National Polish-American Heritage Month! This is another fabulous source of some really great food like bagels, paczki (filled donuts that have their own special day), rosol (chicken broth), golabki (stuffed cabbage rolls), pierogi (dumplings), bigos (hunter's stew), potatoes and kielbasa (Polish sausage).
FYI: the Polish word 'pierogi' is already in plural form (for 'pierog').
Did you know that President Regan passed Resolution 577 in 1984, formally naming August as National Polish-American Heritage Month? A couple of years later, the commemorative month was changed to October so schools could participate in the celebratory events during the school year. October was also significant in the change, as it was the same month in which the first Polish settlers came to Jamestown, VA (in 1608).
According to Wikipedia.com, Polish-Americans are the second-largest Central European immigrant group in the U.S., following the Germans. Additionally, per the 2000 U.S. Census, Michigan was then home to the third largest Polish population in the States. New York was first and Illinois was the second largest.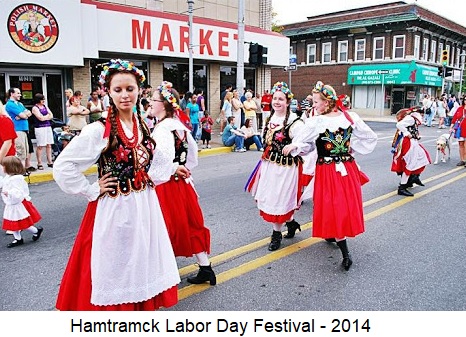 However, per capita, Michigan actually had the largest Polish population; while its neighboring state, Wisconsin, had the second largest Polish population, per capita. The majority of Michigan's Polish-American community is concentrated in Metro-Detroit's tri-county area – namely Wayne, Macomb and Oakland counties. The city of Troy (in Oakland County) became the epicenter of the Polish population, in Michigan, after their migration from the Detroit suburb of Hamtramck.
The Polish community is the second largest ethnic group in Michigan and have been a significant part of the history of Detroit and the state of Michigan. The Detroit area's large Polish community was, for many years, concentrated in Poletown and Hamtramck, two suburbs of Detroit. These Polish communities became vital centers of immigrant social life, with small businesses and professional organizations.
Hamtramck was originally settled by German farmers. It became a predominantly Polish industrial town in 1914, when the Dodge Brothers automotive plant first opened. The Dodge plant offered significant employment opportunities for the surrounding community. By the 1970s, Hamtramck had grown to a 90% Polish-American population. The following recipe is from Mom's "Original 200" collection – an imitation of Pineapple Bars like she used to get at one of the great Hamtramck bakeries.

NOTE: Don't forget that October is also National Cookbook Month!
Paczki Day (pronounced 'poonch-kee') – also known as Fat Tuesday – is celebrated the day before Ash Wednesday. [By the way, like pierogi, paczki is already in its plural form.] The traditional reason for making paczki was to use up all the lard, sugar, eggs and fruit in the house, because their consumption was forbidden by the household's Christian fasting practices during the season of Lent.
The Polish bakeries in Detroit's tri-county area (and further, yet) are swarmed every year, as Michiganders seek out their annual dose of the high-calorie-and-fat paczki (donuts) in commemoration of this day, whether they're Polish or not – or celebrate Lent or not.

MORE FROM MOM'S MEMORIES…
As seen in…
My Cup Runneth Over and I Can't Find My Mop (Secret RecipesTM, St. Clair, MI; Dec. 1989, p. 61)
THE RIPPLE EFFECT – A QUESTION of VALUES
Toss a stone into the midst of a still, glassy pond. See the ripples begin to spiral around until the entire surface of the pond is but a series of rings, reaching toward every inch of the edge – without beginning, without end. Constructive behavior works the same way.
It touches individuals with inspired options, which in turn touches the community and even the world. Every little bit of good counts. It breaks down barriers. Like the rippling effect of the pond, one good intention carried out can increase in dimension to eventually encompass the broadest surface.
Whenever our best intentions are carried out for the good of all concerned, only good can result. How could good possibly produce something bad? It's often just the still small voice of wisdom that turns us in the right direction. When it does, how silly it is of us to give credit to coincidence or chance. The purpose of something good is, of course, to bless, to enrich and to comfort and why, then, does even knowing this makes so many folks feel uncomfortable?
Having more doesn't necessarily make us better-off, and most people limit their definition of good to an increase in more THINGS. Sometimes the good is not material, nor the least bit tangible, but instead is a feeling – a comforting and reassuring confidence – that, yes, everything can be all right, after all!
IN CLOSING…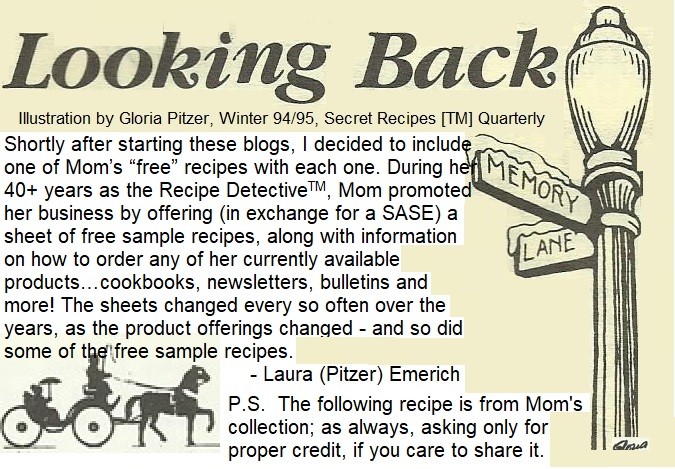 Today is National Pumpkin Day – in honor of that, here are two more of Mom's "secret" recipes for Pumpkin Bread and Vanilla Glaze! As seen in Mom's last cookbook, Gloria Pitzer's Cookbook – The Best of the Recipe Detective (Secret RecipesTM, St. Clair, MI; May 1983, 3rd Edition; p. 158).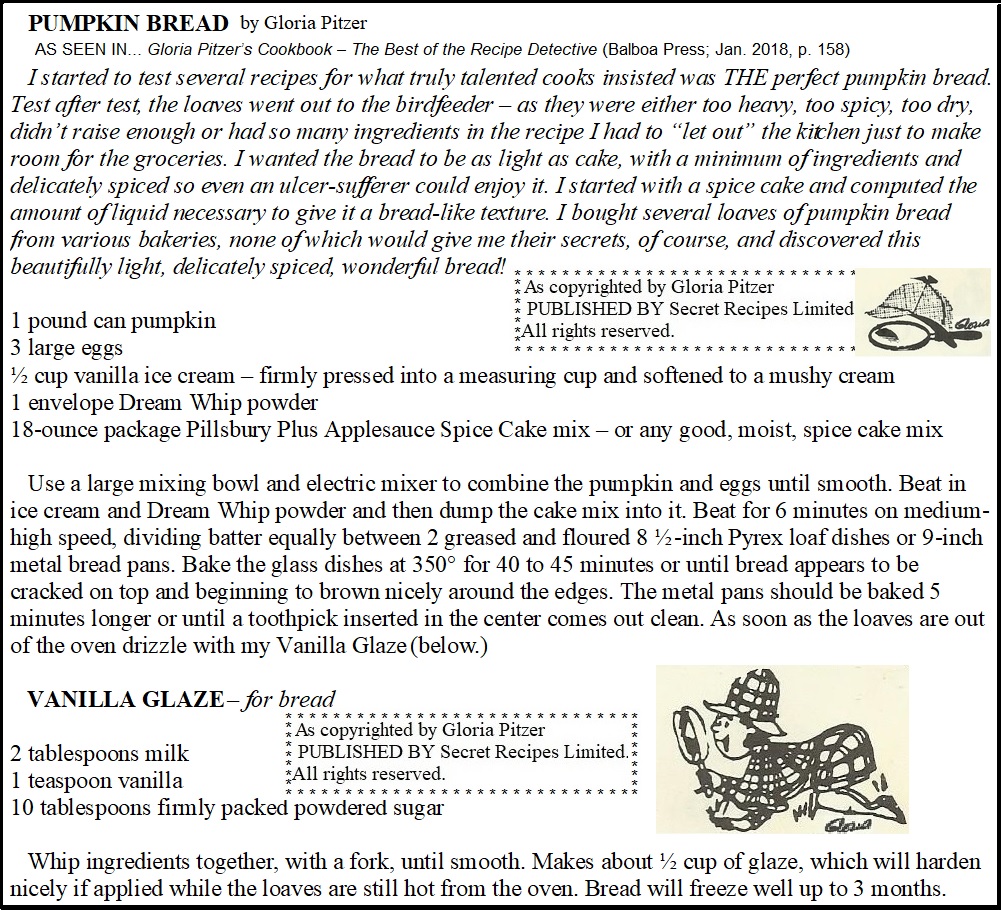 P.S. Food-for-thought until we meet again, next Monday…
Today is my regular monthly visit with Kathy Keene on her "Good Neighbor" show at WHBY in Wisconsin! We'll be sharing our memories of Mom as the Recipe DetectiveTM and a few of her recipes as well. Tune in at 11:08 AM (Central)/12:08 PM (Eastern). In case you miss it, there will also be a link on WHBY's website at https://www.whby.com/goodneighbor/ so you can listen to it at your leisure!

https://www.whby.com/goodneighbor/
…43 down, 9 to go!