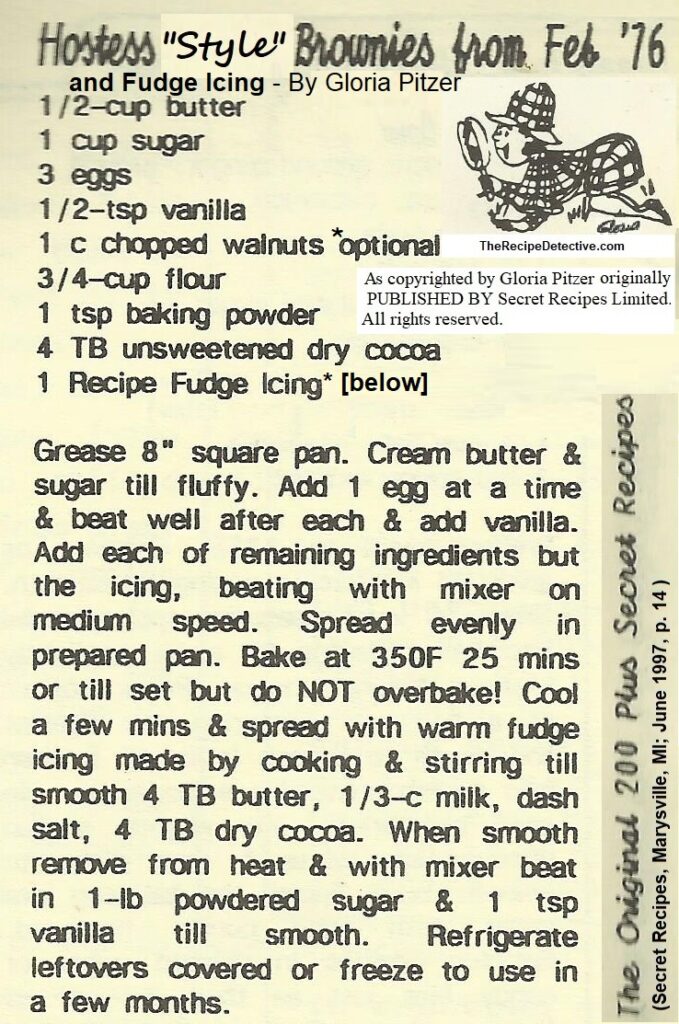 HOSTESS-STYLE BROWNIES & FUDGE ICING
By Gloria Pitzer
As seen in… The Original 200 Plus Recipes Book (Secret Recipes, Marysville, MI; June 1997, p. 14)
BROWNIES INGREDIENTS:
½ cup butter
1 cup sugar
3 eggs
½ tsp vanilla
1 cup chopped walnuts (optional)
¾ cup flour
1 tsp baking powder
4 TB unsweetened dry cocoa
1 recipe Fudge Icing (below)
BROWNIES INSTRUCTIONS:
Grease 8-inch-square pan. Cream butter and sugar until fluffy. Add one egg at a time, beating well after each. Add vanilla. Add remaining ingredients (except frosting), beating on medium speed.
Spread evenly in prepared pan. Bake at 350°F for 25 minutes or until set but do NOT overbake! Cool a few minutes and spread with warm fudge icing (below).
FUDGE ICING INGREDIENTS:
4 TB butter
1/3 cup milk
Dash of salt
4 TB dry cocoa [powder]
1-lb powdered sugar
1 tsp vanilla
FUDGE ICING INSTRUCTIONS:
Cook and stir first four ingredients until smooth. Remove from heat and beat in powdered sugar [a little at a time] and vanilla until smooth [again].
Refrigerate leftovers, covered… Or freeze to use in a few months.
Also see…