Happy Monday and happy National Volunteer Week to everyone! I always love to celebrate Mondays because they are my 52 Chances each year, in which I get to share Memories of My Mom with all of you!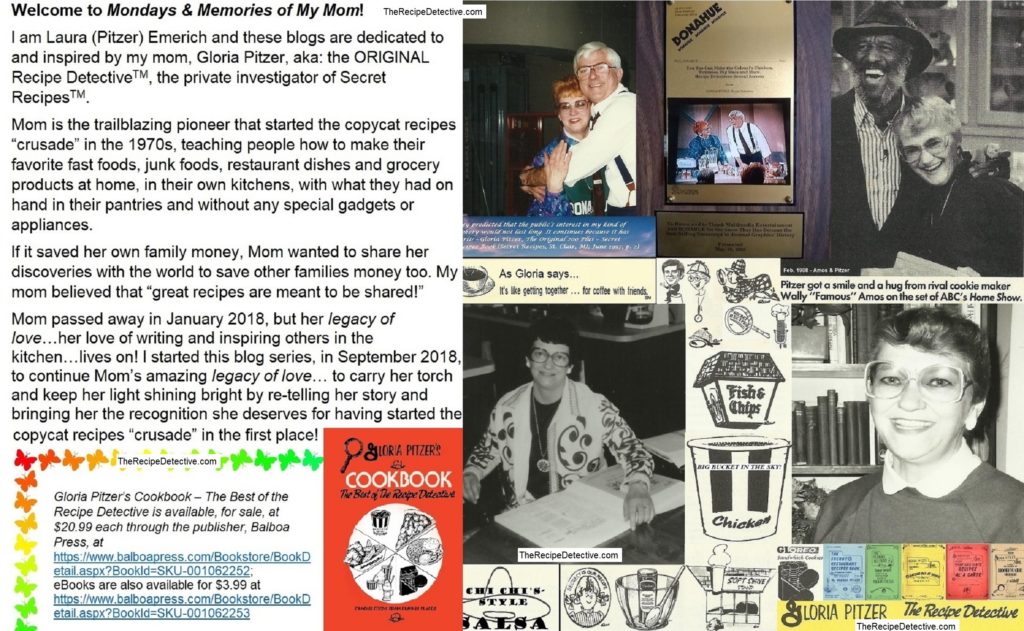 April is still celebrating, among other things, National Volunteer Month; which came to be, in 1991, through President Bush's "1000 Points of Light" campaign. Additionally, yesterday was the beginning of National Volunteer Week, which started in 1974 and is always observed throughout the 3rd full week of April!
Volunteers can be ANYONE – you don't have to be a certain age or have a lot of money or time on your hands, nor do you need to have any special talents or skills. These unpaid workers are priceless helpers and undoubtedly the most unsung heroes of all time, helping to keep so many organizations and communities running!
We're taught from generation to generation, the importance of volunteering… Paying it forward… Giving back to our communities and beyond! From the small-town, rural countryside to large metropolises, communities would not be able to completely function without volunteers, selflessly making a BIG difference.
In fact, most rural emergency services, like fire and medical, are staffed almost completely through the generous efforts of its community members. The service of volunteering is often woven into kids' after school programs, such as Boy Scouts, Girl Scouts, or the Campfire Boys & Girls Club. Additionally, it is also the summer-vacation-cornerstone of many college bound, high schoolers' resumes.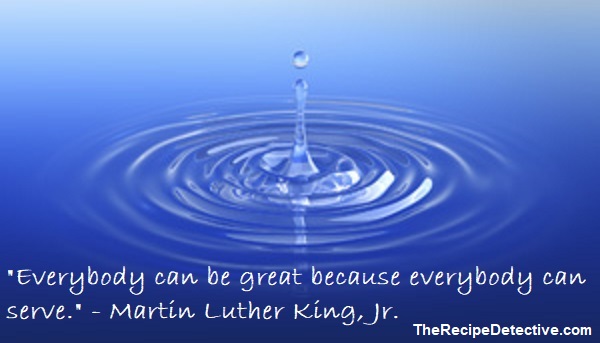 This past year has had an influx of people, giving their time (since they've had more of it to give) and talents, doing "good deeds" for others, and helping out those who've had greater needs than themselves. Likewise, many people have also stepped up to the plate by donating things like tablets (and other such electronic devices), PPE, money, food, and other needs.
National Volunteer Week presents a special opportunity for all of us to thank our local volunteers – AND also to join them, in some way, as they are setting great inspirational examples for us to follow. Mom used to say, "The most valuable gift you can give is to be a good example!" While this past year has seen some dark, sorrowing days amidst the Covid-19 pandemic; it also seems to have brought out some of the best volunteers and "good examples" in more of us than ever before.
'I've had so many good examples to follow – I'll try to be one, myself, to somebody else.' – Gloria Pitzer, This Is Not A Cook Book, (Secret RecipesTM, St. Clair, MI; Oct. 1986, p. 8)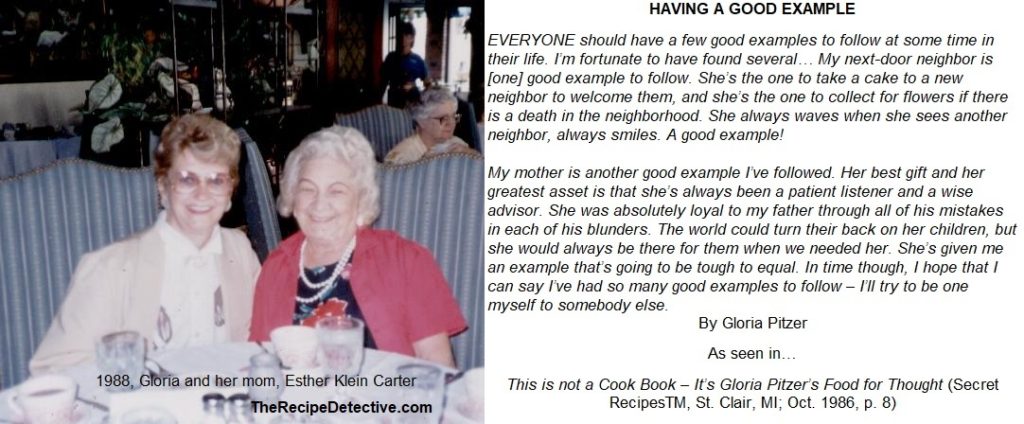 FROM MOM'S MEMORIES…
Excerpts, written by Gloria Pitzer, as seen in…
This is not a Cook Book! It's Gloria Pitzer's Food for Thought (Secret RecipesTM, St. Clair, MI; Oct. 1986, pp. 34 & 50)
WHEN YOU HEAL THE HURT
IT HAS BEEN SAID that 'when God closes a door, He opens a window' – for those who have the wit to discover it. Among the ill, the handicapped, the disfigured… are an astonishing number of people who have found their 'windows'. In quiet resurrections, they have risen out of their pain and despair and shattered hopes to new ambitions, new satisfactions and new happiness.
Though largely unsung, these men and women have in them the stuff of heroes! Their battles of necessity are fought alone… in endless hours and days and months. But, in these battles, they somehow develop a special kind of courage and, sooner or later, the breakthrough comes. Then, in spite of all the odds against them, they dare to say: 'I may not have much candle left but, with what I have, I'll shed a light.'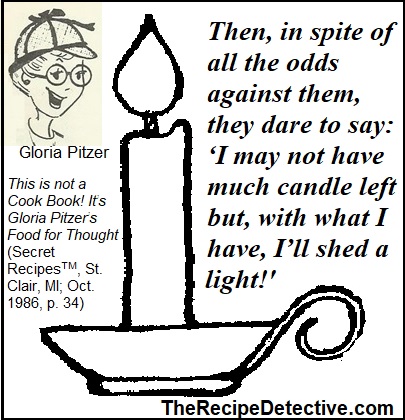 So, if you can't be a lighthouse – be a candle! Let your light shine so that those on whom it may fall, will be blessed; and, like a springboard, bounce right back to make you feel good about it… There's an old English verse [pictured below] that always comes back to me when I think of how nice it would be if this were not a 'keep-your-distance' and 'don't get me involved' world!…
DON'T GIVE UP
PEOPLE NOWADAYS GIVE up too easily. They'll donate a dollar to an anonymous recipient of any given charity but won't give two words to an offended neighbor – the two most important words of successfully living side-by-side – 'I'm sorry.' [NOTE: Some other great pairs include 'let's talk', 'you're forgiven', 'thank you', and 'you're welcome'.]
You don't throw away the patient because the bandage needs changing. You try again… and again for some common ground of understanding. Otherwise, how will we, as a society, ever be able to love our neighbors across the world, until we have first learned to love those across the street?
'THE GREATEST WASTE in the world is the difference between what we are, and what we could be!' – Gloria Pitzer, This is not a Cook Book! It's Gloria Pitzer's Food for Thought (Secret RecipesTM, St. Clair, MI; Oct. 1986, p. 10)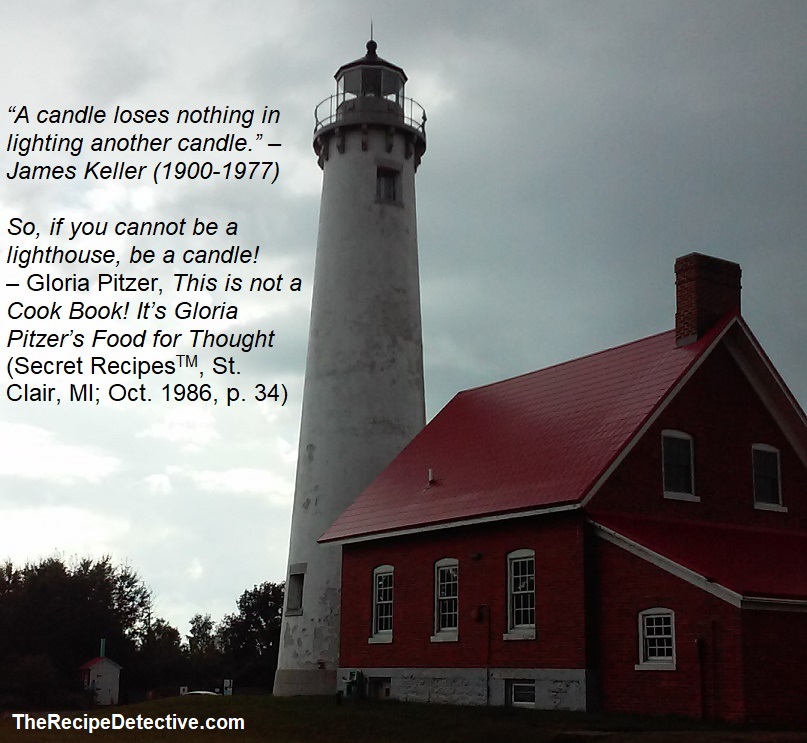 MORE FROM MOM'S MEMORIES…
As seen in…
This is not a Cook Book! It's Gloria Pitzer's Food for Thought (Secret RecipesTM, St. Clair, MI; Oct. 1986, p. 10)
USING YOUR TALENTS
WE EACH HAVE A TALENT with which we can make others happy, if only we're willing to use these! Too often we make the mistake, though, of thinking because we can do ONE thing well, we can do other things well, too. Not always so! For instance, I'm told that I have a good radio voice. A fellow once called in to the Larry Lick Show over WHLS [radio] in Port Huron [Michigan] to tell me he liked my voice so much that if I would consent to sing with his orchestra, he'd hire me in a minute.
Although I was terribly flattered, I felt compelled to admit that I sing so badly, that the only time I ever tried to sing in public, I was arrested for loitering in front of an orchestra! It was never my aptitude to sing, and I realized that as soon as I saw my husband rushing out into the street every time I would sing in the shower. He wanted the neighbors to know he wasn't beating me!
'Happiness is a state of thought. It begins with gratitude for all we've already received and achieved – not with what we own or the things…' – Gloria Pitzer, as seen in Gloria Pitzer's Secret RecipesTM  Newsletter, Issue #218 (Secret RecipesTM, Marysville, MI; Nov. 2000, p. 5)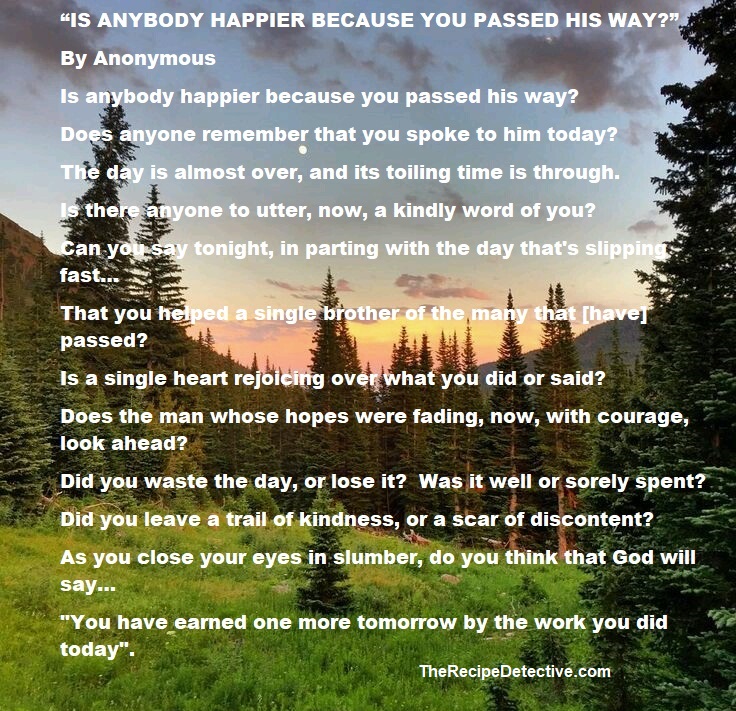 AGAIN, MORE FROM MOM'S MEMORIES…
As seen in…
This is not a Cook Book! It's Gloria Pitzer's Food for Thought (Secret RecipesTM, St. Clair, MI; Oct. 1986, p. 24)
DOING SOMETHING NICE
DON'T EXPECT THE WORLD to think you're wonderful just because you do something 'good' – for someone else! Good people do good things all of the time – everyday, and no one [gives] them [a pat] on the back for it. You have to do good – not for what others are going to think of you, but what you're going to think of yourself!
If you get a kick out of doing something good for somebody… do it! But don't expect any rewards or special recognition for having gone out of your way. Every once in a while you may be complimented for something good that you've done, and that's very nice.
But most of the time, whatever you do is to make yourself feel better about what has to be done, or what should be done! It's not a matter of conscience, but of compassion. Either you have it, or you don't!
'Life's most precious gifts don't come in packages. They come from the heart, wrapped in love.' – Gloria Pitzer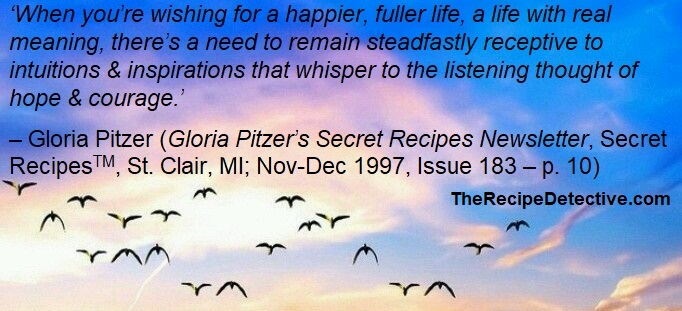 EVEN MORE FROM MOM'S MEMORIES…
Excerpts from…
This is not a Cook Book! It's Gloria Pitzer's Food for Thought (Secret RecipesTM, St. Clair, MI; Oct. 1986, p. 29)
LIFE'S MOST PRECIOUS GIFTS…
WE SEEM TO BE living in a 'keep-your-distance' and 'don't-get-me-involved' world! People who are potentially caring, compassionate individuals should, but don't always, care about each other! Some people profess to accept this kind of relationship with others. Some people profess to accept this kind of relationship with others.
They endorse the indifference of people who make no demands on each other, who offer no depth, no devotion and no dimension in their relationship. And, by golly… a lot of people are willing and able to settle for cardboard communication when, with a little effort on their own [part, they] could have a perfectly lovely, lasting experience with another potentially caring human being!
…TREASURES
ONE OF THE GREATEST and most comforting of truths is that when one door closes, another opens. But too often we look so long and regretfully upon that closed door that we just cannot see the one that has been opened for us. Defeat is nothing but education in disguise!
It's the first step we take toward something better than we had been experiencing. The opened door is a challenge and, yes, even a chance, that things may not be any better for us by going through it into a new experience. It just might lay a treasure at our feet that we never expected to find.
Every time a door closes in your life, don't be so consumed in your own disappointments that you fail to see the door that is open – waiting for you to walk through it.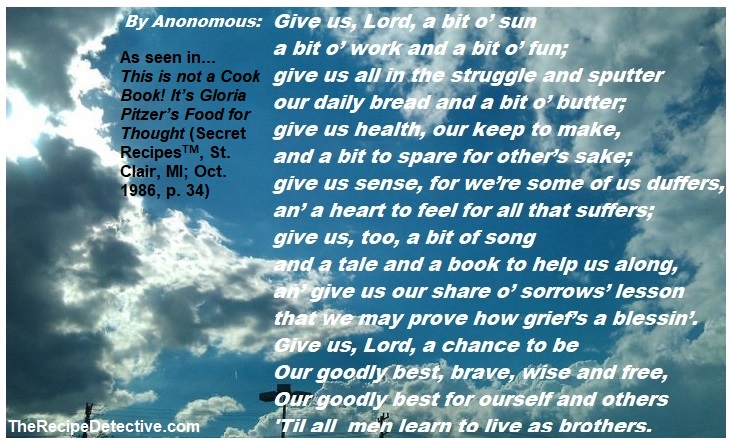 LAST THOUGHTS
I was watching the Today show last week when they were interviewing Ali Stroker, a wonderful young writer. Al Roker asked her about her philosophy for a "what can I give" rather than "what am I getting" attitude, which she generously accredited to her boyfriend. Nonetheless, I was really impressed with her aphorism that if "you're busy serving everyone else at the table, you just have to trust that, at the end, your plate will be full."
REMINDER: NEXT MONDAY, April 26th, is my regular monthly visit on the "Good Neighbor" show, with Kathy Keene! The show airs from 11am to 1pm, Central Time; I'm usually on during the first half hour of the show. If you're not in the Appleton, WI area, to find the station on your radio, you can listen to the broadcast, live or later, through WHBY's website!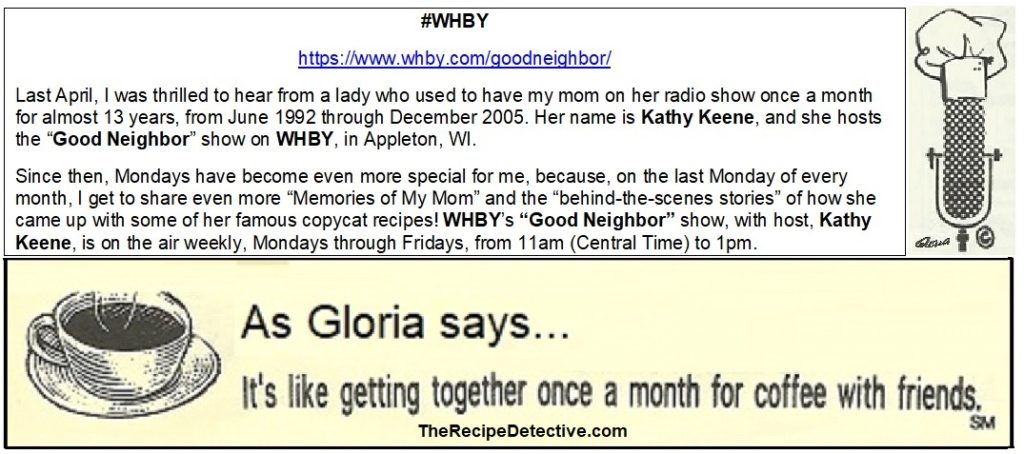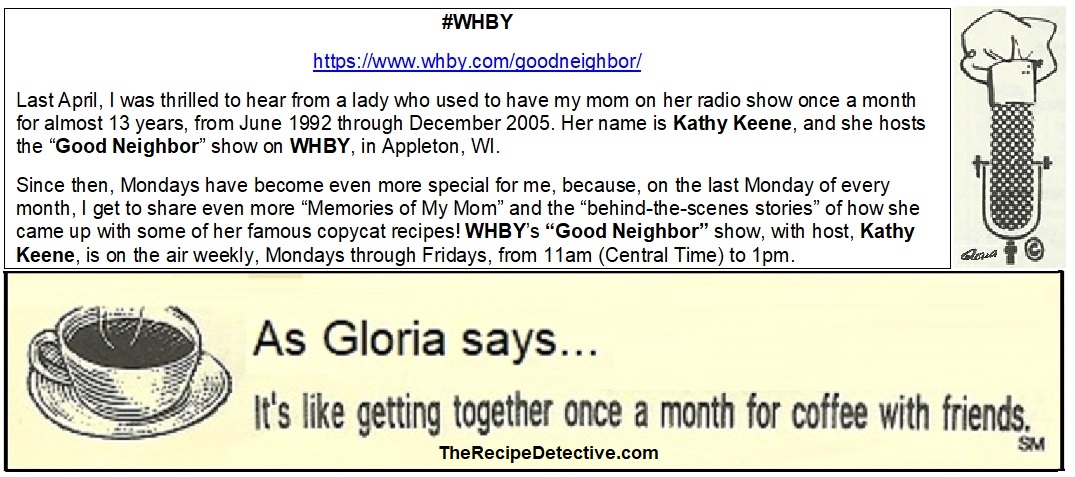 IN CLOSING…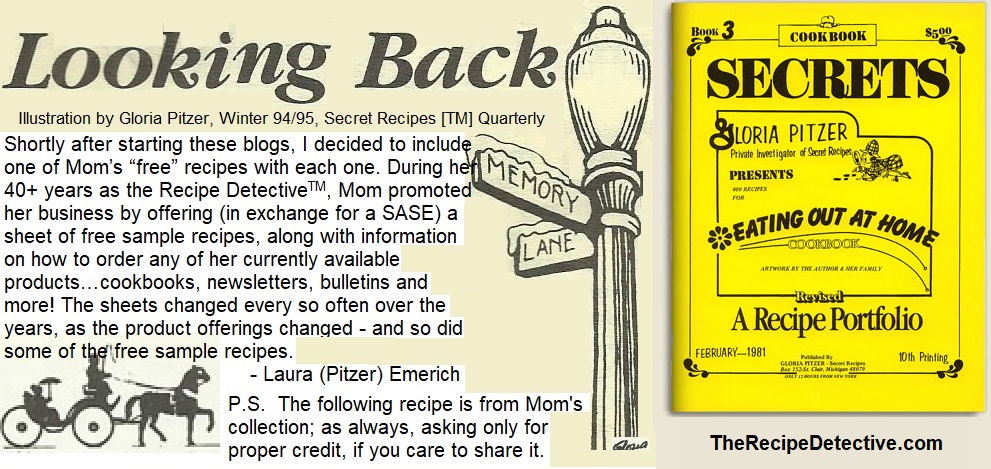 In honor of National Pineapple Upside Down Cake Day, here is Mom's secret recipe for Pineapple Upside-Down Coffeecake; as seen in her self-published book…
Eating Out At Home Cookbook (National Home News; St. Clair, MI; Sep. 1978, p. 32)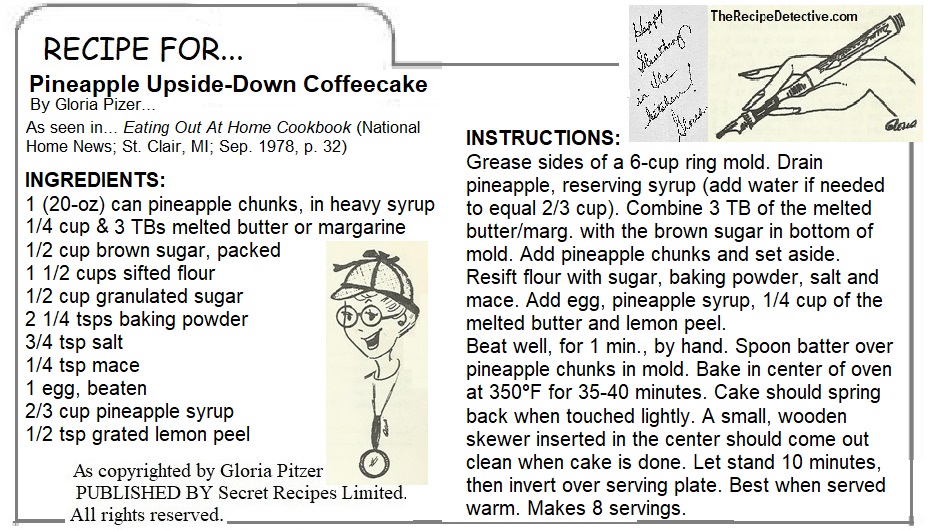 P.S. Food-for-thought until we meet again, next Monday…
APRIL IS STILL, among other things… National Month of Hope, Keep America Beautiful Month, Lawn and Garden Month, National Autism Awareness Month, National Couple Appreciation Month, National Decorating Month, National Fresh Celery Month, National Garden Month, National Humor Month, National Soft Pretzel Month, National Soy Foods Month, National Straw Hat Month, National Poetry Month, National Pecan Month, Scottish-American Heritage Month, and Stress Awareness Month!
Some other celebrations for this week include the following:
Today is also… National Amaretto Day, National Garlic Day, National Hanging Out Day, and National North Dakota Day!
Tuesday, April 20th, is… National Cheddar Fries Day, National Lima Bean Respect Day, and National Look Alike Day! I can't let that slide by without sharing this picture of me and my siblings on Christmas 1967! Mom made the matching outfits for me and my two sisters.
Wednesday, April 21st, is… National Chocolate Covered Cashews Day and National Kindergarten Day!
Thursday, April 22nd, is… National Earth Day, National Girl Scout Leader's Day, National Jelly Bean Day, National Take Our Daughters and Sons to Work Day [4th Thursday in April], and National Teach Children To Save Day [Changes Annually – April 22, 2021]!
Friday, April 23rd, is… National Cherry Cheesecake Day, National Picnic Day, and National Take a Chance Day! This is also the 36th birthday of my first born… my son, Paul Michael… Happy birthday, Honey!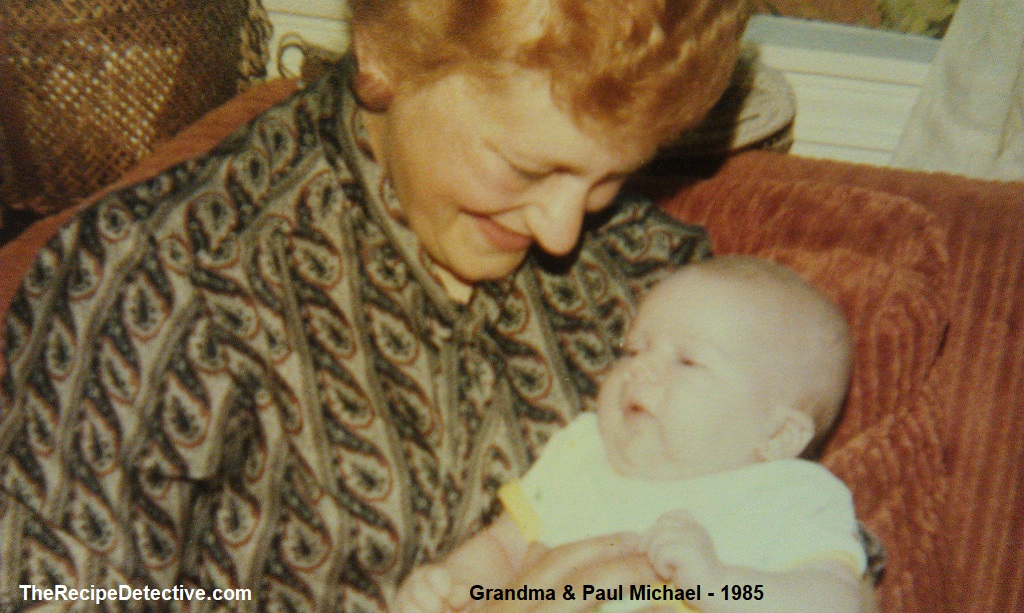 Saturday, April 24th, is… National Pigs in a Blanket Day; PLUS, being the last Saturday in April, it's also… National Kiss of Hope Day, National Pool Opening Day, National Rebuilding Day, and National Sense of Smell Day!
Sunday, April 25th, is… National DNA Day, National East Meets West Day, National Telephone Day, National Zucchini Bread Day, and National Pet Parents Day (which is always the last Sunday in April)! It's also the start of Preservation Week (which is the last week in April)!

…16 down and another 36 to go!