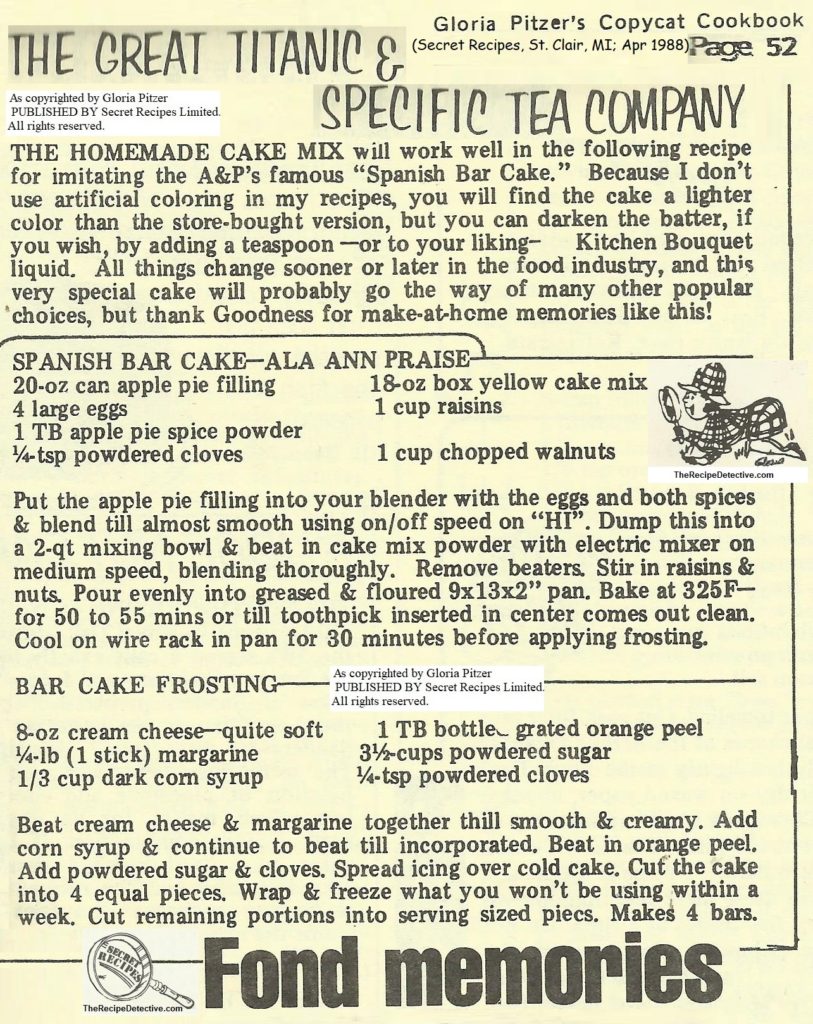 SPANISH BAR CAKE & FROSTING, Like Ann Page
By Gloria Pitzer, as seen in… The Copycat Cookbook (Secret RecipesTM, St. Clair, MI; April 1988, p. 52)
CAKE INGREDIENTS:
20-oz can apple pie filling
4 large eggs
1 TB apple pie spice powder
¼ tsp powdered cloves
18-oz box yellow cake mix
1 cup raisins
1 cup chopped walnuts
CAKE INSTRUCTIONS:
Put pie filling in blender with eggs and spices. Blend until almost smooth, using an on/off agitation on high speed. Dump this into a 2-qt mixing bowl and thoroughly blend in cake mix powder with electric beaters on medium speed.
Remove beaters and stir in raisins and nuts. Pour evenly into greased and floured 9"x13"x2" pan. Bake at 325°F for 50-55 minutes, or until toothpick inserted in center comes out clean. Cool in pan, on wire rack, for 30 minutes before applying Bar Cake Frosting [below].
BAR CAKE FROSTING, Like Ann Page
By Gloria Pitzer, as seen in… The Copycat Cookbook (Secret RecipesTM, St. Clair, MI; April 1988, p. 52)
FROSTING INGREDIENTS:
8-oz cream cheese, very soft
¼-lb (1 stick) margarine
1/3 cup dark corn syrup
1 TB bottled, grated, orange peel
3½ cups powdered sugar
¼ tsp powdered cloves
FROSTING INSTRUCTIONS:
Beat cream cheese and margarine together until smooth and creamy. Add corn syrup and continue to beat until [everything is] incorporated.
Beat in orange peel. Add powdered sugar and cloves. Spread icing over cold cake.
Cut cake into 4 equal [large bars]. Wrap and freeze what you won't be using within a week. Cut remaining portions into serving-size pieces.
*I also shared this recipe in June 2020, on WHBY's "Good Neighbor" show, with Kathy Keene!
See also…