Thank God Its Monday again! I love Mondays. They're my 52 Chances a year, in which I get to share Memories of My Mom with you!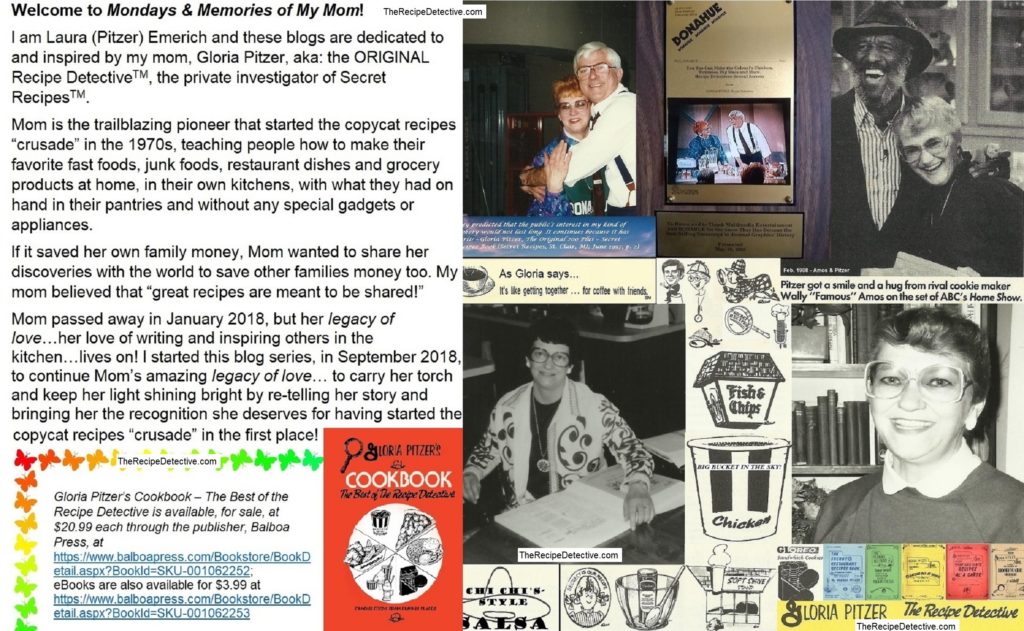 You can almost feel summer in the air now. Even though it doesn't really start until June 21st, Memorial Day has become the unofficial start of summer. And this Friday is the unofficial start of the Memorial Day weekend. Among other things, Friday is also National Road Trip Day and National Cooler Day! 
When my parents were empty-nesters and needed a break from their long work week, they'd often go on a road trip somewhere – for the day or the weekend. It didn't matter if it was a planned trip or a "new scenic route" (when Dad got lost), because they were together, exploring, and enjoying Michigan's beautiful scenery.
Did you know that Michigan has 3,288 miles of coastline that borders four of the five Great Lakes? It's the longest freshwater coastline in the U.S. In fact, regardless of water type (sea or fresh), Michigan is only in second place, to Alaska, in total length of coastline.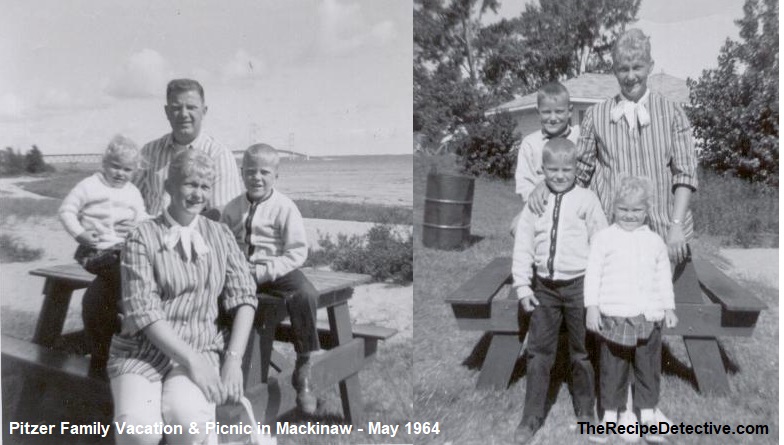 Sometimes, however, "work" would manage to creep back in, because whenever they stopped for a bite to eat, Mom always managed to find someone's [restaurant] "house special" that she wanted to analyze and duplicate when she got home.
Whenever possible, my husband and I LOVE to go on road trips to different areas in our scenic state of Michigan, just like my parents used to do. We really enjoy exploring the sparkling, blue water shorelines of the Great Lakes, surrounding most of our state; as well as the in-land lakes, small towns, rivers, forests, farmlands, and parks.
Additionally, Sunday is celebrating National Beef Burger Day and National Hamburger Day, all of which adds up to more great reasons for a road trip and picnic (or a backyard barbecue) this weekend to celebrate the unofficial start of summer!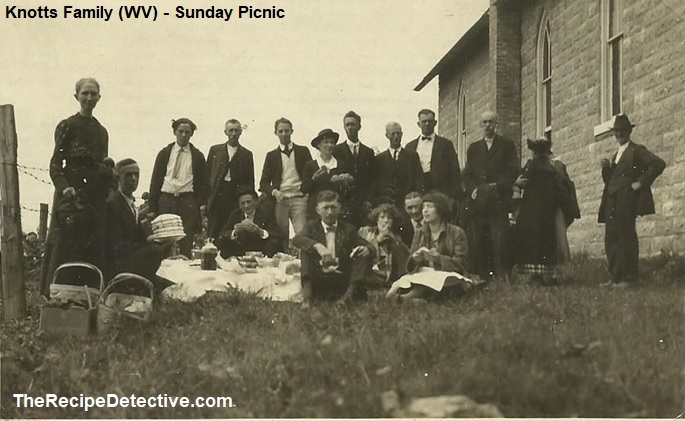 May is coming to a close soon so, this weekend, celebrate that it's still National Barbecue Month, National Hamburger Month, National Salad Month, American Cheese Month, National Egg Month, and National Salsa Month!
What are your favorite go-to picnic or backyard barbecue foods? Among classic picnic treats, the finger foods that travel well and won't spoil on a warm day include sandwiches/wraps, fried chicken, fresh vegetables and fruit. Remember – if anything has mayo in it, keep it chilled!
Aside from the "main dish", popular picnic foods include appetizers like deviled eggs, pigs-in-a-blanket, and stuffed mushrooms; sides like mac-n-cheese or baked beans; coleslaw and salads like pasta, potato, veggie, and fruit; desserts like pies, brownies, bars, and cookies; plus, snacks like string cheese, meat sticks, chips, pretzels, and trail mix.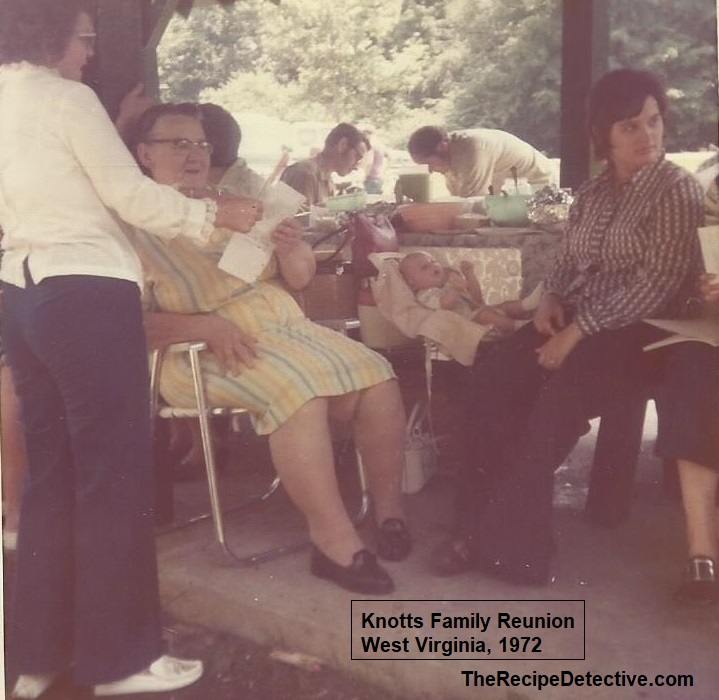 Just as in any celebration, throughout the year, a very important part of picnic activities, besides socializing, getting fresh air, and making memories, is eating the food! Therefore, I'm including, here, a list (based on a Google search consensus) for 10 popular food choices to take on a picnic.
10 Popular Picnic Food Picks:
Fried Chicken
Hot Dogs
Sandwiches/Wraps
Pasta Salad
Potato salad
Baked beans
Deviled Eggs
Watermelon
Brownies
Pie
Things to do on a picnic outing (besides eating) include playing music, singing/dancing, walking, playing table/yard games, bird watching, people watching, sun bathing; plus, if you're at a beach, you can add in searching for skipping stones or sea shells, swimming, fishing, and building sand castles.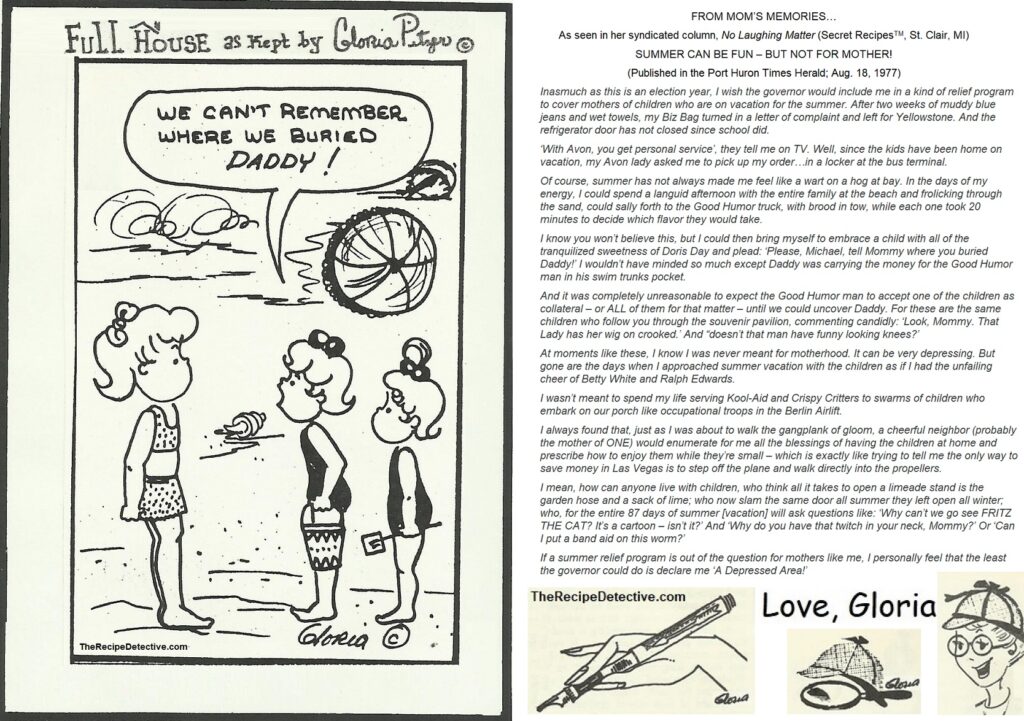 NEEDLESS TO SAY, I can't wait until we can begin our 'motor-home camping' again with our Good Sam friends. It's our weekend vacation pleasure, May through October. Becoming part of the Good Sam organization is the best thing that has ever happened to us, where we could both enjoy mutual friendships and activities. Wonderful, caring people, who constantly remind us that 'there are no strangers in Good Sam – only friends we haven't met, yet!' – Gloria Pitzer, as seen in… "GOOD SAM – CARING AND CAMPING", from Gloria Pitzer's Secret RecipesTM Newsletter (Secret RecipesTM, St. Clair, MI; May-June 1987, 126th issue, p. 3)]
You don't need to go on an expensive, fancy vacation or plan an extravagant party to reconnect with family and friends over the Memorial Day weekend. A simple picnic is a fun and relaxing way to gather and make memories. But if you want to have MORE than a "simple" picnic…
Have you ever heard of a mystery picnic? I recently discovered this fun twist on our iconic, seasonal tradition at CuriousCampers.com, out of Australia. I can't wait to create and host my own scavenger hunt style picnic for a special summer gathering with friends and family!
According to the website, "mystery picnics" combine travel, food, and fun; while solving a series of clues that take you to various places, where you collect things to add to the "picnic basket" at the final destination. It's a fun idea to explore the area, as you collect "picnic basket items", and then gather with the other guests to share your collection and adventures.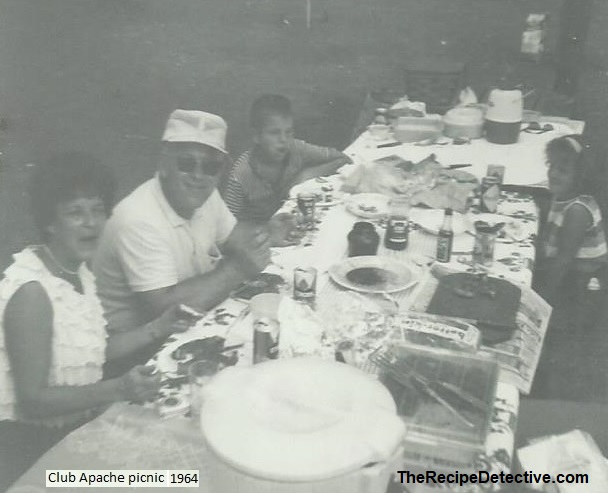 The difference between a treasure hunt and scavenger hunt is slight. A treasure hunt has only one thing for which to hunt (aka: the treasure) – the first one to find it wins. Once "the treasure" is found the hunt is done for everyone. A scavenger hunt offers each guest a list or variety of things to find/collect.
Both hunts use riddles and clues to send participants from one place to another. Usually, participants can work in pairs or in teams or individually. A scavenger hunt is typically played in an extensive outdoor area but it can also be scaled down to play at home, like a treasure hunt.
The host typically creates a "trail", so that the answer to one clue reveals the next one. You can either write them on pieces of paper hidden at the chosen locations or put them in an "online" forum (like an "event" or "group" page on Facebook) that gives clues to the answers, as well.
The first riddle should be included in the initial invitation. Guests have to figure it out before they start, so they know where to go first and collect something for the picnic, along with a clue to the next destination. Repeat as often as necessary, before getting to the final destination – the "mystery picnic" spot.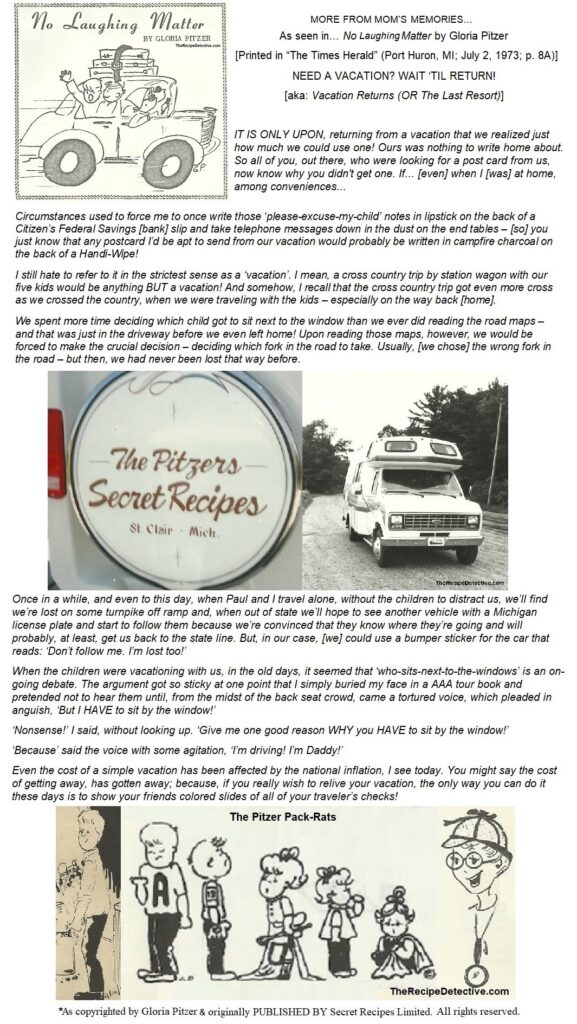 LAST THOUGHTS…
A checklist comes in handy, when packing for anything. I use part of my camping checklist for my picnic "basket", which is actually a plastic tote. It's always on the ready so I can easily throw it in the trunk of our car, along with a food bag and cooler, whenever my husband and I want to go on a spontaneous, all-day Road Trip.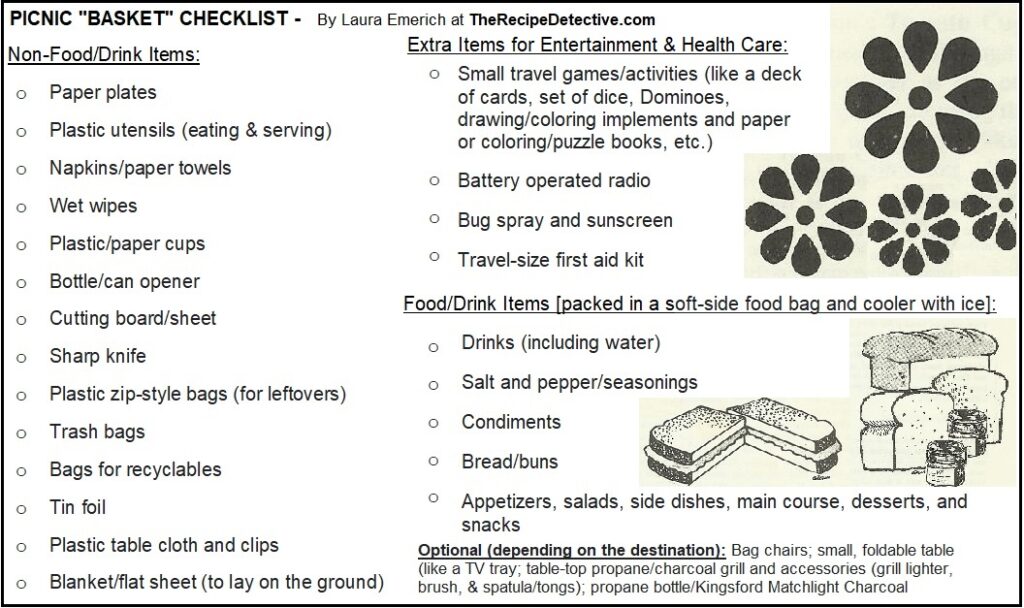 It may seem like a lot of stuff but it actually packs up fairly small and compact. As a Mom of three, I learned from my own mom, over the years, (as she used to have to pack for a family of seven) how to pack 10 pounds of stuff in a 5-pound bag. I found organization is key. As the old adage says: "It's better to have it and not need it, than to need it and not have it!"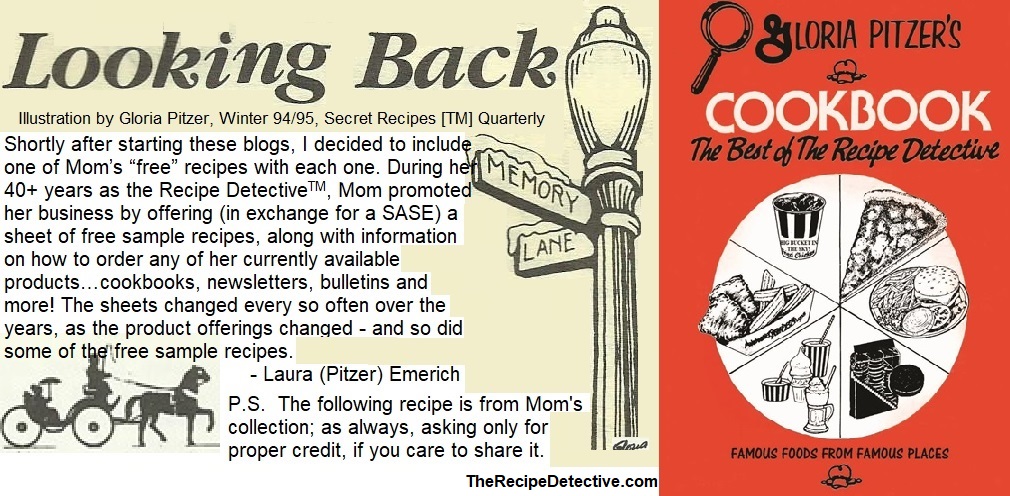 IN CLOSING…
In honor of May, also being National Salad Month, here's Mom's copycat recipe for Macaroni (or Potato) Salad, Like the Colonel's; as seen in her last book, Gloria Pitzer's Cookbook – Best Of The Recipe Detective (Balboa Press; Jan. 2018, p. 29). [A revised reprint of Gloria Pitzer's Better Cookery Cookbook (Secret RecipesTM, St. Clair, MI; May 1983, 3rd Edition).]
I also gave this recipe out a couple of years ago, on Kathy Keene's 'Good Neighbor' radio show, on WHBY (Appleton, WI). Kathy has since retired. The show was discontinued and, unfortunately, my link to the recorded audio doesn't work anymore.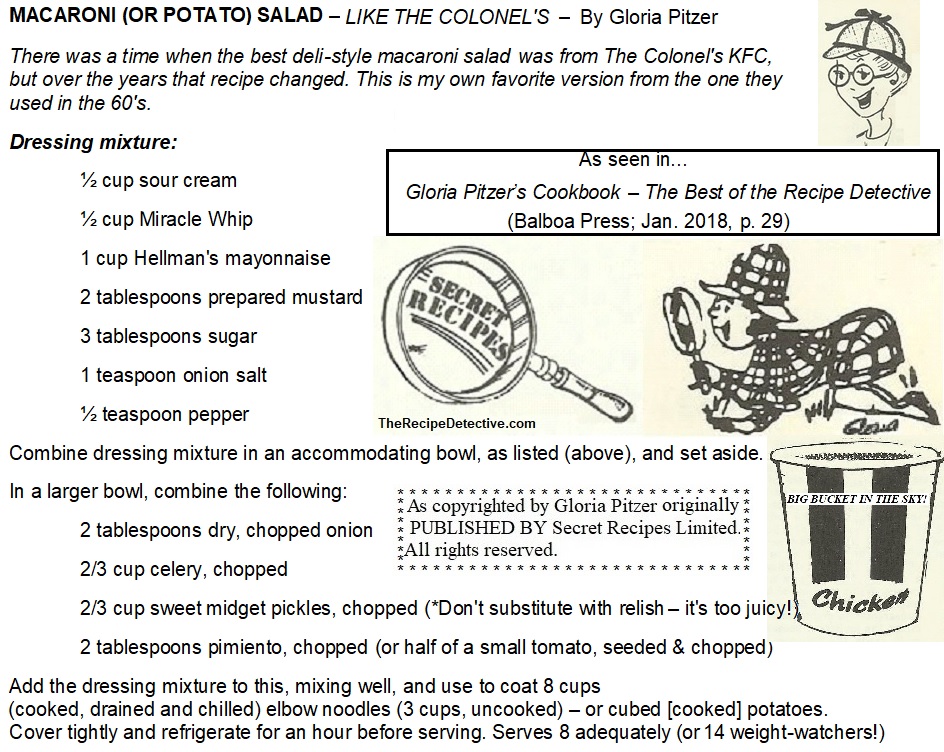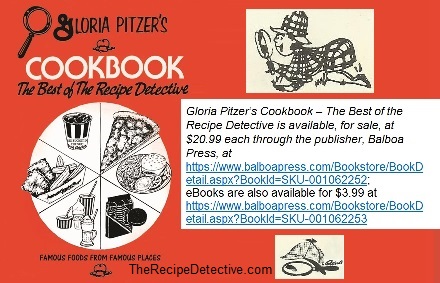 P.S. Food-for-thought until we meet again, next Monday…
May also celebrates… National Asparagus Month, National Inventor's Month, National Photography Month, National Strawberry Month, and Asian American and Pacific Islander Heritage Month!
Today is… National Craft Distillery Day, World Paloma Day, National Maritime Day, National Solitaire Day, and National Vanilla Pudding Day!
Tomorrow is… National Lucky Penny Day and National Taffy Day!
Wednesday, May 24th, is… National Yucatan Shrimp Day, Brother's Day, National Escargot Day, and National Wyoming Day! 
Thursday, May 25th, is… National Brown-Bag It Day and National Wine Day!
May 26th, is… National Blueberry Cheesecake Day! Plus, as the Friday before Memorial Day (for 2023), it's also… National Don't Fry Day! 
Saturday, May 27th, is… National Grape Popsicle Day!
Sunday, May 28th, is… National Brisket Day!

…21 down and 31 to go!