Thank God Its Monday and, as such, #HappyMonday to everyone! I personally look forward to all Mondays because they're my 52 Chances a year, in which I get to share Memories of My Mom with you!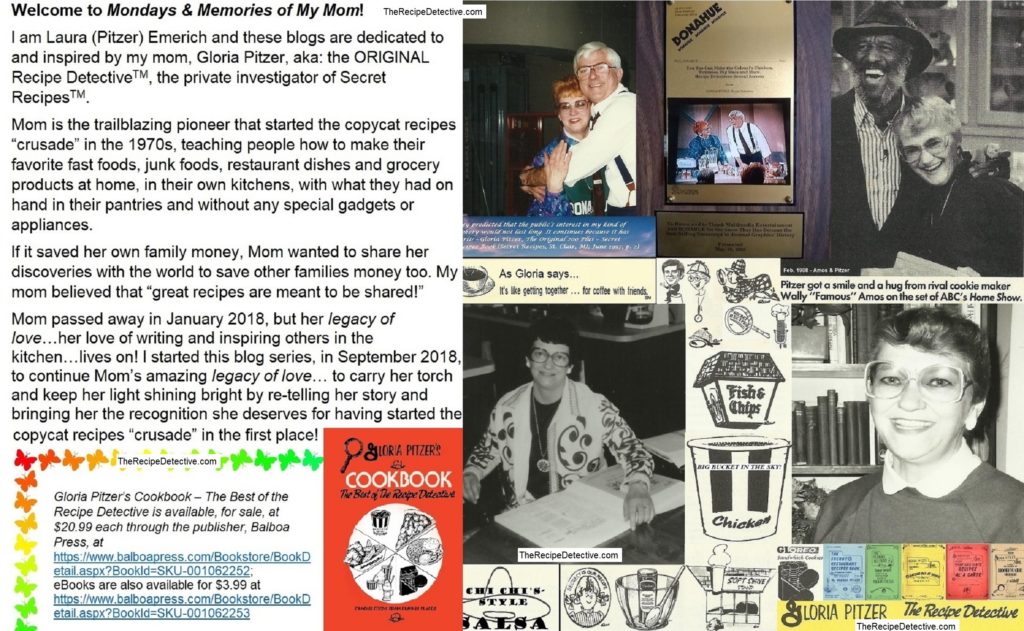 This is the last full week of August, which observes (among other things)… National Be Kind to Humankind Week! During these troubling times in which we live, this well-needed celebration is more important than ever. Kindness is truly an essential part of society, bridging the divides of race, religion, gender, and other such things – even politics.
Think of it as the week of "The Golden Rule", which is a basic, moral principle for society to treat each other as they'd want to be treated, themselves. It's simply a commonsense ethic, by which we should all live on a daily basis – EVERY day, not just this week.
Its core is based on the biblical suggestion from the Book of Matthew, which says: "do unto others as you would have them do unto you." (Matthew 7:12) According to Wikipedia.com, the name, "Golden Rule", came about "because there is VALUE in having this kind of respect and caring attitude for one another."
'Greatness is measured by kindness… real worth is measured by consideration and tolerance of others.' – B.C. Forbes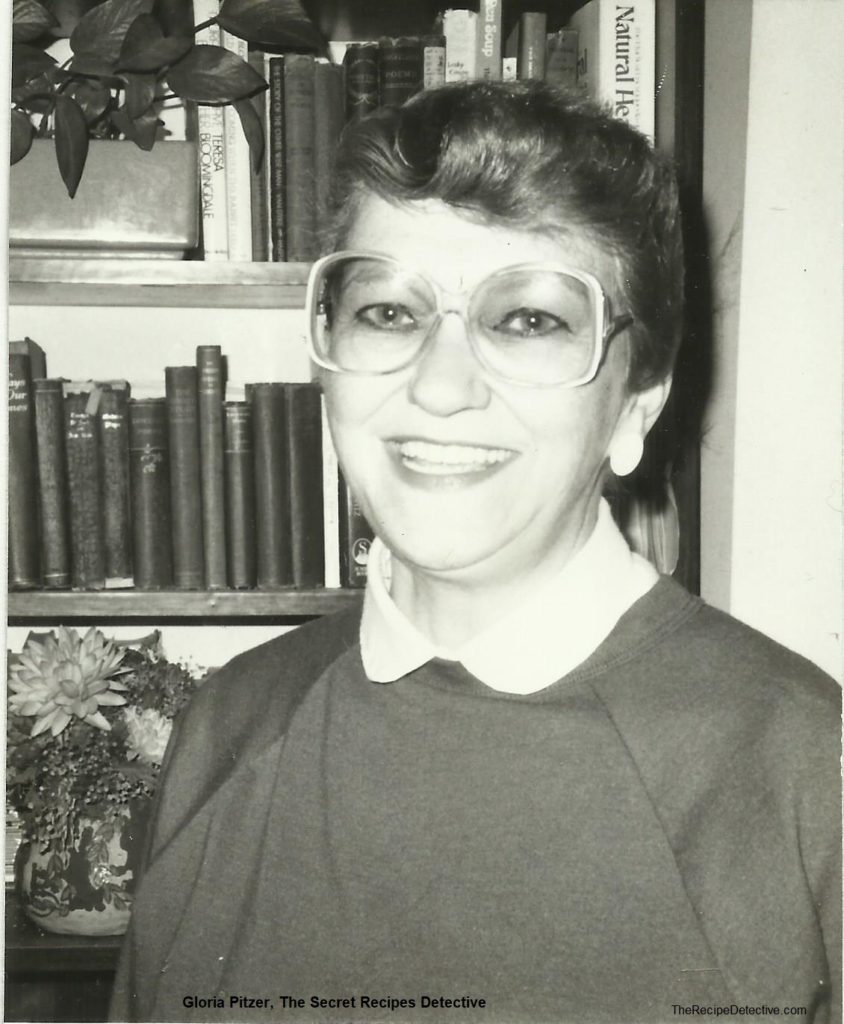 Being kind changes lives – for the better – not only the lives of the receivers, but also those of the givers. It doesn't cost anything to be kind and it also has a positive ripple effect that encourages receivers to become givers, themselves; paying it forward, to others.
Kindness is commonly known to have physical (and mental) health benefits for, both, givers and receivers. NationalDayCalendar.com lists some benefits from performing random acts of kindness, as psychiatrists claim, it… "Fuels personal energy and self-esteem… Makes you happier… [Is] good for your heart… [And] helps you live longer…"
Science has proven the health benefits that being kind promotes. You can read about it at RandomActsOfKindness.org – The Science Of Kindness.
'Happy is the person who has a good supply of the milk of human kindness and knows how to keep it from souring.'– Gloria Pitzer, This is not a Cook Book! It's Gloria Pitzer's Food for Thought (Secret RecipesTM, St. Clair, MI; Oct. 1986, p. 17)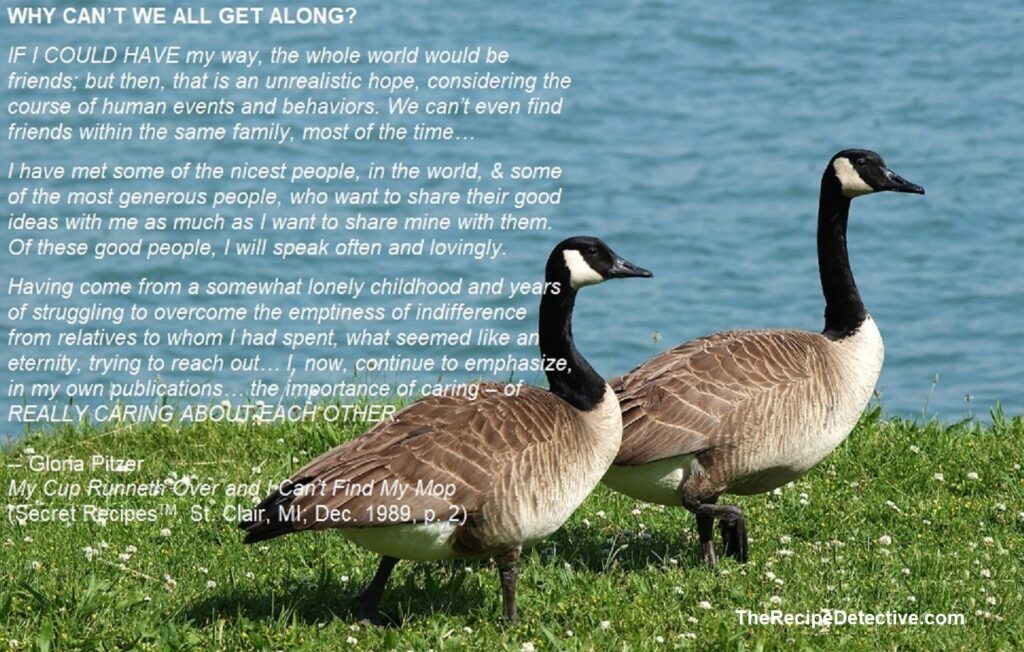 Mom was always a big supporter of being kind to humankind. She often questioned why we all couldn't just get along, "after all, we're all God's children", she would say. To myself (NEVER-EVER out loud), I would often sarcastically respond, "Wouldn't that be sibling rivalry?"
Regardless, even siblings should get along, too – yet, speaking from my own first- and second-hand experiences, so many don't. Two of Mom's sisters quit speaking to her after their Mom died. My own sisters haven't spoke to me in years. My husband's sister quit speaking to him years ago, too. I wish our parents were still with us.
Mom continually tried to be a positive example, lifting up others through her writings; even writing a few books dedicated strictly to her positive food-for-thought and inspirational ideas. Throughout, Mom emphasized the importance of really caring about each other, being kind and loving. She held a strong faith in Love and all the things it could conquer.
'You can't wait until life isn't hard anymore before you decide to be happy.' – Jane Marczewski [aka: Nightbirde]; AGT Auditions, 2021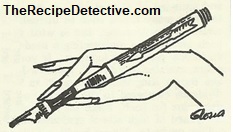 FROM MOM'S MEMORIES…
As seen in…
This is not a Cook Book! It's Gloria Pitzer's Food for Thought (Secret RecipesTM, St. Clair, MI; Oct. 1986, p. 30)
MAKING PEOPLE HAPPY
Have you ever had your day suddenly turn sunshiny because of a cheerful word? Have you ever wondered if this could be the same world because someone had been unexpectedly kind to you. You can make today [that way] for somebody! It's only a question of a little imagination, a little time and trouble. Think now, 'What can I do today, to make someone happy?'
IS A SINGLE HEART REJOICING over what you did or said?
Does the one whose hopes were fading, now with courage, look ahead?
Do you waste the day or lose it? Was it well or sorely spent?
Did you leave a trail of kindness or a scar of discontent?
As you close your eyes in slumber, do you think that God will say,
'You have earned one more tomorrow, by the work you did today.'?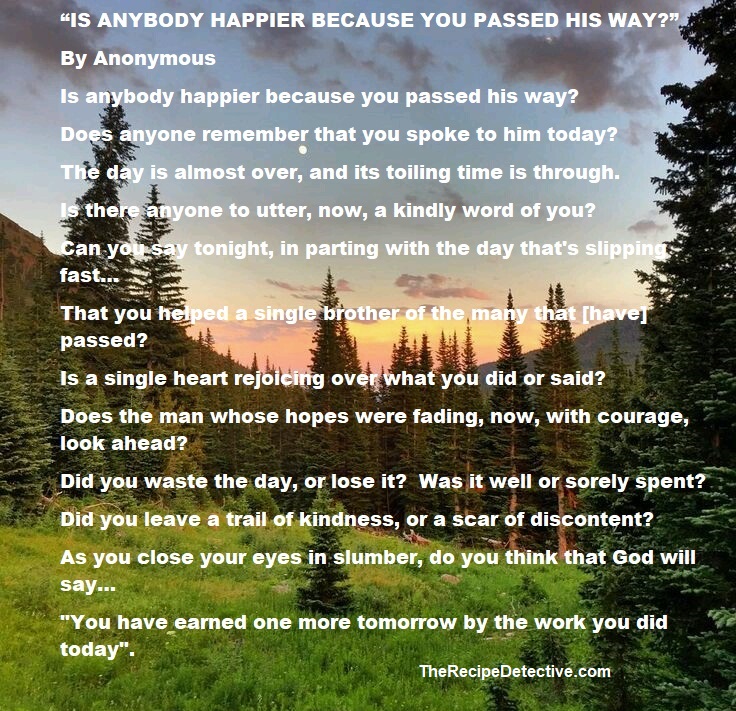 It's a common awareness that being kind to others should happen every day – not just this week because it's a national observance – yet some people still need reminders. It still astounds me. After all, weren't we all taught to be good and kind in Kindergarten, if not earlier? Why do we seem to forget that important lesson as we get older?
According to Wikipedia's interpretation of All I Really Need to Know I Learned in Kindergarten, Robert Fulghum (the author) "explains how the world would be improved if adults adhered to the same basic rules as children, i.e. sharing, being kind to one another, cleaning up after themselves, and living 'a balanced life' of work, play, and learning."
'THE GREATEST WASTE in the world is the difference between what we are, and what we could be!' – Gloria Pitzer, This is not a Cook Book! It's Gloria Pitzer's Food for Thought (Secret RecipesTM, St. Clair, MI; Oct. 1986, p. 10)

MORE FROM MOM'S MEMORIES…
As seen in…
This is not a Cook Book! It's Gloria Pitzer's Food for Thought (Secret RecipesTM, St. Clair, MI; Oct. 1986, p. 24)
DOING SOMETHING NICE
Don't expect the world to think you're wonderful just because you do something 'good' – for someone else! Good people do good things all of the time – everyday, and no one pats them on the back for it. You have to do good – not for what others are going to think of you, but what you're going to think of yourself!
If you get a kick out of doing something good for somebody… do it! But don't expect any rewards or special recognition for having gone out of your way. Every once in a while you may be complimented for something good that you've done, and that's very nice.
But most of the time, whatever you do is to make yourself feel better about what has to be done, or what should be done! It's not a matter of conscience, but of compassion. Either you have it, or you don't!
'No act of kindness, however small, is ever wasted.' – Aesop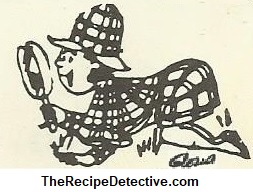 LAST THOUGHTS…
I want to pass this 7-day kindness challenge on to everyone, to do for this week's celebration of Be Kind to Humankind Week. It's from an article on StarTribune.com, called Why Being Kind Makes You Healthier, by Chrystle Fiedler (July 24, 2019):
"Try the seven-day kindness challenge: That means, do at least one act of kindness every day for seven days. Ground rules: Do something different each day; push yourself out of your comfort zone at least once and be sure one of your acts of kindness is anonymous — no one should ever find out who did it."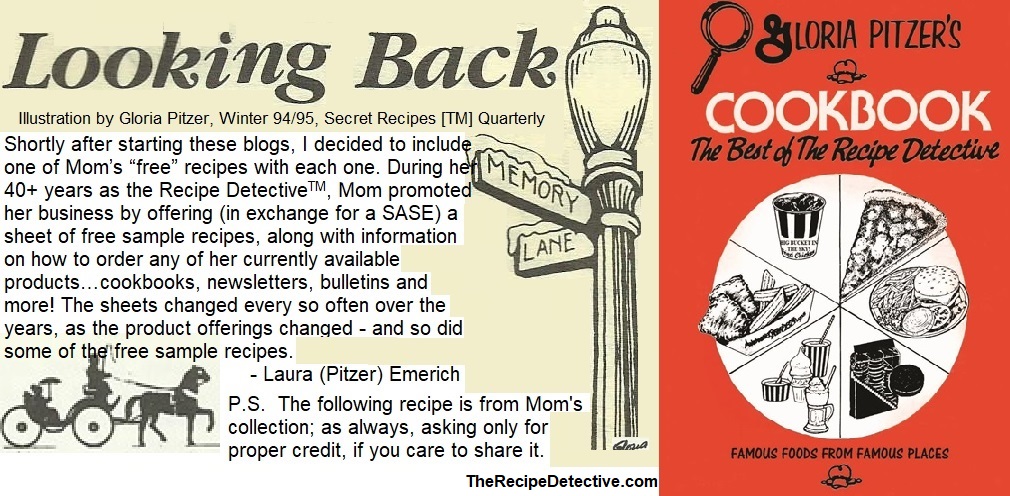 IN CLOSING…
In honor of TODAY, being National Be An Angel Day, here is Mom's copycat recipe for "Angel Ambrosia"; as seen in… Gloria Pitzer's Cookbook – The Best of the Recipe Detective (Balboa Press; Jan. 2018, p. 280). [A revised reprint of Gloria Pitzer's Better Cookery Cookbook (Secret RecipesTM, St. Clair, MI; May 1983, 3rd Edition)].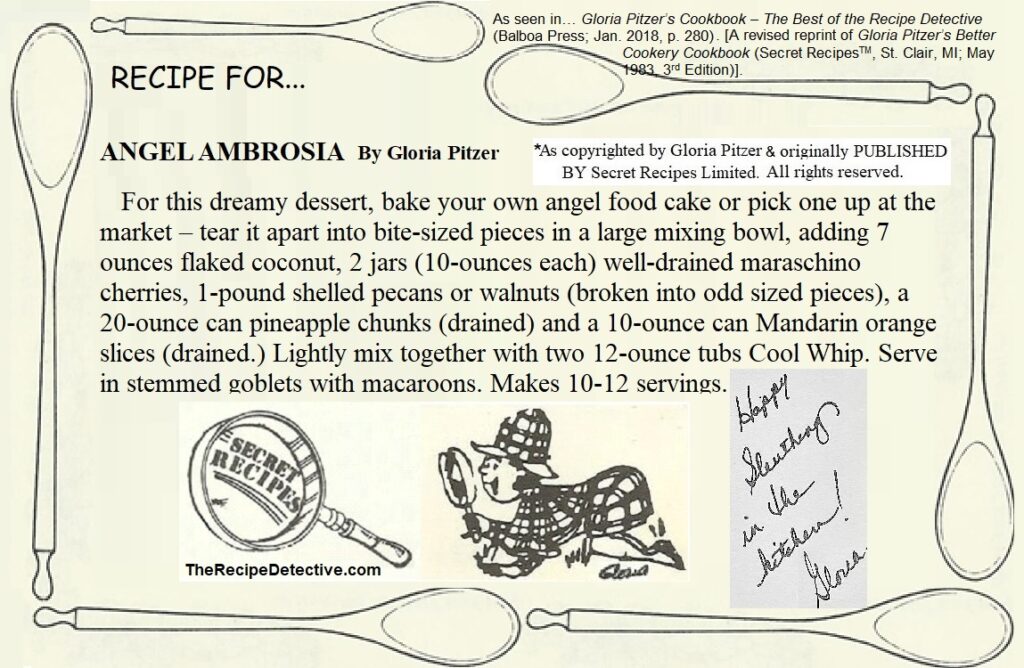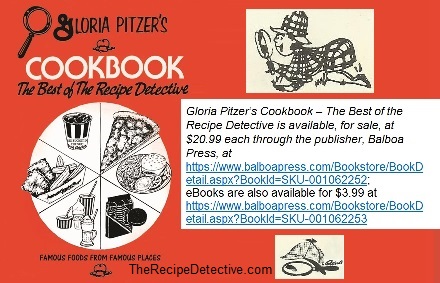 P.S. Food-for-thought until we meet again, next Monday…
August's observances include: National Dog Month, Family Fun Month, Happiness Happens Month, International Peace Month, National Back to School Month, National Brownies at Brunch Month, National Catfish Month, National Crayon Collection Month, National Goat Cheese Month, National Golf Month, National Panini Month, National Sandwich Month, and Romance Awareness Month!
Today is also… National Bao Day, Never Bean Better Day, and National Pecan Torte Day!
Tomorrow is… National Ride The Wind Day, National Sponge Cake Day, and National Cuban Sandwich Day!
Wednesday, August 24th is… National Maryland Day, National Peach Pie Day, and National Waffle Day!
Thursday, August 25th is… National Park Service Founders Day, National Whiskey Sour Day, National Kiss and Make Up Day, National Secondhand Wardrobe Day, and National Banana Split Day! In honor of the latter, here's a re-share of Mom's introduction of The American Banana Split by Fred Sanders.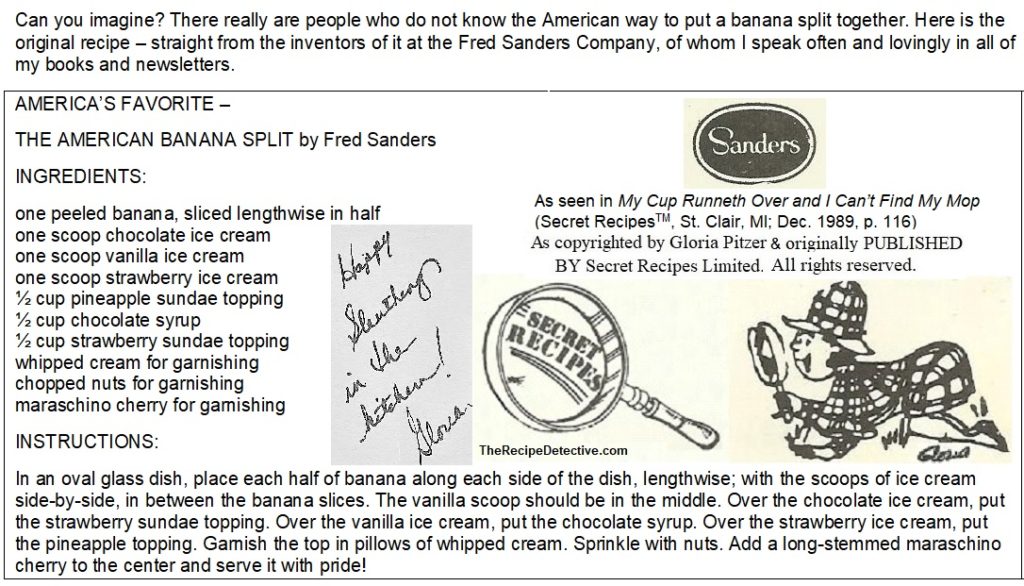 Friday, August 26th is… National Dog Day, National Women's Equality Day, and National Cherry Popsicle Day!
Saturday, August 27th is… National Pots De Creme Day and National Just Because Day!
Sunday, August 28th is… National Thoughtful Day, National Red Wine Day, and National Cherry Turnovers Day!

…34 down and 18 to go!