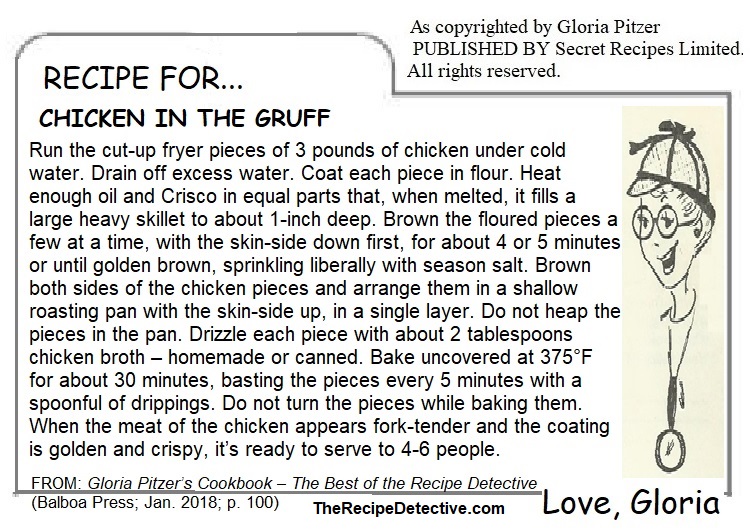 CHICKEN IN THE GRUFF
By Gloria Pitzer, as seen in… Gloria Pitzer's Cookbook – The Best of the Recipe Detective (Balboa Press; Jan. 2018, p. 100). [A revised reprint of Gloria Pitzer's Better Cookery Cookbook (Secret RecipesTM, St. Clair, MI; May 1983, 3rd Edition).]
INGREDIENTS:
3-lb chicken, cut-up fryer pieces (rinsed and drained)
Flour (enough to coat each piece)
Equal amounts of oil and Crisco (sufficient to fill large skillet 1-inch deep)
Season salt (to taste)
[3 to 4 cups] Chicken broth (homemade or canned, sufficient to baste each piece about 5 to 6 times)
INSTRUCTIONS:
Run the cut-up fryer pieces of 3 pounds of chicken under cold water. Drain off excess water. Coat each piece in flour. Heat enough oil and Crisco in equal parts that, when melted, it fills a large heavy skillet to about 1-inch deep.
Brown the floured pieces a few at a time, with the skin-side down first, for about 4 or 5 minutes or until golden brown, sprinkling liberally with season salt. Brown both sides of the chicken pieces and arrange them in a shallow roasting pan with the skin-side up, in a single layer. Do not heap the pieces in the pan.
Drizzle each piece with about 2 tablespoons chicken broth – homemade or canned. Bake uncovered at 375°F for about 30 minutes, basting the pieces every 5 minutes with a spoonful of drippings. Do not turn the pieces while baking them. When the meat of the chicken appears fork-tender and the coating is golden and crispy, it's ready to serve to 4-6 people.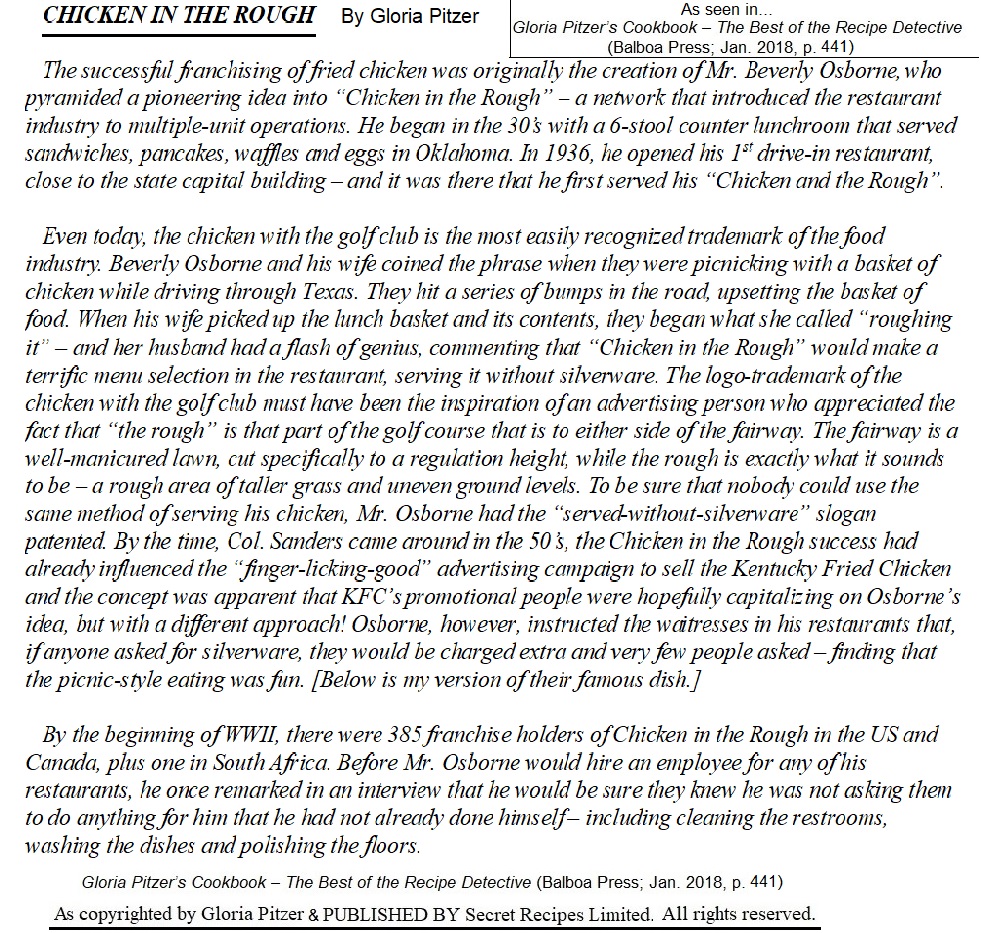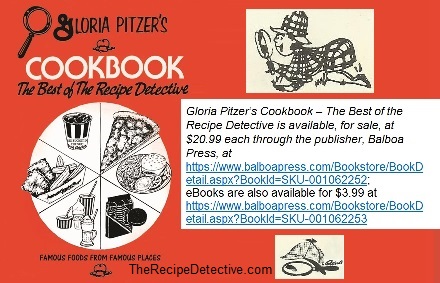 See also…