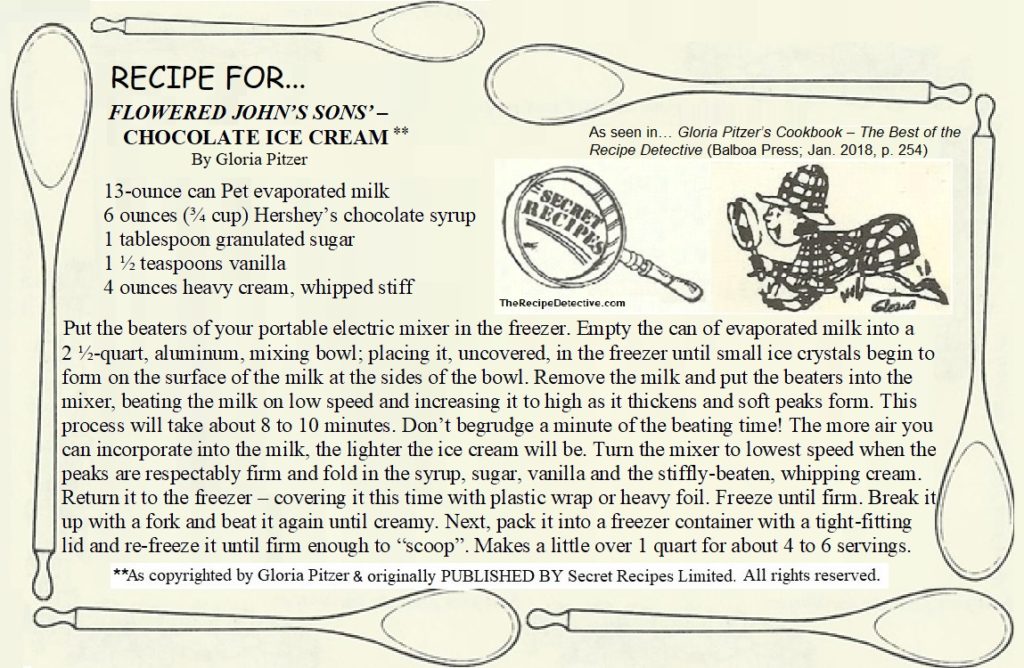 FLOWERED JOHN'S SONS' CHOCOLATE ICE CREAM
By Gloria Pitzer, as seen in… Gloria Pitzer's Cookbook – The Best of the Recipe Detective (Balboa Press; Jan. 2018, p. 254). [A revised reprint of Gloria Pitzer's Better Cookery Cookbook (Secret RecipesTM, St. Clair, MI; May 1983, 3rd Edition).]
INGREDIENTS:
13-ounce can Pet evaporated milk
6 ounces (¾ cup) Hershey's chocolate syrup
1 tablespoon granulated sugar
1 ½ teaspoons vanilla
4 ounces heavy cream, whipped stiff
INSTRUCTIONS:
Put the beaters of your portable electric mixer in the freezer. Empty the can of evaporated milk into a 2 ½-quart, aluminum, mixing bowl; placing it, uncovered, in the freezer until small ice crystals begin to form on the surface of the milk at the sides of the bowl.
Remove the milk and put the beaters into the mixer, beating the milk on low speed and increasing it to high as it thickens and soft peaks form. This process will take about 8 to 10 minutes. Don't begrudge a minute of the beating time! The more air you can incorporate into the milk, the lighter the ice cream will be.
Turn the mixer to lowest speed when the peaks are respectably firm and fold in the syrup, sugar, vanilla and the stiffly beaten whipping cream. Return it to the freezer – covering it this time with plastic wrap or heavy foil. Freeze until firm.
Break it up with a fork and beat it again until creamy. Next, pack it into a freezer container with a tight-fitting lid and re-freeze it until firm enough to "scoop". Makes a little over 1 quart for about 4 to 6 servings.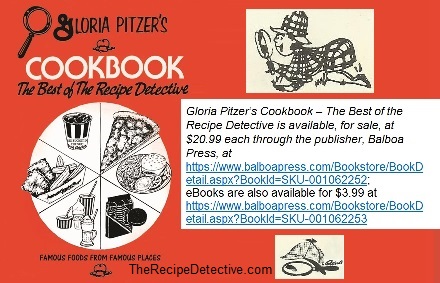 See also…