Thank God It's Monday and, as such, #HappyMonday! I personally look forward to all Mondays because they're my 52 Chances a year, in which I get to share Memories of My Mom with you!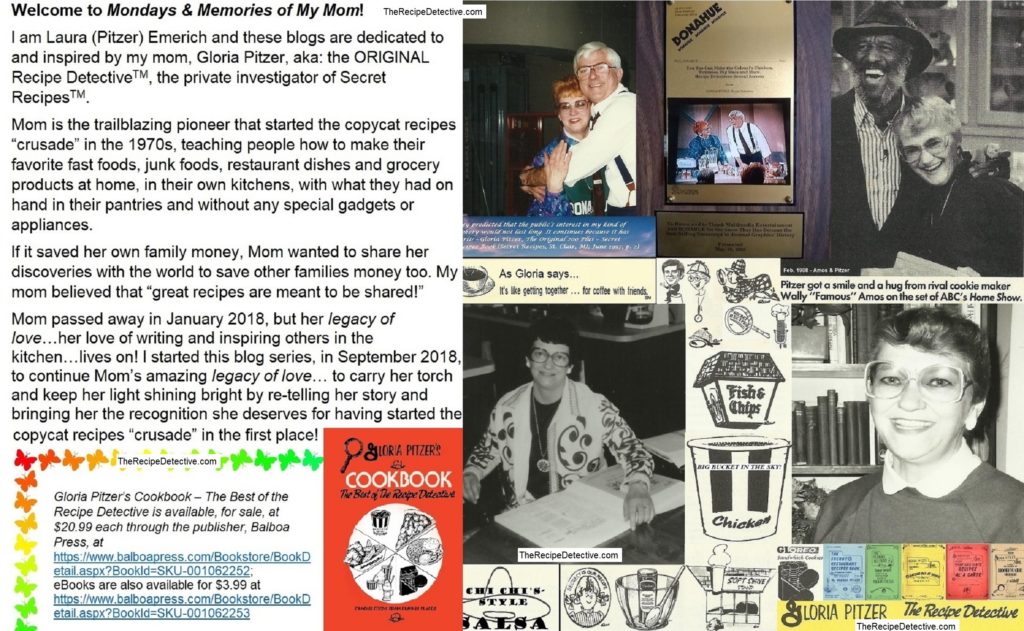 We're in the final stretch of August's National Family Fun Month observance (for 2022) and quickly approaching Labor Day weekend – the unofficial end of summer. Kids are starting to return to school – some this week and some next week. From some of Mom's syndicated columns, about spending the summers with us kids at home and underfoot, you'd think it was totally unbearable. In fact, she and Dad made our summers unforgettably FUN!
We lived on the beautiful banks of the St. Clair River. We had a dock from which we fished and swam, as well as a small, family-sized, Chris-Craft boat, in which we'd cruise up and down the river throughout the summer months. By the way, Chris-Craft started their boat-making empire in Algonac in the late 19th century.
I remember Mom taking us kids to the Algonac Lion's Club Field, in town, where we enjoyed youth activities and crafts. Afterwards, we'd go next door to the community pool, with money we got for swimming, plus a little extra for a drink and snack at the concession stand. I always thought those were FUN days – at least they were for me.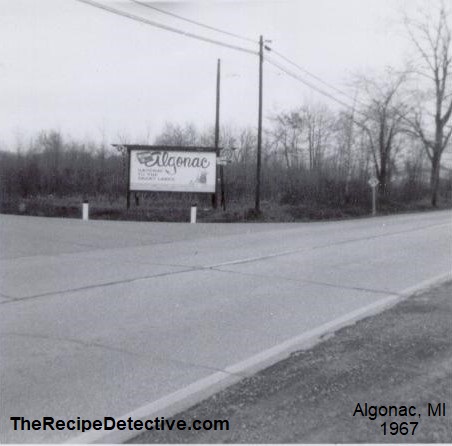 In the 1960s and 1970s, Dad was involved with the Pearl Beach Lion's Club, near our house. The Lions aren't a fraternal or political group like many other "clubs". Nor were they a "social" organization but they did host a lot of family and community events and activities throughout the year, every year – and still do.
According to Dad, the Lion's Club is simply an organization of people who care about their neighborhoods and get together to do things they can't do alone. They're always willing and able to give their time, energy, and resources in service to their community and others. Back when Dad was a member, only men were allowed to join. Since 1987, women have been allowed to join, too.
Below is a picture of me, my siblings, and 2 neighbor-boys, standing in front of the Algonac Lions Club trolley that was in all of our local parades. I think this was from Labor Day weekend, 1970, and we got to ride on the trolley, with Dad, during the parade.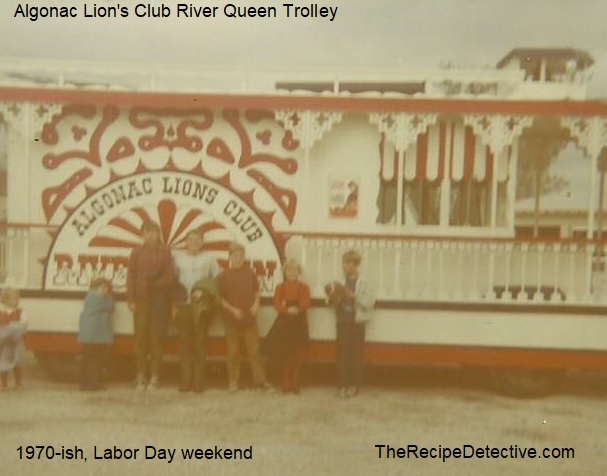 We had many family fun summer vacations, as I was growing up. My personal favorites were the trips we took "up north".  We went all over "the-tip-of-the-mitt" and into the U.P. I remember looking for Petoskey stones on the beaches along Lake Michigan, climbing among the rocks at Tahquamenon Falls, and seeing the ships go through the Soo Locks in Sault Ste. Marie.
Mackinaw City and Mackinac Island were the best places of all. It offers an amazing experience that takes you on a journey through time, to Michigan's earliest known history of settlers, with two big forts to tour, as well other terrific sights – there's no way to pack it all into one day.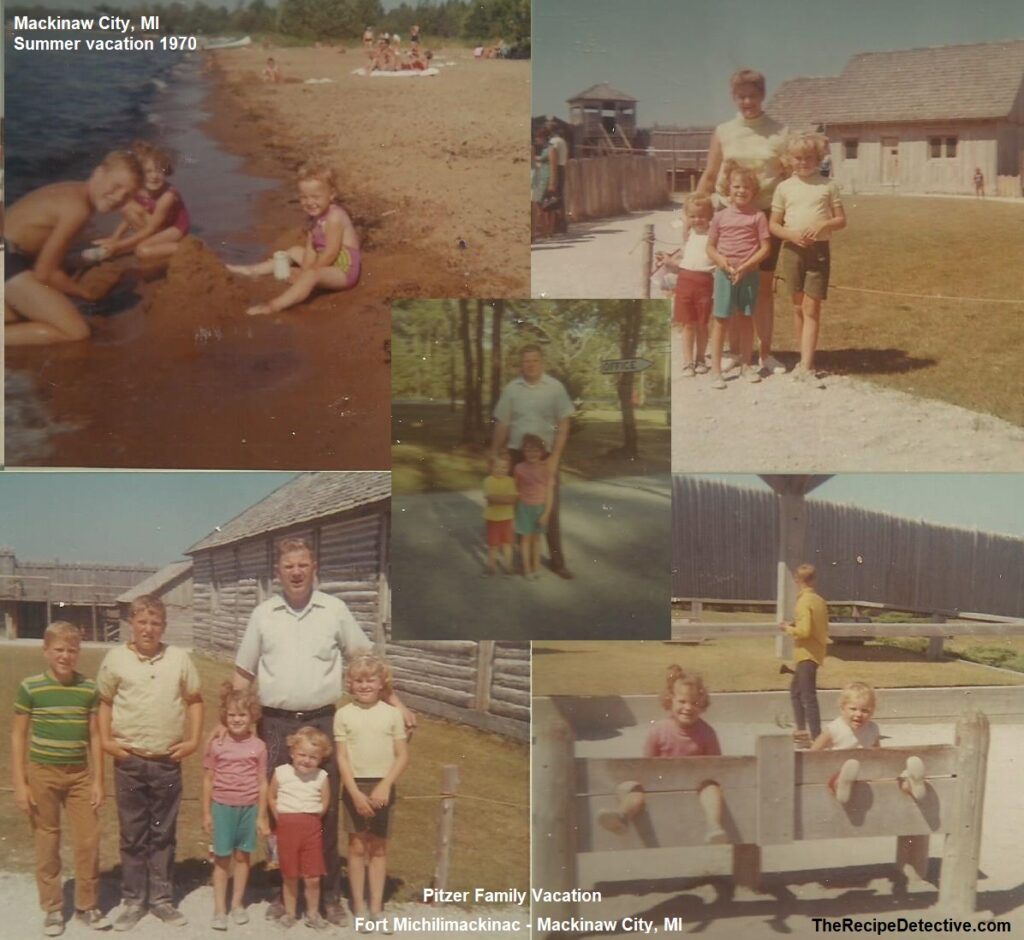 In fact, just last month, Michigan's Mackinac Island [Was] Named 'Best Island In The Continental US' (ClickOnDetroit.com; 07/13/2022). Michiganders have always known that Mackinac is quite a treasure, nestled in the north end of Lake Huron. Now the whole country is in on our secret!
Mom has duplicated many treats and dishes from the local restaurants and shops there, as well as from the luxurious Grand Hotel's dining room. I'm only half-way through creating a "Master Index" list of all Mom's copycat recipes from all of her books. As of right now, there are over a dozen recipes listed from this area. I want to eventually add all of her newsletters to the "Master Index", too, but I'm missing a lot of them.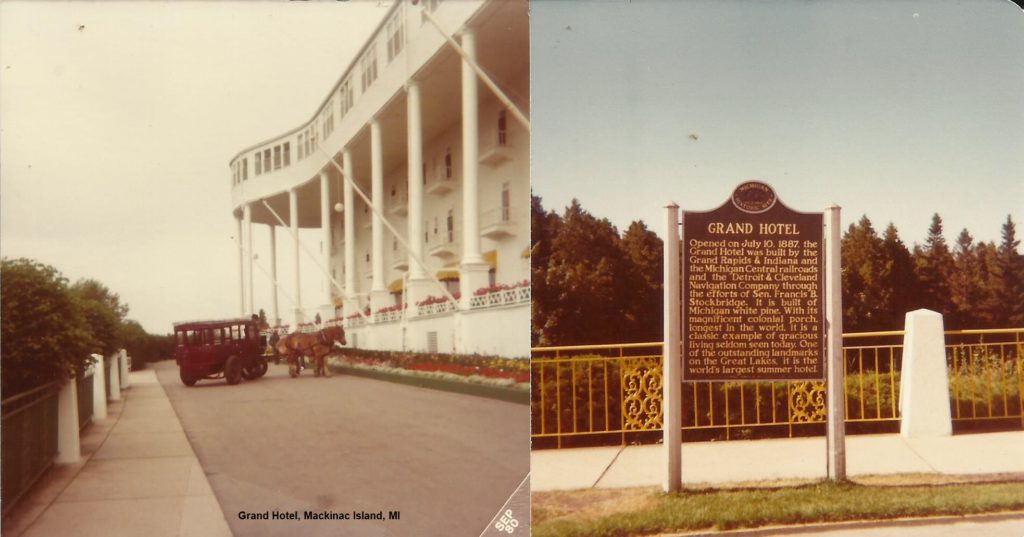 Going to Cedar Point, in Sandusky (Ohio), was another highlight of our summers, with a ton of unforgettable family fun; going on all the rides and eating ridiculous amounts of junk food. Sometimes we'd also spend the night at The Breakers hotel, next door, on the beach.
Mom often duplicated some of our favorite carnival treats at home to bring back those memories. So far, six are listed in the "Master Index" that I mentioned above. Maybe that's why I fell in love with the television show, "Carnival Eats", hosted by Noah Cappe, when it came out in 2014.
Mom really enjoyed watching it with me, too. We both thought it was a really fun and innovative way to do food reviews of those sinful culinary noshes, in which we allow ourselves to indulge, at least once in a great while.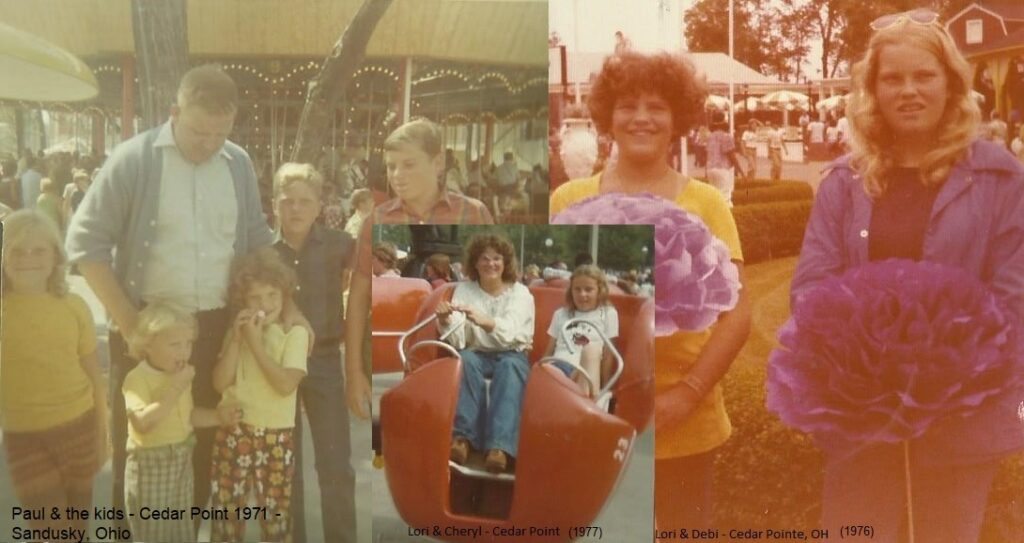 We also went often to Toronto and Niagara Falls, in Ontario, Canada. Every year we went, it seemed like both beautiful towns kept growing bigger and bigger with more exciting things to see and do; plus, even more great places to enjoy a snack or meal.
Mom always found new treats from the fudge shops and bakeries, plus dishes from the local delis and restaurants, to imitate when we went home. So far, there are almost a dozen listed in the "Master Index", from these two areas but I know she has more from these towns, as well.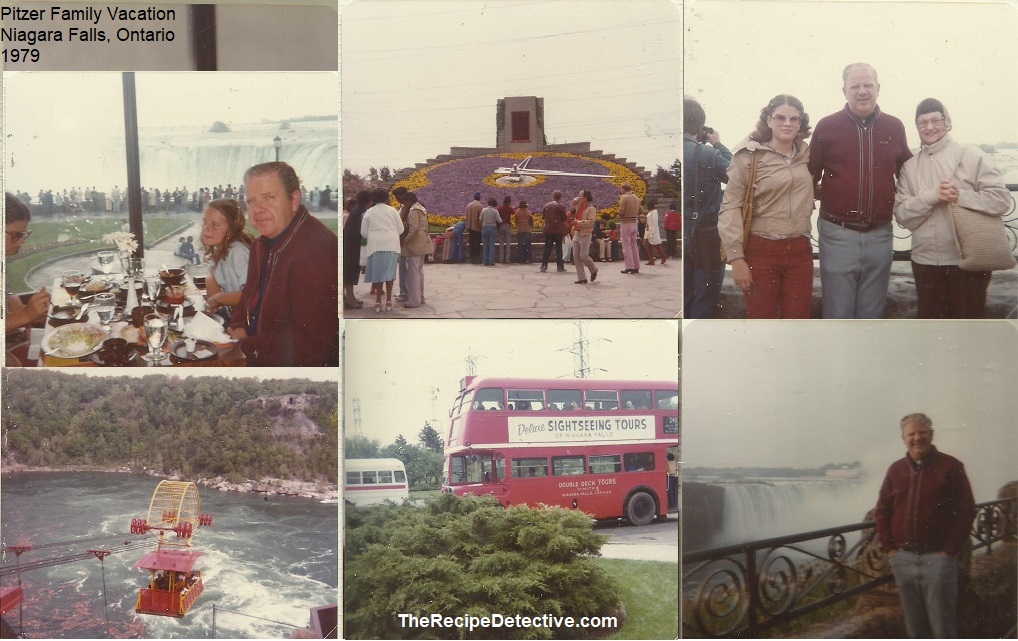 A couple of times, we drove to West Virginia for a family reunion and to visit our relatives from Dad's side of the family. Both of his parents were from neighboring counties in West Virginia. Mom's story (below), Vacation Returns (OR The Last Resort), is a spoof of one of those road trips and what it was like to travel that long with five children in tow.
Eons before cell phones, tablets, and other such data/electronic devices, Mom kept us all entertained on road trips the old fashioned way – with travel games like "20 Questions" and "I Spy"; plus, various versions of "Trivia", "Story Chain", "The Name Game", and "The License Plate Game".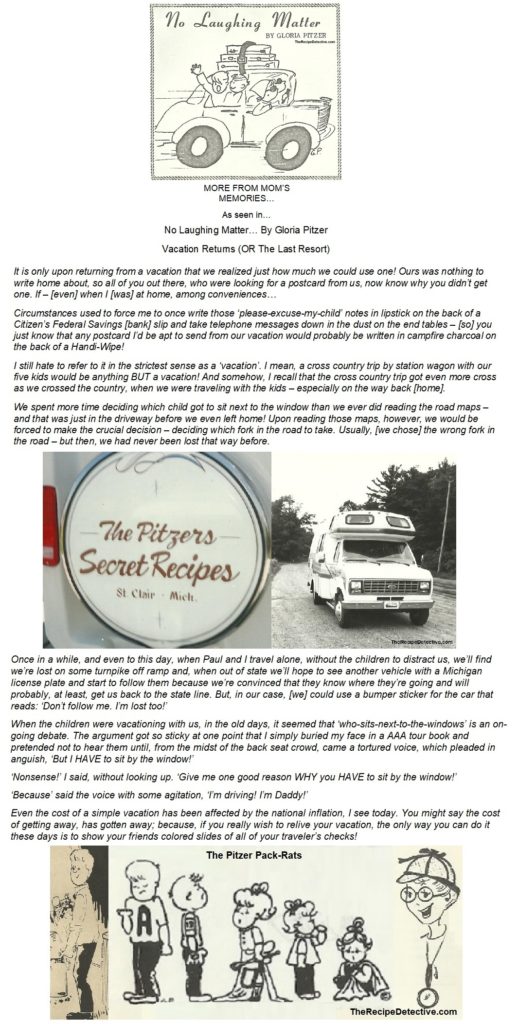 An online survey of Americans, conducted in 2016, by the National Recreation And Park Association, found that the three most typically preferred summer fun activities (among all the different age groups) were walking/hiking, going to the beach, and having a picnic/barbeque. That sounds about right, still today!
Michigan has 3,288 miles of beautiful, fresh water coastline, surrounding most of the state. That's a lot of beaches – and there are even more beaches along the state's many in-land lakes and rivers, as well. It's no wonder that going to the beach, swimming, and other water-related activities are the preferred fun activities, on hot summer days, among most (if not all) Michiganders.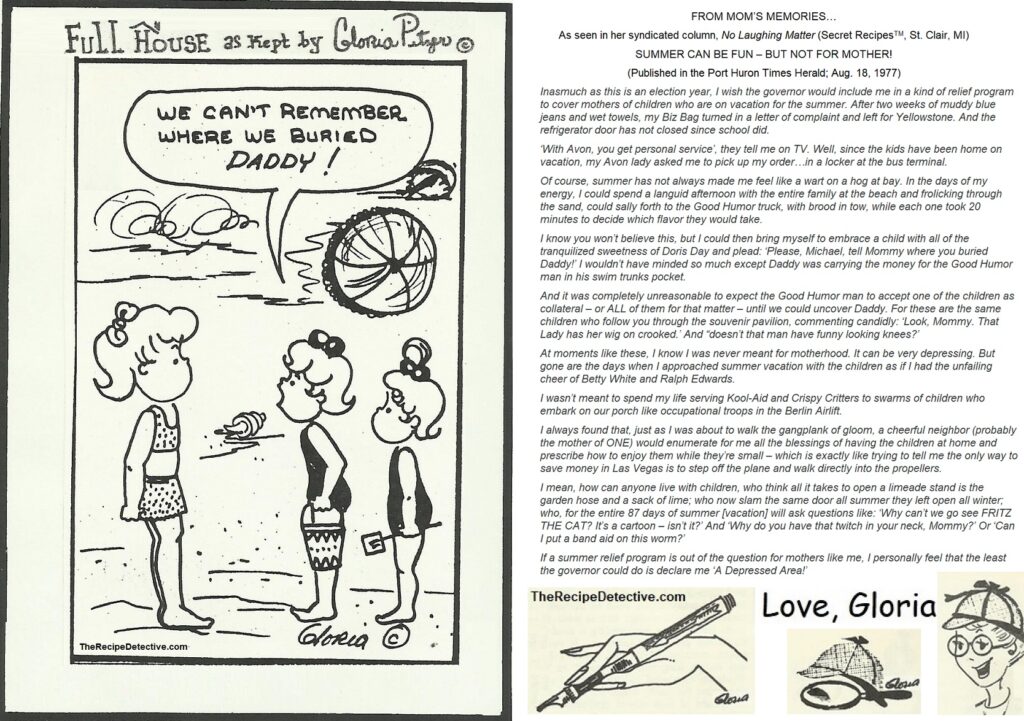 LAST THOUGHTS…
Like I wrote in beginning, it's the last days of August's National Family Fun Month celebration. While we're quickly approaching Labor Day weekend, families everywhere are trying to squeeze in one last "summer blast" before the kids settle back into their usual school routines.
How do you celebrate the end of summer – a weekend vacation, a day at the beach, or a barbeque in the backyard? Mom liked to celebrate right at home, whenever my siblings and I went back to school, saying that's when her vacation began.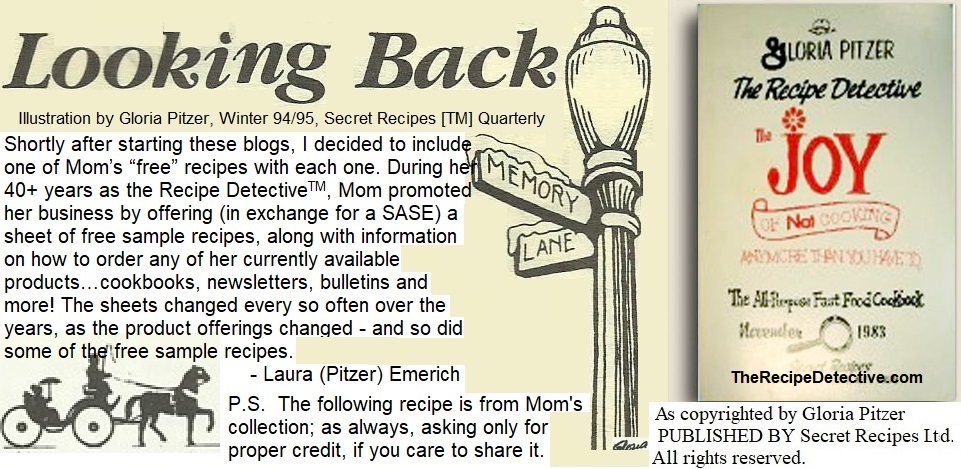 IN CLOSING…
In honor of TODAY, being National Chop Suey Day, here's Mom's copycat recipe for "Chop Suey Buns, Like Ann Page's" and her "Mackinac-Style Fruit Bars" variation (with a repeat of her "Thin Vanilla Icing", for either or both); as seen in her self-published cookbook… The Joy Of NOT Cooking – Any More Than You Have To (Secret RecipesTM, St. Clair, MI; Nov. 1983, p. 182). I also shared these recipes in April 2021, with Kathy Keene on WHBY's "Good-Neighbor" show.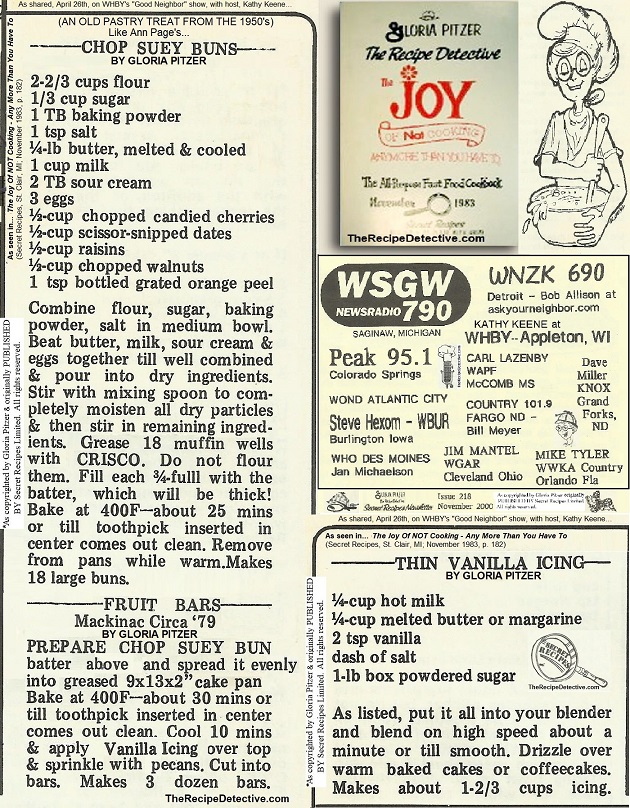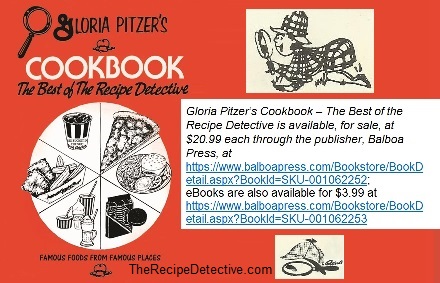 P.S. Food-for-thought until we meet again, next Monday…
August's observances include: National Dog Month, Happiness Happens Month, International Peace Month, National Brownies at Brunch Month, National Catfish Month, National Goat Cheese Month, National Golf Month, National Panini Month, National Sandwich Month, and Romance Awareness Month!
Today is also… National Lemon Juice Day!
Tomorrow is… National Toasted Marshmallow Day and National Beach Day!
Wednesday, August 31st is… National South Carolina Day and National Trail Mix Day!
Thursday kicks off September, which observes (among other things)… National Better Breakfast Month, National Little League Month, National Americana Month, National Blueberry Popsicle Month, National Chicken Month, National Courtesy Month, National Honey Month, National Italian Cheese Month, National Library Card Sign Up Month, National Mushroom Month, National Potato Month, National Rice Month, National Sewing Month, National Self-Improvement Month, and National Whole Grains Month!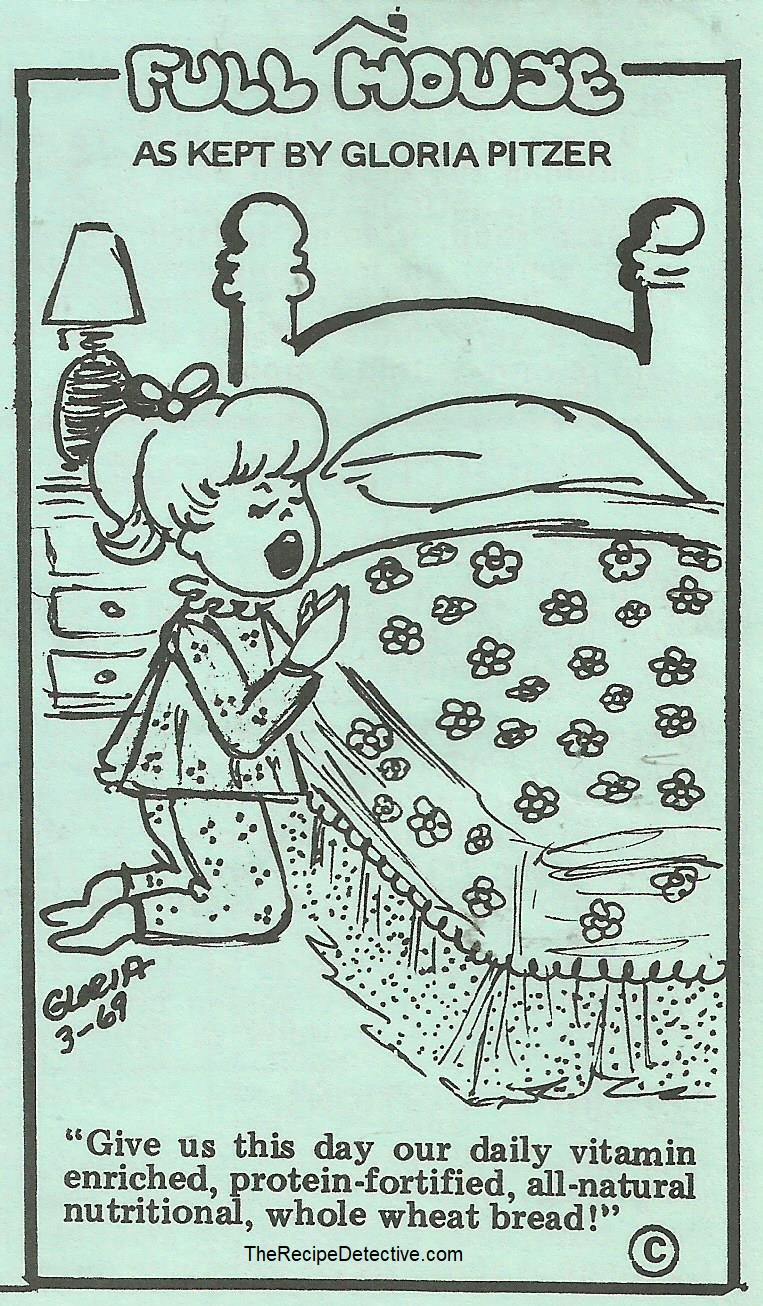 Thursday, September 1st is also… National Chicken Boy's Day and National No Rhyme (Nor Reason) Day!
September 2nd is… National Blueberry Popsicle Day! Plus, as the first Friday in September (for 2022) it's also… National Lazy Mom's Day, National Food Bank Day, National College Colors Day, and National Chianti Day!
September 3rd is… National Welsh Rarebit Day and U.S. Bowling League Day! Plus, as the first Saturday in September (for 2022), it's also… National Tailgating Day! Additionally, the first Saturday of EVERY MONTH is also… National Play Outside Day! Plus, according to AwarenessDays.com, the first Saturday in September is… International Bacon Day!
Sunday, September 4th is… unofficially Labor Day Eve (2022), as well as National Spice Blend Day, National Wildlife Day, National Newspaper Carrier Day, and National Macadamia Nut Day! Plus, as the start of the first FULL week in September (2022), it's also… National Waffle Week!

…35 down and 17 to go!