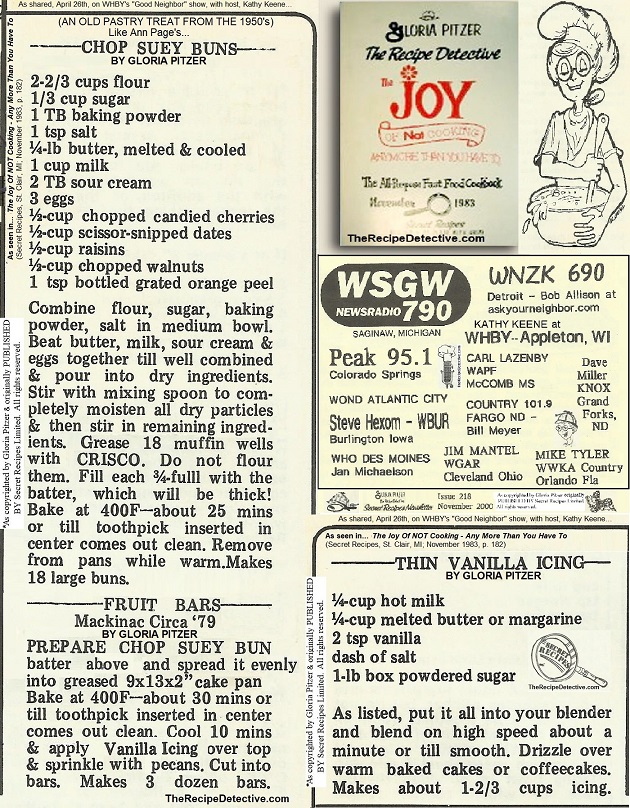 CHOP SUEY BUNS, WITH MACKINAC FRUIT BARS VARIATION & THIN VANILLA ICING
By Gloria Pitzer, as seen in her self-published cookbook, The Joy Of NOT Cooking – Any More Than You Have To (Secret RecipesTM, St. Clair, MI; Nov. 1983, p. 182).
Chop Suey Buns:
INGREDIENTS:
2 2/3 cups flour
1/3 cup sugar
1 TB baking powder
1 tsp salt
¼-lb butter, melted & cooled
1 cup milk
2 TB sour cream
3 eggs
½ cup each: chopped candied cherries, scissor-snipped dates, raisins, and chopped walnuts
1 tsp bottled grated orange peel
INSTRUCTIONS:
Combine [first 4 (dry) ingredients] in a medium bowl. [In a separate bowl,] Beat [next 4 (wet) ingredients] together until well combined. Pour wet mixture into dry mixture. Stir with mixing spoon to completely moisten all dry particles and then stir in remaining ingredients.
Grease 18 muffin wells with Crisco. DO NOT flour them. Fill each ¾-full with the batter, which will be thick! Bake at 400°F about 25 minutes or until toothpick inserted in center comes out clean. Remove from pans while warm. Makes 18 large buns.
Mackinac Fruit Bars [Variation]:
Prepare Chop Suey Buns batter (above) and spread it evenly into bottom of a 9"x13"x2" cake pan. Bake at 400°F, about 30 minutes or until toothpick inserted in center comes out clean. Cool 10 minutes and apply Thin Vanilla Icing [2] over top and sprinkle with pecans. Cut into bars. Makes 3 dozen [small] bars.
Thin Vanilla Icing [See "Recipes" tab: Thin Vanilla Icing (2)]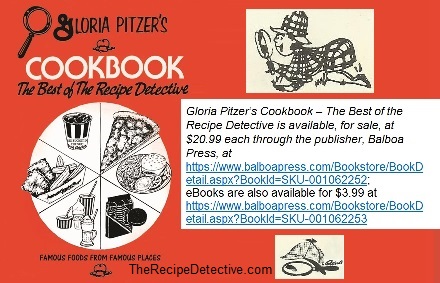 See also…