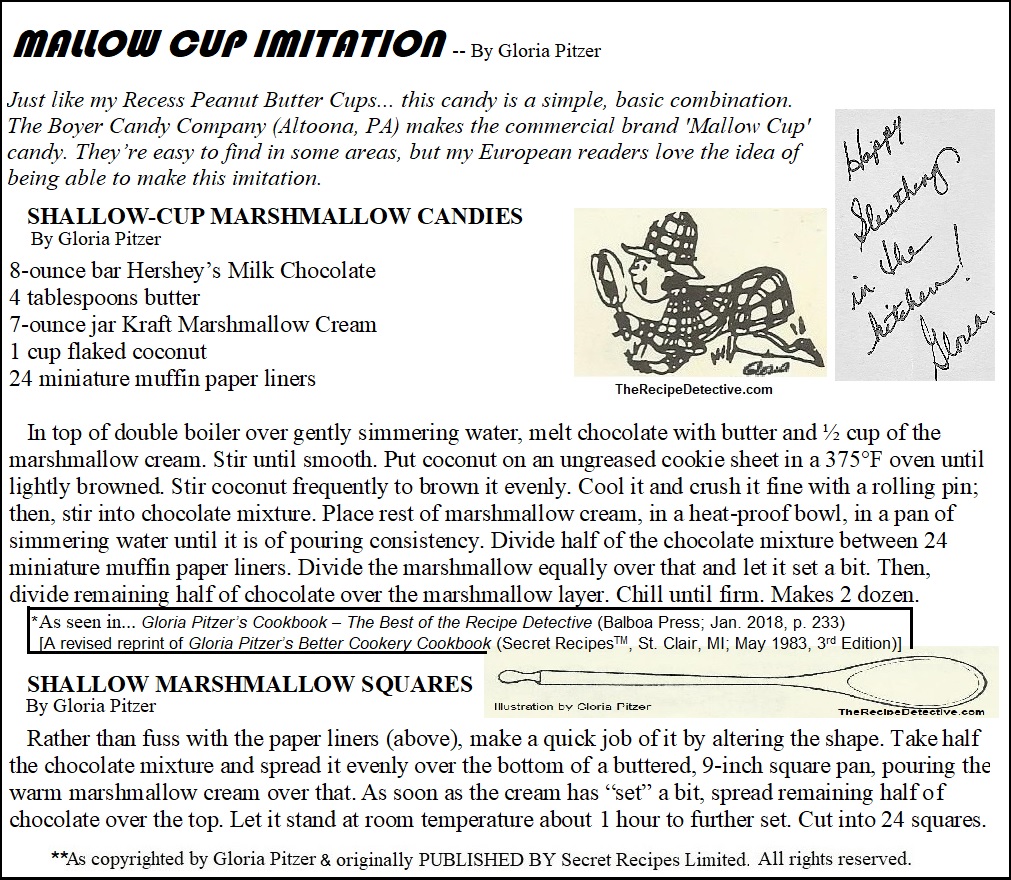 SHALLOW CUP MARSHMALLOW CANDIES – Mallow Cup Imitation
By Gloria Pitzer, as seen in… Gloria Pitzer's Cookbook – The Best of the Recipe Detective (Balboa Press; Jan. 2018, p. 233). [A revised reprint of Gloria Pitzer's Better Cookery Cookbook (Secret RecipesTM, St. Clair, MI; May 1983, 3rd Edition).]
Just like my Recess Peanut Butter Cups, this candy is a simple, basic combination. The Boyer Candy Company (Altoona, PA) makes the commercial brand, "Mallow Cup" candy. They're easy to find in some areas, but my European readers love the idea of being able to make this imitation.
INGREDIENTS:
8-ounce bar Hershey's Milk Chocolate
4 tablespoons butter
7-ounce jar Kraft Marshmallow Cream
1 cup flaked coconut
24 miniature muffin paper liners
INSTRUCTIONS:
In top of double boiler over gently simmering water, melt chocolate with butter and ½ cup of the marshmallow cream. Stir until smooth. Put coconut on an ungreased cookie sheet in a 375°F oven until lightly browned. Stir coconut frequently to brown it evenly. Cool it and crush it fine with a rolling pin; then, stir into chocolate mixture.
Place rest of marshmallow cream, in a heat-proof bowl, in a pan of simmering water until it is of pouring consistency. Divide half of the chocolate mixture between 24 miniature muffin paper liners. Divide the marshmallow equally over that and let it set a bit. Then, divide remaining half of chocolate over the marshmallow layer. Chill until firm. Makes 2 dozen.
SHALLOW MARSHMALLOW SQUARES [Variation] – By Gloria Pitzer
Rather than fuss with the paper liners (above), make a quick job of it by altering the shape. Take half the chocolate mixture and spread it evenly over the bottom of a buttered, 9-inch square pan, pouring the warm marshmallow cream over that. As soon as the cream has "set" a bit, spread remaining half of chocolate over the top. Let it stand at room temperature about 1 hour to further set. Cut into 24 squares.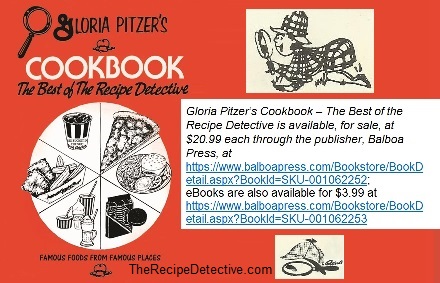 See also…