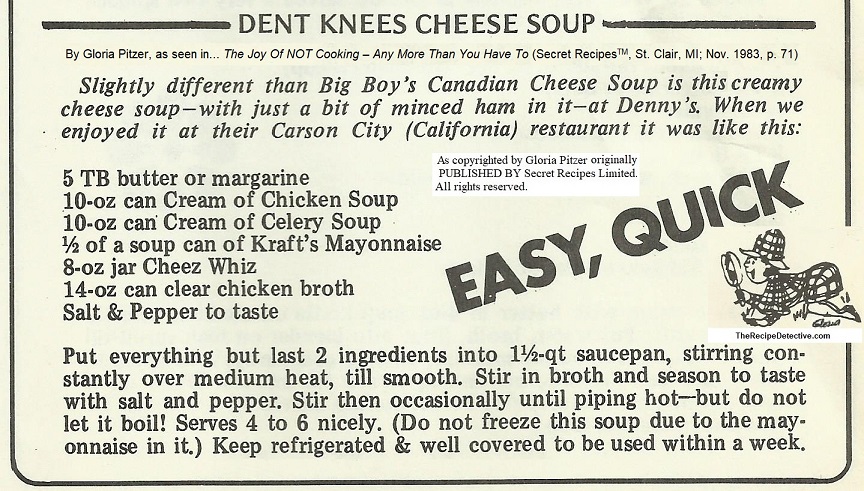 DENT KNEES CHEESE SOUP (Like Denny's)
By Gloria Pitzer, as seen in… The Joy Of NOT Cooking – Any More Than You Have To (Secret RecipesTM, St. Clair, MI; Nov. 1983, p. 71).
Slightly different than Big Boy's Canadian Cheese Soup is this creamy cheese soup – with just a bit of minced ham in it – at Denny's. When we enjoyed it at their Carson City (California) restaurant, it was like this…
INGREDIENTS:
5 TB butter or margarine
10-oz can [condensed] Cream of Chicken soup
10-oz can [condensed] Cream of Celery soup
[5-oz] Kraft's mayonnaise
8-oz jar Cheez Whiz
14-oz can clear chicken broth
Salt & pepper, to taste
INSTRUCTIONS:
Put [first 5 ingredients, as listed] into a 1½-qt saucepan, stirring constantly, over medium heat, until smooth. Stir in broth and season to taste with salt and pepper. Stir then occasionally until piping hot – but do not let it boil! Serves 4-6 nicely. Do NOT freeze this soup (due to the mayonnaise in it). Keep [leftovers, if any] refrigerated and well covered, to be used within a week.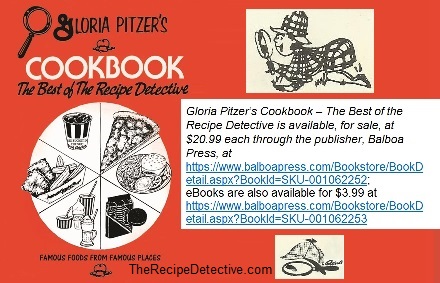 See also…