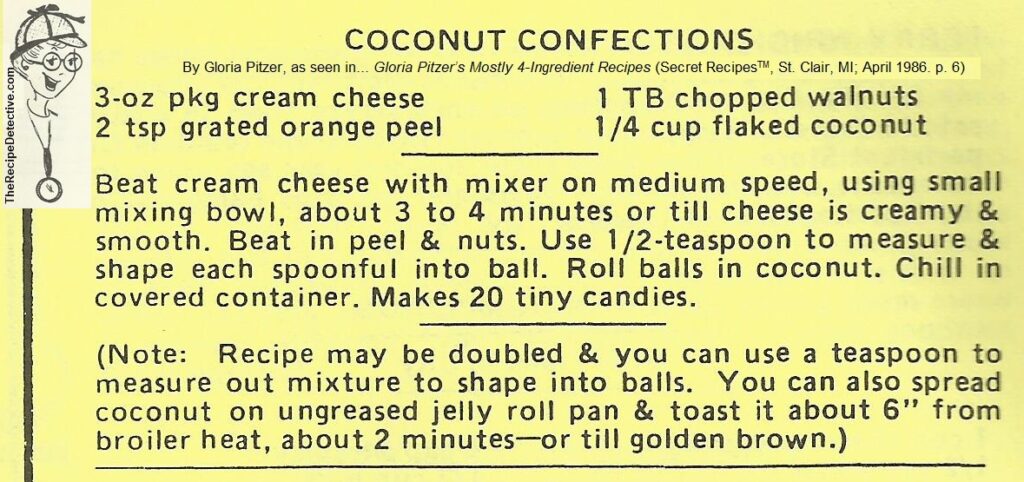 COCONUT CONFECTIONS
By Gloria Pitzer, as seen in… Gloria Pitzer's Mostly 4-Ingredient Recipes (Secret RecipesTM, St. Clair, MI; April 1986)
INGREDIENTS:
3-oz pkg. cream cheese
2 tsp grated orange peel
1 TB chopped walnuts
¼ cup flaked coconut
INSTRUCTIONS:
Beat cream cheese with mixer on medium speed, using small mixing bowl, about 3 to 4 minutes or until cheese is creamy and smooth. Beat in peel and nuts. Use ½ teaspoon to measure and shape each spoonful into a ball. Roll balls in coconut. Chill in covered container. Makes 20 tiny candies.
[NOTE: Recipe may be doubled and you can use a teaspoon (instead of ½ tsp) to measure out mixture to shape into balls. You can also spread coconut on ungreased jelly roll pan and toast it about 6" from broiler heat, about 2 minutes – or until golden brown.]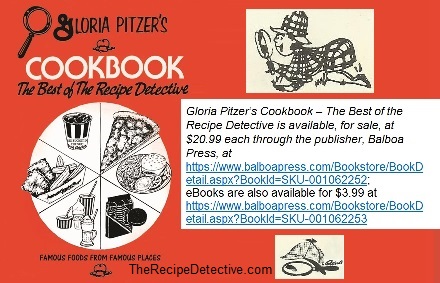 See also…
Mondays & Memories of My Mom – Camping Michigan's Great Outdoors