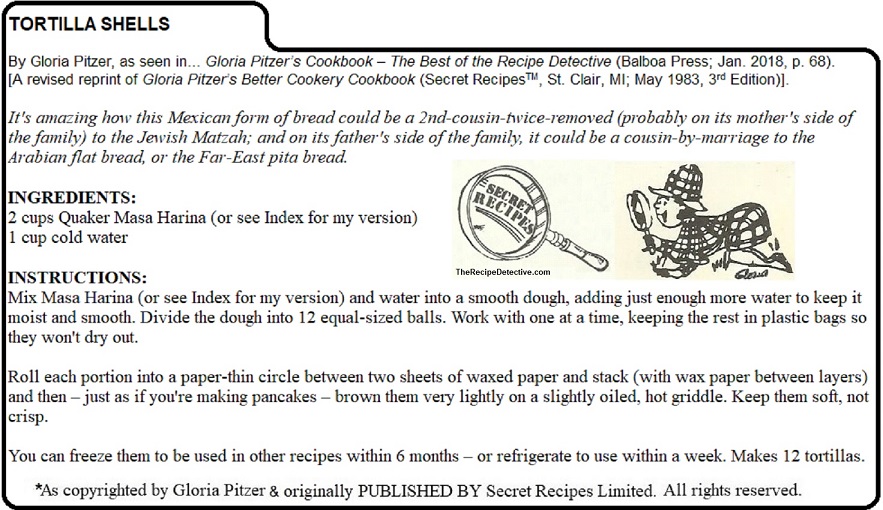 TORTILLA SHELLS
By Gloria Pitzer, as seen in… Gloria Pitzer's Cookbook – Best Of The Recipe Detective (Balboa Press; Jan. 2018, p. 68). [A revised reprint of Gloria Pitzer's Better Cookery Cookbook (Secret RecipesTM, St. Clair, MI; May 1983, 3rd Edition).]
It's amazing how this Mexican form of bread could be a 2nd-cousin-twice-removed (probably on its mother's side of the family) to the Jewish Matzah; and on its father's side of the family, it could be a cousin-by-marriage to the Arabian flat bread, or the Far-East pita bread.
INGREDIENTS:
2 cups Quaker Masa Harina
1 cup cold water
INSTRUCTIONS:
Mix Masa Harina [or see "Recipes" tab for my imitation] and cold water into a smooth dough, adding just enough more water to keep it moist and smooth. Divide the dough into 12 equal-sized balls. Work with one at a time, keeping the rest in plastic bags so they won't dry out.
Roll each portion into a paper-thin circle between two sheets of waxed paper and stack (with wax paper between layers). Then – just as if you're making pancakes – brown them very lightly on a slightly oiled, hot griddle. Keep them soft, not crisp. You can freeze them to use in other recipes, within 6 months – or refrigerate to use in a week. Makes 12 tortillas.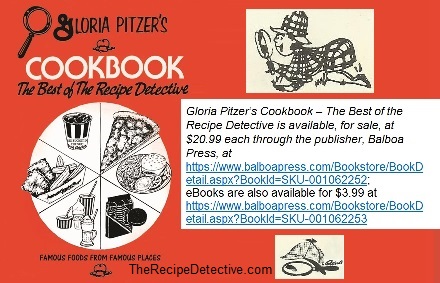 See also…