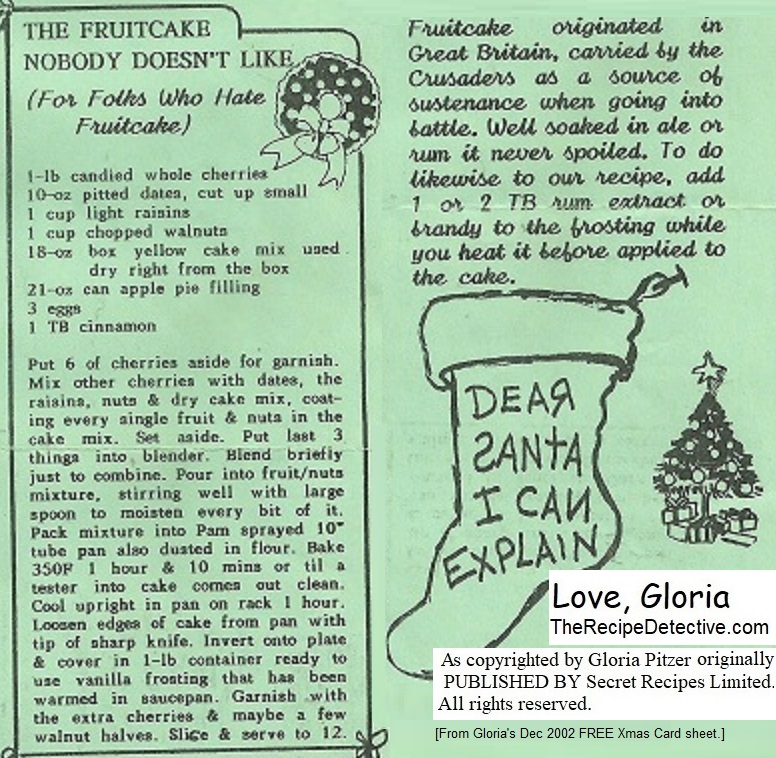 THE FRUITCAKE NOBODY DOESN'T LIKE
By Gloria Pitzer, as seen on her… 2002 Xmas Card & Free Recipes sheet
Fruitcake originated in Great Britain, carried by the Crusaders, as a source of sustenance when going into battle. Well soaked in ale or rum, it never spoiled. To do likewise to our recipe, add 1 or 2 tablespoons rum extract or brandy to the frosting, while you heat it, before applying it to the cake.
INGREDIENTS:
1-lb candied whole cherries
10-oz pitted dates, cut up small
1 cup light raisins
1 cup chopped walnuts
18-oz box yellow cake mix, used dry right from the box
21-oz can apple pie filling
3 eggs
1 TB cinnamon
1-lb tub ready-to-use vanilla frosting
INSTRUCTIONS:
Put 6 of the cherries aside for garnish. Mix other cherries with dates, raisins, nuts, and dry cake mix; coating every single fruit and nut in the cake mix. Set aside. Put [next] three things into blender. Blend briefly just to combine. Pour into fruit-nut mixture, stirring well with large spoon to moisten every bit of it.
Pack mixture into Pam sprayed, 10-inch, tube pan also dusted in flour. Bake at 350°F for 1 hour and 10 minutes or until a [toothpick inserted] into cake comes out clean. Cool upright in pan, on rack, for 1 hour.
Loosen edges of cake from pan with tip of sharp knife. Invert onto plate and cover in frosting that has been warmed in a saucepan. Garnish with the extra cherries and maybe a few walnut halves. Slice and serve to 12.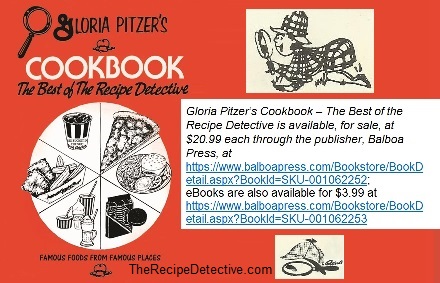 See also…