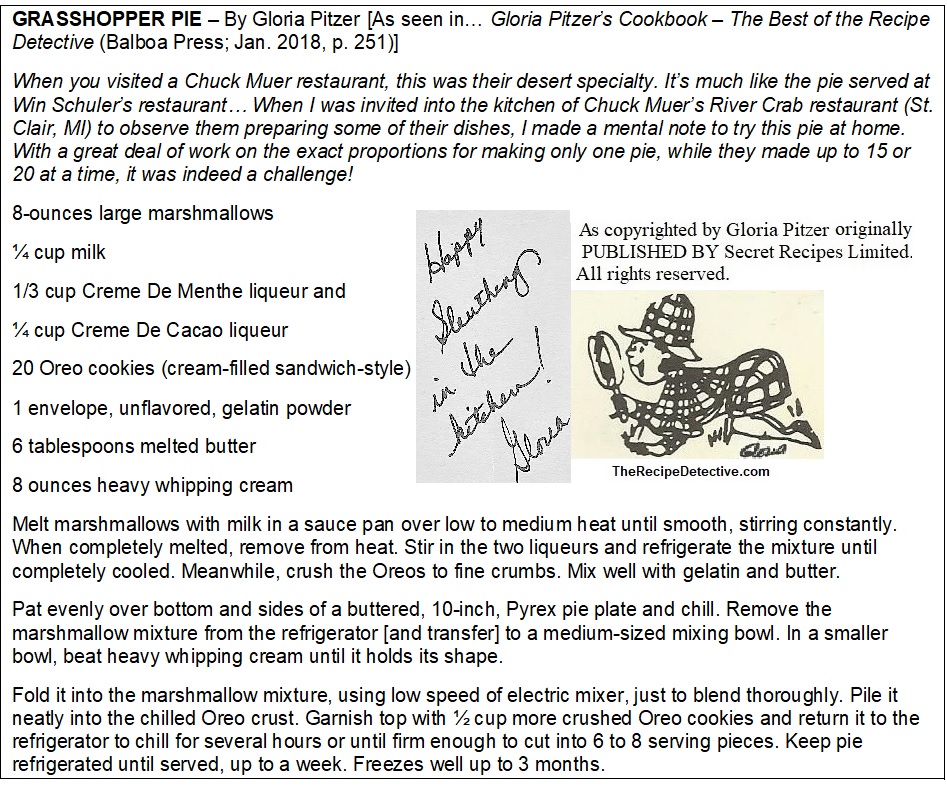 GRASSHOPPER PIE
By Gloria Pitzer, as seen in… Gloria Pitzer's Cookbook – Best Of The Recipe Detective (Balboa Press; Jan. 2018, p. 251). [A revised reprint of Gloria Pitzer's Better Cookery Cookbook (Secret RecipesTM, St. Clair, MI; May 1983, 3rd Edition).]
When you visited a Chuck Muer restaurant, this was their desert specialty. It's much like the pie served at Win Schuler's restaurant. So, depending on where you would like to be at the time you prepare this, have it a-la-Muer's or a-la-Schuler's!
When I was invited into the kitchen of Chuck Muer's River Crab restaurant (St. Clair, MI) to observe them preparing some of their dishes, I made a mental note to try this pie at home. With a great deal of work on the exact proportions for making only one pie, while they made up to 15 or 20 at a time, it was indeed a challenge! But this is my version of it – and it is almost as good!
INGREDIENTS:
Half of a 1-pound bag of large marshmallows
¼ cup milk
1/3 cup Crème De Menthe liqueur
¼ cup Crème De Cacao liqueur
20 Oreo (cream-filled sandwich) cookies
1 envelope, unflavored, gelatin powder
6 tablespoons melted butter
8 ounces heavy whipping cream
INSTRUCTIONS:
Melt the marshmallows with milk in a sauce pan over low to medium heat until smooth, stirring constantly. When completely melted, remove from heat. Stir in [both] liqueurs and refrigerate the mixture until completely cooled. Meanwhile, crush cookies to fine crumbs. Mix well with gelatin powder and melted butter.
Pat evenly over bottom and sides of a buttered 10-inch Pyrex pie plate and chill. Remove the marshmallow mixture from the refrigerator to a medium-sized mixing bowl. In a smaller bowl, beat heavy whipping cream until it holds its shape. Fold it into the marshmallow mixture, using low speed of electric mixer, just to blend thoroughly.
Pile it neatly into the chilled Oreo crust. Garnish top with ½ cup more crushed Oreo cookies and return it to the refrigerator to chill for several hours or until firm enough to cut into 6 to 8 serving pieces. Keep pie refrigerated until served, up to a week. Freezes well up to 3 months.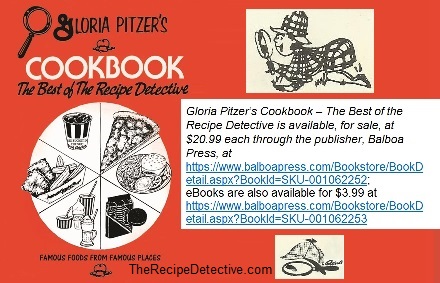 See also…