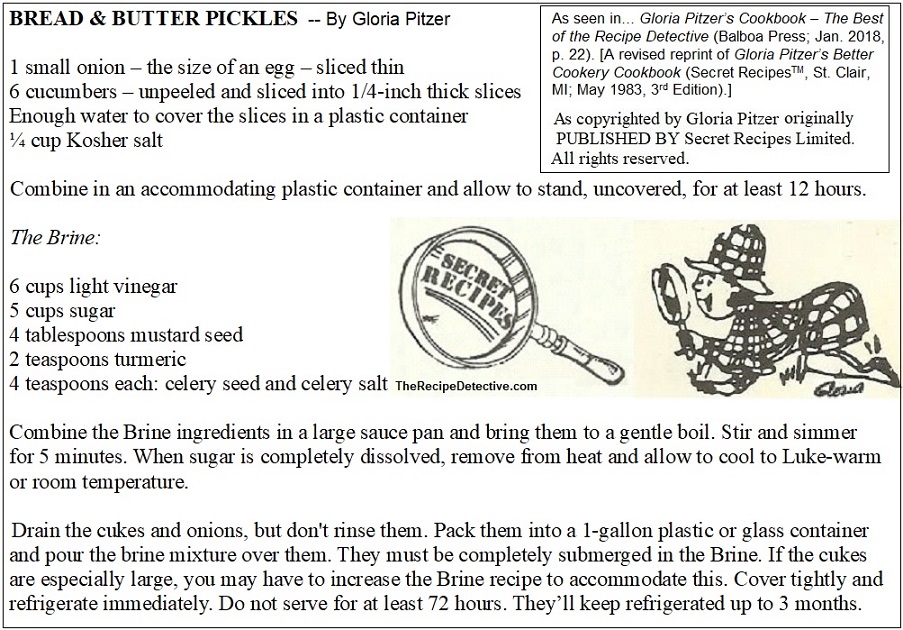 BREAD & BUTTER PICKLES
By Gloria Pitzer, as seen in… Gloria Pitzer's Cookbook – Best Of The Recipe Detective (Balboa Press; Jan. 2018, p. 22). [A revised reprint of Gloria Pitzer's Better Cookery Cookbook (Secret RecipesTM, St. Clair, MI; May 1983, 3rd Edition).]
INGREDIENTS:
1 small onion – the size of an egg – sliced thin
6 cucumbers – unpeeled and sliced into 1/4-inch thick slices
Enough water to cover the slices in a plastic container
¼ cup Kosher salt
Combine [above ingredients] in an accommodating plastic container and allow to stand, uncovered, for at least 12 hours.
The Brine:
6 cups light vinegar
5 cups sugar
4 tablespoons mustard seed
2 teaspoons turmeric
4 teaspoons each: celery seed and celery salt
INSTRUCTIONS:
Combine the Brine ingredients in a large sauce pan and bring them to a gentle boil. Stir and simmer for 5 minutes. When sugar is completely dissolved, remove from heat and allow to cool to lukewarm or room temperature.
Drain the cukes and onions, but don't rinse them. Pack them into a 1-gallon plastic or glass container and pour the brine mixture over them. They must be completely submerged in the Brine. If the cukes are especially large, you may have to increase the Brine recipe to accommodate this. Cover tightly and refrigerate immediately. Do not serve for at least 72 hours. They'll keep refrigerated up to 3 months.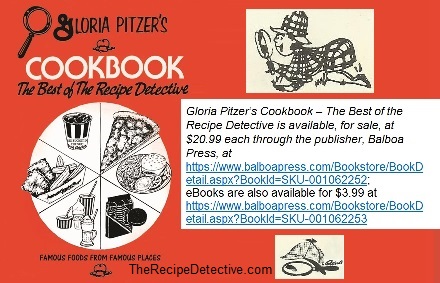 See also…