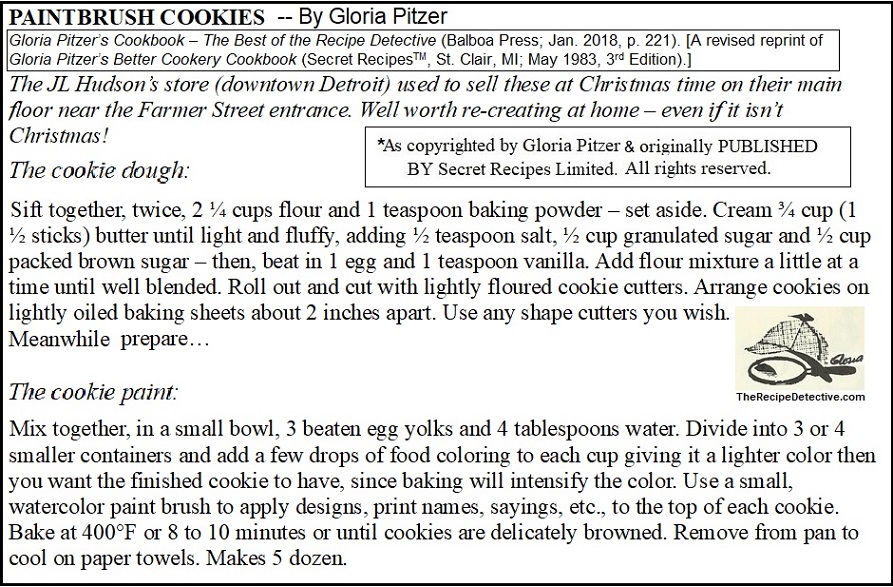 PAINTBRUSH COOKIES, LIKE HUDSON'S
By Gloria Pitzer, as seen in… Gloria Pitzer's Cookbook – Best Of The Recipe Detective (Balboa Press; Jan. 2018, p. 221). [A revised reprint of Gloria Pitzer's Better Cookery Cookbook (Secret RecipesTM, St. Clair, MI; May 1983, 3rd Edition).]
The JL Hudson's store (downtown Detroit) used to sell these at Christmas time on their main floor near the Farmer Street entrance. Well worth re-creating at home – even if it isn't Christmas!
THE COOKIE DOUGH:
INGREDIENTS:
2¼ cups flour
1 tsp baking powder
¾ cup (1 ½ sticks) butter
½ tsp salt
½ cup granulated sugar
½ cup packed brown sugar
1 egg
1 tsp vanilla
INSTRUCTIONS:
Sift together, twice, flour and baking powder – set aside. Cream butter until light and fluffy, adding salt, and [both] sugars – then, beat in egg and vanilla. Add flour mixture a little at a time until well blended. Roll out and cut with lightly floured cookie cutters. Arrange cookies on lightly oiled baking sheets about 2 inches apart. Use any shape cutters you wish. Meanwhile prepare…
THE COOKIE PAINT:
INGREDIENTS:
3 beaten egg yolks
4 TB water
INSTRUCTIONS:
Mix together, in a small bowl, egg yolks and water. Divide into 3 or 4 smaller containers and add a few drops of food coloring to each cup giving it a lighter color then you want the finished cookie to have, since baking will intensify the color.
Use a small, watercolor paint brush to apply designs, print names, sayings, etc., to the top of each cookie. Bake at 400°F or 8 to 10 minutes or until cookies are delicately browned. Remove from pan to cool on paper towels. Makes 5 dozen.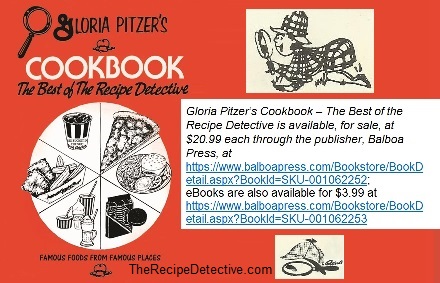 See also…