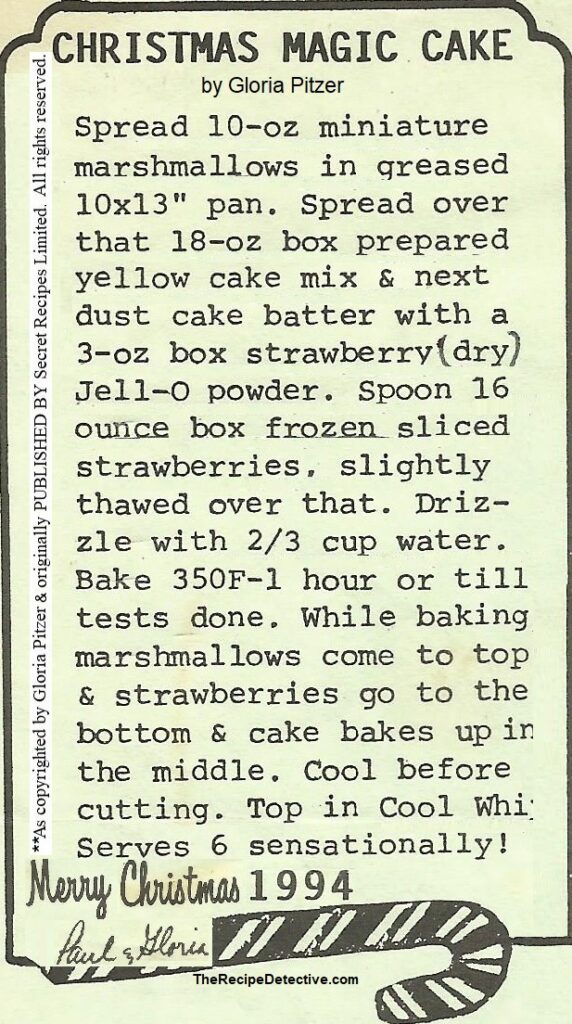 CHRISTMAS MAGIC CAKE
By Gloria Pitzer, as shared in her 1994, homemade, Christmas card*
INGREDIENTS:
10-oz miniature marshmallows
18-oz box prepared, yellow, cake mix batter
3-oz box strawberry gelatin powder
1-lb box frozen (but slightly thawed), sliced strawberries
2/3 cup water
Cool Whip (for garnish)
INSTRUCTIONS:
Spread marshmallows out in a greased 10" x 13" pan. Spread the cake batter over that and dust the batter layer with the gelatin powder. Spoon the strawberry slices around the top of that layer and drizzle the top of that layer with the water.
Bake at 350°F for 1 hour or until it tests done. While baking, the marshmallows will come to the top and the strawberries will go to the bottom and the cake bakes up in the middle!
Cool before cutting. Top with Cool Whip. Serves 6 sensationally!

*I also shared the above recipe (November 30, 2020) on-the-air with Kathy Keene – on her "Good Neighbor" show on WHBY in Appleton, WI. If you missed the show, you could listen to the podcast at https://www.whby.com/2020/11/30/laura-pitzer-emerich-amy-albright/.
See also…