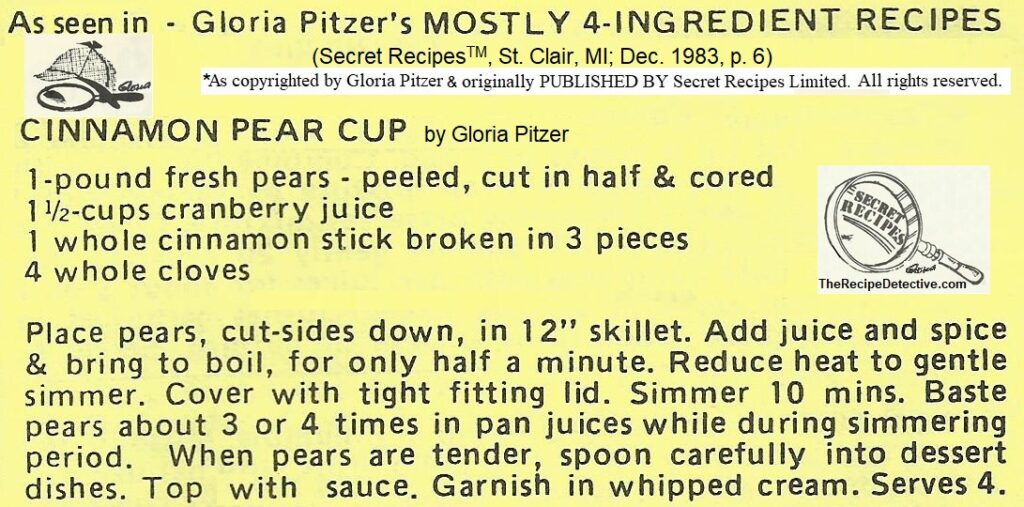 CINNAMON PEAR CUP
By Gloria Pitzer, as seen in her self-published cookbook, Mostly 4-Ingredient Recipes (Secret RecipesTM, St. Clair, MI; Dec. 1983, p. 6)
INGREDIENTS:
1-lb fresh pears – peeled, cut in half, and cored
1½ cups cranberry juice
1 whole cinnamon stick, broken into 3 pieces
4 whole cloves
Whipped cream (for garnish)
INSTRUCTIONS:
Place pears, cut sides down, in 12-inch skillet. Add juice and spices. Bring to a boil, for only half a minute! Reduce heat to a gentle simmer and cover with a tight-fitting lid. Simmer 10 minutes.
Baste pears about 3 or 4 times, with pan juices, during simmering period. When Pears are tender, spoon carefully into dessert dishes. Top with sauce. Garnish in whipped cream. Serves 4.
See also…