Happy Monday to all! Personally, I look forward to every Monday because they are my 52 Chances each year, in which I get to share Memories of My Mom with all of you!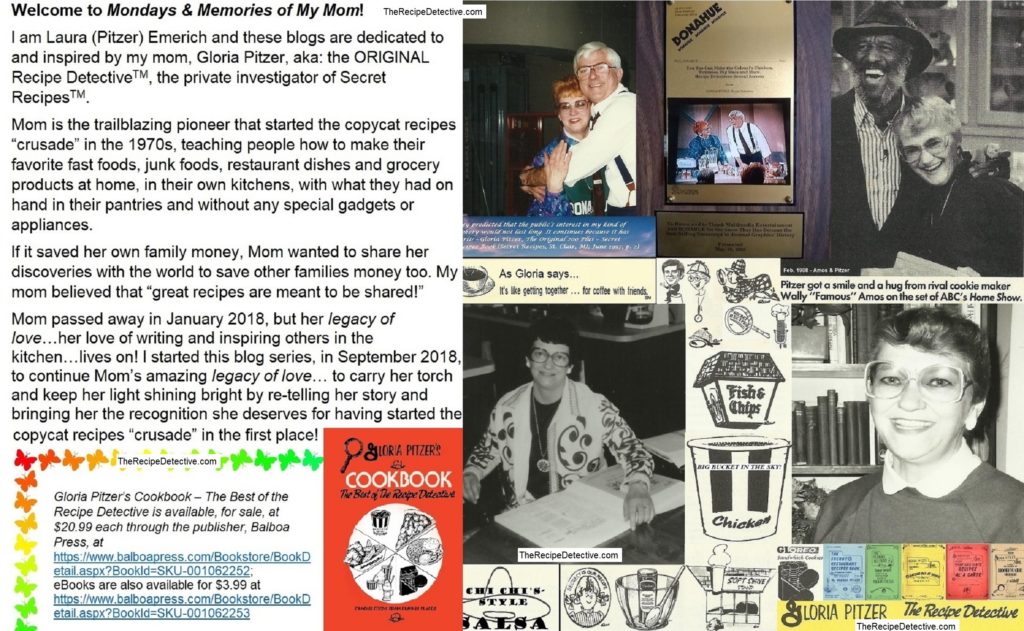 My mom passed away just over four years ago, leaving behind a very special legacy of love. I started and continue to write these blog posts to celebrate that and to re-share her many talents with the world! "The Recipe Detective" is the name that was given to Mom in the 1970s by the fans that followed her on her regular visits with Bob Allison, on his "Ask Your Neighbor"  talk show (WWJ-Radio; Detroit, MI).
The nickname was a natural fit for Mom, as she loved to sleuth-out the secrets of the food industry; similar to how Sherlock Holmes solved many mysteries. He also happened to be one of her favorite fictional characters. Mom always loved to solve a good mystery!

A lot of her endeavors, as to which "top secret" recipes to crack, were inspired by requests from her quickly growing fan base. Although radio was Mom's first (and favorite) form of getting the word out about the unique niche she carved in the food industry, with her copycat cookery; she also appearing on some famous local and national TV talk shows.
After Mom's FIRST appearance on the Phil Donahue Show, in 1981, when she demonstrated several of her popular fast food imitations; our small-town post office was inundated with about a million letters from viewers wanting more of what she had to offer – the "offer" being a sheet of samples of Mom's recipes and ordering information for her books and newsletter subscriptions in exchange for a self-addressed stamped envelope!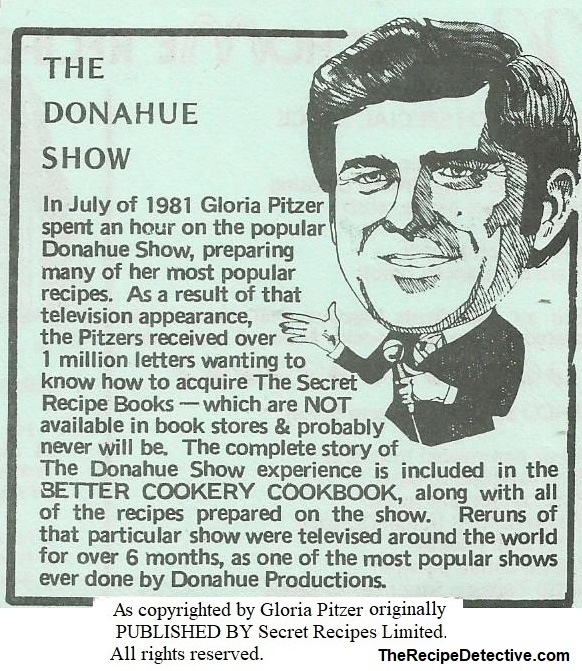 The business boomed and the experience nearly crushed our family and the cottage-style dining room table operation of Secret RecipesTM. All parties involved eventually survived. However, Mom swore she'd never do another national TV show again.
Nevertheless, this month marks the 34th anniversary of Mom's FIRST appearance on ABC's "Home" show (Feb. 1988), when she was surprised by Wally Amos, in person! She told me it was one of the most thrilling and memorable events she had ever experienced. Mom did the show again in March 1991. Below is a brief story she wrote about the first occasion.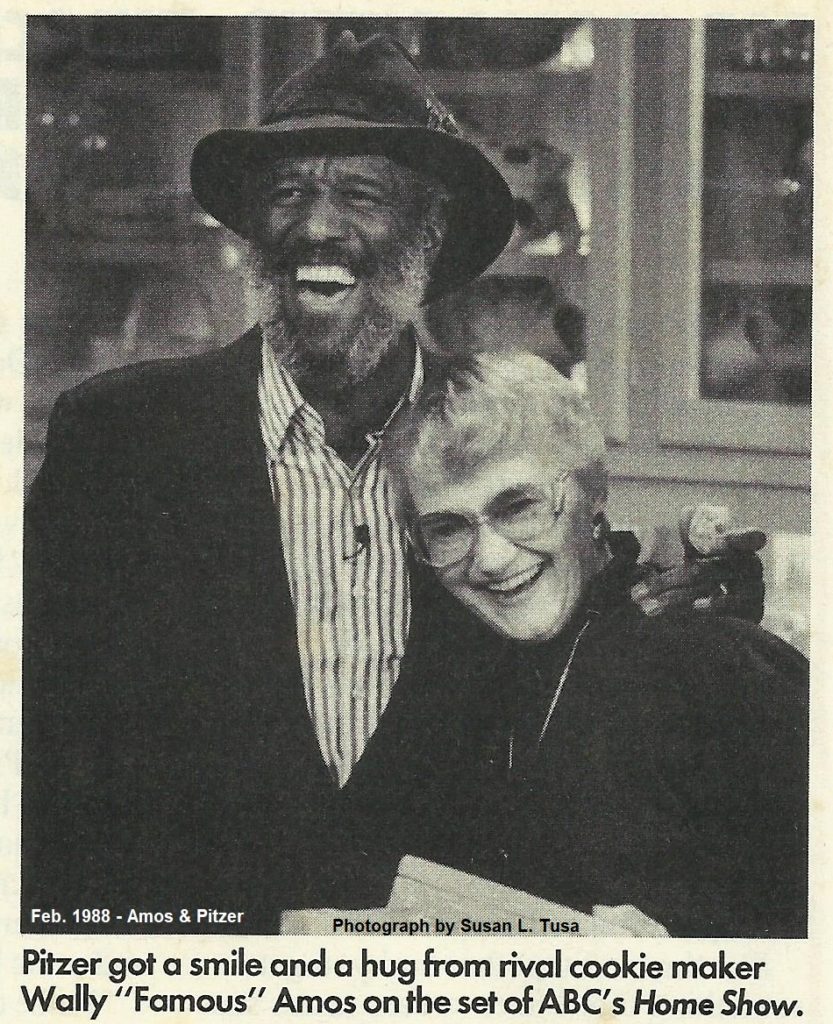 FROM MOM'S MEMORIES…
As seen in…
The Copycat Cookbook (Secret RecipesTM, St. Clair, MI; April 1988, p. 3)
TALKING FOOD
I know I said I would never do another television show after the Donahue experience (July 1981), but when good friend, Carol Duval, called me and asked me to give [ABC's] 'Home' show a try, I was glad that I finally agreed. The most exciting part of the experience was being completely surprised by a visit on stage from Wally Amos, who (in 1975) founded the world's first cookie shop!
The 'Home' show [people] had brought him into Los Angeles just to meet me and sample my version of his product, which I was preparing on that show. I was absolutely delighted with the sample tin [I received] of his assorted cookies…
In my BETTER COOKERY Cookbook [1982], I give you accounts of unhappy experiences with companies who's legal advisors had us quite frightened at one time, for having attempted to duplicate their secrets in my own kitchen.
Wally Amos – like Harland Sanders [of KFC], Jack Sanders (…the famous confectionary), …Arthur Treacher, the people at White Castle Hamburgers, and those good folks at General Foods – as well as McDonald's own Paul Duncan have given me encouragement [and] appreciation for having attempted to compliment them with flattery.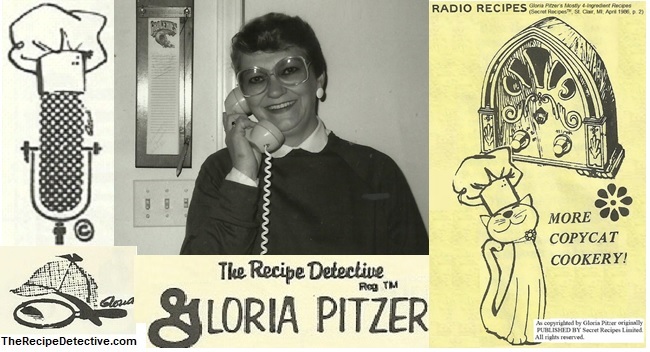 I still, however, do prefer the wonders of radio to that of doing television presentations. My favorite contacts are always with radio listeners, because it is a more personal communication, like friends or family; where television is a vast make-believe land of 90% cosmetic appearance.
The imagination can be free to explore new ideas more readily with radio, I believe. No matter what time of the day or night – and often that means the middle of the night, too – the broadcasts are always lively and interesting and include challenging questions and requests from enthusiastic listeners.
Because we do not have our books in bookstores, sending them out ONLY by mail from our address, we have been able to acquaint many folks with our work by talking about the secrets of the food industry over the radio. From California to New York… From Florida, Texas, Oklahoma and then as far north as Washington State and into Canada, we have visited with listeners.
We've talked to folks in Japan and Australia, Guam, Hawaii, even Alaska, as well as West Germany – and we've confirmed what Walt Disney knew all along – it's a small, small world, after all! Making new friends through good food ideas, we've helped to take the monotony out of mealtime and turn a job into a joy!

Mom had a very special talent for determining the sources of flavors in almost any restaurant dish or supermarket product. Some of her copycat recipes used unlikely ingredient combinations, which were unheard of at that time, like cake mix and mayonnaise, to achieve a certain flavor, color or texture.
Mom also had a very special talent for promoting herself, as well as her unique concepts and creations. Right from the start, radio and Mom formed a seemingly natural friendship/partnership. She knew who her target audience was and where to find them! Likewise, it didn't take people long to find her, either!
'Luck is what happens when preparation meets opportunity.' – Seneca (Roman philosopher, mid-1st century AD)
MORE FROM MOM'S MEMORIES…
As seen in…
My Cup Runneth Over and I Can't Find My Mop (Secret RecipesTM, St. Clair, MI; Dec. 1989, p. 45)
CAROL DUVALL
IT WAS DURING THIS time that I became friends with Carol Duvall, who then had her craft letter and daily five-minute TV show on Channel 4 in Detroit. We exchanged recipes and would even swap ideas on crafts, which I reprinted from her craft letter in our recipe newsletter. We would get together for lunch now and again and enjoyed a happy relationship for a long time.
I was sad when she decided to cease publication of her craft letter, in preparation of her move to the Traverse City area. But when she did go out of business, she offered her subscribers the option of switching over to our recipe newsletter which was by subscription at the same price as Carol's letter.
We acquired hundreds of new readers from this experience, and we still enjoy hearing from her crafty followers, although, since Carol moved to Bear Lake, Michigan I have missed our old lunch get-togethers. It was Carol, in fact, who suggested to the Home Show that I appear on the television show in February 1988. Carol has a regular spot with them. Watch for her. You'll love her!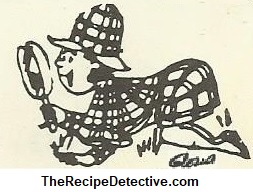 LAST THOUGHTS…
One of Mom's favorite "treasures" was the cookie tin with the picture of Wally Amos, which he personally gave her during their visit in February 1988, on the set of the 'Home' show, hosted by Rob Weller. Mom kept it on a shelf in her kitchen for many years!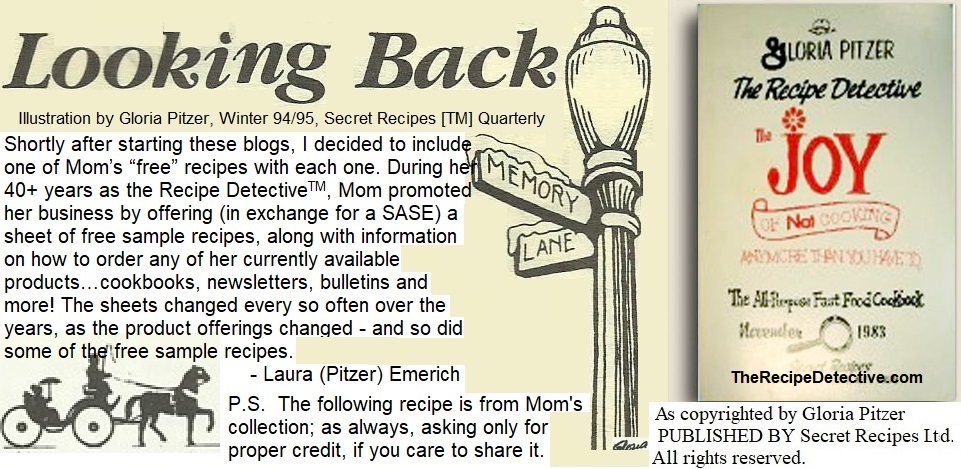 IN CLOSING…
In honor of TODAY, being National Sticky Bun Day, here are Mom's copycat recipes for Pillsbury-Style Hot Rolls & Sticky Buns; as seen in her self-published cookbook… The Joy Of NOT Cooking – Any More Than You Have To (Secret RecipesTM, St. Clair, MI; Nov. 1983, p. 134).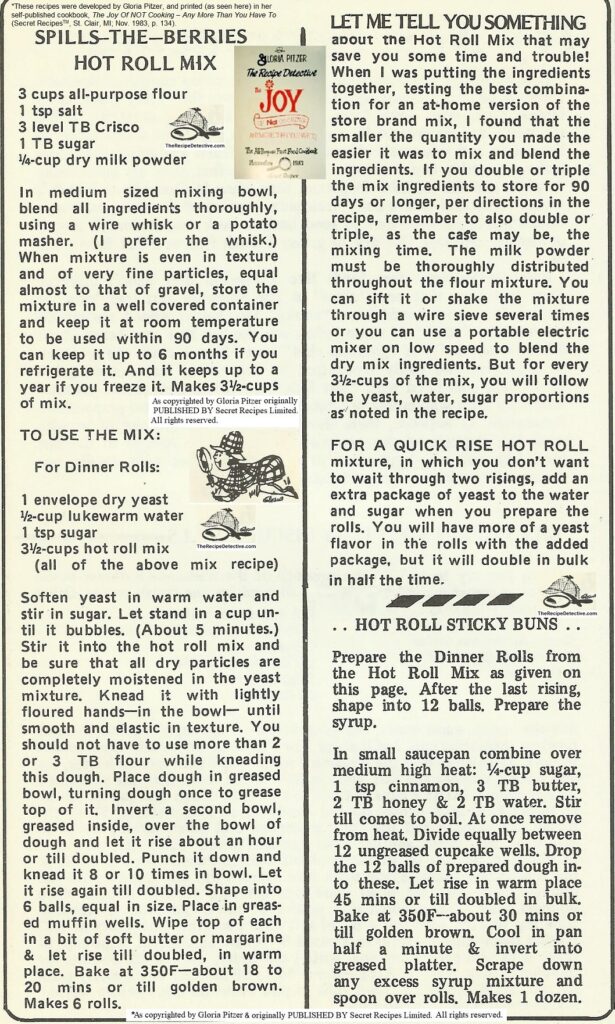 P.S. Food-for-thought until we meet again, next Monday…
Some of February's month-long observances include… National Fasting February, An Affair to Remember Month, Black History Month, National Canned Food Month, National Creative Romance Month, National Great American Pies Month, National Bird Feeding Month, National Grapefruit Month, National Hot Breakfast Month, National Library Lover's Month, National Snack Food Month, and National Weddings Month!
Yesterday began the start of the third full week of February, which is… National Brotherhood/Sisterhood Week!
Additionally, today is… National Grain-Free Day! Plus, as the third Monday in February (for 2022), it's also… Presidents Day!
Tomorrow is… National California Day, National Cook a Sweet Potato Day, and National Margarita Day! Plus, as the last Tuesday in February (for 2022), it's also… World Spay Day!
Wednesday, February 23rd is… National Dog Biscuit Day and National Banana Bread Day! In honor of the latter, here's a reshare of our imitation of banana bread like we enjoyed at the Grand Hotel (Mackinac Island, MI)…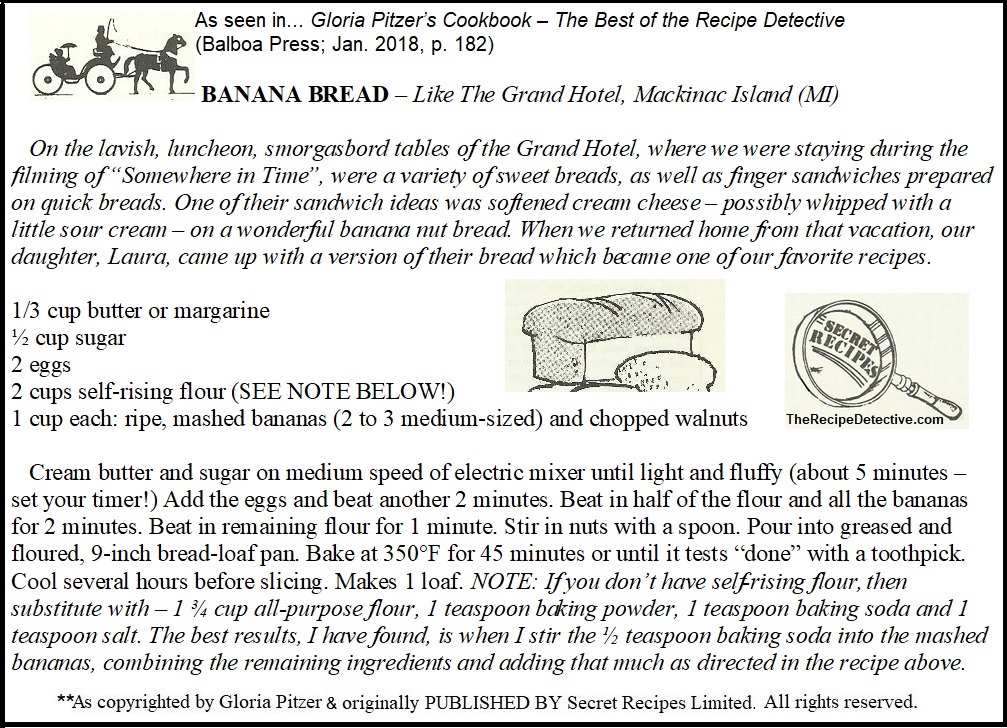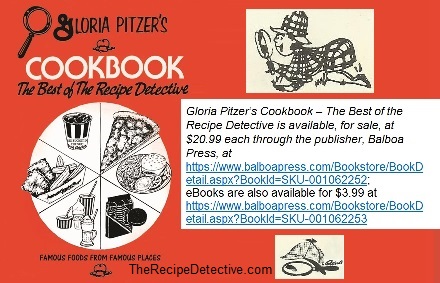 February 24th is… National Tortilla Chip Day! Plus, as the fourth Thursday in February (for 2022), it's also… National Chili Day! Additionally, as the last Thursday in February, it's also… National Toast Day!
Friday, February  25th is… National Chocolate Covered Nut Day and National Clam Chowder Day!
Saturday, February  26th is… National Pistachio Day and National Tell a Fairy Tale Day!
Sunday, February 27th is… National Retro Day, National Strawberry Day, and National Polar Bear Day!

…8 down and 44 to go!