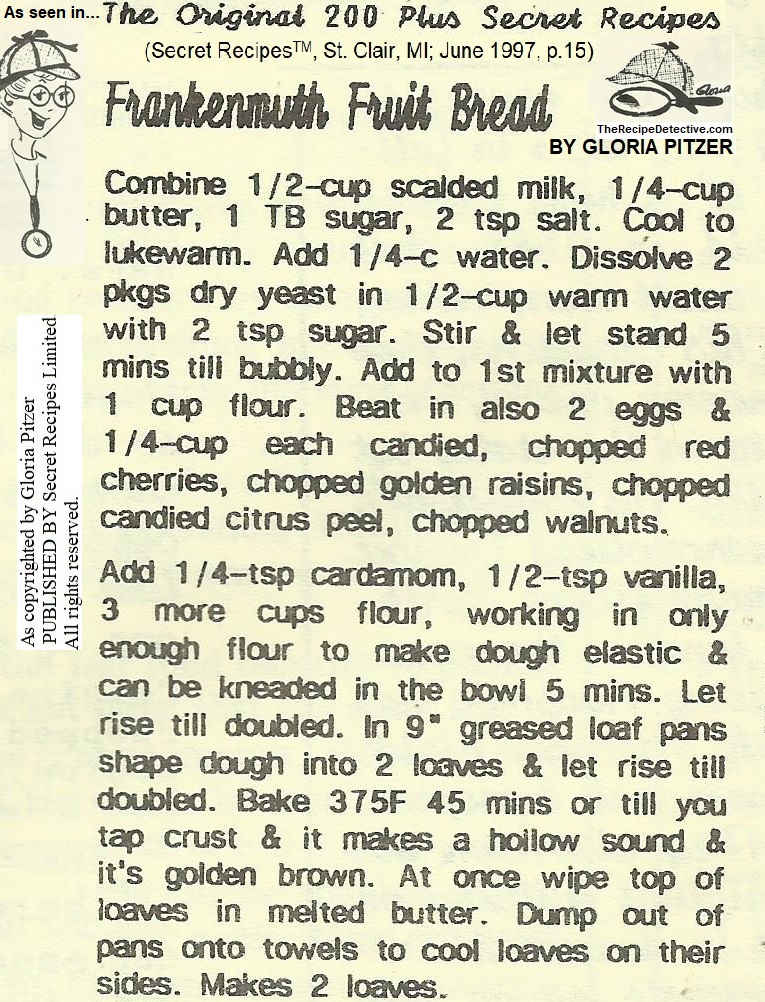 FRANKENMUTH FRUIT BREAD
By Gloria Pitzer, as seen in… The Original 200 Plus Secret Recipes© Book (Secret RecipesTM, St. Clair, MI; June 1997, p. 15)
INGREDIENTS:
½ cup [hot] scalded milk
¼ cup butter
1 TB sugar
2 tsp salt
¼ cup water
2 pkgs. dry (dissolved in ½ cup warm water, with 2 tsp sugar)
4 cups flour*
2 eggs
¼ cup each (all chopped): candied red cherries, golden raisins, candied citrus peel, and walnuts
¼ tsp cardamom
½ tsp vanilla
Melted butter for basting
INSTRUCTIONS:
Combine milk, butter, sugar, and salt. Cool to lukewarm. Add water and warm yeast mixture. Stir and let stand for 5 minutes, or until bubbly. Add this mixture to one cup of the flour*.
Beat in eggs and chopped fruits and nuts, as listed. Add rest of ingredients, working in only enough more flour* to make dough elastic. Knead in bowl 5 minutes. Let rise until doubled in size.
Grease two 9-inch loaf pans. Split dough between these, shaping into loaves and letting them rise, again, until doubled in size.
Bake at 375°F for 45 minutes or until golden brown and, when you tap the crust, it makes a hollow sound. At once, wipe top of loaves with melted butter. Dump loaves out of pans onto towels to cool on their sides.
Makes 2 loaves.
See also…