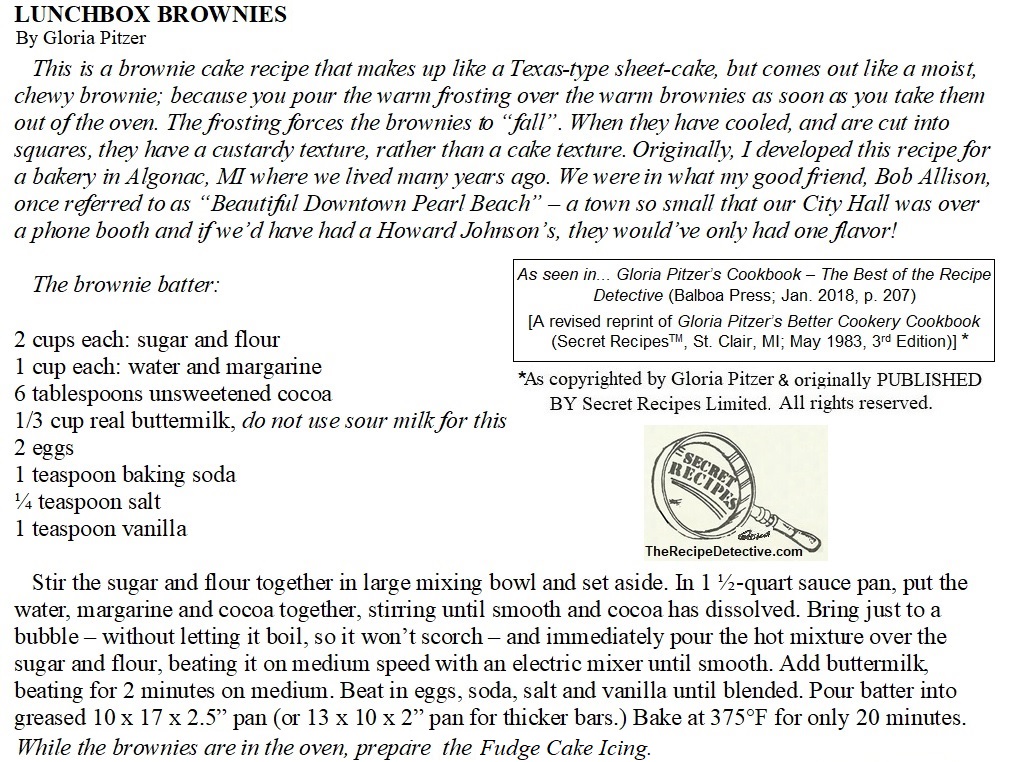 LUNCHBOX BROWNIES
By Gloria Pitzer, as seen in… Gloria Pitzer's Cookbook – Best Of The Recipe Detective (Balboa Press; Jan. 2018, p. 207). [A revised reprint of Gloria Pitzer's Better Cookery Cookbook (Secret RecipesTM, St. Clair, MI; May 1983, 3rd Edition).]
This is a brownie cake recipe that makes up like a Texas-type sheet-cake, but comes out like a moist, chewy brownie; because you pour the warm frosting over the warm brownies as soon as you take them out of the oven. The frosting forces the brownies to "fall".
When they have cooled, and are cut into squares, they have a custardy texture, rather than a cake texture. Originally, I developed this recipe for a bakery in Algonac, MI where we lived many years ago…
INGREDIENTS:
The Brownie Batter:
2 cups each: sugar and flour
1 cup each: water and margarine
6 tablespoons unsweetened cocoa
1/3 cup real buttermilk, do not use sour milk for this
2 eggs
1 teaspoon baking soda
¼ teaspoon salt
1 teaspoon vanilla
INSTRUCTIONS:
Stir the sugar and flour together in large mixing bowl and set aside. In 1 ½-quart sauce pan, put the water, margarine and cocoa together, stirring until smooth and cocoa has dissolved.
Bring just to a bubble – without letting it boil, so it won't scorch – and immediately pour the hot mixture over the sugar and flour, mixing it on medium speed with an electric mixer until smooth. Add buttermilk, mixing for 2 minutes [more] on medium. Mix in eggs, soda, salt and vanilla until blended.
Pour batter into greased 10x17x2½-inch pan (or 13x10x2-inch pan for thicker bars). Bake at 375°F for only 20 minutes. While the brownies are in the oven, you should be preparing the [Fudge Cake Icing].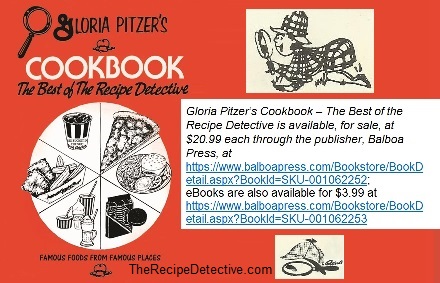 See also…