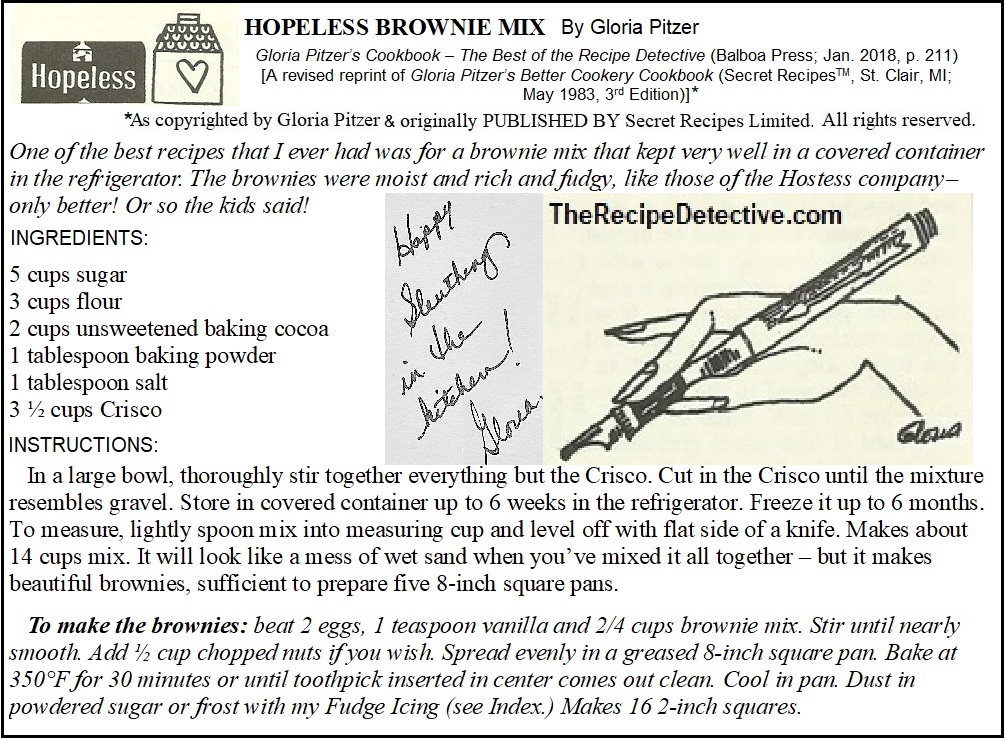 HOPELESS BROWNIE MIX
By Gloria Pitzer, as seen in… Gloria Pitzer's Cookbook – Best Of The Recipe Detective (Balboa Press; Jan. 2018, p. 211). [A revised reprint of Gloria Pitzer's Better Cookery Cookbook (Secret RecipesTM, St. Clair, MI; May 1983, 3rd Edition).]
One of the best recipes that I ever had was for a brownie mix that kept very well in a covered container in the refrigerator. The brownies were moist and rich and fudgy, like those of the Hostess company – only better! Or so the kids said!
INGREDIENTS:
5 cups sugar
3 cups flour
2 cups unsweetened baking cocoa
1 tablespoon baking powder
1 tablespoon salt
3 ½ cups Crisco
INSTRUCTIONS:
To make the mix: In a large bowl, thoroughly stir together everything but the Crisco. Cut in the Crisco until the mixture resembles gravel. Store in covered container up to 6 weeks in the refrigerator. Freeze it up to 6 months. To measure, lightly spoon mix into measuring cup and level off with flat side of a knife. Makes about 14 cups mix. It will look like a mess of wet sand when you've mixed it all together – but it makes beautiful brownies, sufficient to prepare five 8-inch square pans.
To make the brownies: beat 2 eggs, 1 teaspoon vanilla and 2/4 cups brownie mix. Stir until nearly smooth. Add ½ cup chopped nuts if you wish. Spread evenly in a greased 8-inch square pan. Bake at 350°F for 30 minutes or until toothpick inserted in center comes out clean. Cool in pan. Dust in powdered sugar or frost with my Fudge Icing (see Index.) Makes 16 2-inch squares.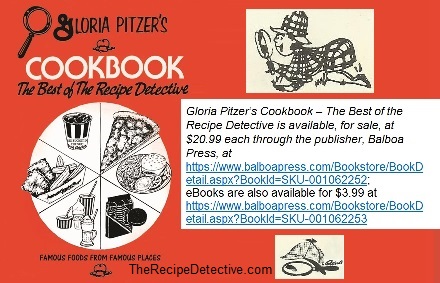 See also…
Mondays & Memories of My Mom – Laughter Is The Best Medicine