FUDGE CAKE ICING
By Gloria Pitzer, as seen in… Gloria Pitzer's Cookbook – Best Of The Recipe Detective (Balboa Press; Jan. 2018, p. 207). [A revised reprint of Gloria Pitzer's Better Cookery Cookbook (Secret RecipesTM, St. Clair, MI; May 1983, 3rd Edition).]
In a 1 ½-quart sauce pan, combine 1/3 cup whole milk (not buttermilk, this time) with 1/3 cup margarine, 2 tablespoons unsweetened cocoa powder, 3 tablespoons packed brown sugar and a dash of salt.
Bring to a boil, stirring constantly. Let it boil gently for half a minute. Remove from heat. Beat in 1-pound powdered sugar until smooth. Beat in 1 teaspoon vanilla. Stir in 1 cup broken walnuts or pecans (which, by the way, really "makes" it!)
Keep the icing warm until brownies are out of oven, using the top of a double boiler over simmering water, or on lowest heat possible on top of stove. Remove brownies from oven and, at once, pour the icing over the warm brownies. Cut brownies into bars when slightly cool. Makes about 36 bars.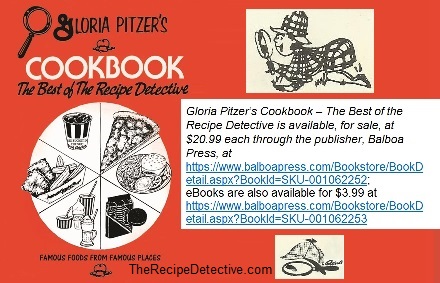 See also…