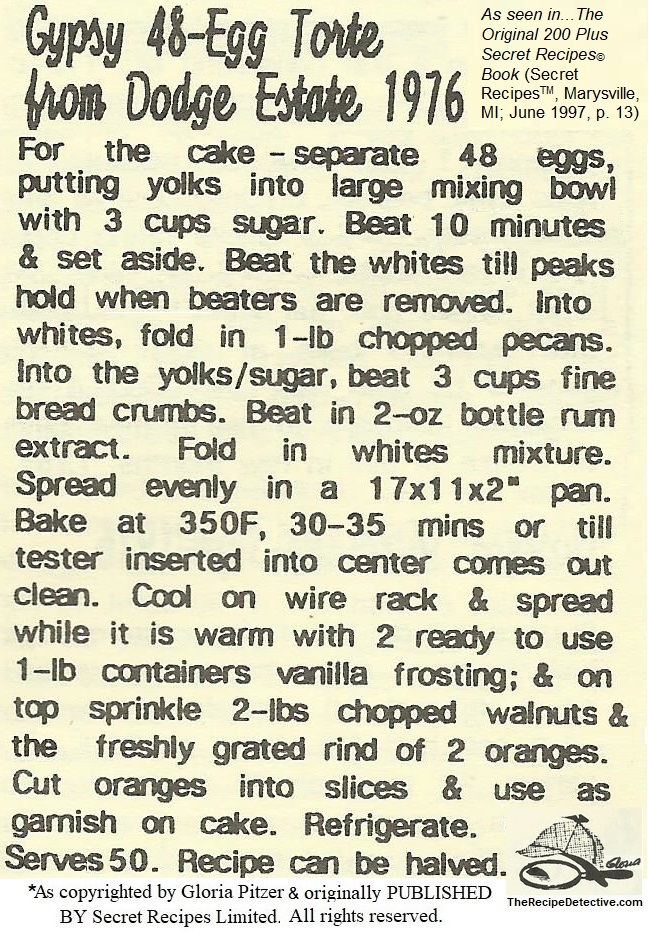 GYPSY 48-EGG TORTE, LIKE DODGE FAMILY'S
By Gloria Pitzer, as seen in… The Original 200 Plus Secret Recipes© Book (Secret RecipesTM, St. Clair, MI; June 1997)
INGREDIENTS*:
For the cake:
48 eggs, separated
3 cups sugar
1 lb. chopped pecans
3 cups fine bread crumbs
2-oz bottle of rum extract
Toppings:
2 lbs. prepared vanilla frosting
2 lbs. chopped walnuts
2 oranges (freshly grate the rind and then slice for garnishing)
INSTRUCTIONS:
Separate eggs, yolks from whites, into two large mixing bowls. Add the sugar to the yolks, blending for 10 minutes [with electric hand/countertop mixer]. Beat the whites until peaks form when electric mixer is removed.
To the egg whites, fold in the pecans. To the yolk mixture, blend in bread crumbs [then] rum extract. [Then] fold in the whites mixture.
Spread evenly in a 17x11x2-inch pan. Bake at 350°F, 30-35 minutes or until "tester" inserted in center comes out clean. Cool on wire rack. While still warm, spread with frosting and, on top of that, sprinkle the walnuts and orange rind. Garnish with orange slices. Refrigerate. Cut to serve 50. Leftovers freeze well!
*NOTE: Recipe can be halved.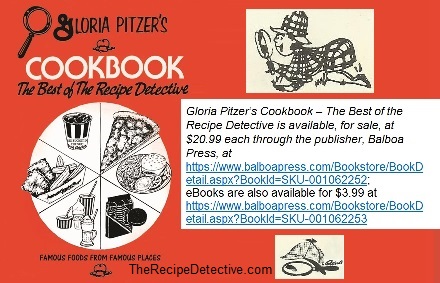 See also…