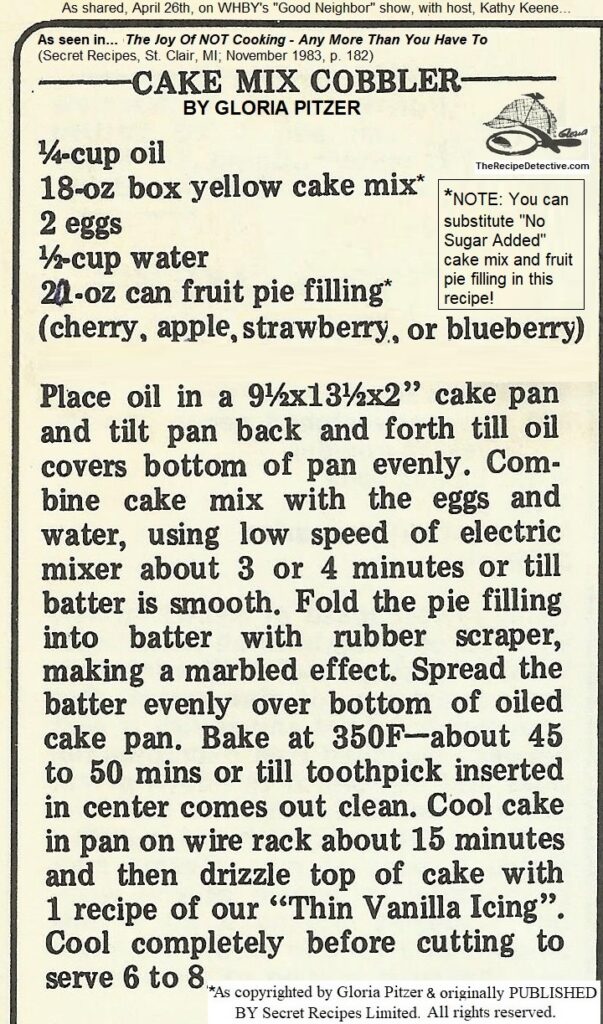 CAKE MIX COBBLER
By Gloria Pitzer, as seen in… The Joy Of NOT Cooking – Any More Than You Have To (Secret RecipesTM, St. Clair, MI; Nov. 1983, p. 182)
INGREDIENTS:
¼ cup oil
18-oz box yellow cake mix*
2 eggs
½ cup water
20-oz can fruit pie filling*
(cherry, apple, strawberry, or blueberry)
*[NOTE: You can substitute "sugar-free" or "no sugar added" products.]
INSTRUCTIONS:
Place oil in 9½x13½x2-inch cake pan, tilting pan back and forth until oil covers bottom of pan evenly. Combine cake mix with the eggs and water, using low-speed of electric mixer about 3 or 4 minutes or until batter is smooth.
Fold the pie filling into the batter [gently] with a rubber scraper, making a marbled effect. Spread batter evenly over bottom of oiled cake pan. Bake at 350°F – about 45 to 50 minutes or until toothpick inserted in center comes out clean.
Cool cake in pan on wire rack for about 15 minutes and then drizzle top of cake with 1 recipe of our "Thin Vanilla Icing". Cool completely before cutting to serve 6 to 8.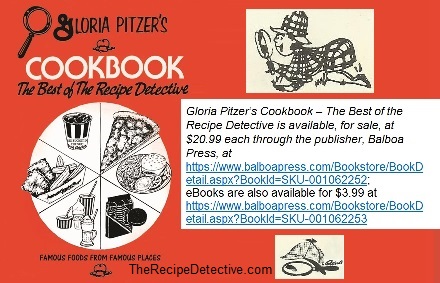 See also…