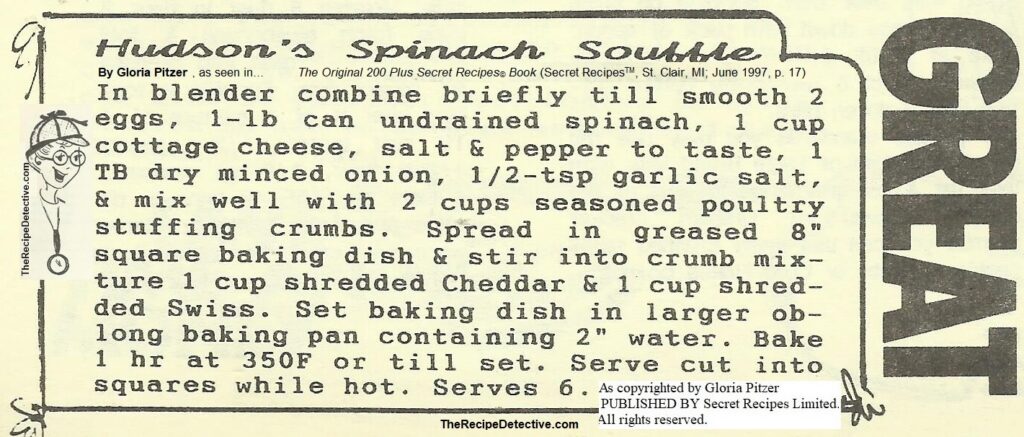 HUDSON'S SPINACH SOUFFLE
By Gloria Pitzer, as seen in… The Original 200 Plus Secret Recipes© Book (Secret RecipesTM, Marysville, MI; June 1997, p. 17)
INGREDIENTS:
2 eggs
1-lb can spinach, undrained
1 cup cottage cheese
Salt & pepper, to taste
1 TB dry, minced onion
½ tsp garlic salt
2 cups seasoned poultry stuffing crumbs
1 cup shredded cheddar cheese
1 cup shredded Swiss cheese
INSTRUCTIONS:
In blender, combine [as listed, first 7 ingredients] briefly, until smooth. Mix that well with the stuffing crumbs. Spread in greased 8-in-sq. baking dish. Stir cheeses into crumb mixture. Set baking dish in larger, oblong, baking pan, containing 2 inches of water. Bake 1 hour at 350°F or until set. Cut into squares and serve while hot. Serves 6.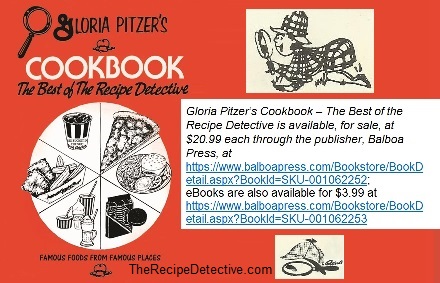 See also…