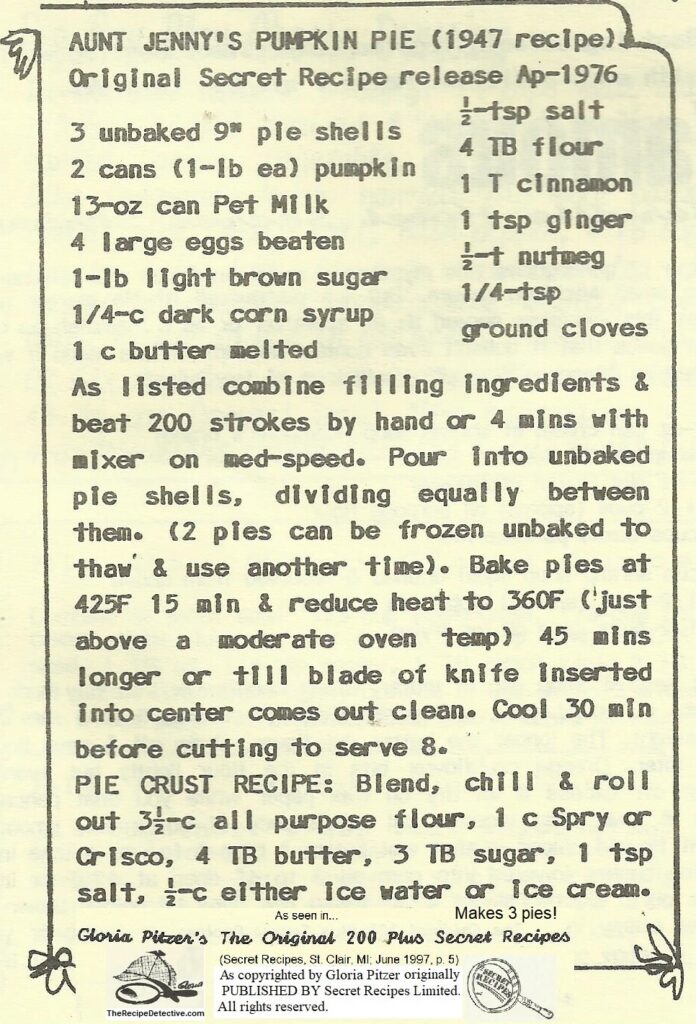 AUNT JENNY'S PUMPKIN PIE
By Gloria Pitzer, Homemaker's Newsletter (April 1976)
[Also seen in her self-published cookbook, The Original 200 Plus Secret Recipes© Book (Secret RecipesTM, St. Clair, MI; June 1997, p. 5).]
FILLING INGREDIENTS:
2 cans (1-lb each) pumpkin
13-oz can Pet Milk
4 large eggs, beaten
1-lb light brown sugar
¼ cup dark corn syrup
1 cup butter, melted
½ tsp salt
4 TB flour
1 tsp cinnamon
1 tsp ginger
½ tsp nutmeg
¼ tsp ground cloves
FILLING INSTRUCTIONS:
As listed, combine filling ingredients, beating 200 strokes by hand or 4 minutes with mixer on medium speed. Divide equally between 3 unbaked pie shells (see pie crust recipe below).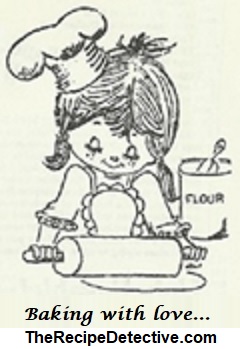 PIE CRUST INGREDIENTS:
3½ cups all-purpose flour
1 cup Spry (or Crisco)
4 TB butter [chilled & broken into pieces]
3 TB sugar
1 tsp salt
½ cup ice water or ice cream
PIE CRUST & BAKING INSTRUCTIONS:
Blend ingredients into a smooth dough. Chill. Split dough into three equal parts. Roll each one out to fit a 9-inch pie plate/pan. (Unbaked pies can be frozen to thaw and bake at another time.)
Bake pies at 425°F for 15 minutes. Reduce heat to 360°F (just above a moderate oven temperature) for 45 minutes or longer – until center tests "done". Cool 30 minutes before cutting to serve 8 (per pie).
Makes 3 pies.
See also…