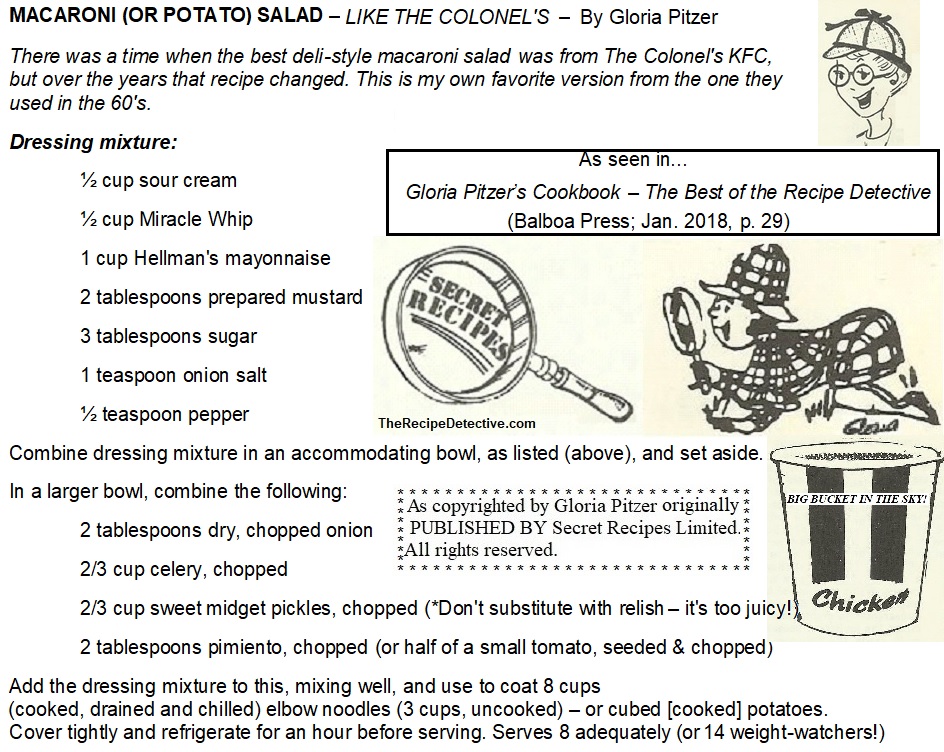 MACARONI OR POTATO SALAD, LIKE KFC
By Gloria Pitzer, as seen in… Gloria Pitzer's Cookbook – Best Of The Recipe Detective (Balboa Press; Jan. 2018, p. 29). [A revised reprint of Gloria Pitzer's Better Cookery Cookbook (Secret RecipesTM, St. Clair, MI; May 1983, 3rd Edition).]
There was a time when the best deli-style macaroni salad was from The Colonel's KFC, but over the years that recipe changed. This is my own favorite version from the one they used in the 60's.
INGREDIENTS:
Dressing mixture [base]:
½ cup sour cream
½ cup Miracle Whip
1 cup Hellman's mayonnaise
2 tablespoons prepared mustard
3 tablespoons sugar
1 teaspoon onion salt
½ teaspoon pepper
Vegetable mixture:
2 tablespoons dry, chopped onion
2/3 cup celery, chopped
2/3 cup sweet midget pickles, chopped (don't substitute with relish – it's too juicy)
2 tablespoons pimiento, chopped (or half of a small tomato, seeded & chopped)
Plus:
8 cups (cooked, drained and chilled) elbow noodles (3 cups, uncooked) – or cubed potatoes
INSTRUCTIONS:
Combine dressing mixture [base – the first 7 ingredients] in an accommodating bowl, as listed (above), and set aside. In a larger bowl. Combine the [chopped vegetables]. Add the dressing mixture to this. Mix well and use to coat… elbow noodles… or cubed potatoes. Cover tightly and refrigerate for an hour before serving. Serves 8 adequately (or 14 weight-watchers)!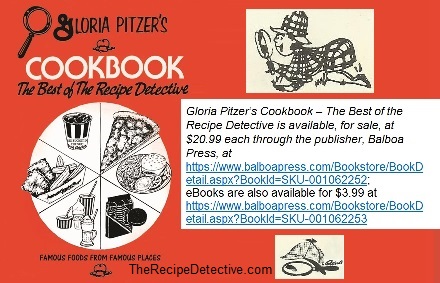 See also…
Mondays & Memories of My Mom – Summer Road Trips and Picnics