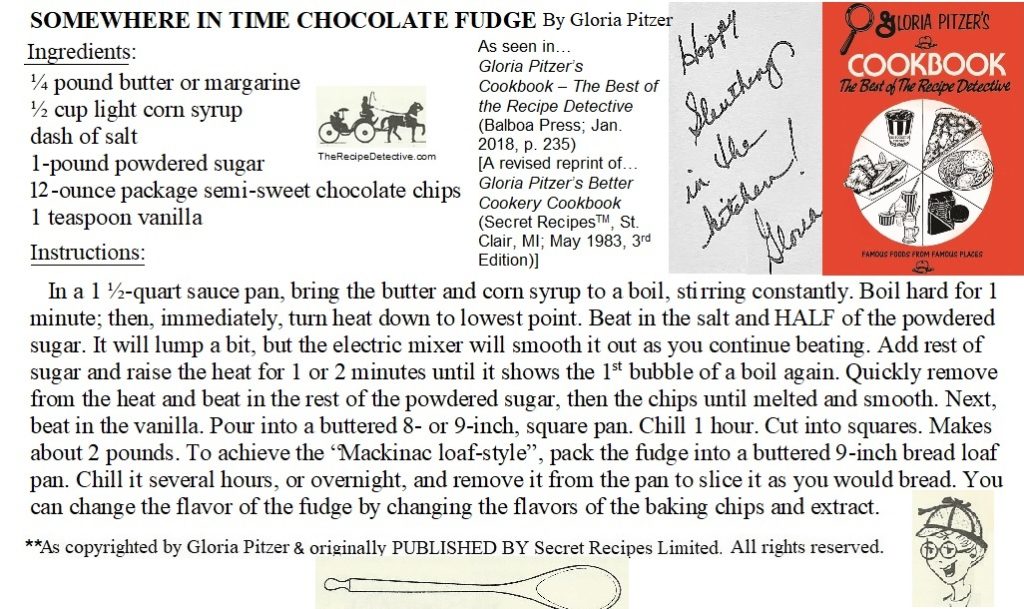 SOMEWHERE IN TIME CHOCOLATE FUDGE
By Gloria Pitzer, as seen in… Gloria Pitzer's Cookbook – The Best of the Recipe Detective (Balboa Press; Jan. 2018, p. 235) [A revised reprint of… Gloria Pitzer's Better Cookery Cookbook (Secret RecipesTM, St. Clair, MI; May 1983, 3rd Edition)]
INGREDIENTS:
¼-lb. butter or margarine
½ cup light corn syrup
Dash of salt
1-lb. powdered sugar
12-oz pkg. semi-sweet chocolate chips
1 tsp vanilla [extract]
INSTRUCTIONS:
In a 1 ½-quart sauce pan, bring the butter and corn syrup to a boil, stirring constantly. Boil hard for 1 minute; then, immediately, turn heat down to lowest point. Beat in the salt and HALF of the powdered sugar. It will lump a bit, but the electric mixer will smooth it out as you continue beating.
Add rest of sugar and raise the heat for 1 or 2 minutes until it shows the 1st bubble of a boil again. Quickly remove from the heat and beat in the rest of the powdered sugar, then the chips until melted and smooth. Next, beat in the vanilla. Pour into a buttered 8- or 9-inch, square pan. Chill 1 hour. Cut into squares.
Makes about 2 pounds. To achieve the "Mackinac loaf-style", pack the fudge into a buttered 9-inch bread loaf pan. Chill it several hours, or overnight, and remove it from the pan to slice it as you would bread. You can change the flavor of the fudge by changing the flavors of the baking chips and extract.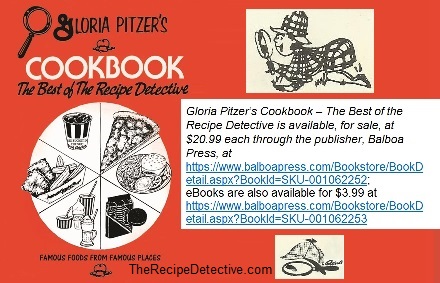 See also…