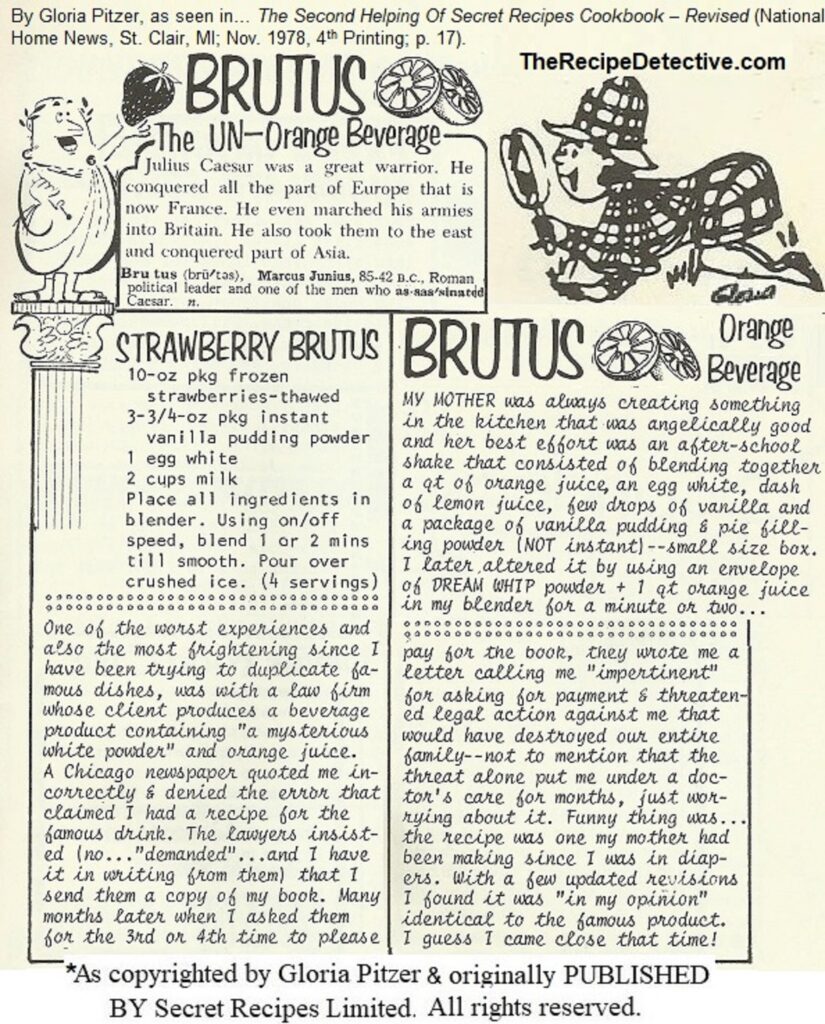 Brutus, Strawberry & Orange (After School Shakes)
By Gloria Pitzer, as seen in… The Second Helping Of Secret Recipes, Revised (Secret RecipesTM, St. Clair, MI; Nov. 1978, p. 17).
Julius Caesar was a great warrior. He conquered all the part of Europe that is now France. He even marched his armies into [Great] Britain. He also took them to the east and conquered part of Asia. Brutus, Marcus Junius, 85-42 B.C., [was a] Roman political leader and one of the men that assassinated Caesar.
One of the worst experiences and also the most frightening since I have been trying to duplicate famous dishes, was with a law firm whose client produces a beverage product, containing a 'mysterious white powder' and orange juice. A Chicago newspaper quoted me incorrectly and denied the error that claimed I had a recipe for the famous drink.
The lawyers insisted (no… 'demanded' …and I have it in writing from them) that I send them a copy of my book. Many months later, when I asked them, for the third or fourth time, to please pay for the book, they wrote me a letter, calling me 'impertinent' for asking for payment and threatened legal action against me that would have destroyed our entire family – not to mention that the threat alone put me under a doctor's care for months, just worrying about it.
Funny thing was… the recipe was one that my mother had been making since I was in diapers. With a few updated revisions, I found it was, 'in my opinion', identical to the famous product. I guess I came close that time.
ORANGE BRUTUS [After School Shake]…
My mother was always creating something in the kitchen that was angelically good and her best effort was an after-school shake that consisted of blending together a quart of orange juice, an egg white, a dash of lemon juice, a few drops of vanilla, and a [small (4-serving size) box of 'Cook & Serve' style] vanilla pudding…
I later altered it by [combining] an envelope of Dream Whip powder and a quart of orange juice in my blender for a minute or two.
STRAWBERRY BRUTUS [After School Shake]…
INGREDIENTS:
10-oz pkg. frozen strawberries, thawed
3¾-oz pkg. instant vanilla pudding powder
1 egg white
2 cups milk
INSTRUCTIONS:
Place all ingredients [as listed] in blender. Using on/off [agitating] speed, blend 1 or 2 minutes, until smooth. Pour over crushed ice. Makes 4 servings.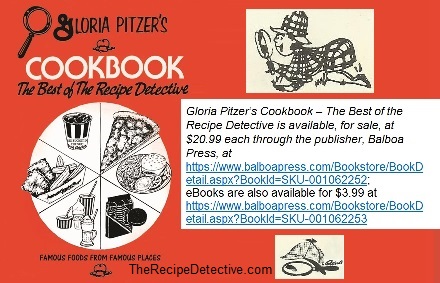 See also…