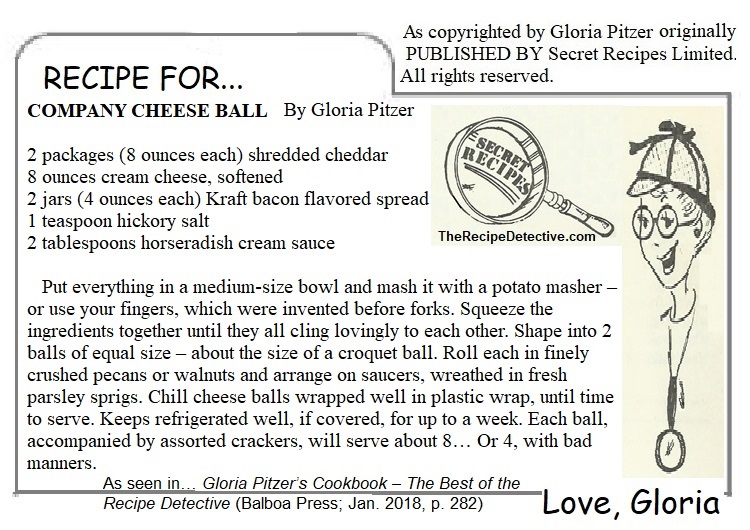 COMPANY CHEESE BALL
By Gloria Pitzer, as seen in… Gloria Pitzer's Cookbook – Best Of The Recipe Detective (Balboa Press; Jan. 2018, p. 282). [A revised reprint of Gloria Pitzer's Better Cookery Cookbook (Secret RecipesTM, St. Clair, MI; May 1983, 3rd Edition).]
INGREDIENTS:
2 packages (8 ounces each) shredded cheddar
8 ounces cream cheese, softened
2 jars (4 ounces each) Kraft bacon flavored spread
1 teaspoon hickory salt
2 tablespoons horseradish cream sauce
INSTRUCTIONS:
Put everything in a medium-size bowl and mash it with a potato masher – or use your fingers, which were invented before forks. Squeeze the ingredients together until they all cling lovingly to each other. Shape into 2 balls of equal size – about the size of a croquet ball. Roll each in finely crushed pecans or walnuts and arrange on saucers, wreathed in fresh parsley sprigs. Chill cheese balls wrapped well in plastic wrap, until time to serve. Keeps refrigerated well, if covered, for up to a week. Each ball, accompanied by assorted crackers, will serve about 8… Or 4, with bad manners.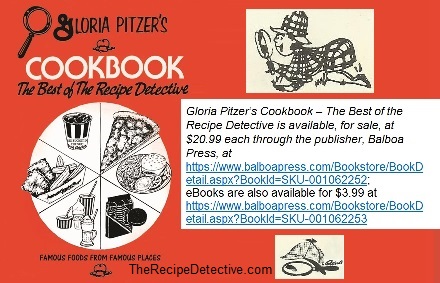 See also…