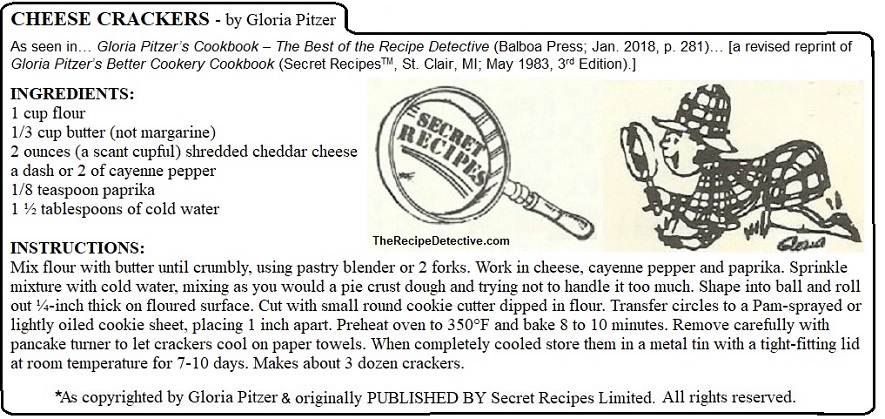 CHEESE CRACKERS
By Gloria Pitzer, as seen in… Gloria Pitzer's Cookbook – Best Of The Recipe Detective (Balboa Press; Jan. 2018, p. 281). [A revised reprint of Gloria Pitzer's Better Cookery Cookbook (Secret RecipesTM, St. Clair, MI; May 1983, 3rd Edition).]
INGREDIENTS:
1 cup flour
1/3 cup butter (not margarine)
2 ounces (a scant cupful) shredded cheddar cheese
A dash or 2 of cayenne pepper
1/8 tsp paprika
1½ TB of cold water
INSTRUCTIONS:
Mix flour with butter until crumbly, using pastry blender or 2 forks. Work in cheese, cayenne pepper and paprika. Sprinkle mixture with cold water, mixing as you would a pie crust dough and trying not to handle it too much. Shape into ball and roll out ¼-inch thick on floured surface. Cut with small round cookie [or biscuit] cutter dipped in flour.
Transfer circles to a Pam-sprayed or lightly oiled cookie sheet, placing 1 inch apart. Preheat oven to 350°F and bake 8 to 10 minutes. Remove carefully with pancake turner to let crackers cool on paper towels. When completely cooled store them in a metal tin, with a tight-fitting lid, at room temperature for 7-10 days. Makes about 3 dozen crackers.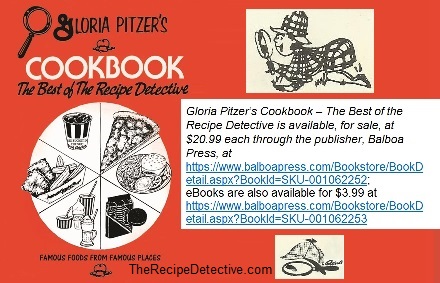 See also…