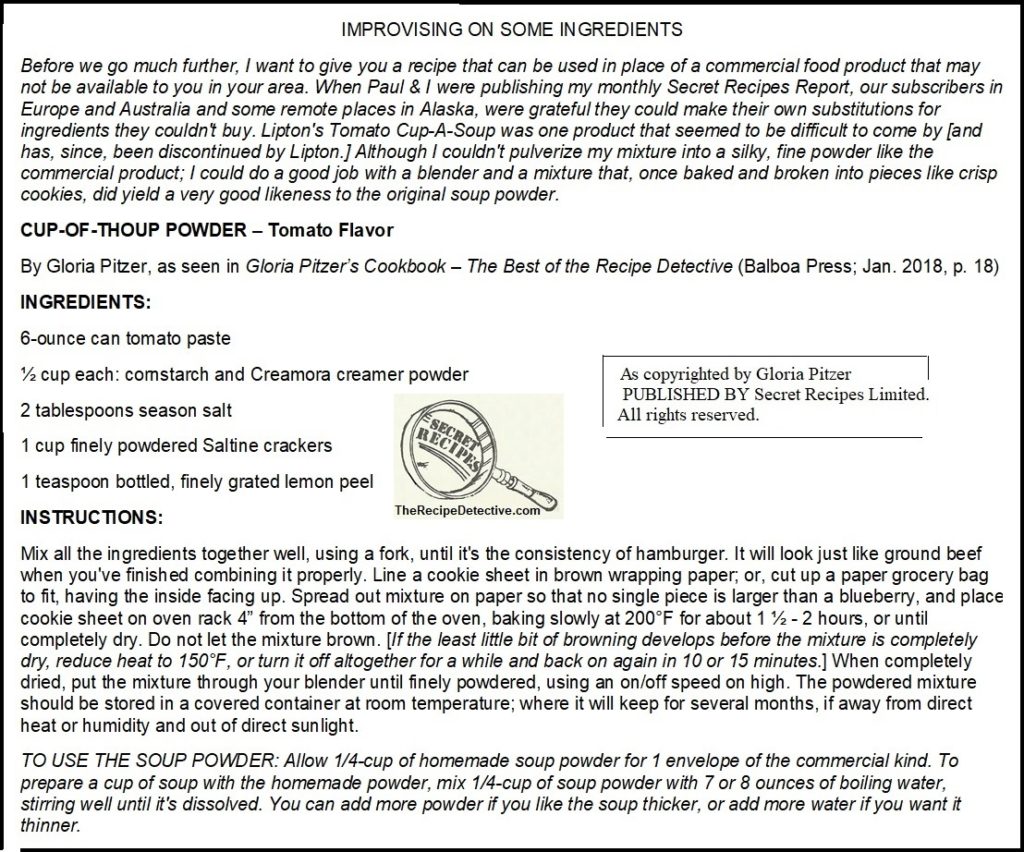 IMPROVISING ON SOME INGREDIENTS
Before we go much further, I want to give you a… recipe… that can be used in place of commercial food products that may not be available to you in your area. When Paul & I were publishing my monthly Secret Recipes Report, our subscribers in Europe and Australia and some remote places in Alaska, were grateful they could make their own substitutions for ingredients they couldn't buy.
Lipton's Tomato Cup-A-Soup was one product that seemed to be difficult to come by [and has, since, been discontinued by Lipton.] Although I couldn't pulverize my mixture into a silky, fine powder like the commercial product; I could do a good job with a blender and a mixture that, once baked and broken into pieces like crisp cookies, did yield a very good likeness to the original soup powder.
CUP-OF-THOUP POWDER* – Tomato Flavor
BY GLORIA PITZER
INGREDIENTS:
6-ounce can tomato paste
½ cup each: cornstarch and Creamora creamer powder
2 tablespoons season salt
1 cup finely powdered Saltine crackers
1 teaspoon bottled, finely grated lemon peel
INSTRUCTIONS:
Mix all the ingredients together well, using a fork, until it's the consistency of hamburger. It will look just like ground beef when you've finished combining it properly.
Line a cookie sheet in brown wrapping paper; or, cut up a paper grocery bag to fit, having the inside facing up. Spread out mixture on paper so that no single piece is larger than a blueberry.
Place cookie sheet on oven rack 4" from the bottom of the oven, baking slowly at 200°F for about 1 ½ – 2 hours, or until completely dry. Do not let the mixture brown.
[NOTE: If the least little bit of browning develops before the mixture is completely dry, reduce heat to 150°F, or turn it off altogether for a while and back on again in 10 or 15 minutes.]
When completely dried, put the mixture through your blender until finely powdered, using an on/off speed on high.
The powdered mixture should be stored in a covered container at room temperature; where it will keep for several months, if away from direct heat or humidity and out of direct sunlight.
Allow 1/4-cup of homemade soup powder for 1 envelope of the commercial kind.
TO USE THE SOUP POWDER: To prepare a cup of soup with the homemade powder, mix 1/4-cup of soup powder with 7 or 8 ounces of boiling water, stirring well until it's dissolved. You can add more powder if you like the soup thicker or add more water if you want it thinner.
*As seen in… Gloria Pitzer's Cookbook – The Best of the Recipe Detective (Balboa Press; Jan. 2018, p. 18). [A revised reprint of Gloria Pitzer's Better Cookery Cookbook (Secret RecipesTM, St. Clair, MI; May 1983, 3rd Edition).]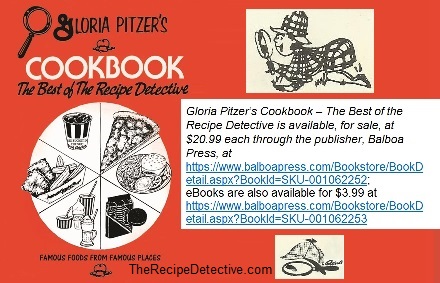 **Also see…
https://therecipedetective.com/2020/05/18/mondays-memories-of-my-mom-improvising/