Happy Monday and happy National Michigan Day Eve! I look forward to each and every Monday, as they are my 52 Chances each year, in which I get to share Memories of My Mom with all of you!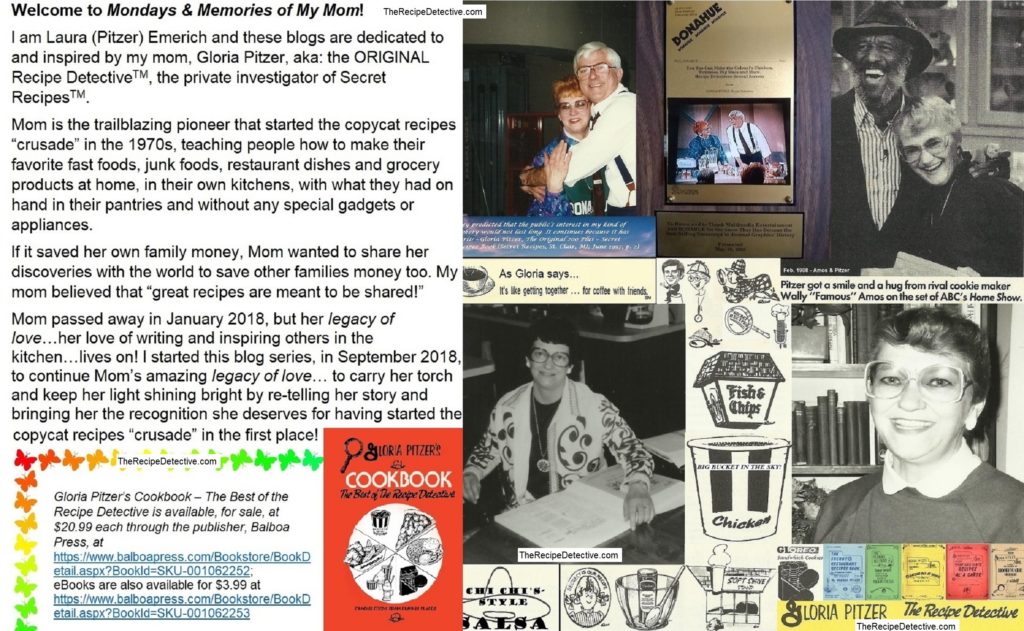 Tomorrow is, among other things, National Michigan Day! Michigan is a treasure trove of great places, people, products, iconic food and more! I love writing about the wonderful things this state has to offer. Michigan is home to an abundance of history, beautiful sights, famous people, renowned restaurants, etc.
Michigan has the longest freshwater coastline in the U.S., at 3,288 miles. It borders four of the five Great Lakes. Regardless of water type, Michigan is second only to Alaska in total length of coastline (sea or fresh). If you're near any one of Michigan's gorgeous shorelines when the sun is shining, the water shimmers in a beautiful shade of azure that always amazes me.
I was born in Michigan – not far from where I live now. My husband was born even closer, and we live in his boyhood home. It was also his dad's boyhood home, built by his dad's dad. Each of our parents were born in Michigan and most of our relatives still live here, too. We love Michigan and we're proud to call it home for four generations, now.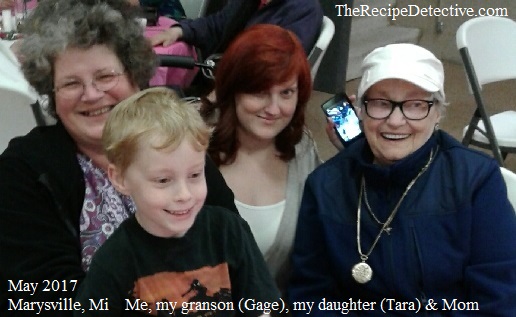 Almost two weeks ago, on one of my local news shows, a newscaster* mentioned that over 65% of born-and-bred Michiganders tend to remain in Michigan; which is more than any other states' residents, remaining in the states of their births, with the exception of Louisiana (at 72%).
[*NOTE: Derek Kevra, Jan. 5th (2022); FOX2 News, Detroit area. I didn't hear what his source was, but I found similar information, online, at https://stacker.com/stories/2462/states-most-born-and-bred-residents and https://www.bloomberg.com/news/articles/2019-03-05/mobile-vs-stuck-who-lives-in-their-u-s-birth-state.]
Like the rest of North America, Michigan is a multicultural "melting pot"; its residents immigrating and migrating from all over. Manufacturing and the auto industry attracted a large variety of immigrants, who wanted to live the "American dream" here. Yet, wherever we go, in life, Michiganders are forever kindred spirits!
During the countless radio show interviews that Mom used to do around the country and internationally, as the Secret Recipes DetectiveTM, she often received requests for imitating Michigan-based recipes. The appeals were usually from listeners who were re-located Michiganders that couldn't find or enjoy their favorite, Michigan-made, iconic foods!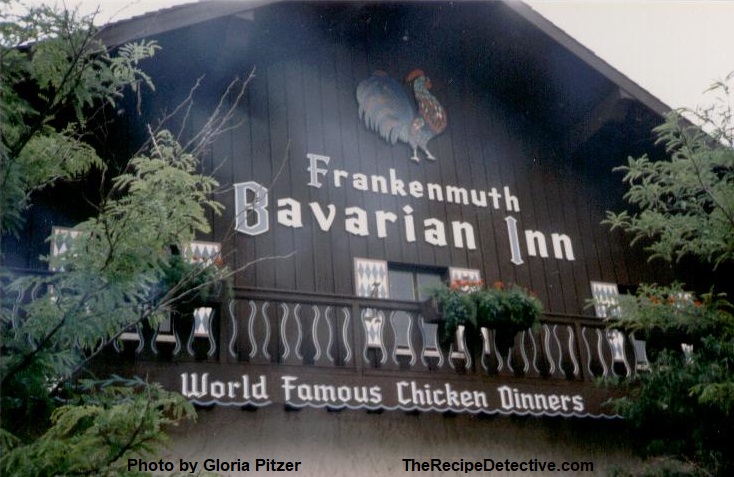 Michigan-based restaurants that Mom would frequent to taste-test their dishes and develop imitations of them at home included delights such as the Bavarian Inn & Zender's restaurants in Frankenmuth, from whose world-famous menus she imitated about a dozen dishes and bakery delights.
Other requests were for famous noshing choices from Michigan-based restaurants like the Cheesecake Factory, Olga's Kitchen, Bill Knapp's, Win Schuler's, Elias Brothers' Big Boy (from whose menus Mom developed over 50 imitations), and J.L. Hudson's (no longer in business, but from whose menus she developed about three dozen imitations) – just to name some of her own favorite places.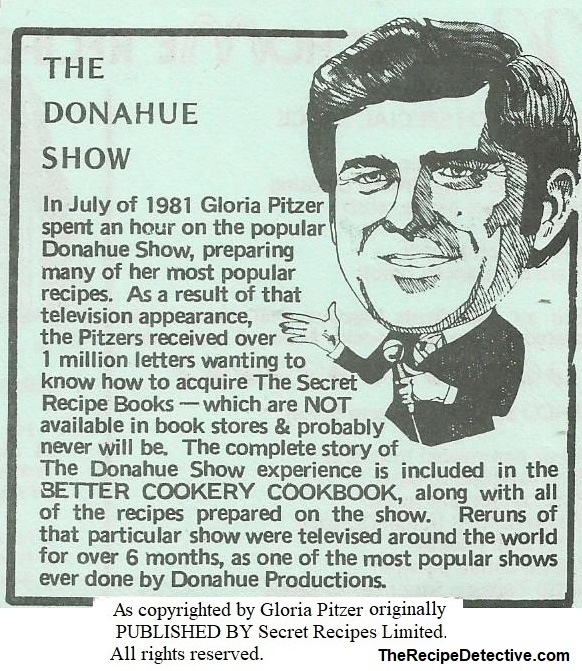 Mom's copycat cookery revolution took the nation (and world) by storm – mostly thanks to the 1981 Phil Donahue Show that she was on (she appeared again in 1993)! Ever since her newsletter and early cookbooks on the subject were first released in the mid-1970s, Mom referred to her imitations as her own solutions to "eating out, at home"!
Word spread like a wildfire that a small town, Michigan housewife was duplicating famous foods from famous places and sharing her secrets in her own self-published newsletter and cookbooks! Radio stations, newspapers, magazines and television – they all picked up on the story and it snowballed from there.
Sometimes, Mom received letters from her readers, people across the country and around the world, who didn't have the same products in their area that Mom used in some of her recipes, asking what they should use in its place. That inspired her to create even more recipes for ingredients that were expensive or hard to find in certain regions.
I grew up on (and still enjoy) many awesome, Michigan-made products. Many of which were among Mom's catalog of famous imitations – such as Mackinac Fudge, Vernors Ginger Ale, Kellogg's cereals, Sanders' sweet confections, Win Schuler's products, J.L. Hudson's and Frankenmuth's restaurant dishes; as well as many others!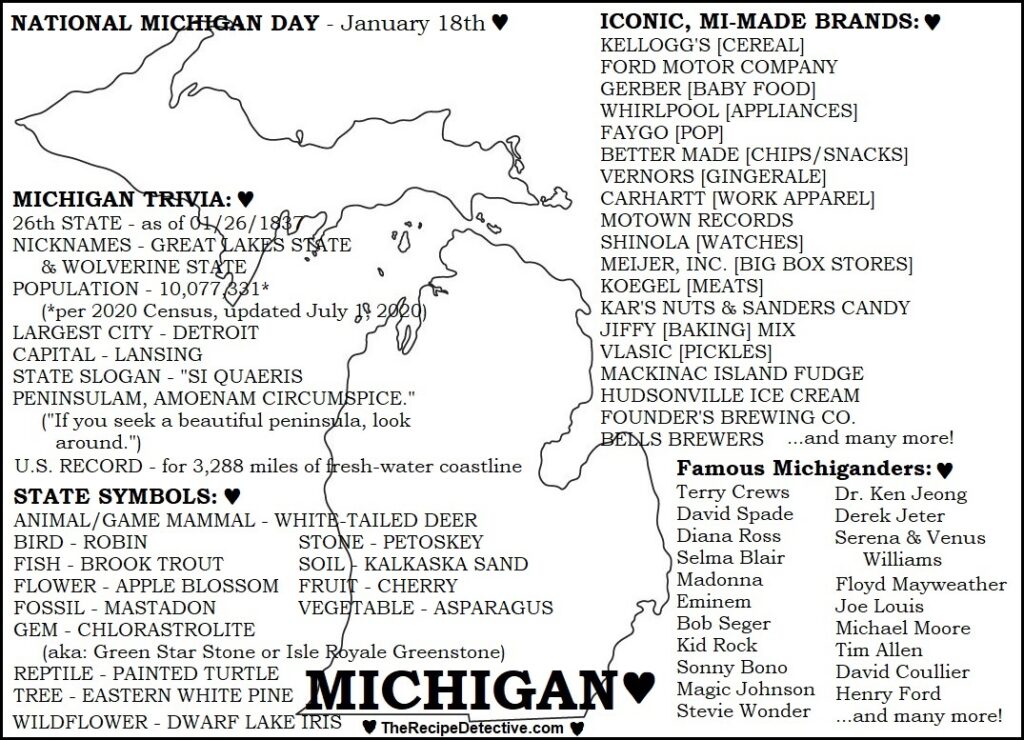 An old proverb, "home is where the heart is", originally attributed to "Pliny the Elder" (A.D. 23-79), has many interpretations. "Home" has come to mean more than just a structure! Wherever we go in life, "home-sweet-home" memories are deeply engrained in our Michigander hearts, like Norman Rockwell paintings.
I have many fond, childhood memories of my family's Michigan vacations. Mom and Dad took us to so many beautiful places around our state – such as the Tahquamenon Falls and the Soo Locks, both in Michigan's Upper Peninsula (aka: the U.P.); as well as iconic beach towns like Alpena, Petoskey, and Mackinaw City in the "Tip of the Mitt" region. But my favorite vacations were on Michigan's magical Mackinac Island, in Lake Huron, between the two peninsulas.
The best time to discover Michigan, depends on your interests. If you like winter activities, Michigan has it in spades, December through March – skiing of all kinds, snowmobiling, sledding, ice fishing, skating and more! May through October is when Michigan's weather is most pleasant. It's generally warm in the spring and fall, while the mild, summertime heat is great for enjoying a vast array of other activities.

Just as my parents used to do, after a long work-week, my husband and I LOVE to go on road trips to different places around our scenic state. We really enjoy traveling the sparkling, blue water shoreline that surrounds most of our state; as well as exploring the in-land lakes, rivers, parks, forests and farmlands throughout Michigan, too.
Last year, I wrote about a fellow Michigander who's literally been collecting map dots, traveling to every town in our state. I want to mention him again, because he has an awesome Facebook page, called Scott's Michigan adventures, where he's been depicting his "map dot" travels. It's very inspiring, as my husband and I love exploring Michigan, also! If you're a Facebook member who's interested in finding marvelous Michigan towns to visit, I think you'll enjoy it, too.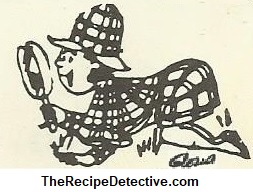 LAST THOUGHTS…
Here's 10 random trivialities about Michiganders:
Many Michiganders go mushroom hunting (for morels) in mid-to-late spring.
"Opening Day" is an unofficial Michigan holiday, celebrating the first day of rifle season for hunting our state animal, the white-tailed deer.
Wherever they go, Michiganders literally carry a map of the state in their hands.
Michiganders refer to the lower peninsula as the "mitten" and the upper peninsula as the "U.P."
Those from Michigan's Upper Peninsula are called "Yoopers".
Yoopers refer to Michiganders from the lower peninsula as "Flatlanders" and "Trolls" (because they're under "The Bridge").
Michiganders refer to the Mackinaw Bridge as, simply, "The Bridge".
"The Thumb" (where I've lived for almost all of my life) is the lower peninsula's southeast quadrant.
Michiganders call a sliding-glass door a "door-wall"; and carbonated soft-drinks are called "pop", rather than "soda".
Only those who drive in Michigan understand how to make a "Michigan left", which involves a special lane for making a U-turn, and then turning right.
IN CLOSING…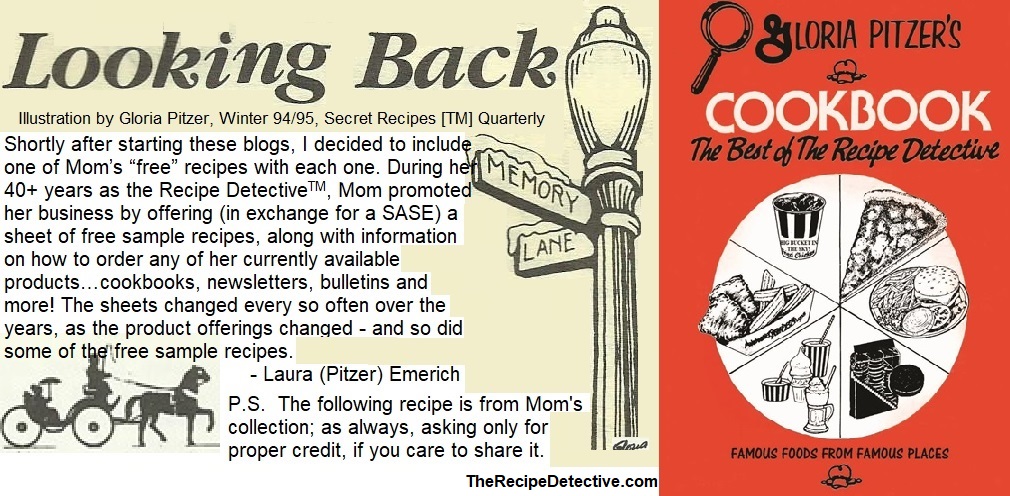 In honor of January, being National Oatmeal Month, here's Mom's copycat recipe for Oatmeal Muffin Cookies, as seen in… Gloria Pitzer's Cookbook – The Best of the Recipe Detective (Balboa Press; Jan. 2018, p. 213). [A revised reprint of Gloria Pitzer's Better Cookery Cookbook (Secret RecipesTM, St. Clair, MI; May 1983, 3rd Edition).]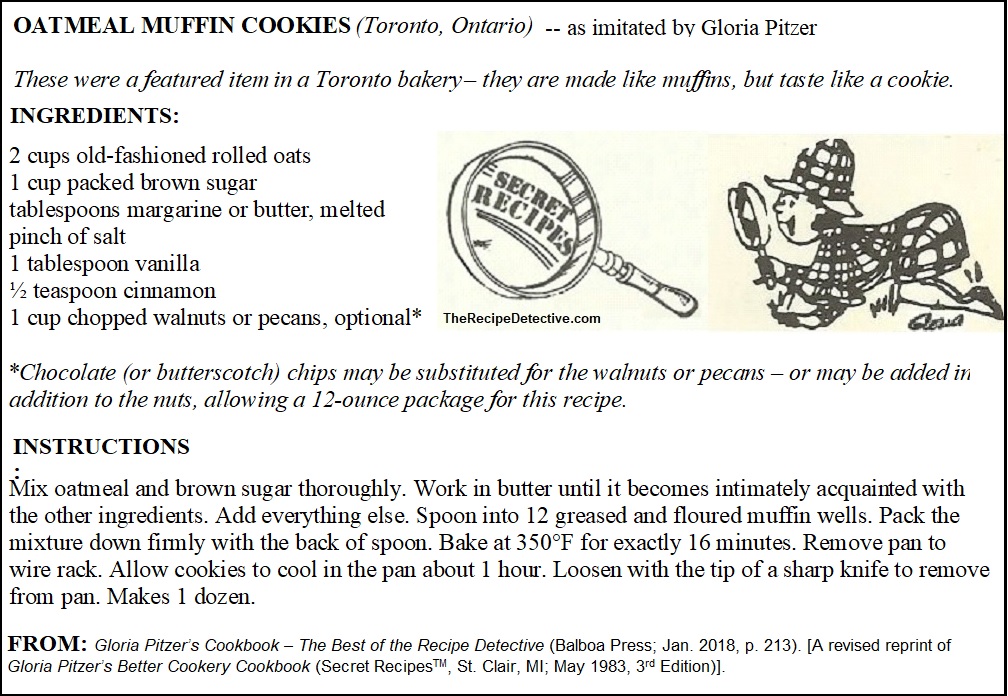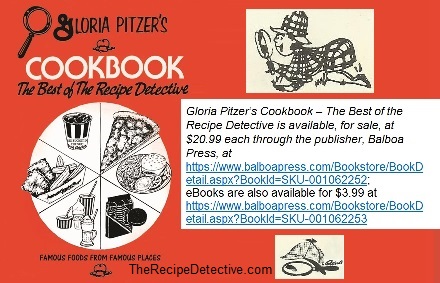 P.S. Food-for-thought until we meet again, next Monday…
Some of January's observances include… National Blood Donor Month, National Hobby Month, National Hot Tea Month, National Mentoring Month, National Slow Cooking Month, National Soup Month, and National Sunday Supper Month!
Starting yesterday, the third week of January is celebrating, among other things…  World Kiwanis Week, Hunt for Happiness Week, National Healthy Weight Week, and National Fresh Squeezed Juice Week!
Today is… National Bootlegger's Day and National Hot Buttered Rum Day! In honor of the latter, here's a re-share of Mom's imitation.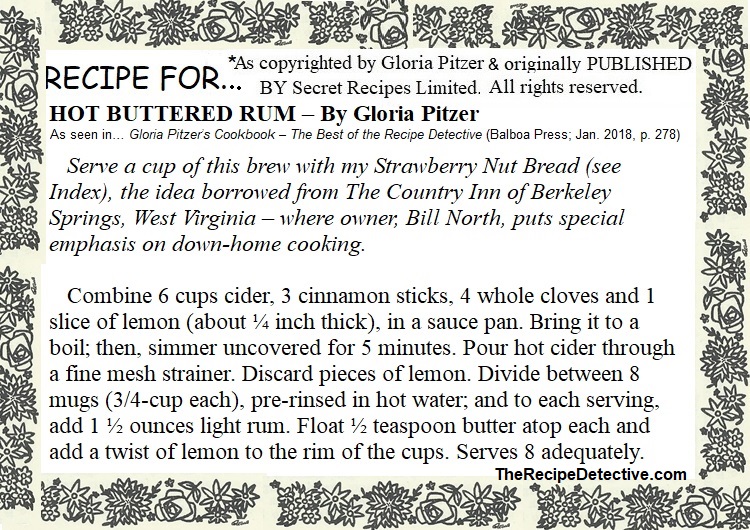 Plus, as the third Monday in January, it's also… Martin Luther King Jr. Day!  Additionally, January 17th-21st (for 2022) is… No Name-Calling Week!
Tomorrow is also… National Peking Duck Day and National Thesaurus Day!
Wednesday, January 19th is… National Popcorn Day!
January 20th is… National Buttercrunch Day and National Cheese Lover's Day! Plus, as the third Thursday of the first quarter of 2022, it's also… Get to Know Your Customers Day!
Friday, January 21st is… National Granola Bar Day and National Hugging Day!
Saturday, January  22nd is… National Blonde Brownie Day and Celebration of Life Day!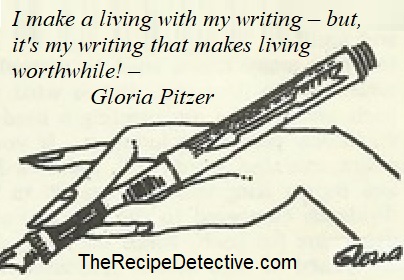 Sunday, January 23rd is… National Handwriting Day and National Pie Day! Plus, as the fourth week of January it's also… Tax Identity Theft Week!

…3 down and 49 to go!