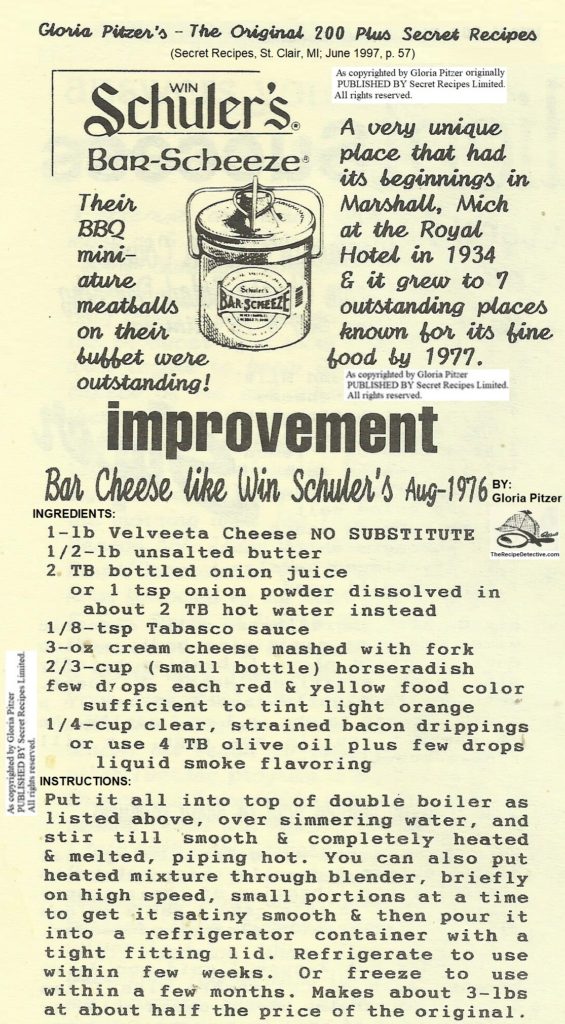 WIND SHOOTER'S BAR CHEESE
BY GLORIA PITZER – first printed in her self-published "National Homemaker's Newsletter" (August 1976)*
A national snack favorite… There are many derivations of this most popular Michigan specialty. The 1st recipe I developed to imitate Win Schuler's product, required several more ingredients than I really wanted to work with. But the result was perfect! Eventually, I experimented in my Secret Recipes kitchen to streamline the ingredients down to only a few. Each version has its rightful place among the "Haute Cuisine" of fast foods and appreciable snacks. It depends on your personal taste preferences, which recipe to use.
THE ORIGINAL BAR CHEESE SECRET RECIPE
INGREDIENTS:
1-pound Velveeta cheese (do not substitute on brand)
½ pound unsalted butter – at room temperature
2 tablespoons onion juice – bottled
(or use freshly-grated onion, put through blender to purée and diluted with equal parts water)
1/8 teaspoon Tabasco, hot pepper sauce
8-ounce package cream cheese, mashed with a fork
5-ounce bottle horseradish
a few drops each – red and yellow food coloring, sufficient to give a bright orange tint (optional)
¼ cup melted and strained bacon drippings
INSTRUCTIONS:
Place all ingredients, just as listed, in top of a double boiler over simmering water. Stir occasionally until melted and smooth. The mixture will appear to be coarse in texture.
For best results, put it through the blender on high-speed, using an on/off agitation, for 2 or 3 minutes until satiny smooth.
Refrigerate up to 4 or 5 weeks. Freezes well up to 6 months. Makes about 1 quart.
*Also seen in… Gloria Pitzer's Cookbook – The Best of the Recipe Detective (Balboa Press; Jan. 2018, p. 257). [A revised reprint of Gloria Pitzer's Better Cookery Cookbook (Secret RecipesTM, St. Clair, MI; May 1983, 3rd Edition).]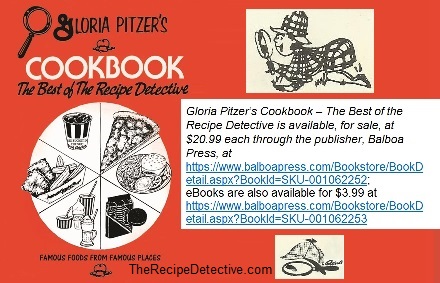 Also see…
https://therecipedetective.com/2020/05/11/mondays-memories-of-my-mom-may-for-national-mothers-month/