Happy Monday to one and all! As always, #TGIM – because Mondays are my #52Chances a year, in which I have to share "Memories of My Mom"!
As I mentioned last week, Mondays are even more special to me, now; because, on the last Monday of every month, I will be sharing more "Memories of My Mom" and the "behind-the-scene stories" of how she came up with some of her famous copycat recipes, over the radio airwaves, on WHBY's "Good Neighbor" show, with host, Kathy Keene (except for next week, on Memorial Day; as I will be on Tuesday, the following day, instead).
The "Good Neighbor" show, generally, airs Monday through Friday, from about 11AM to 1PM (Central Time). I will be on with Kathy for, at least, the first half-hour of the show. If you're not in the Appleton, WI listening-area, you can also hear the show, live via the internet, through a link on WHBY's website at https://www.whby.com/goodneighbor/. A few decades ago, Mom was a regular, monthly guest on Kathy's show, for about 13 years – now it's my turn and I'm so excited! Mondays are absolutely marvelous!

Who among us have said, at one time or another: "I don't have time for that"? That has been a universal excuse that so many people have employed for eons! I've used it, myself. Not too long ago, when I was looking into starting an eNewsletter, I discovered that, because of all the hours I was working for my "paying" job, I didn't have the time to learn the digital process involved in such an endeavor.
The Covid-19 pandemic has crushed the pretext that we don't have time, as many of us have had nothing but time on our hands for a few months, while we stay home and stay safe! Like others, my hours were drastically reduced for a while. But, even with the extra time available to me, I discovered that my self-learning capabilities were not as easy or quick for me, at the age of 55, as they used to be years ago. Thus, the eNewsletter idea has been shelved for a while.

To some degree, we all have had to improvise and adapt to the pandemic's uncertainty and to the daily breaking news on the latest "stay home" guidelines and emerging, public "stay safe" policies. In small ways, many people have learned to improvise for things, like "going to the movies" by sitting home with their favorite snacks and Netflix (or some other streaming service).
Families have turned their backyards and living rooms into campgrounds and beach resorts to improvise their spring vacations. Teachers, students, and parents, alike, have learned to improvise going to school with home schooling plans and online learning resources. A lot of people have improvised their gym routines with home workouts.
During this time, people have also become quite inventive on ways to stay "in touch", entertained, healthy and fit, and so much more. In fact, a lot of people are finding things like cooking "projects" to be a popular way to pass the time, these days. Families, especially, find this to be a great way to engage with each other and share it on social media to inspire and engage with others, as well.
Improvising is done by creating a substitute for something out of whatever is on hand. "MacGyver" made this DIY ad-libbing ability popular in 1985. But my mom, the Secret Recipes DetectiveTM, made it popular in the food industry, more than a decade before that!
In the early 1970s, in order to save money on our family's food budget, Mom devised ways to imitate some of our favorite foods and grocery store products right at home. She called the concept "copycat cookery" for "eating out at home".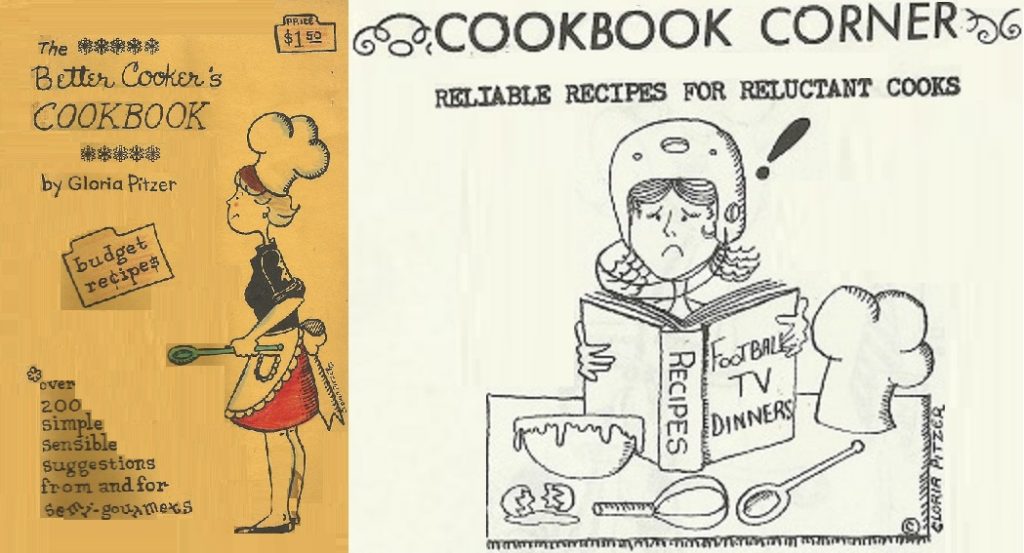 Mom shared her trail-blazing, "copycat" recipes with the readers of some of her syndicated columns, at the time; because, if it saved her family money, she wanted to let other families, who were struggling during those trying times, in on the secret too! In fact, Mom's "copycat cookery" became very popular, very quickly, as there was nothing else on the market like it.
In 1972, Mom designed, wrote, and illustrated her first cookbook, The Better Cooker's Cookbook"; which was then self-published around January 1973 and self-promoted in many ways, including through radio programs aimed at America's homemakers. By January 1974, Mom had expanded her recipe and household hints collection to the point that she began producing and selling her own monthly newsletter and individual recipe card collections.
Way back when, during many of Mom's radio show interviews, as the Secret Recipes DetectiveTM, she often received requests from listeners who were re-located Michiganders and could not find, let alone enjoy, the special treats they grew up on; such as those from the Sanders Candy Company, fudge from Mackinac Island, Vernor's Ginger-Ale ("pop", as we call it – otherwise, known as "soda" to the rest of you) or Olga's bread just to name a few. Mom showed them how to improvise and create their own versions at home.
Some of Mom's growing fan-base were located in areas where some of the products Mom used in her recipes' ingredients could not be found. Thus, Mom figured out a way to make those grocery items at home and, consequently, shared them in her newsletters and other cookbooks throughout the four decades that she and Dad ran their Secret RecipesTM dining-room-table business. Mom's cookbook, The Secrets of Homemade Groceries (Secret RecipesTM, St. Clair, MI; 1980) has always been one of my personal favorites.
Nowadays, thanks to the internet, we can order just about anything we want, from just about anywhere, and have it delivered right to our doors! So many companies that have had to close their doors, due to the pandemic and various states' "shut-down orders", have "re-opened" in other ways; improvising by taking phone orders and using delivery services and drive-through windows. If they didn't already have a website or online virtual store, they developed one.
However, sometimes, when it comes to food, homemade is just better made. Especially if you have to follow a special diet, because then you control the ingredients that go into the product you covet. Since starting my own low-carb life-style last March, I have had to improvise on a lot of my favorite recipes in order to control my daily carbohydrate intake.
Like Mom, I've been experimenting with different combinations of ingredients that, when mixed together, will produce a similar taste – like my "Heavenly Low-Carb No-Bakes" recipe that I shared in one of my blog posts, from last October, called, "Great Recipes Need To Be Shared".
By the way, I heard a great story recently about a young boy who wrote a cookbook with his mom while in quarantine, called The Quarantine Cookbook.  I thought it was a great share. Kudos to them!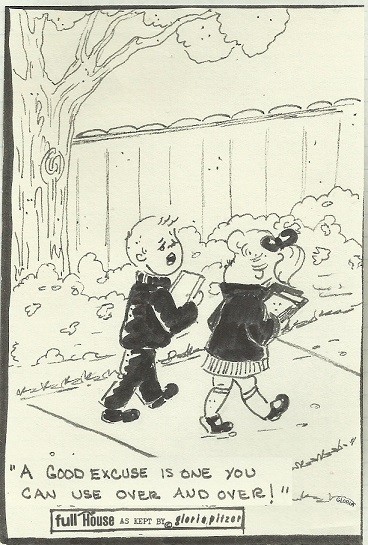 FROM MOM'S MEMORIES…
As seen in…
My Cup Runneth Over and I Can't Find My Mop (Secret RecipesTM, St. Clair, MI; Dec. 1989, p. 67)
WASTING TIME – WHATEVER HAPPENED TO THE SIMPLE JOYS?
Unfortunately, we're waiting for that golden day, that one lovely moment in which we feel everything is finally grand – everything is finally just the way we have always wanted it to be! Everything we've been working for and moving toward has been attained. We can relax! We've lost the weight we wanted to lose. The house is finally in 'company-is-coming' order. The bills are all paid. The bank account is adequate. Our children are living productive, useful lives.
Everything will be wonderful – and then, and probably only then, do we feel we have the right to be happy! Until we achieve that perfect moment, that ideal existence, however, we're looking forever ahead to it, not even seeing the opportunities – small as they might be – to be happy, now, with what we already have, with who we are [and] with what we're already doing.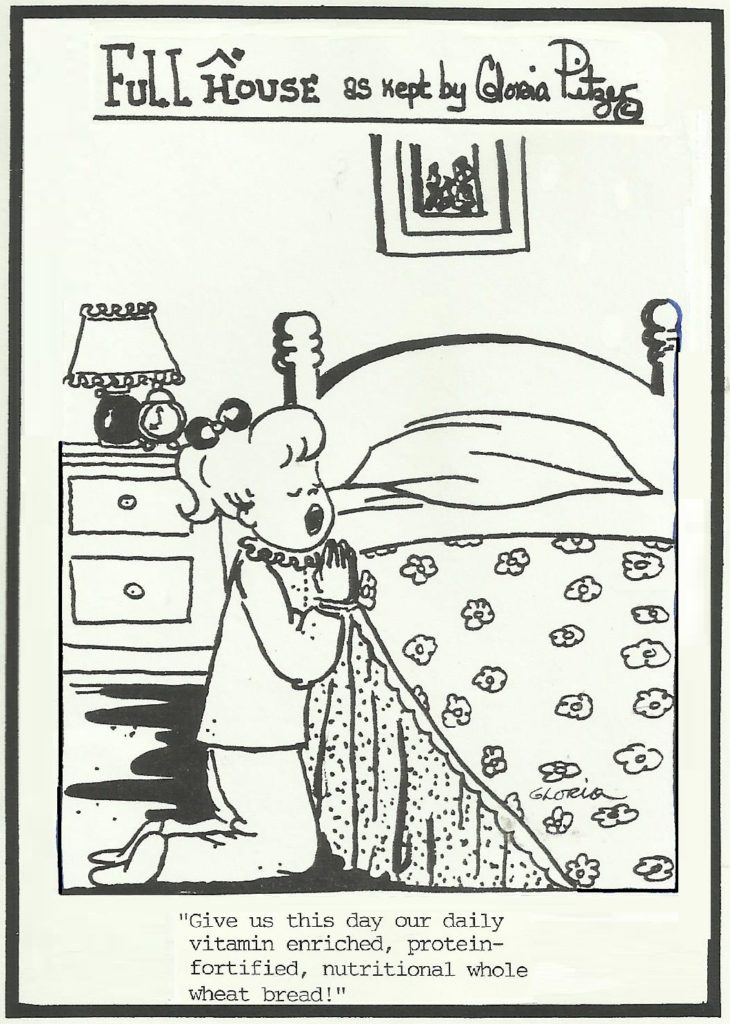 Everyone, at one time or another, seems to go through such trying times; carrying burdens we can't seem to shake, with no one to help us make the load seem lighter. And in doing so, we end up making our mishaps more important than our smallest achievements. How easily we waste the time we have now, entertaining false pride as if it were the honored guest at our table of regrets. We try to avoid being natural, being ourselves, because it is usually less than we think we should be, or what others expect us to be.
So we look toward the moment when we're sure everything will fall into its proper place. We finally have the time to call a relative we've been meaning to visit. We'll write that newsy letter to the friend [with whom] we somehow lost touch… We'll take that cake to the neighbor, [for whom] we haven't had the chance to call on but meant to. But we can't do those things now – not while were working out important problems and have so many things to worry about. Worrying takes time!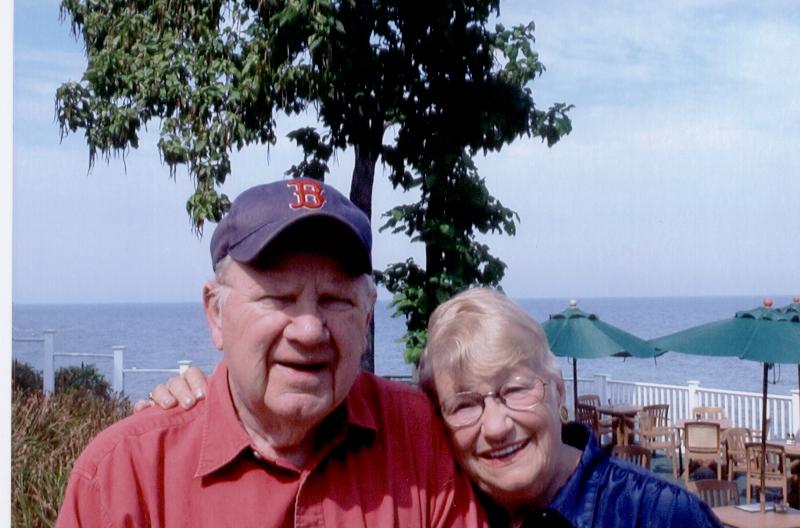 I'm nearly convinced that there is no such perfection toward which to work and for which to wait. Waiting seems an idol waste when there are so many things I want to do that have been pushed aside because obligations and commitments came first. Instead of looking ahead two years from now, days from now, hours from now, I look to the next moment. Human beings are not immortal, but some of us put off the wonders of living, as if we had forever to realize them.
For each moment that I didn't enjoy as much as I could have, I'd like to be ready just in case I have a second chance at having them again. I would like to have all of our children with us around the dinner table once more, and really enjoy it, to make up for all of those times that I took their being there for granted. That would be a perfect moment, a perfect day!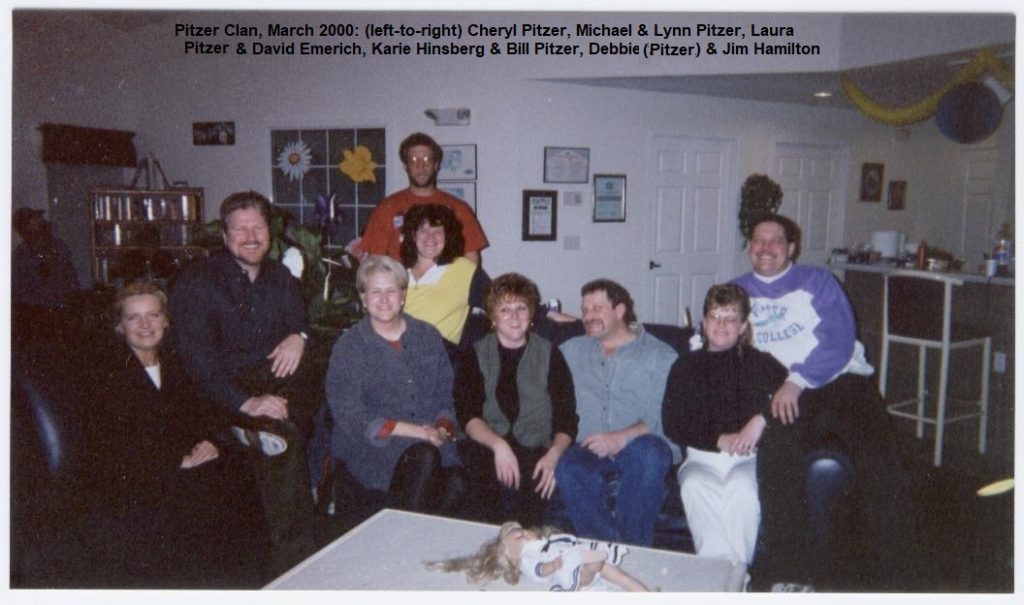 IN CLOSING…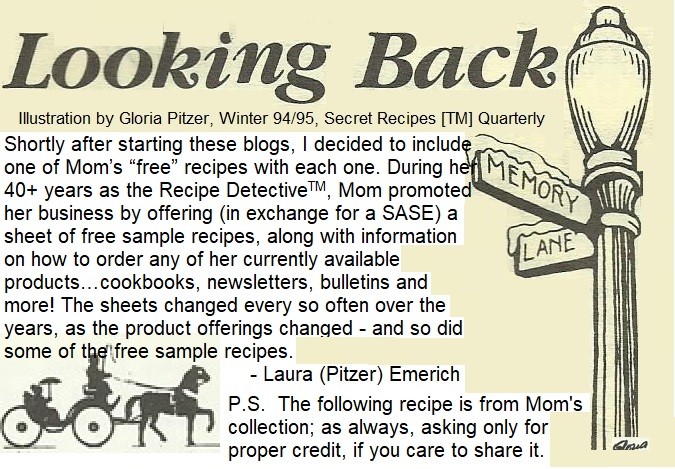 In honor of IMPROVISING, here is Mom's copycat recipe for a tomato soup flavored powdered mix, like Lipton used to make; as seen in Mom's last book, Gloria Pitzer's Cookbook – The Best of the Recipe Detective (Balboa Press; Jan. 2018, p. 18). Enjoy!
P.S. Food-for-thought until we meet again, next Monday…
Please join me here, next Monday, when I reminisce about Mom's improvisations with some of her recipe demonstrations that she performed on some popular TV shows, back in the 1980's, such as the Phil Donahue Show and ABC's Home show.
…20 down, 32 to go!