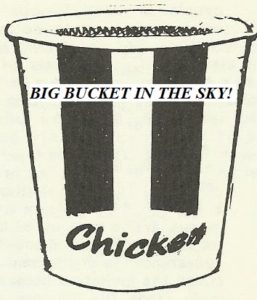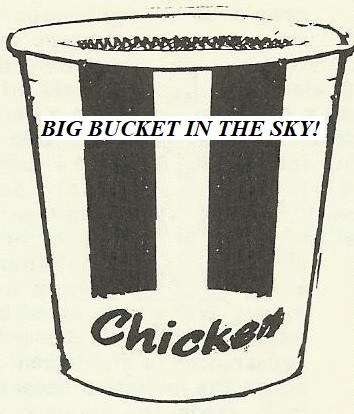 BIG BUCKET IN THE SKY! CHICKEN
By Gloria Pitzer
As seen in Gloria Pitzer's Cookbook – The Best of the Recipe Detective ( Balboa Press, January 2018; 1st Printing, p. 88)
THE FRIED CHICKEN RECIPE that first called attention to my recipes nationally – through the 'National Enquirer', 'Money Magazine', 'Catholic Digest', 'The Christian Science Monitor', 'Campus Life Magazine' and, yes, even 'Playboy Magazine' – was this following combination of ingredients. The method is quite unorthodox and the original idea for developing it in this manner, came from a conversation I had with 'Col. Sanders' over the air with radio station WFAA in Dallas when I was a regular guest on a talk show with them for several months. We discussed the secrets of the food industry with listeners by phone from our homes. The Colonel was fascinated by the publicity I had received for my 'Big Bucket in the Sky' fried chicken recipe and agreed that I was on the right track if I'd add more pepper. He loved pepper! He also suggested browning the chicken in a skillet and, then, oven-baking it until tender to achieve a likeness more to the original recipe he had created in 1964. He told me to look around the grocery store for 1 packaged product to replace the 11 spices – which I did diligently – and discovered that powdered Italian salad dressing mix was the secret!
So, I set to work to revamp the recipe. My original recipe was quite close to the famous Colonel's product, but the coating kept falling off – because, as he explained, I couldn't get the oil hot enough. He liked peanut oil, himself, but suggested that I could achieve a similar result by using corn or Crisco oil – with 1 cup solid Crisco for every 4 cups of oil. He talked about the quality in his product changing after turning the business over to new owners.
When Heublein Conglomerate bought out the franchise, they paid a few million dollars for 'The Colonel's' recipe and technique. It seemed unlikely that a home-kitchen-rendition of such a famous product could be had for the price of my book. But the letters came in – 'best chicken we ever had'; 'l-o-v-e-d that fried chicken recipe'; 'our favorite chicken recipe – so, please don't change it'; and 'maybe the colonel should have YOUR recipe!'
Ingredients:
3 pounds of chicken fryer parts – cut small
2 packages Good Season's Italian Salad Dressing mix
3 tablespoons flour
2 teaspoons salt
¼ cup lemon juice
2 tablespoons butter or margarine
1 ½ pints of corn oil
2/3 cup Crisco solid shortening
1 cup milk
1 ½ cups boxed pancake mix combined with: 1 tsp paprika, 1/2 tsp powdered sage and 1/4 tsp pepper
Instructions:
Rinse chicken and wipe pieces dry.
Make a paste out of the first five ingredients. Brush to coat chicken evenly with the paste…the underside as well. Stack pieces in a large refrigerator container, seal in foil and refrigerate several hours or, better yet, overnight.
1 ½ hours before serving, heat oil and Crisco, until melted, in a heavy saucepan. Put just enough of this into two large heavy skillets so that it covers the bottom of each 1-inch deep and just set the rest aside, as the oil will have to be replaced as you remove fried pieces and continue to fry more.
Dip each pasty chicken piece, 1st in milk and then in pancake mixture (having combined it as directed above with the last three ingredients.) Dust off excess mix and place skin-side down in the very hot oil mixture.
Brown the chicken on each side until golden. Then, place browned pieces in shallow baking pans, single-layered with skin-side up. Spoon remaining milk over pieces. Seal with foil on only 3 sides of the pan.
Bake for 40 minutes at 375°F or until chicken is fork-tender, basting with milk and pan drippings every few minutes. Remove foil and bake another 8-10 minutes or until crispy. Serves 6-8. Leftovers keep up to a week refrigerated.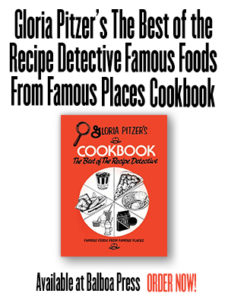 Gloria Pitzer's Cookbook – The Best of the Recipe Detective is available, for sale, at $20.99 each through the publisher, Balboa Press, at https://www.balboapress.com/Bookstore/BookDetail.aspx?BookId=SKU-001062252; eBooks are also available for $3.99 at https://www.balboapress.com/Bookstore/BookDetail.aspx?BookId=SKU-001062253
Mondays & Memories of My Mom – Winner, Winner, Chicken Dinner!