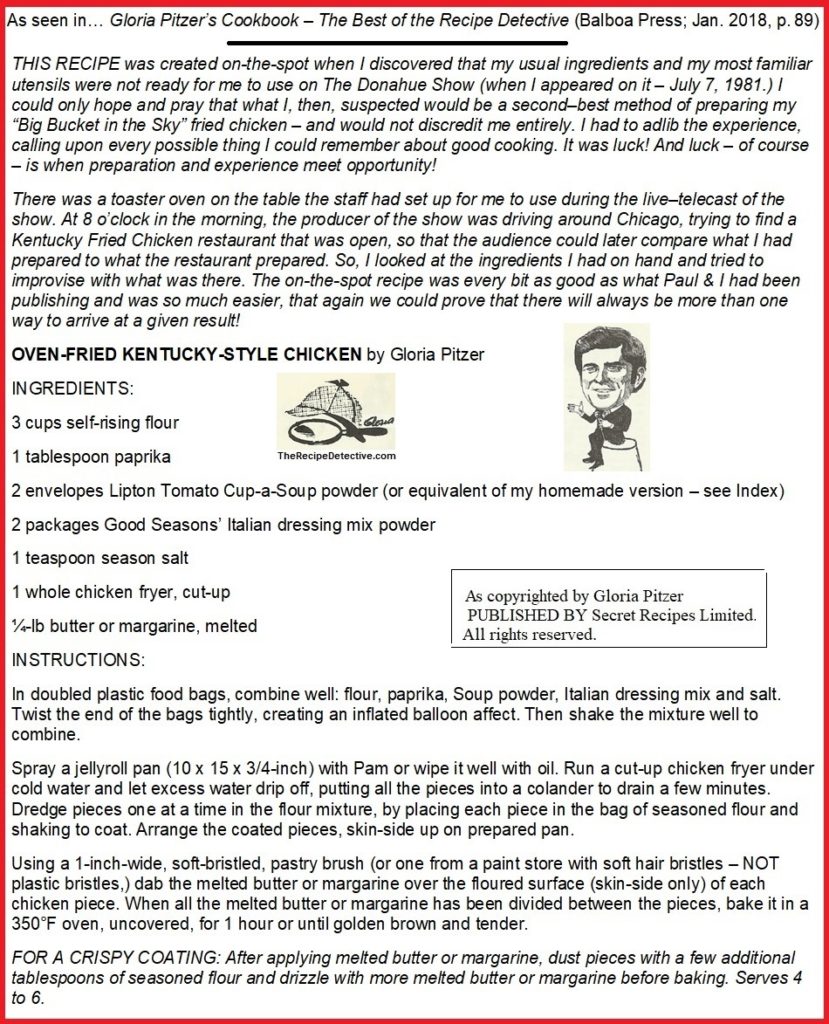 OVEN-FRIED KENTUCKY-STYLE CHICKEN
By Gloria Pitzer
As seen in… Gloria Pitzer's Cookbook – The Best of the Recipe Detective (Balboa Press; Jan. 2018, p. 89). [A revised reprint of Gloria Pitzer's Better Cookery Cookbook (Secret RecipesTM, St. Clair, MI; May 1983, 3rd Edition).]
DONAHUE
THIS RECIPE WAS CREATED on-the-spot when I discovered that my usual ingredients and my most familiar utensils were not ready for me to use on The Donahue Show (when I appeared on it – July 7, 1981.)
I could only hope and pray that what I, then, suspected would be a second–best method of preparing my 'Big Bucket in the Sky' fried chicken – and would not discredit me entirely. I had to adlib the experience, calling upon every possible thing I could remember about good cooking. It was luck! And luck – of course – is when preparation and experience meet opportunity!
There was a toaster oven on the table the staff had set up for me to use during the live–telecast of the show. At 8 o'clock in the morning, the producer of the show was driving around Chicago, trying to find a Kentucky Fried Chicken restaurant that was open, so that the audience could later compare what I had prepared to what the restaurant prepared.
So, I looked at the ingredients I had on hand and tried to improvise with what was there. The on-the-spot recipe was every bit as good as what Paul & I had been publishing and was so much easier, that again we could prove that there will always be more than one way to arrive at a given result!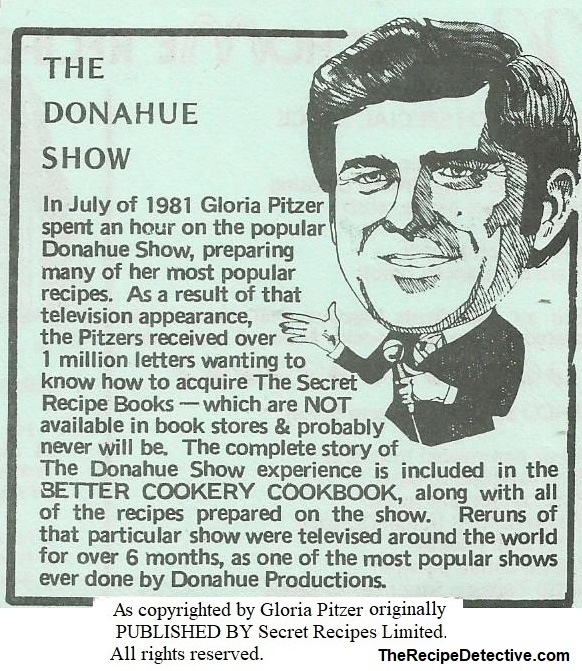 INGREDIENTS:
3 cups self-rising flour,
1 tablespoon paprika,
2 envelopes Lipton Tomato Cup-a-Soup powder*,
2 packages Good Seasons' Italian dressing mix powder
1 teaspoon season salt
INSTRUCTIONS:
In doubled plastic food bags, combine ingredients well. Twist the end of the bags tightly, creating an inflated balloon affect. Then shake the mixture well to combine.
Spray a jellyroll pan (10 x 15 x 3/4-inch) with Pam or wipe it well with oil.
Run a cut-up chicken fryer under cold water and let excess water drip off, putting all the pieces into a colander to drain a few minutes.
Dredge pieces one at a time in the flour mixture, by placing each piece in the bag of seasoned flour and shaking to coat. Arrange the coated pieces, skin-side up on prepared pan.
Melt ¼ pound margarine or butter and, using a 1-inch-wide, soft-bristled, pastry brush (or one from a paint store with soft hair bristles – NOT plastic bristles,) dab the melted butter or margarine over the floured surface (skin-side only) of each chicken piece.
When all the melted butter or margarine has been divided between the pieces, bake it in a 350°F oven, uncovered, for 1 hour or until golden brown and tender.
FOR CRISPY COATING: After applying melted butter or margarine, dust pieces with a few additional tablespoons of seasoned flour and drizzle with more melted butter or margarine before baking. Serves 4 to 6.
[*SPECIAL NOTE: For imitating the tomato powder called for in the above recipe, see also… https://therecipedetective.com/2022/01/25/cup-of-thoup-powder/.]
As seen in… Gloria Pitzer's Cookbook – The Best of the Recipe Detective (Balboa Press; Jan. 2018, p. 89). [A revised reprint of Gloria Pitzer's Better Cookery Cookbook (Secret RecipesTM, St. Clair, MI; May 1983, 3rd Edition).]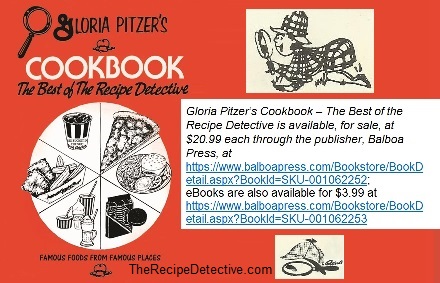 **Also shared on WHBY – May 26, 2020 – on Kathy Keene's "Good Neighbor" show!  [NOTE: The last Monday of May was Memorial Day, thus, interview was postponed to the next day.]
Mondays & Memories of My Mom – More than 15 Minutes of Fame!