It's another spectacular Monday! Happy Monday and happy Labor Day to one and all! I always look forward to each and every Monday, as they are my 52 Chances per year, in which I get to share Memories of My Mom with all of you!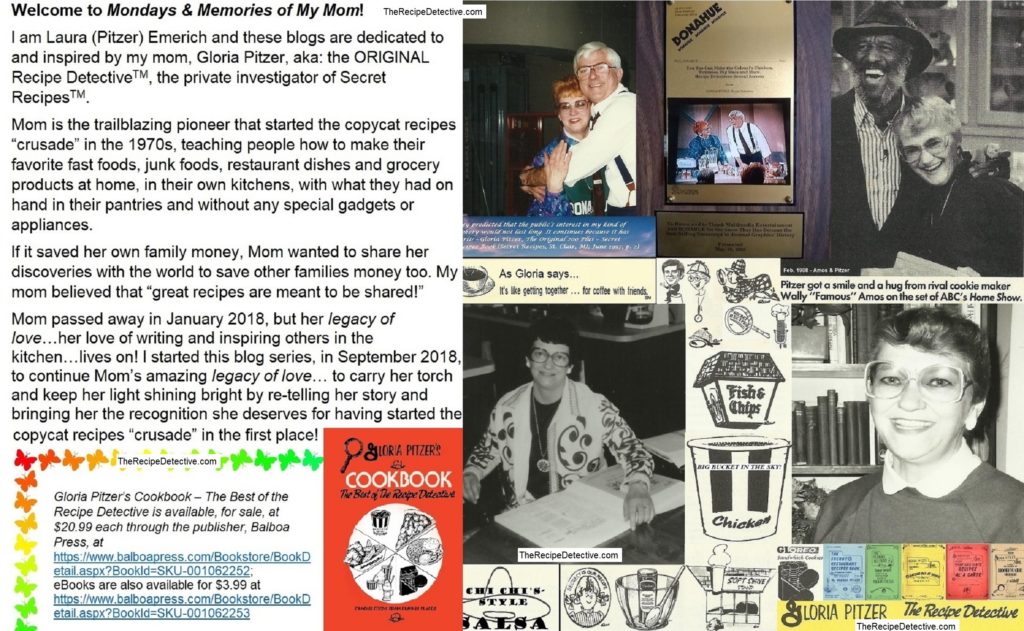 127 years ago (in June 1894), Labor Day officially became a federal holiday. It's celebrated annually, on the first Monday in September. Just as Memorial Day marks the "unofficial" start of summer, Labor Day is considered the "unofficial" end of summer! However, technically, there's over two weeks until fall begins.
There aren't any specific traditions for rejoicing in Labor Day. Some end-of-summer celebrations include events like picnics, outdoor concerts, festivals, fireworks and even shopping; as retailers offer huge Labor Day weekend deals and discounts to move the rest of their summer stock.
I think the real reason that Mom loved to celebrate Labor Day, many decades ago, when my siblings and I were all kids, was because it meant that we were going back to school the next day and she could start her vacation!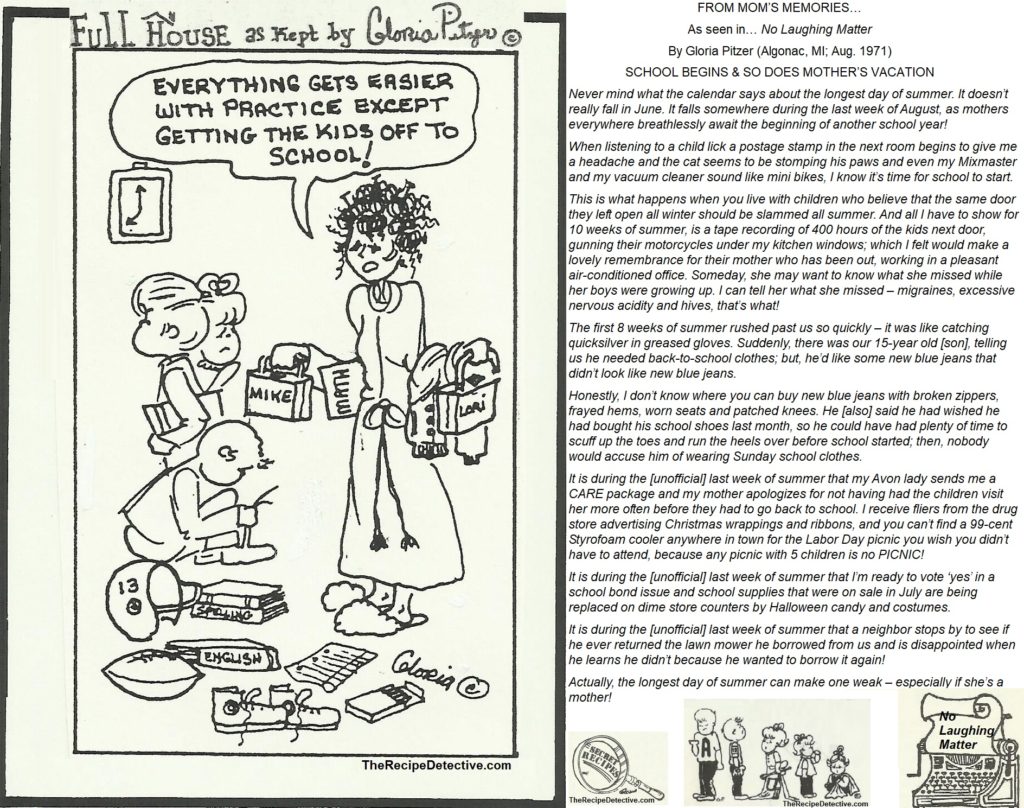 Many Michiganders take advantage of this long, holiday weekend to go "up north" for one, last, summer retreat. Today is also the annual Labor Day Walk across the five-mile-long "Mighty Mac", which has bridged the Straits of Mackinac since 1957. At 26,372 feet, it's the third longest suspension bridge in North America.
According to the Mackinac Bridge Authority, "The bridge walk has been an annual event since 1958, with the exception of 2020. The 2021 walk will be the 63rd event. Between 25,000 and 30,000 people have participated in recent years." The bridge is usually shut down to motor traffic for a half-day, for the safety of the Labor Day walkers.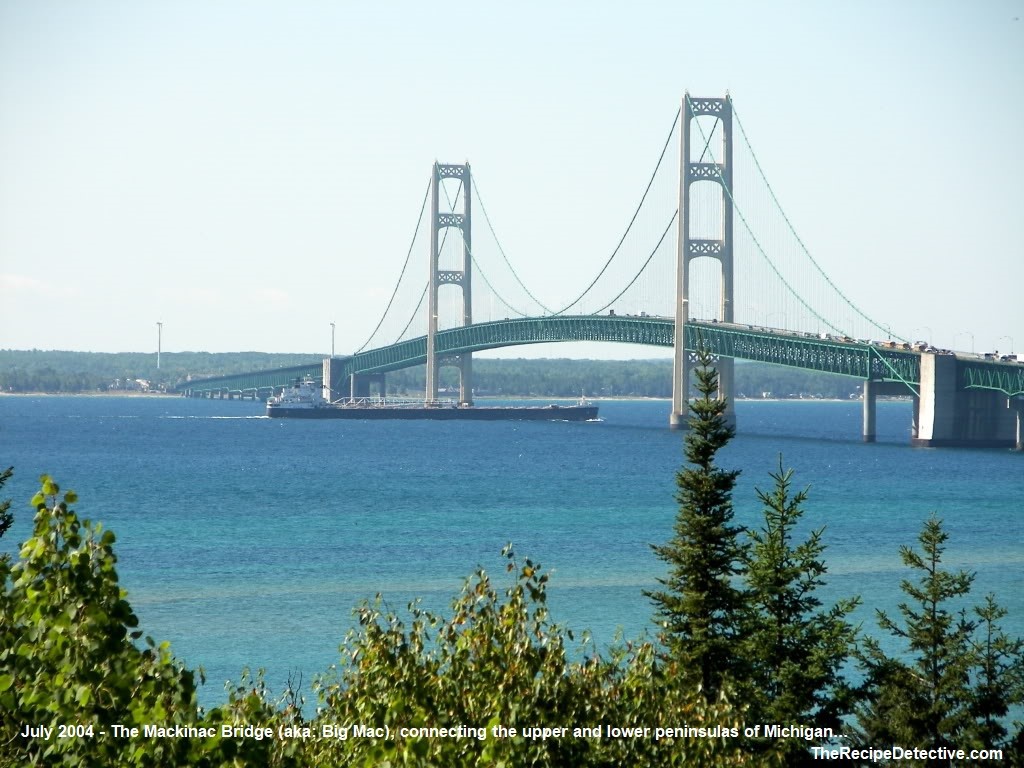 My husband and I have been wanting to explore more of the Americana oddities, natural beauty, and history of Pure Michigan's "Tip-of-the-Mitt"; as well as the eastern half of the U.P. We have a bucket list that includes some of Mom and Dad's favorite places to visit, like Traverse City, Cheboygan, Petosky, Mackinaw City, Mackinac Island, St. Ignace, Sault Ste. Marie, Brimley, Tahquamenon Falls, Houghton, and Newberry.
Our home state is so rich in small-town, Norman Rockwell, Americana beauty, history, AND FLAVOR! It's no wonder Mom loved reviewing different restaurants, locally and state-wide, throughout the decades, as the Secret RecipesTM Detective; figuring out how to duplicate their famous dishes at home, while simultaneously re-discovering her home state of Michigan!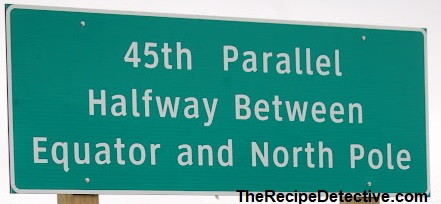 The northern 45th parallel is the circle of latitude that lays halfway between the equator and the north pole. Here, in Michigan, this unique oddity crosses through the "Tip-of-the-Mitt", from Leland, on the west side, to Alpena, on the east side.
There aren't any big, roadside attractions for this Americana-style novelty. However, many of the towns along the parallel make the most of their unique locations; offering the oddity-seeking tourists fudge, food, and fermented fruit (aka: wine) – as well as little trinkets, t-shirts, and other commemorative souvenirs. There are about eight different, "45th Parallel" signs across Michigan, which make great photo op's.
I agree with L.V. Anderson's research, as seen in her article, The United Sweets of America (Aug. 24, 2014), which claims that Michigan's unofficial "state dessert" is FUDGE! Likewise, Top 13 Best Foods Which Made Michigan Famous, by the Thumbwind staff at Thumbwind.com (Sep. 25, 2020), also claims that Mackinac Island Fudge is the #1 favorite! See my re-share of Mom's imitation for Mackinac Island Dark Fudge below.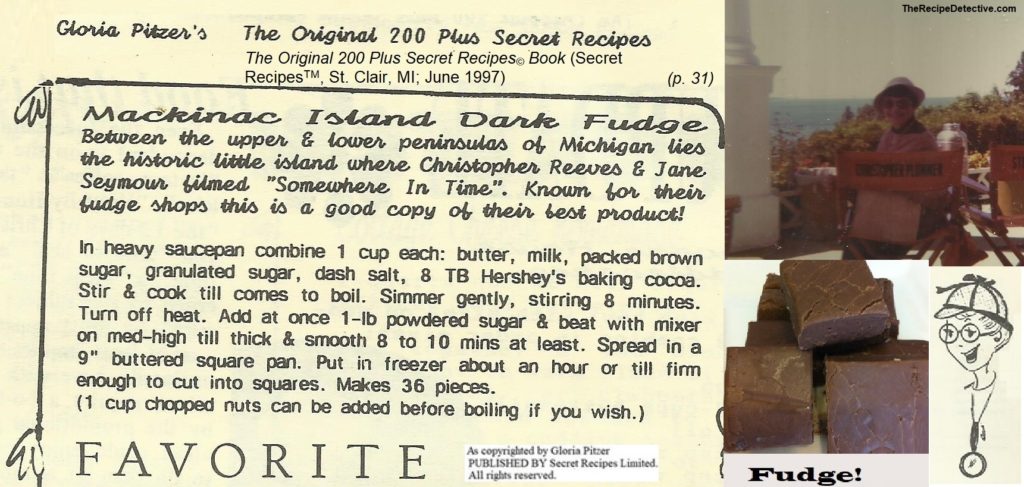 Moreover, according to an article at TheDailyMeal.com, called The Snack Food That Defines Every State, by Carolyn Menyes (Feb. 26, 2020), fudge was also chosen as the favorite snack food in Michigan! I know fudge seems to be the star in every Michigan "tourist town", in which I've ever been.
Like other tourists, I love to stop and see a fudge-making performance, as well as buy some of their tasty treats. An interesting story on the history of fudge and how it came to be a tourism staple, in the first place, can be found at ChowHound.com. Another great fudge article to check out is called 'Why Does Every Tourist Attraction Sell Fudge?', by Kat Eschner (May 12, 2017) at Smithsonian.com.
Additionally, on Thumbwind's list of famous Michigan-made foods, Detroit's Coney Island Hot Dog, is #2 (even though the original Coney Island restaurant is on the Atlantic coastline); and Buddy's Detroit-Style pizza is #3. Those are followed by Traverse City's tart cherries, the U.P.'s pasties, and Frankenmuth's home-style chicken to round out its top six choices.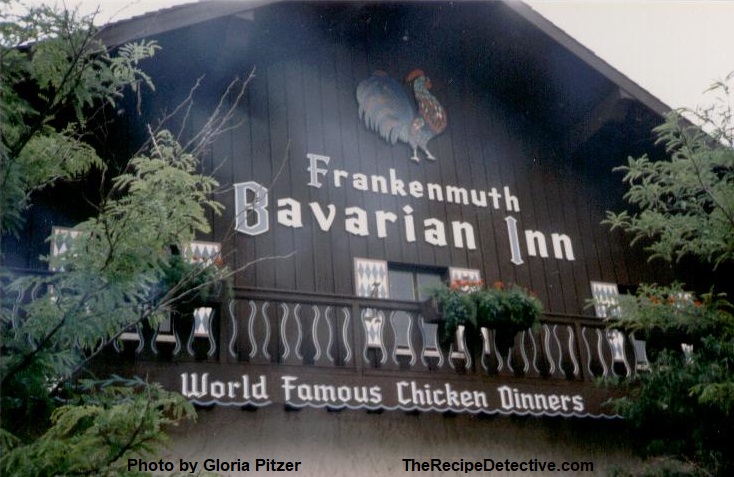 Those choices are also supported by Samantha Lande's photo collection/article in Great Lakes & Better Food: The Best Things To Eat In Michigan, which includes other iconic favorites like Sanders Hot Fudge Cream Puff, Franklin Cider Mill's apple cider and donuts, Hamtramck's paczki (pronounced "poonch-key"), Vernor's Boston Cooler, and Tom's Mom's Cookies.
In an mLive.com article, These Are Michigan's 12 Most Iconic Restaurants, by Amy Sherman (published: May 24, 2019; updated: July 9, 2020), the top four [(of 12) restaurants, most of which Mom had visited] are:
Hack-Ma-Tack Inn (Cheboygan) – famous for their whitefish dip and prime rib dinners.
Legs Inn (Cross Village) – famous for their authentic Polish cuisine.
The Whitney (Detroit) – famous for its old world charm and dishes like Beef Wellington.
[Win] Schuler's (Marshall) – famous for their spicy cheese spread and barbequed meatballs (both of which were among Mom's "Original 200" recipe collection.) Below is a re-share of her imitation of their famous bar cheese!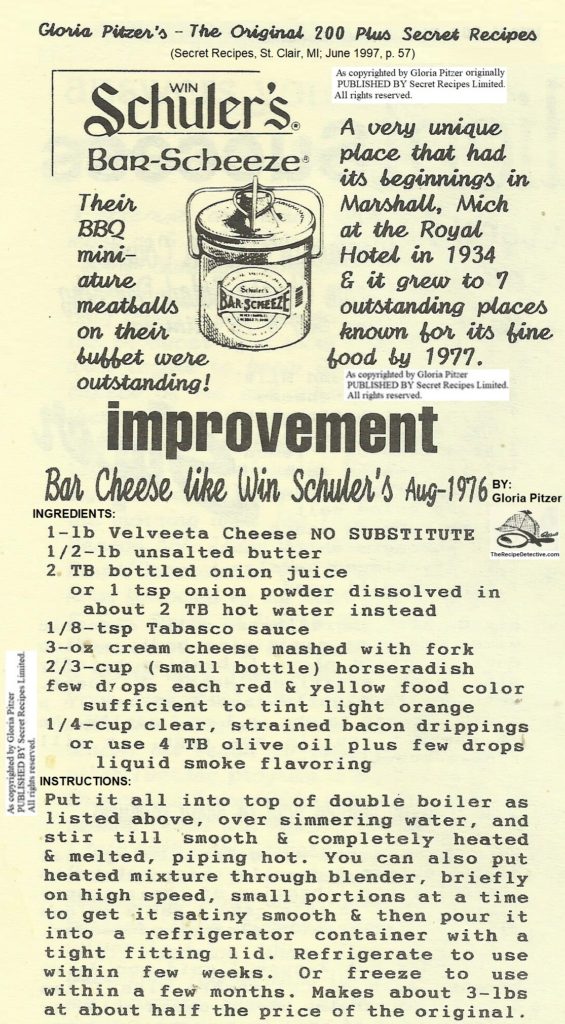 Michigan doesn't really have any official "State Foods" but according to an article at TasteOfHome.com, The Official Food Of Every State, by Grace Mannon (Updated: July 24, 2019), a popular suggestion for Michigan was the Coney dog that came in at #2 on Thumbwind's list (above).
I guess it depends on where you poll, because that may be so in southeastern Michigan; but, in mid-Michigan, chicken dinners are the favorite offerings! Iva's (Standish, MI), Zender's and the Bavarian Inn (both, in Frankenmuth, MI) are a few five-star-favorite, iconic spots where Mom and Dad loved to eat when travelling, as well as THOUSANDS of other people! They each serve authentic, Americana-style, chicken dinners, as well as many other fabulous menu choices.
In the "Tip-Of-The-Mitt" and throughout the U.P., the pasty (pronounced: "pass-tea"), a Cornish-style meat pie, is considered the area's specialty! Below are two of Mom's pasty imitations that I shared last year with Kathy Keene's "Good Neighbor" audience, on WHBY.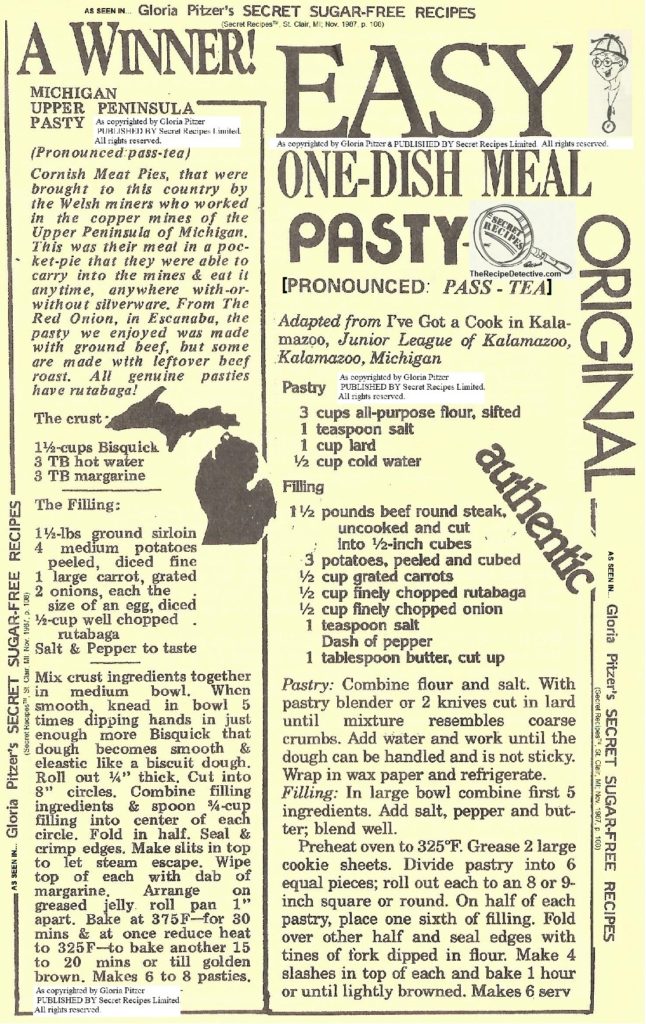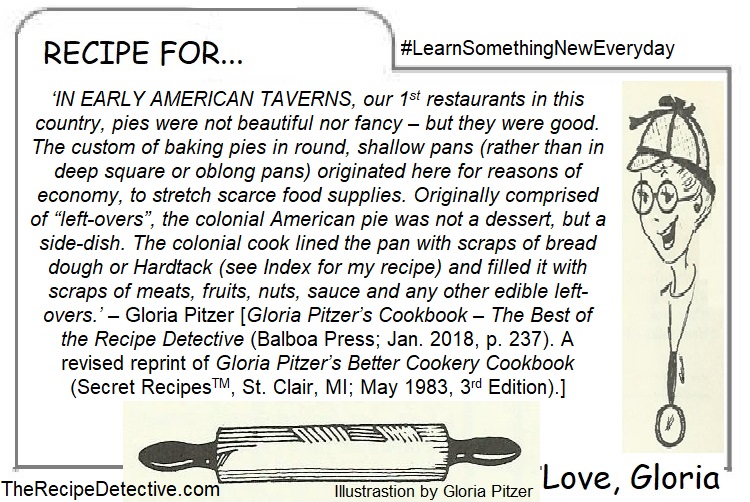 Michigan's unofficial "State Dessert Pie" choice is a toss-up between apple and cherry – again, depending on where you poll. The Traverse City area (and the northern Michigan region) is famous for its cherry crops (and wine)! However, apples are the more abundant crop throughout the state, over all.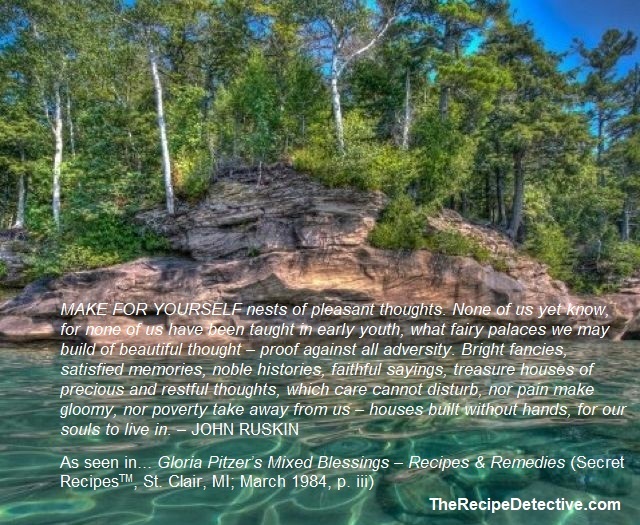 FROM MOM'S MEMORIES…
As seen in…
Gloria Pitzer's Cookbook – The Best of the Recipe Detective (Balboa Press; Jan. 2018, p. 8)
[A revised reprint of Gloria Pitzer's Better Cookery Cookbook (Secret RecipesTM, St. Clair, MI; May 1983, 3rd Edition).]
THE SECRET RECIPE REPORT
ALTHOUGH I'VE BEEN WRITING longer than I've been cooking, the notion to investigate the secrets of the food industry didn't become a full-time labor-of-love until I was working for a small-town newspaper [about 1971.] As the only 'married lady' on the staff, I was always assigned the food page and recipe column, and I was willing to try the dishes at home and present a column or article about their results to the paper.
When you work for a small-town paper, you wear many hats. You set type, sell advertising, proof read, design headlines, create art work, campaign for subscribers; and, before you know it, you acquire skills you didn't even know you possessed. The food department became such a welcomed relief from the local politics that I poured my heart and soul into it, learning some of the essentials of good cooking purely by default!
Everything went well until I initiated an idea to create advertising interest among local restaurants. It started when I answered a reader's request in my column for a recipe like McDonald's 'Special Sauce'. I knew it was a kissin' cousin of a good Thousand Island dressing, so the development of the recipe wasn't difficult.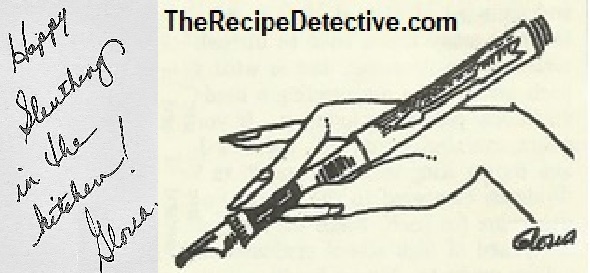 The response from our readers was so appreciative that I contacted local restaurants for their advertising in exchange for my printing one of their recipes and menu in my column and a complimentary review of their place. No one was willing to part with any of their 'secrets'! So, I decide to see if I could 'guess' how they prepared their specialties of the house.
I came across a hotel in town that advertised 'home-baked' cheesecake, and I felt they should be telling their customers 'homemade'. The difference to the public is very slight, but they wanted the public to 'think' it was homemade, from scratch, when it was, in fact, simply taken from a carton and popped into the oven like brown-and-serve rolls.
That was before our 'truth in menu' laws, but no one at the paper wanted to make an issue out of it. The restaurant insisted it was an old family recipe. I said the cheesecake smacked of commercial automation, stainless steel computerized kitchens and the family they referred to was probably that of Sara Lee! At any rate, that was when I parted company with the paper and set out on my own to create the 'Secret Recipe Report', which I dearly miss now.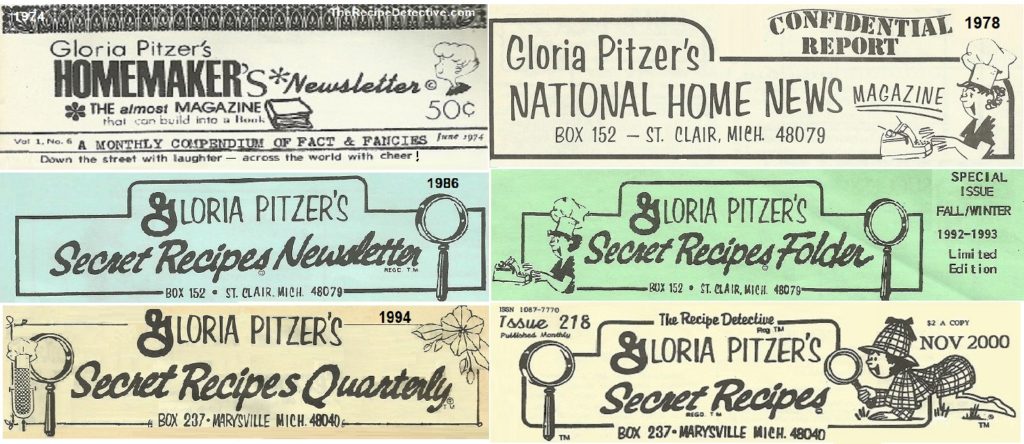 Mom self-published her 'Secret Recipe Report' ideas under a few different titles, as the newsletter evolved over the years. However, she always included, among other things, her own personal reviews and imitations of her favorite dishes at those restaurants, which she patroned.
IN CLOSING…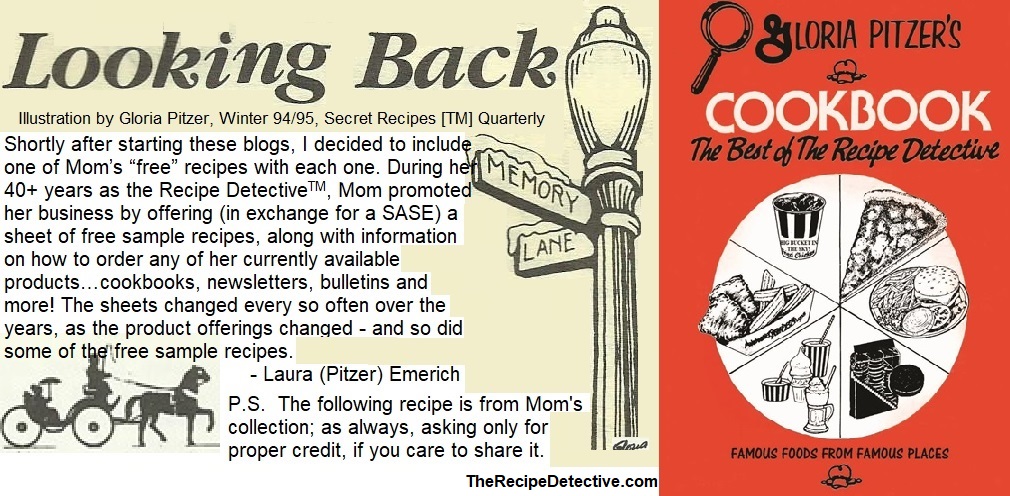 Since this is Better Breakfast Month and, as the first FULL week in September (the 5th-11th, this year), it's also… National Waffle Week, here is Mom's imitation for Biscuit Mix Like Bisquick from her Original 200 recipes and how to make waffles from it; as seen in her last book… Gloria Pitzer's Cookbook – The Best of the Recipe Detective (Balboa Press; Jan. 2018, p. 173). [A revised reprint of Gloria Pitzer's Better Cookery Cookbook (Secret RecipesTM, St. Clair, MI; May 1983, 3rd Edition).]
To top it off, literally, there's also a copy of Mom's secret recipe for Belgian Waffle Sauce, as seen in her self-published cookbook… Top Secret Recipes Al'a Carte (Secret RecipesTM, St. Clair, MI; Sept. 1979, p. 6)!
TODAY IS ALSO NATIONAL READ A BOOK DAY!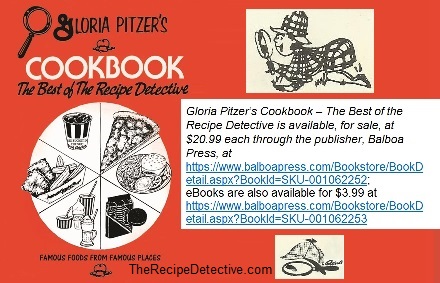 P.S. Food-for-thought until we meet again, next Monday…
The month of September observes, among other things: Fall Hat Month, International Update Your Resume Month, Little League Month, National Blueberry Popsicle Month, National Chicken Month, National Courtesy Month, National Honey Month, National Italian Cheese Month, National Library Card Sign Up Month, National Mushroom Month, National Potato Month, National Preparedness Month, National Rice Month, National Self-Care Awareness Month, National Sewing Month, Self-Improvement Month, and Whole Grains Month!
Other celebrations happening this week include:
Today is also… National Coffee Ice Cream Day!
Tomorrow, September 7th is… National Beer Lover's Day, National Neither Snow Nor Rain Day, National Grandma Moses Day, National Acorn Squash Day, National Salami Day, and National New Hampshire Day!
Wednesday, September 8th is… National Ampersand Day!
September 9th is… National Wiener Schnitzel Day! Plus, the second Thursday in September is also… National School Picture Day!
Friday, September 10th is… National Swap Ideas Day and National TV Dinner Day!
Saturday, September 11th is… National Make Your Bed Day, National Hot Cross Bun Day, and, of course, National Patriot Day!
September 12th is… National Chocolate Milkshake Day and National Day of Encouragement! As the Sunday after Labor Day it's also… National Grandparent's Day! Moreover, it's the start of the second FULL week in September, so it's also… National Arts In Education Week! Plus, the second week of September is also… National Biscuit and Gravy Week!

…36 down and 16 to go!