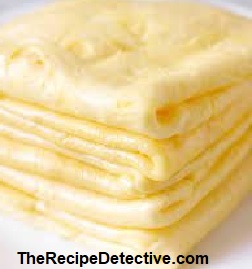 BIG BATCH SCRAMBLED EGGS
By Gloria Pitzer, as seen in her column, 'Secret Recipes From… Gloria Pitzer' (Times Herald, Port Huron, MI; August 3, 1978)
The introduction of a breakfast menu to the fast food franchise was also their idea and they probably do it better than others because of their organized food-planning concept. Try making scrambled eggs for your next big family breakfast like the 'Golden Arches'. This recipe, from our 'Secret Restaurant Recipes', [aka:] 'Book #1', has been adopted by many smaller restaurants and used quite successfully.
INGREDIENTS:
8 eggs
½ tsp. salt
½ cup milk
¼ cup butter (or margarine), melted and cooled
INSTRUCTIONS:
Break eggs into a large bowl. Avoid using plastic (I prefer earthenware), for plastic seems to discourage fluffiness when beating eggs… Beat on low speed with electric mixer for two minutes.
Add salt and milk – continue beating another minute. Beat in butter (or margarine), adding a little at a time until blended.
Lightly butter bottom and sides of a double boiler top [piece] and place over gently simmering water in the bottom [piece]. Pour in egg mixture and cover. Allow to cook on low heat for about 8 to 10 minutes.
After time is up, turn congealed portion of eggs into middle of pan; cover and continue cooking another 5 to 6 minutes or until all of eggs are in large, congealed pieces. Serve on heated platter. (I run mine under hot water or leave in dishwasher for one minute on dry.) Serves four.
Mondays & Memories of My Mom – Any Reason to Celebrate with Food